Dr Martin Luff is an entomologist who volunteers for Dartington's Woodlands & Conservation team.
---
For the past five years I have been recording the beetles of the Dartington estate.
Why beetles? Well, they are the largest group of named organisms on the planet; there are more than 4,100 species in Britain alone.
They are the ultimate convertible – they have juvenile stages (larvae) that do not resemble adults and can therefore inhabit different environments (unlike grasshoppers and true bugs), but they can also fold their wings away under wing cases when not flying (unlike butterflies, moths, flies, wasps etc). This prevents damage to the delicate wings and enables them to live in tiny spaces.
I collect by using a sweep net to sample herbaceous plants, and beat low branches over a tray. Litter, moss and compost is sieved and sorted through; small plastic cups are used as pitfall traps to catch those running on the ground.
---
 Gallery: Using a deer carcass to study Dartington's beetles
Scroll through the gallery and read the captions to find out how a deer's untimely demise was turned into a learning opportunity for Martin.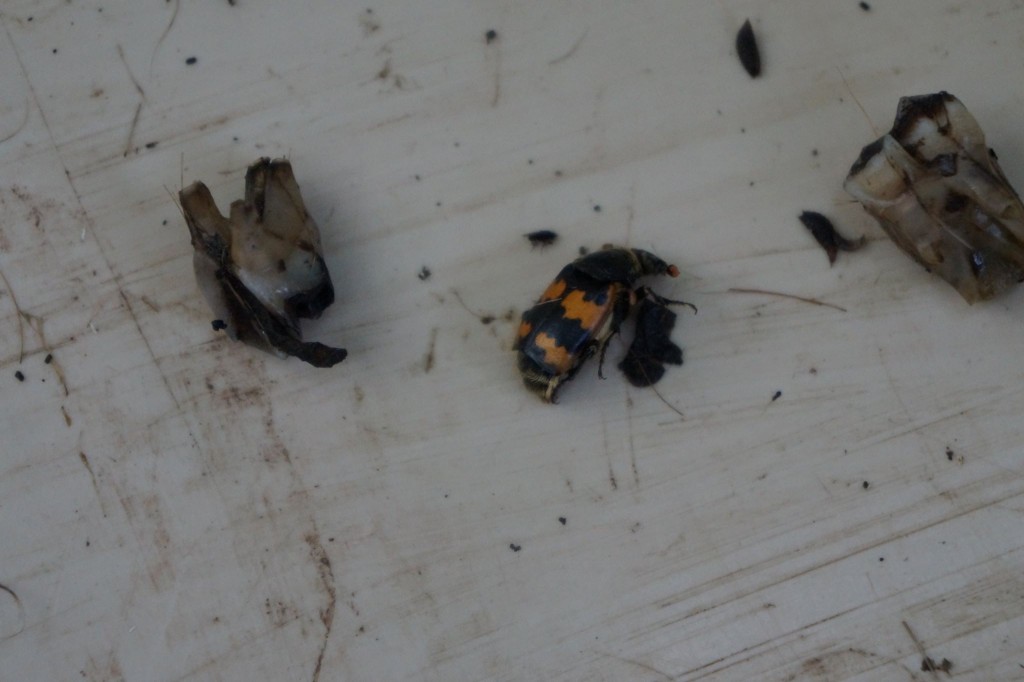 Studying beetles at Dartington
When a visitor's dog chased a deer into a fence, Dartington's Estate Warden collected the carcass so that it could be studied by an entomologist (scientist who studies insects) who volunteers for Dartington. The carcass was placed behind some shrubbery and under some chicken wire to allow Martin Luff to collect samples from it at different stages of decay.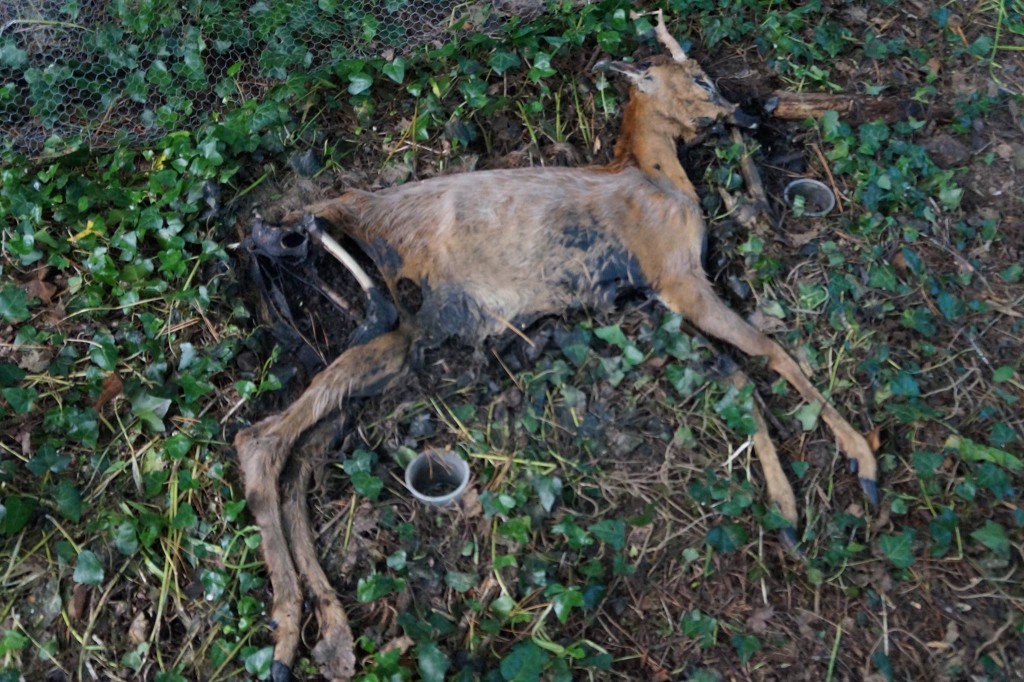 Studying beetles at Dartington
The deer was kept under chicken wire to stop wildlife from making off with the study material, thus it has decayed intact. This photo was taken a few weeks in. The two pots you can see buried in the ground are called pitfall traps and they're there to collect samples as they move towards or away from the carcass.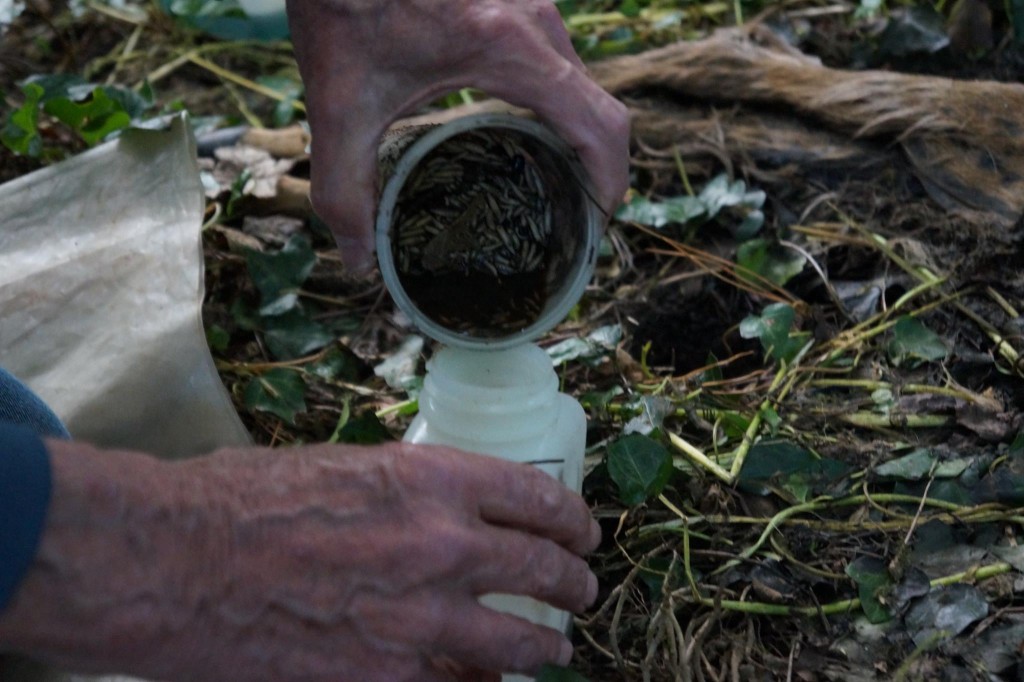 Studying beetles at Dartington
The contents of the pitfall traps are tipped into containers to be studied later, when they will be tipped out onto a large tray and water added to separate the catch. The beetles are picked out with forceps and stored in 70% alcohol. For identification they are air dried.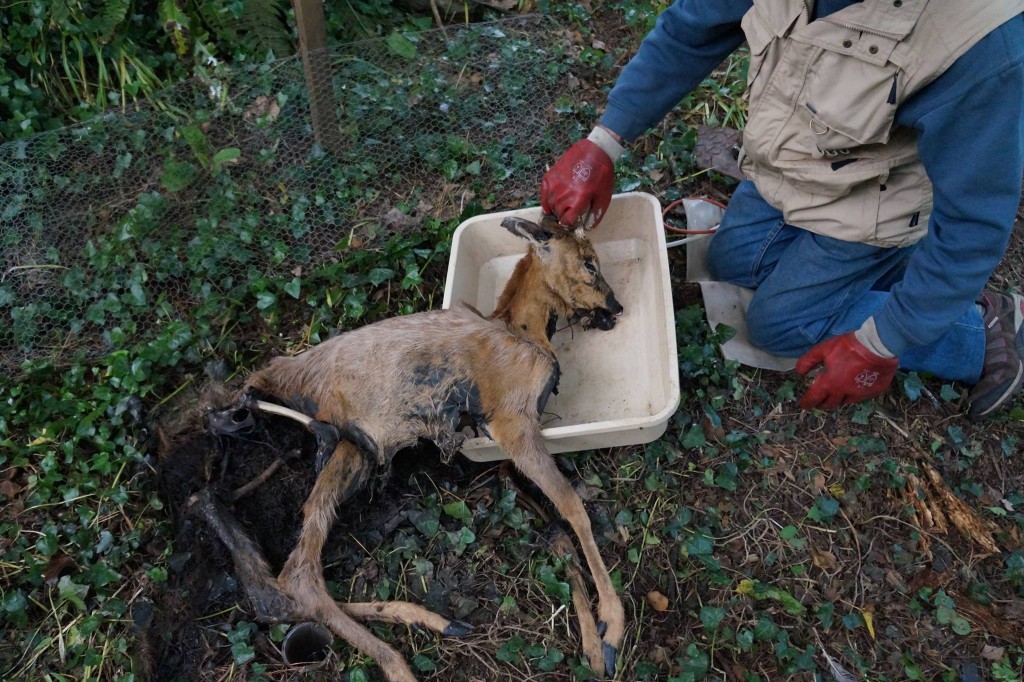 Studying beetles at Dartington
The deer is lifted, one end at a time, and placed over a white collecting tray. Using a white tray makes it easier to see the contents.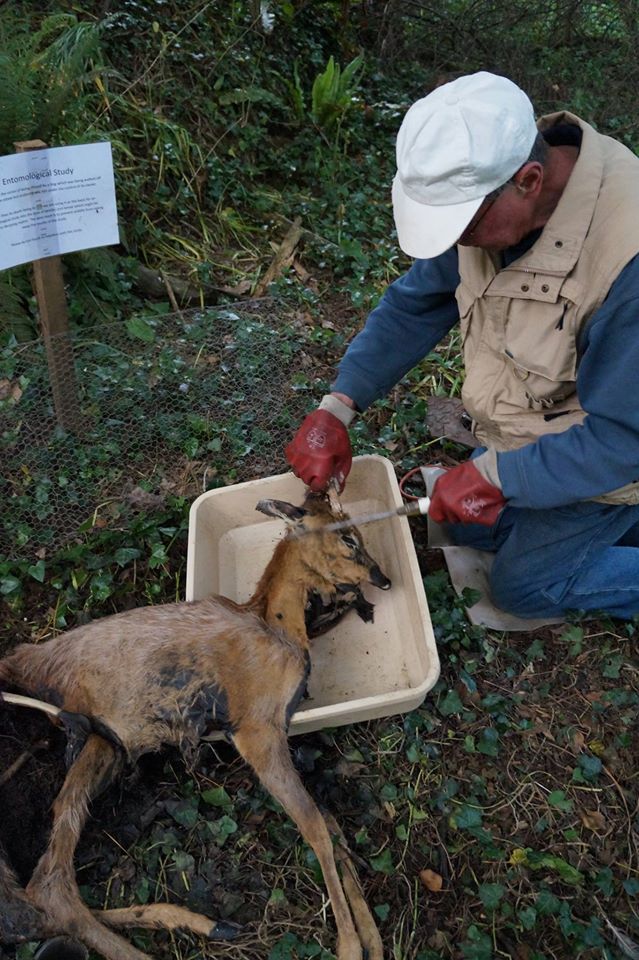 Studying beetles at Dartington
The carcass is given a tap so that beetles, larvae etc. fall into the tray.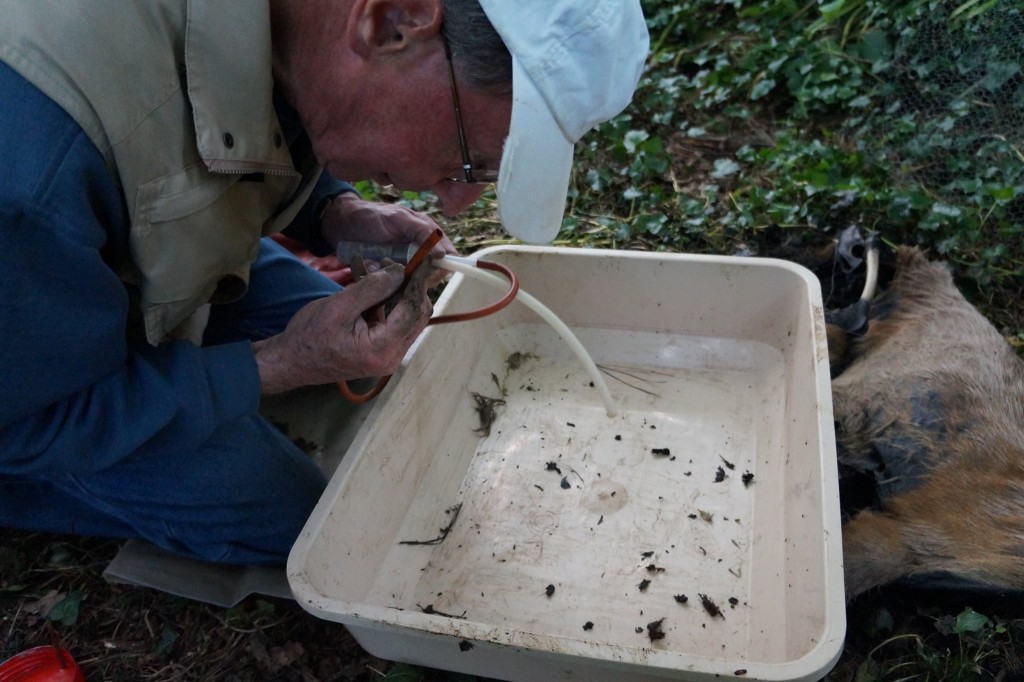 Studying beetles at Dartington
Some of the beetles that fall out are collected using a pooter (mouth operated suction aspirator, to give it its full title). Back in the 'lab' they are anaesthetised and killed using ethyl acetate vapour. They are identified under a dissecting microscope; even large specimens may need microscopic examination and smaller ones sometimes need to be dissected to see internal structures.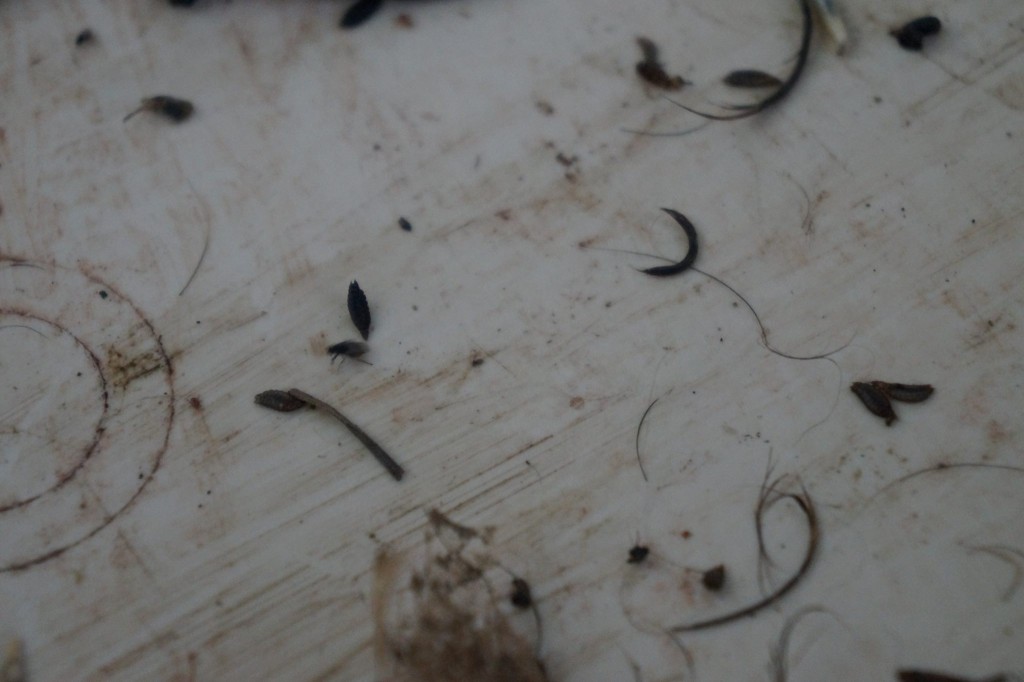 Studying beetles at Dartington
So far the deer has yielded at least 25 species of beetle, with at least 15 new to the Dartington list. Most of them have been rove beetles (Staphylinidae) which have short wing cases and exposed abdomens (resembling earwigs). They range in size from the big carrion rove beetle Creophilus which is black with tufts of white 'fur', to minute (<2mm long) species of Atheta. They are mainly predators on the maggots in the carrion. There also are 2 or 3 species of the parasitoid rove beetles Aleochara whose larvae develop parasitically within the fly pupae.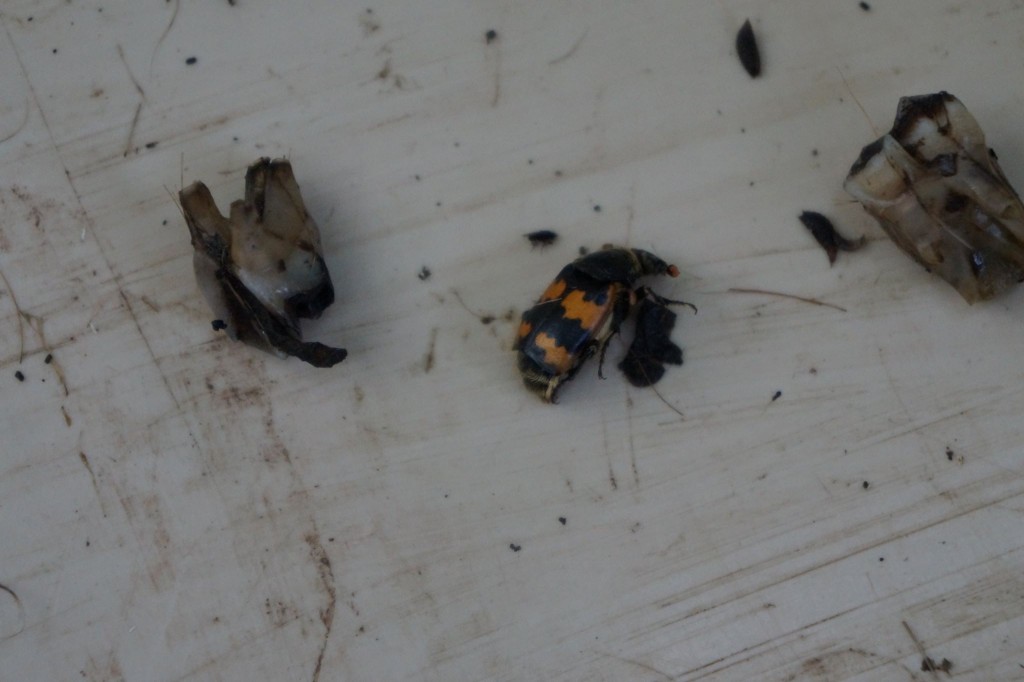 Studying beetles at Dartington
The largest specimen found has been this the orange and black burying beetle, Nicrophorus species. These lay eggs in the carrion and the larvae eat the flesh.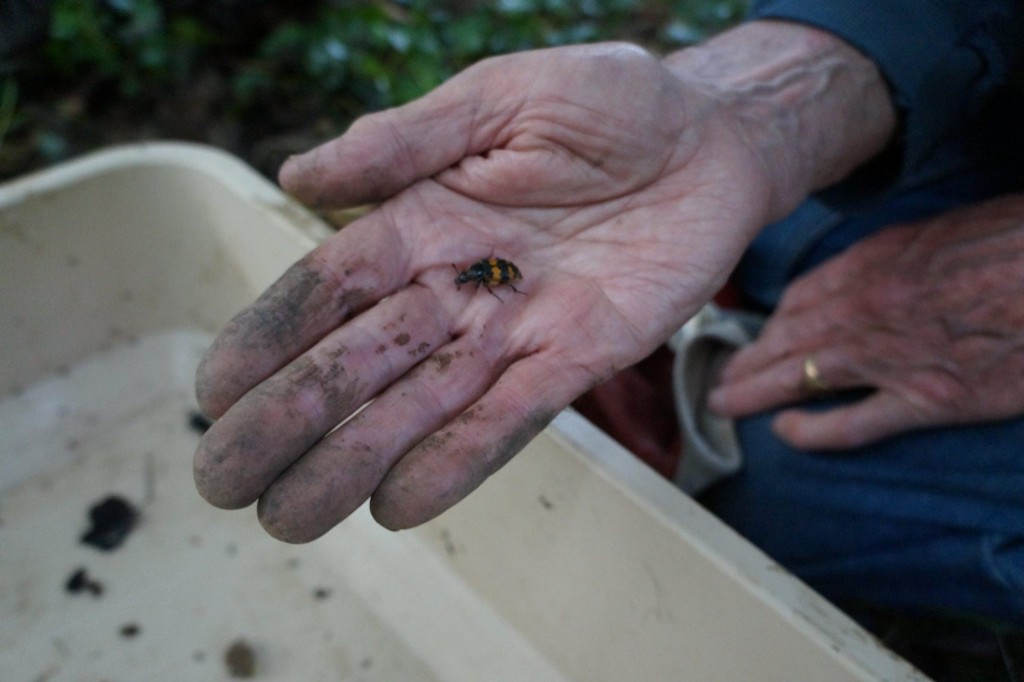 Studying beetles at Dartington
Larger specimens can be collected by hand before being placed into specimen tubes.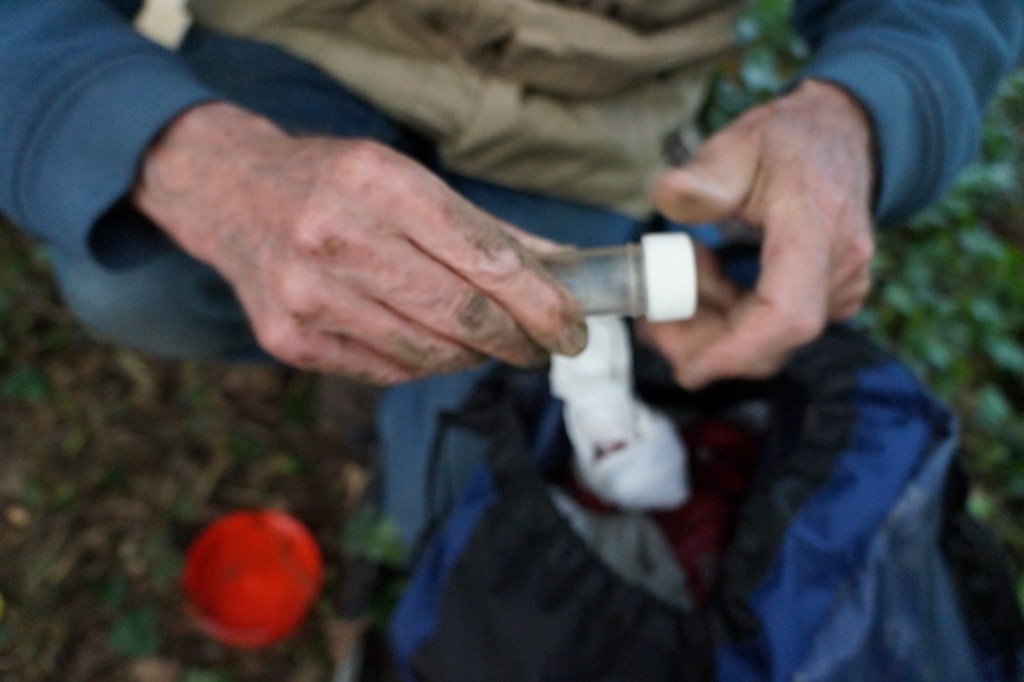 Studying beetles at Dartington
The deer has also yielded some more generalist species of other rotting organic matter, including two dung beetles, one fungus beetle, and three scavenging ground beetles (the 'hyenas' of the beetle world).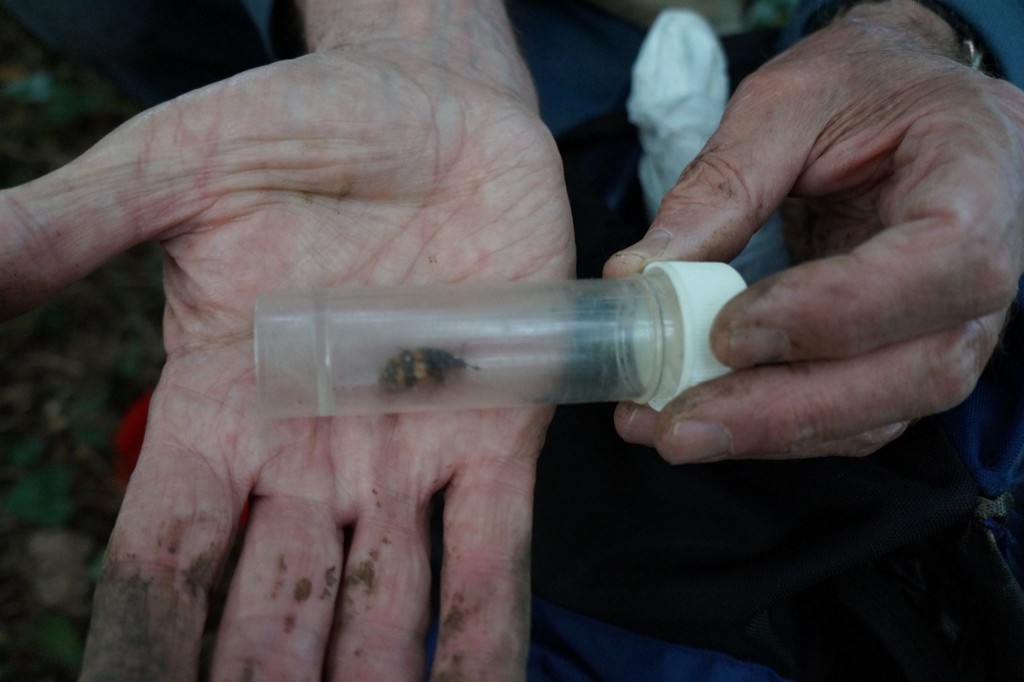 Studying beetles at Dartington
And that's how an unfortunate incident of a dog versus wildlife became an opportunity to learn a little more about what nature gets up to at Dartington, with the help of a dedicated volunteer. However, there's a limit to how many carcasses are needed as study material - so if people could please keep dogs under control on the estate to avoid unnecessary wildlife deaths it would be appreciated.
I also search under loose bark of dead or dying logs and branches. All these methods have so far yielded more than 450 species of beetle, over a tenth of the British fauna: 14 of these species appear to be first records for Devon and many are nationally or regionally notable, especially those associated with old trees and dead or dying wood.
They range in size from a single giant Sawyer beetle (Prionus corarius) about 4 cm long found on the lower drive by Estate Warden Mike Newby, to the hundreds of minute featherwing beetles (Ptiliidae) found in Mary Bartlett's compost heap.
Of particular interest recently are the numerous small species found overwintering in the thick moss on the Deer Park Wall and many carrion specialists found on dead deer carefully pegged out by Mike.
I have still to sample any water beetles from the few ponds, as well as investigating Berryman's Marsh and using a newly-acquired battery powered vacuum sampler. I do not doubt therefore that further interesting finds will continue to add to the known beetle fauna of the Dartington estate.
Martin
The Dartington Hall Trust would like to extend a warm thanks to Martin for providing this blog and helping us gain an insight into his work.
---
Further reading
Martin has kindly shared his reports on Dartington's beetles: