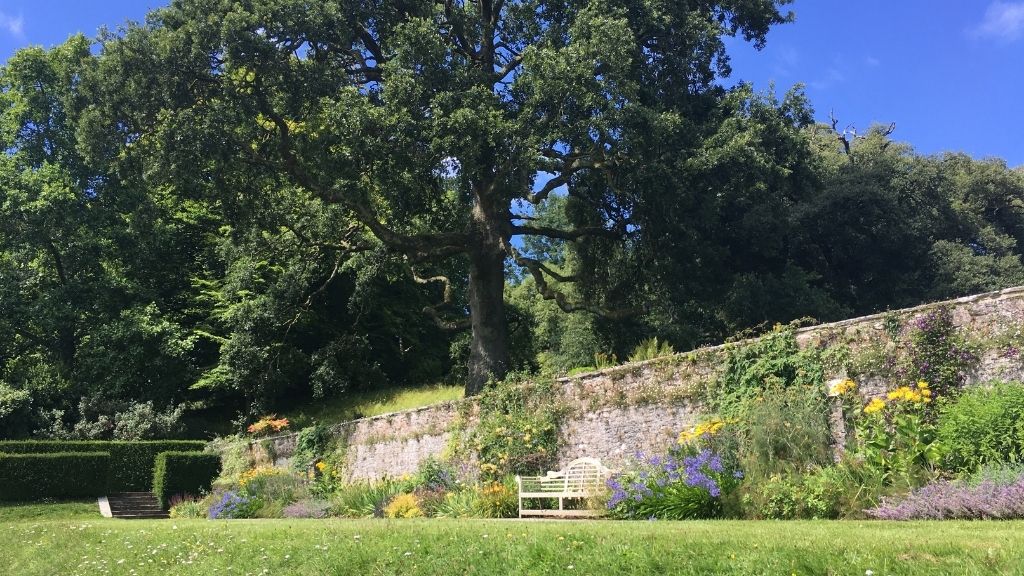 As we blinkingly start to come out of lockdown darkness, it is a time of newness, the trees are full of blossom, and the gardens at Dartington are going through a period of growth and change.
As we reopen the formal gardens, we will be charging an entrance fee. Our Grade II* listed gardens consist of 26 acres of stunning landscapes, sculptures by famous artists, and a unique collection of plants and ancient trees. Our team of dedicated gardeners work hard to maintain the gardens, but this costs a great deal of money. We have been very lucky to be one of the only formal gardens in the country to offer free entry for so long, but in order to ensure the future of the gardens, we have had to put this change in place.
During the last year, we have put a lot of thought and work into growing our garden to enhance your experience when you're with us. This includes an all new interpretation, offering insight into the grounds and the extensive history, plus an updated map which is included in the ticket price. We also have a brand new children's activity trail and have made the gardens more accessible by improving the step-free access route paths, which are now much better for buggies and wheelchairs and can take you all the way around to the whispering circle. There will also be a small plant stall run by the gardening team.
We want to make the gardens as accessible to as many people as we can so we have free entry available for anyone claiming benefits. This includes Job Seekers Allowance, Disability benefits and Universal Credit (you may need to provide proof at point of entry). It is also free to anyone registered disabled. We have also introduced a locals' rate (TQ postal code area) and we are looking into running occasional community open days in the gardens where entry will be free for the day. Blue Light Card holders also have discounted access – this covers NHS, emergency workers, armed forces and social care workers.
Gardens entry is free for Dartington Members, Carers (with a full paying adult or child), guests staying in our Courtyard Rooms, camping guests, students, Dartington tenant and Dartington Trust Volunteers. The 1200 acre estate remains free for all to use which includes many miles of woodland walks, river paths and the Deer Park remain free for all to access and enjoy all year round. We will also be offering some free community days which will take place throughout the year.
The White Hart and the Green Table Café are both available to all and visitors do not need to have a garden ticket to access these. Both sell delicious food with a focus on seasonal and local produce. The Green Table have an excellent selection of home-made cakes and hot drinks, offering the perfect accompaniment to a visit to the gardens.
Members get free access to the gardens, so if you are local and visit four times a year or more, then a membership could save you money and also help to preserve Dartington Trust. Plus there are lots of other benefits too including discounts on food, arts, entertainment, short courses, accommodation and shopping, exclusive early bird access to tickets and an opportunity to be part of shaping our work. Dartington Parish membership starts from as little as £25 a year.
Some of the garden highlights include our ancient yew tree which is least 1500 years old, a 150 year old Lucombe Oak, a row of Sweet Chestnuts which are believed to be over 400 years old, our huge Swamp Cypress tree which we affectionately call 'Swampy', our incredible magnolia collection and the Henry Moore 'Reclining Figure' sculpture which was designed specifically for Dartington, among many other delights to be discovered. It is also the only example of Beatrix Farrand's work in the UK, as she was brought over by the Elmhirsts from America to redesign the courtyard in the 1930s.
Tickets are valid all day so visitors can come and go in the garden and the rest of the estate. It's very easy to book a ticket online.
We look forward to you joining us soon in this tranquil space and thank you for supporting us and helping to ensure Dartington's future.