Harriet Bell is Community Resilience (Food & Farming) Manager, helping Dartington to explore new ways to feed ourselves sustainably.
Previously, she worked at West Town Farm, an organic mixed farm enterprise on the outskirts of Exeter, and 10:10, an organisation that encourages schools and businesses to cut carbon emissions. More blogs from Harriet
---
Don't put too much meaning on sheep…
…but it was such a great moment.
Maybe, but it's only one moment…
….meh, boo to you, I'm going to get excited about sheep!
It came up at our Food & Farming Community Update, it has come up before and and it will again: it seems people are deeply concerned about competition between different tenants on the estate and then between those tenants and our neighbours.
The concern is we'll have too many people producing the same things, trying to sell to the same market and it will result in success for some at the expense of the others.
Now, whilst I do understand the concern and appreciate that it comes from people wanting all the projects based here to succeed, I find it a slightly dour perspective.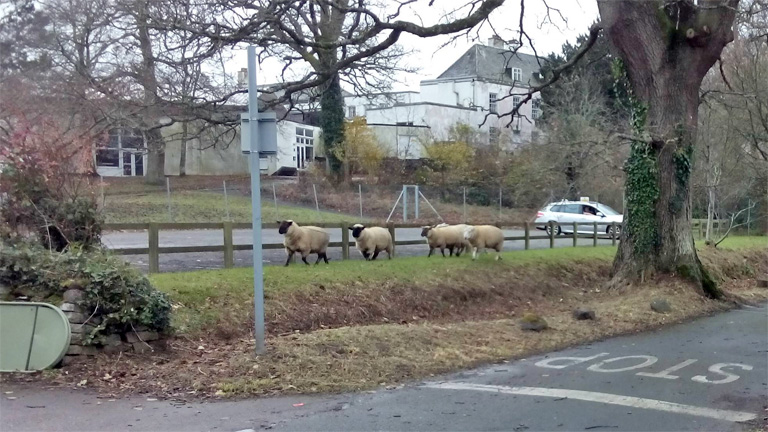 Above: Jolly Farm sheep on the loose near Foxhole led to an unusual collaborative rescue effort
---
The Dartington estate has 240-odd employees, 127 business tenants, a number of residential tenants and many thousands of visitors a year, 1 food shop, 3 restaurants, a café and the Schumacher College kitchen.
Dartington village has just under 300 residents and then Totnes has a population of roughly 7,500.
At most we're currently looking at 10 different organisations on the estate farming produce for sale and the majority of those are not operating at an extensive scale – in fact, most are very small scale.
Surely with all those people living, working and visiting the estate or nearby we can come up with enough customers to support everyone? And yes I know, we're blessed with Riverford as a neighbour – but do you honestly think we can produce enough to put Riverford and all the supermarkets in the area out of business?
Instead, a plea: please, please come up to me and ask how you can register for a School Farm CSA veg box (email jenny@schoolfarmcsa.org.uk) or get a share of some Jolly Farm lamb or beef (jade@jollyfarm.org.uk) or talk to me how we might work together to shine a spotlight on this community of producers and create a name for this area as being great for local, sustainable food. Let's be proactive in our support of these producers!
Recently, I sat down with some of these producers and we talked through 2015 and who would be producing what.
There was surprisingly little overlap and if we take a collaborative approach, we can try and minimise that overlap and look at how we turn having lots of producers on site to our advantage. I've no doubt there will be a learning curve, but I'd rather we were collectively aspiring to take the supermarkets on than thinking the competition is amongst each other.
Anyway, what's all this got to do with sheep?
Last week, some of Jolly Farm's sheep at School Farm escaped. We couldn't get hold of the Jolly Farmers so instead School Farm CSA, Flower Projects School Farm, someone from The Living Projects and the whole LandWorks team turned out to get those sheep back where they belonged. It turns out a couple of the LandWorks guys are a dab hand with sheep.
I know it was just one moment but it was so nice to look at this team of people working together and think of all the great things they can achieve embracing that spirit of collaboration.
Harriet
---