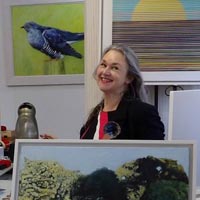 Jo started her arty adventure at Dartington three years ago in creating The Studio, where visitors met and watched South West-based artists as they created work on-site.
Many artists have since enjoyed the exposure that The Studio offered and have continued to become part of Jo's own space here on the estate – The Mason-Laurence Gallery.
More about The Mason-Laurence Gallery⇒
More Interviews with an artist ⇒
Landscape artist Alan Gregory shares his thoughts on what inspires his art, why he prefers beautiful and unspoilt places, and what brings out his inner Welshman.
---
J M-L How did we meet?
AG In the gallery last December, full of enthusiasm, fresh from an exhibition in Ashburton.
J M-L  Ah yes, I remember you coming in to the previous gallery incarnation and asking how it worked…I  loved the depth you capture in your river paintings. What brought you to Devon?
AG I originally arrived in 1989 for an academic job at the University of Exeter.
---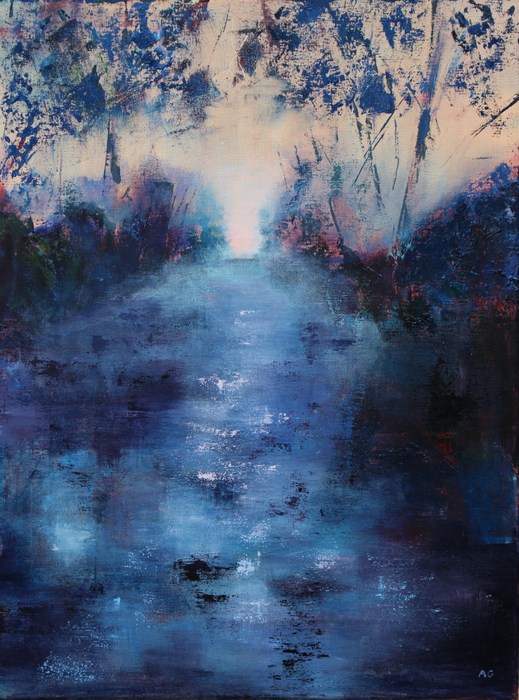 First Light on the Water
---
J M- L You have spent a large part of your professional life lecturing in finance, so has the artist in you been waiting to burst forth?
AG Well I have always done some drawing and some watercolour work, but on an occasional basis.  Photography had also been a longstanding interest, but having the time to start painting on a larger scale, initially in my study, was great.  I started with acrylics, but having finally built my own studio I had the space to move into painting with oils.
J M-L  So where do you come from?
AG I was born in Mountain Ash, South Wales. I have lost the accent as we moved to England when I was seven.
J M-L How has living in Devon changed or developed your style?           
AG Living overlooking the Teign Estuary has prompted a fascination with the effects of light on water.
J M-L  How long do you spend creating in a typical day?
AG That changes so much according to mood, light and whatever else is going on.
J M-L You have already mentioned the effects of light on water, tell me what else gets the juices flowing?      
AG A lot of my work features water, so I'm often looking at reflections, and how those change with seasonal colour.  Then there's the drama created by early morning or late afternoon/evening light. I also love the brightness of Mediterranean light. However, recently, some artist friends and I spent the day on a boat meandering along the River Dart…this river offers so much to get excited about, especially at this time of year, I can't wait to get painting!
JM-L  I can't wait to see the results! Who inspires you?
AG The St Ives school of painters definitely and in terms of contemporary artists, Ken Howard would rate highly.
---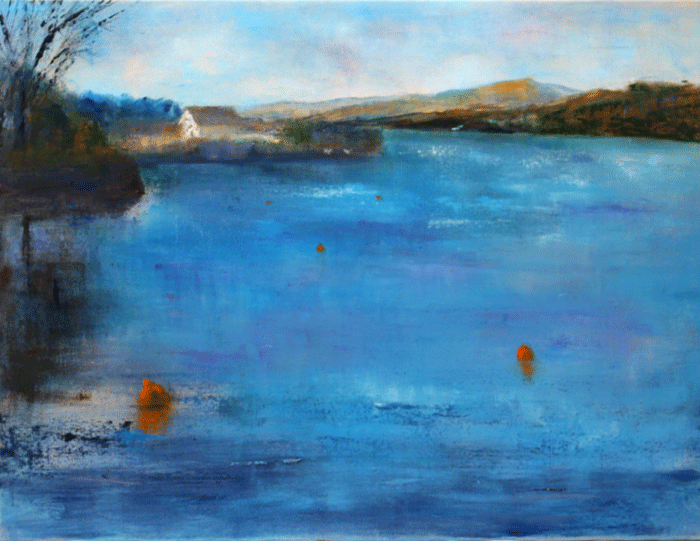 Winter Estuary
---
J M-L Tell me why you like to work in your particular media.
AG  Oil would be my preferred choice, because I love the consistency of the medium and the textures that can be produced with it. Acrylics though can be highly useful.  If I'm out and about then the quick drying time of acrylics makes transporting paintings far easier.  In addition, acrylics are far more versatile for abstract work using mixed media which I also enjoy.
J M-L Tell me more about your subject matter.
AG  Well it's mainly landscape but also abstracts typically inspired by landscape.
J M-L Why does this particularly appeal to you?
AG I've simply always been inspired by beautiful, unspoilt places.  It's why I never paint urban landscapes or industrial landscapes, despite such a view being distinctly unfashionable!
J M-L Where do you go to think?
AG Fortunately, I'm capable of thinking almost anywhere.
J M-L Do you see yourself living in Devon forever? 
AG There was a time that I would have done: I have quite an internationalist outlook, and am open to the possibility of moving to continental Europe one day.
J M-L Tell me something about yourself that has nothing to do with art…
AG  I'm  an enthusiastic, but typically despondent, supporter of Cardiff FC – my origins are very apparent whenever Wales are playing football or rugby!  That's the time my roots really show!
JM-L Hahaha, the Welsh accent, fabulous! Keep shouting Alan!
---