Luvo Mafani is Sous Chef/Pastry Chef at The White Hart at Dartington Hall, holder of two AA rosettes for culinary excellence.
– More recipe blogs from the White Hart
---
In our latest recipe blog, I decided to feature our sticky toffee pudding, simply because it is our number one best-selling dessert at The White Hart.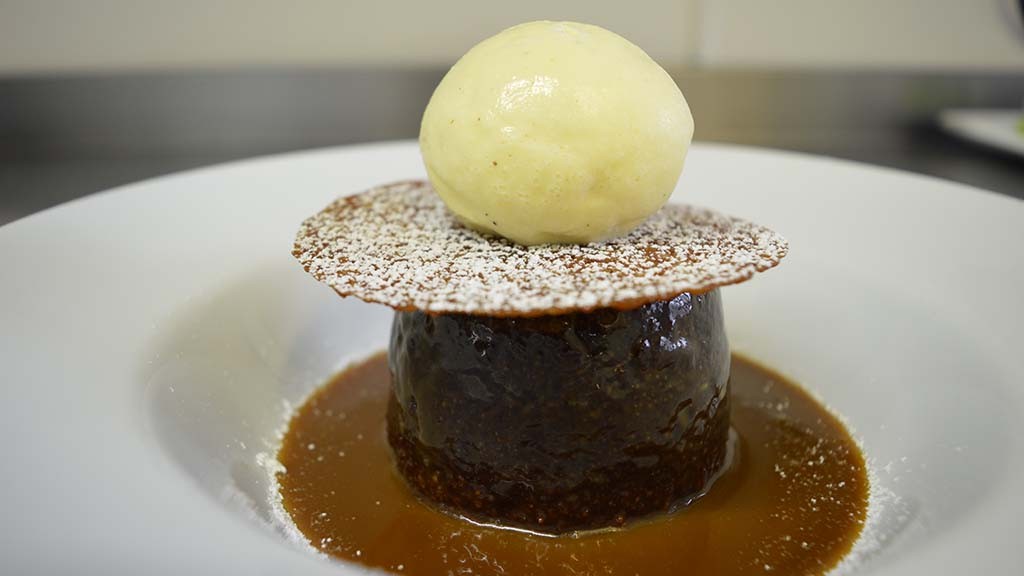 It's actually a very light, delicate dessert and we get good feedback from customers about the balance of flavour, texture and presentation.
The syrup balances the moistness of the pudding, the added brandy snap offers texture, topped with vanilla ice cream which marries all three together. An affordable dish and easy to cook – take a look at the recipe and have a go!
With winter on our doorstep, who doesn't want a warm dessert? Happy cooking!
Luvo
The recipe
Sticky Toffee Pudding ingredients (Makes 5 ramekins)
300 ml. water
1 tsp bicarbonate soda
2 eggs
175g caster sugar
50g butter, diced
180g self-raising flour
160g chopped dates
Plus ingredients for syrup – see method
Method:
Put the chopped dates in boiling water with bicarbonate of soda. Let it come to the boil and simmer for 5-8 min. When mixed thoroughly and appearing almost dark green, it is ready.
Whisk the mixture for 2 minutes, then add the sugar. Whisk for a further 3 minutes and add the diced butter.
Stir in the eggs, followed by the self-raising flour.
Bake at 165C for 40 mins. 10 minutes before it's done, prepare a syrup by combining 1 litre of milk, 150 ml cream, 100g granulated sugar and  100g butter, plus vanilla essence to taste.
Bring the syrup to the boil. When the pudding is ready make small holes in it with a fork and pour over the syrup. Return to oven to cook for 5 more minutes.
Toffee sauce – ingredients
50g butter
80g soft brown sugar
500ml double cream
5 ml vanilla essence
Method
Melt the butter. Add the sugar and cook gently in a saucepan until the mixture caramelizes (you will smell it!)
Add the cream and keep mixing until the sauce is creamy with no lumps.
Add the vanilla and cook for a further 8-10 minutes – keep mixing and don't leave it!
Pass the sauce through a strainer.
Brandy snaps – ingredients
200g butter
200g sugar
200g glucose syrup
200g plain flour
Nigella seeds (optional)
Method:
Combine all the ingredients and leave in the fridge for 20 minutes.
Make small balls of the mix and place on a silicone mat in the oven at 175C for 6 minutes.
Remove from the oven and sprinkle with nigella seeds.
---