Mary Bartlett came to Dartington in 1963 as a horticultural student. After her training she became responsible for the glasshouses, nursery and walled garden.
She is the author of several books, including the monograph Gentians, and Inky Rags, a review of which can be found on the Dartington website. She is now the tutor for bookbinding in the Craft Education department. More blogs from Mary
---
We are surrounded by bleeps, buzzing and mechanical ring tones.
Many people have a metal or plastic add-on permanently clamped to their ear. The Clangers provide the noises and The Borg the technology. No one seems to have noticed.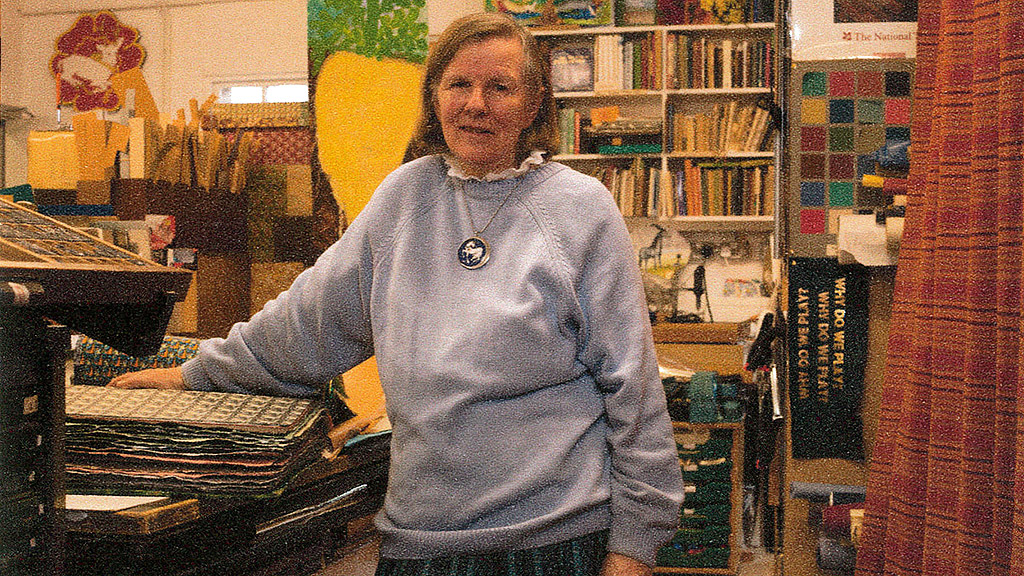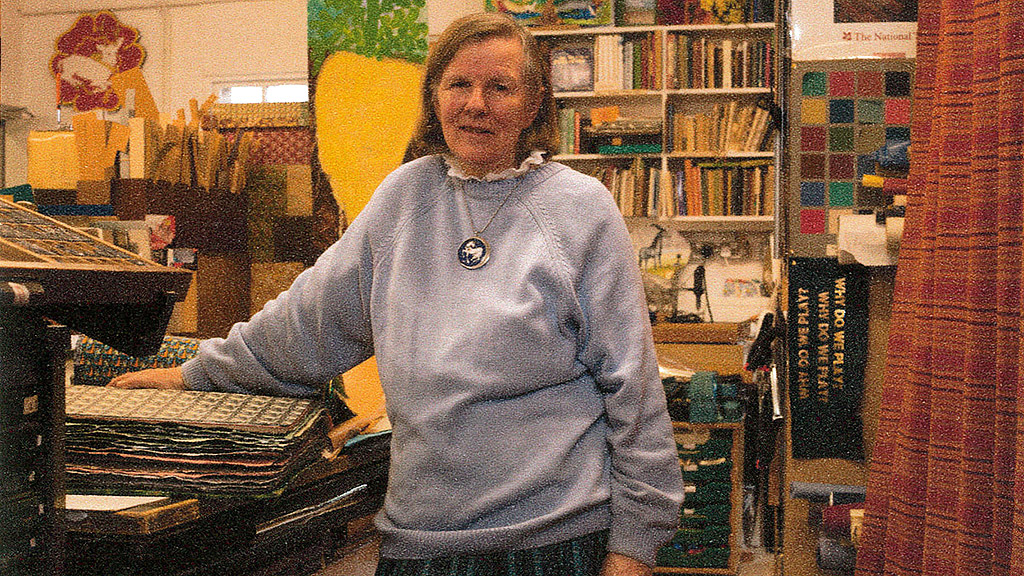 The Clangers are characters from children's books and a TV series created in the 1960s. They live on their own planet and communicate with a variety of noises. The Borg, a race encountered in Star Trek, are partly mechanical, but, plugged into a united whole, like drones in a hive, they travel through space terrifying just about everything in their path.
It was a relief to find at a car boot sale The Biology of Star Trek by Robert and Susan Jenkins. I found out that The Borg can be halted if the concept of individuality is introduced to them – they lose the capacity to function as a single mind. The book is a fascinating read, posing possibilities of adaptations.
The Clangers books can be more safely read to children at bedtime and they have just been reincarnated in a new television series. Their creator, the late Oliver Postgate, was educated at Dartington Hall School. (By all accounts, he didn't like it much.)
Long ago, undaunted by the terrifying possibilities in worlds unknown, such as viruses and parasites, let alone cyberspace itself, I decided to surf the web for other, rarer book titles. The computer was content to make Clanger noises for the journey. What was I looking for? How to begin? Dare I risk my credit card details? Would The Borg be on the lookout for such information? Once I got the hang of the technology, I 'boldly went' as the phrase goes.
I typed 'John Mason' into the book search. This provided so many entries I was lost in computer time for hours. Inevitably it led me to Rigby Graham, Mason's illustrator. I realised I had missed out on the whole exciting private press movement in Leicestershire. Two titles I could not resist. The Execution of a Bookbinder, James Cook with an illustration by Rigby Graham was the first of the Brewhouse Broadsheets printed in 1966. It tells of a binder who was hanged for murdering a book collector in 1832.
The other: One Hour Less, A Bookbinder dies from Jail Fever, also illustrated by Rigby Graham was Brewhouse Broadsheet number five 1968. This one recorded an incident in 1788 when the bookbinders were trying to get their punishing working hours shortened.
In the same vein: The Great Cat Massacre by Robert Darnton, relates an incident in France during the 1730s when the printing apprentices hanged all the cats they could find as a protest against working conditions. Making books used to be a very grim business indeed.
To cheer myself up, I sought out the work of Peter and Donna Thomas in Santa Cruz, who printed You Can't Make Paper from a Loofa: Rigby Graham in conversation with Peter Thomas. Peter visited me many years ago when Gillian Spiers was making paper from plants. His and Donna's work is often in the form of miniature books. My favourite is Shakespeare on Paper Mills, the original edition of which was printed in the margins of a book salvaged from 1576. Their oddest is surely John Steinbeck's Cannery Row, a book in a tin – honestly!
Another precious discovery of those days was Henry Morris's Bird and Bull Press. His work producing fine limited edition books spanned over sixty years, and was celebrated in many exhibitions. Among his most wonderful and sought after publications is Private Presses of San Serriffe by Theodore Bachus. Since 1980, the San Serriffe Publishing Company has been offering a sideways look at the wonders of metal type and the eccentricities of private presses. It all began in 1977 when The Guardian newspaper created the island of San Serriffe as a brilliantly successful April Fool's joke. My favourite obscurity concerns the Ki-Vlong languages – the refuge of compositors whose type cases lack esses, effs and whys.
Other letterpress printers print equally wonderful otherworldly things. Adanaland even has its own stamps. Its 'governor' at Hedgehog Press is the maker of one of the finest pieces of typography I know: Rambling Urchin 47 A June soundscape – walking to work with ears open.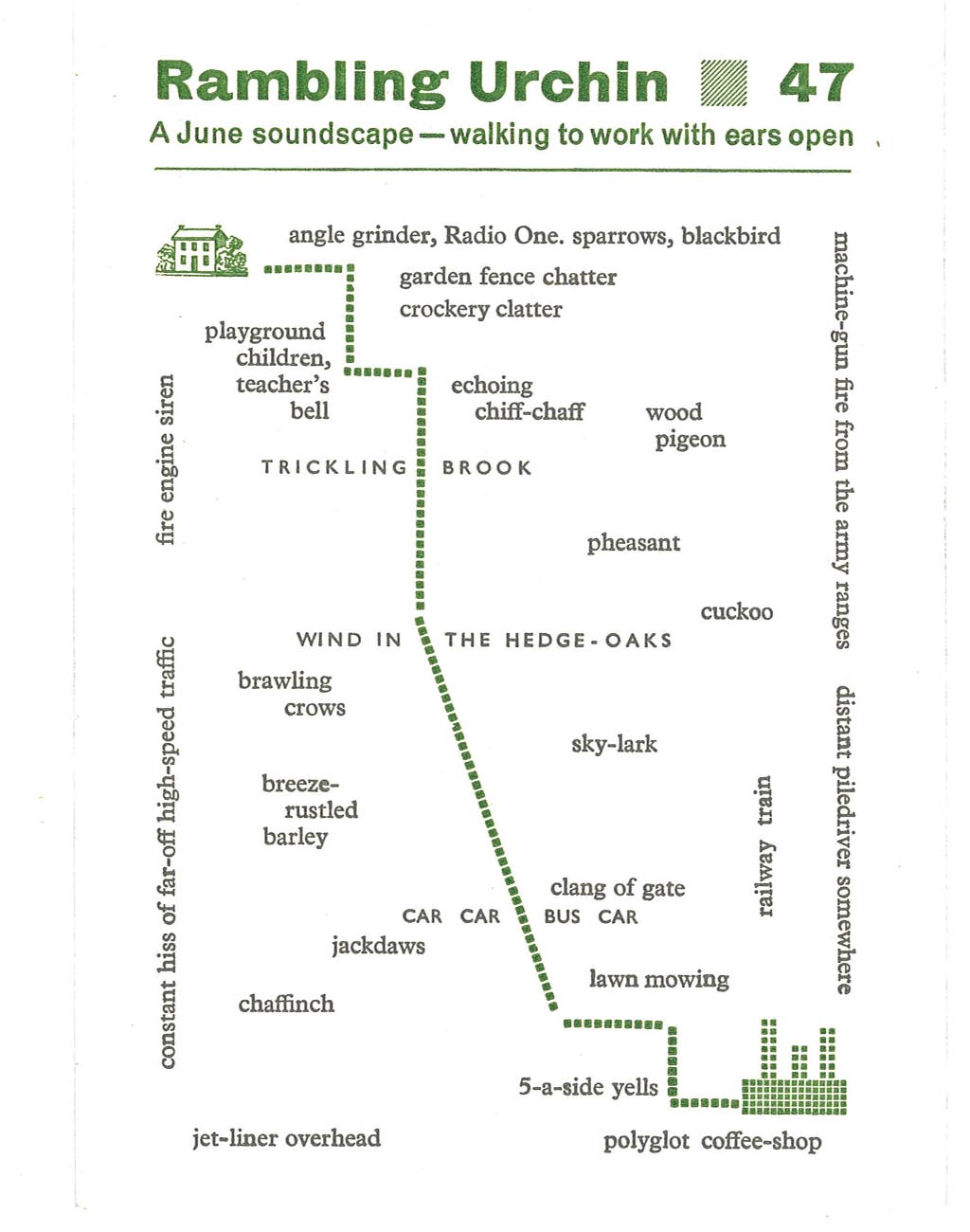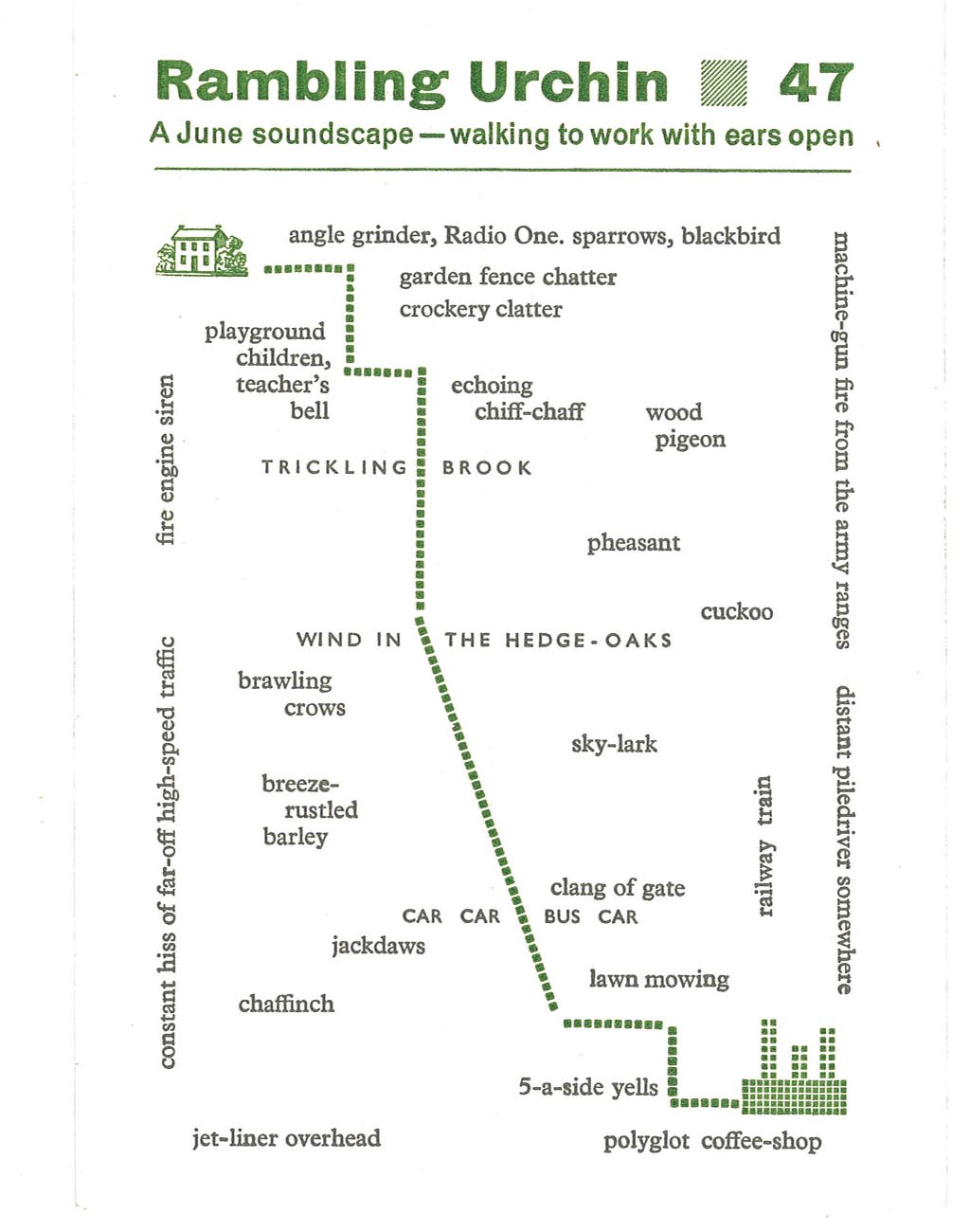 All hand printing requires great patience – and a different sense of time from the one that rules us now. Two more discoveries show what I mean:
The Parson Printer of Lustleigh by Carroll Coleman, Yellow Barn Press, 1999, is the story of William Davy  a Victorian parson of the Devon village who wrote, and with the help of his housekeeper set about printing a A System of Divinity on the Being, Nature, and Attributes of God. He began it in 1795 with a few fonts of battered type and finished 12 years later in 1807.
Many years ago, one of my class brought in a copy of Aurora Australis. He had been a whaleman and had acquired the book in Australia. The sealskin and packing case boards were fragile and he had had a box made to protect it. At the time I did not realise what a rare treat this was. I went searching for one of my own and discovered a facsimile copy, also in Australia. It arrived by post almost before I had ordered it. Aurora Australis is treasured for having been the first book written, printed and bound in the Antarctic – by Ernest Shackleton, no less. Shackleton took a printing press to Antarctica on his 1908-1909 expedition and he and his men spent the winter printing the book in cramped, freezing conditions.
The point of this wandering reminiscence is to mark the death last month of Rigby Graham, and to mention the help he gave me when I was assembling a small publication of my own: John Mason and George Percival, A Reminiscence. It was hand printed on Tuckenhay Mill paper and later included in Inky Rags. John Mason is an ever present influence in the bindery. We have considerable quantities of Linson a product he helped develop (Bob the Binder's Progress) and some Sylvia Papers, which he named after his daughter. When George Percival died, Rigby wrote me one of the most moving letters I have ever received. In it he referred to his stroke and how he was continuing to make woodcuts by feel 'with my thumbnail and a small graver'. George Percival, one of the finest binders of private press books, sent me his own bound copy of John Mason's Paper Making as an Artistic Craft.
John Mason and George Percival, A Reminiscence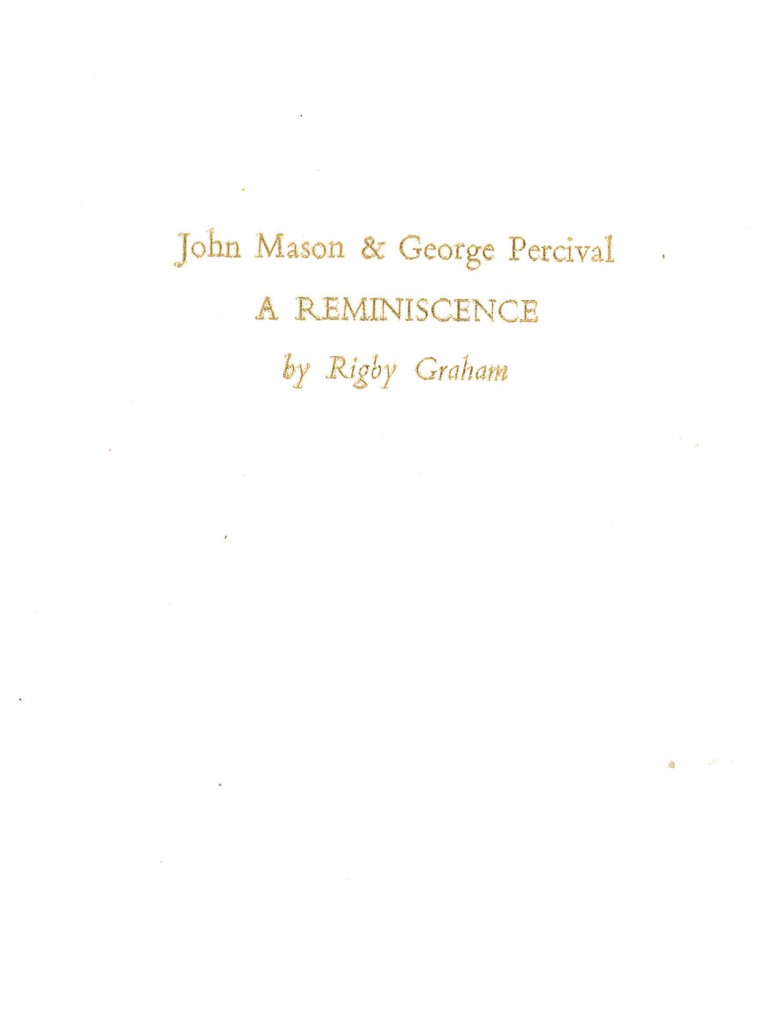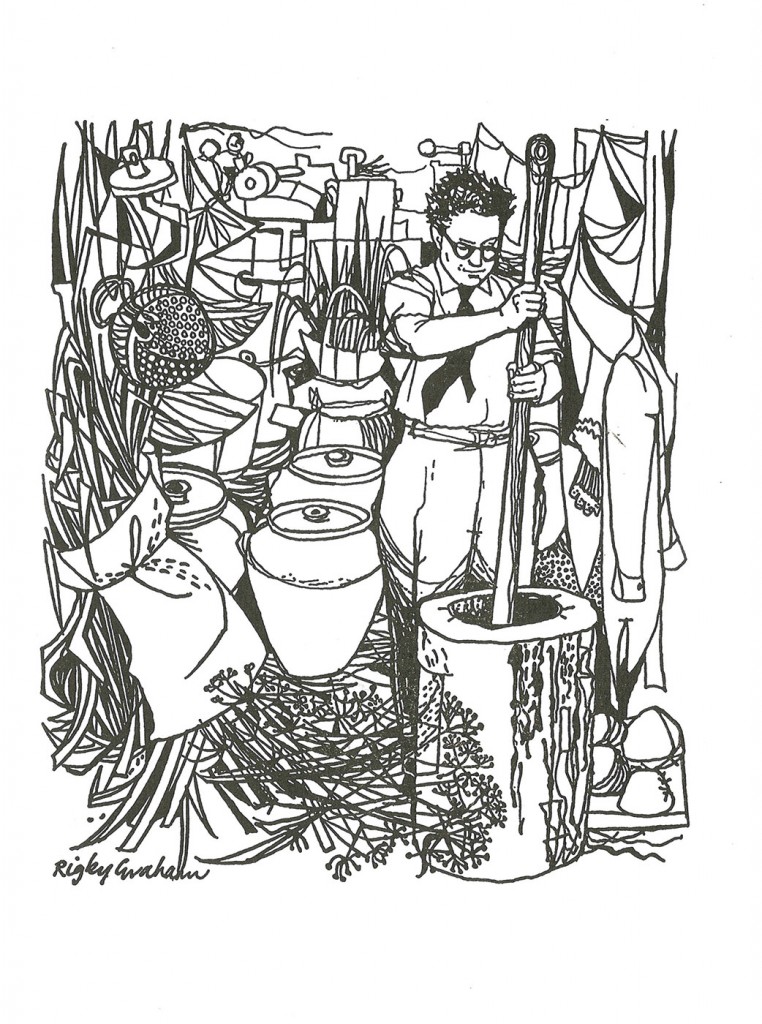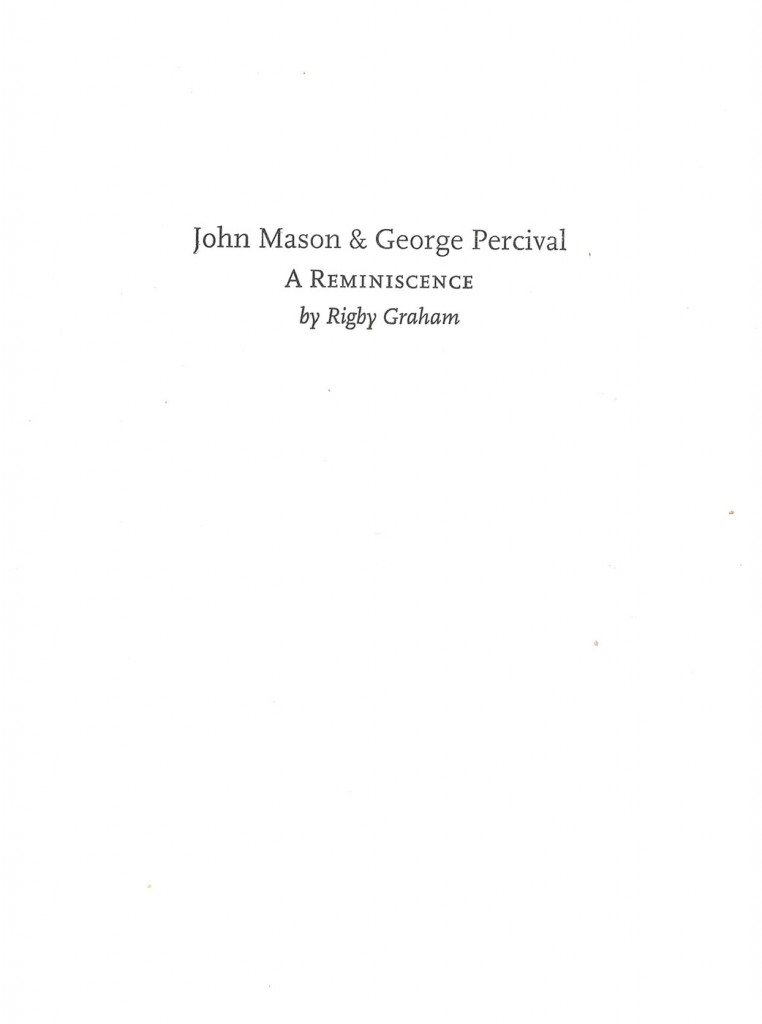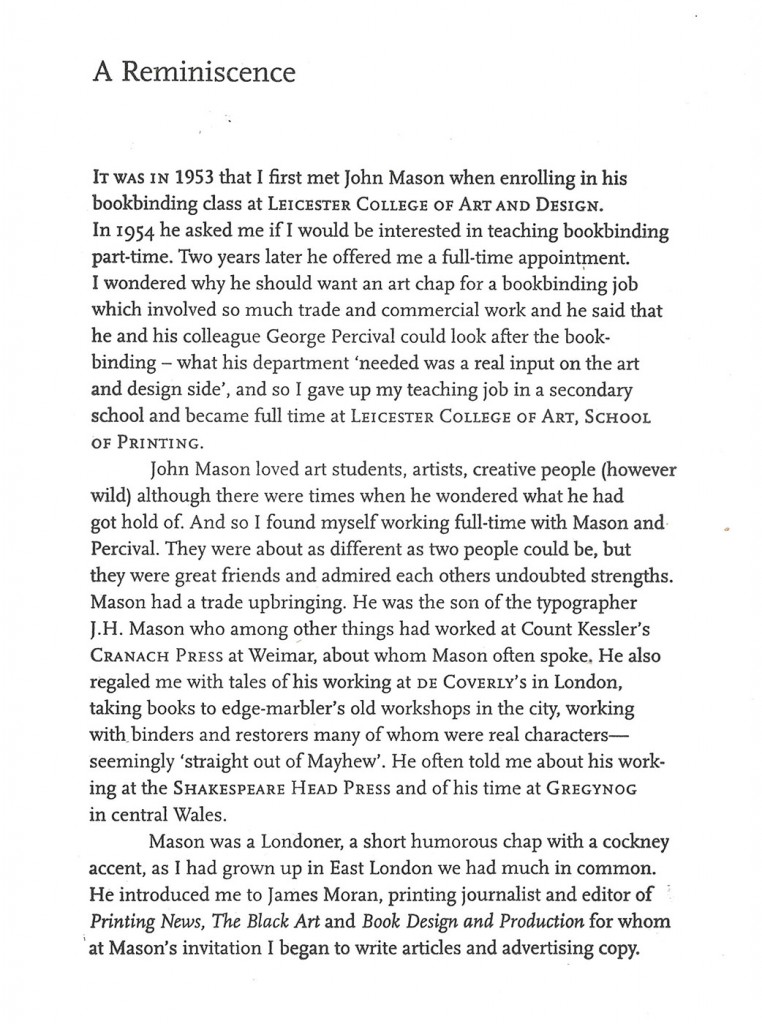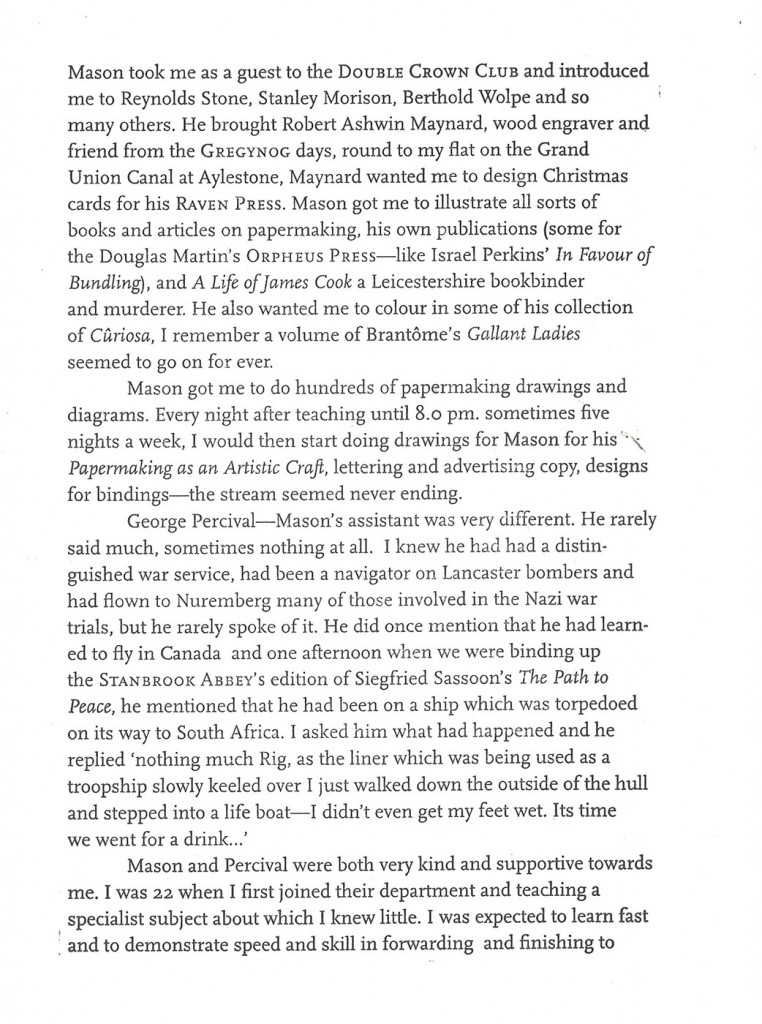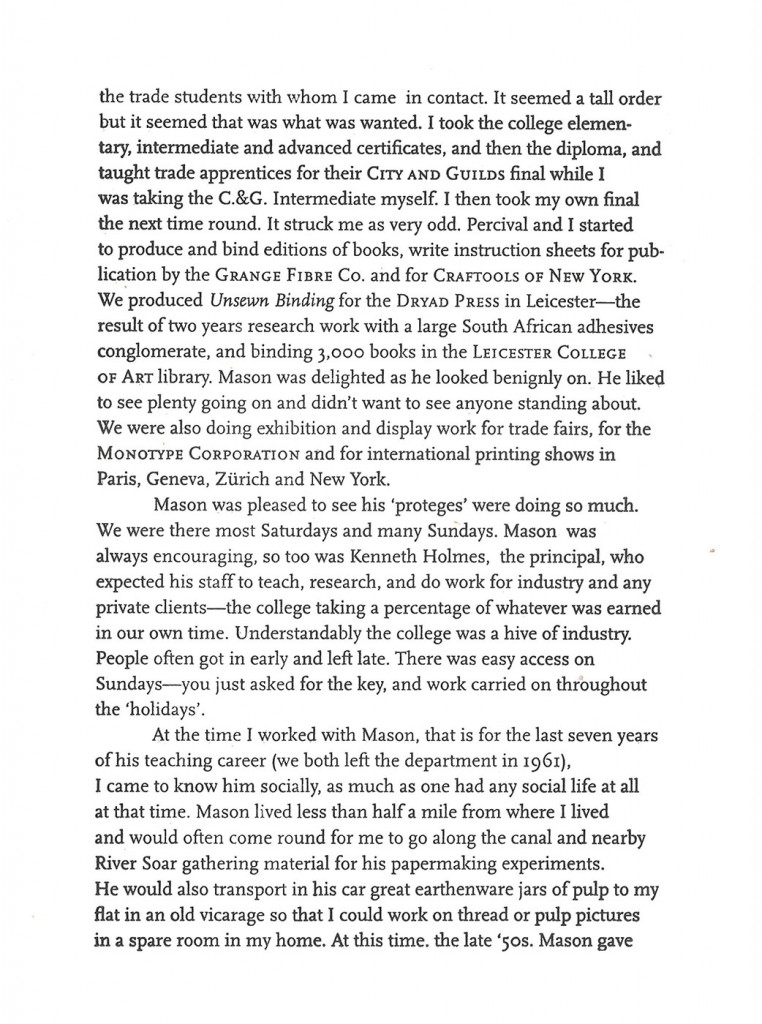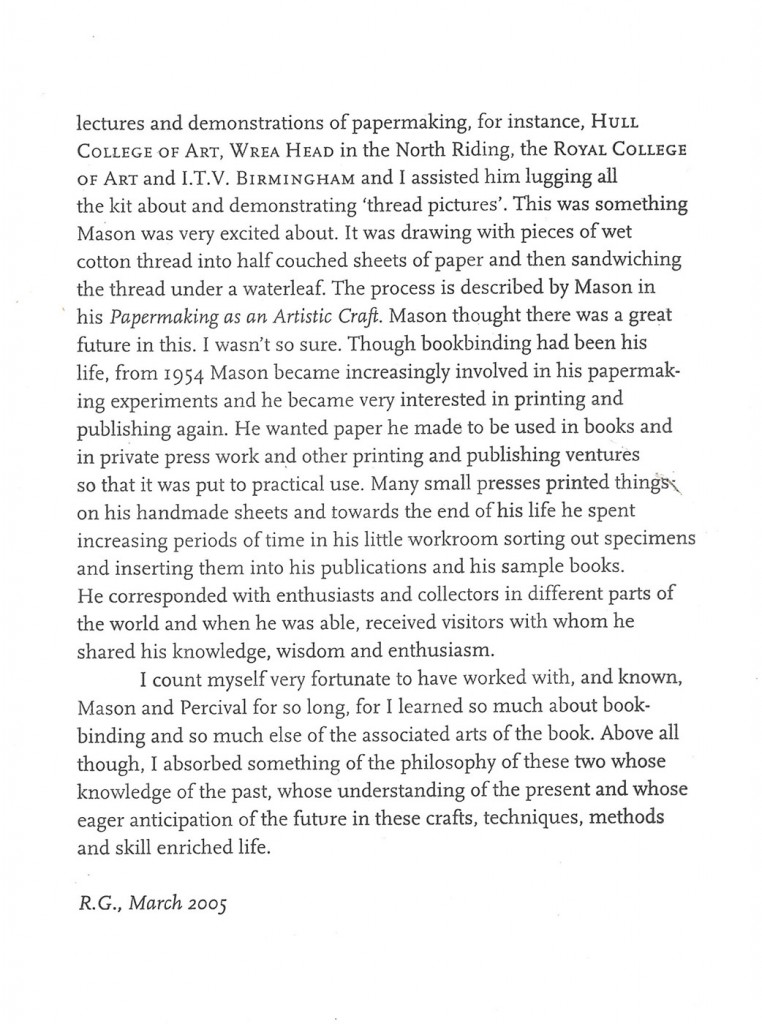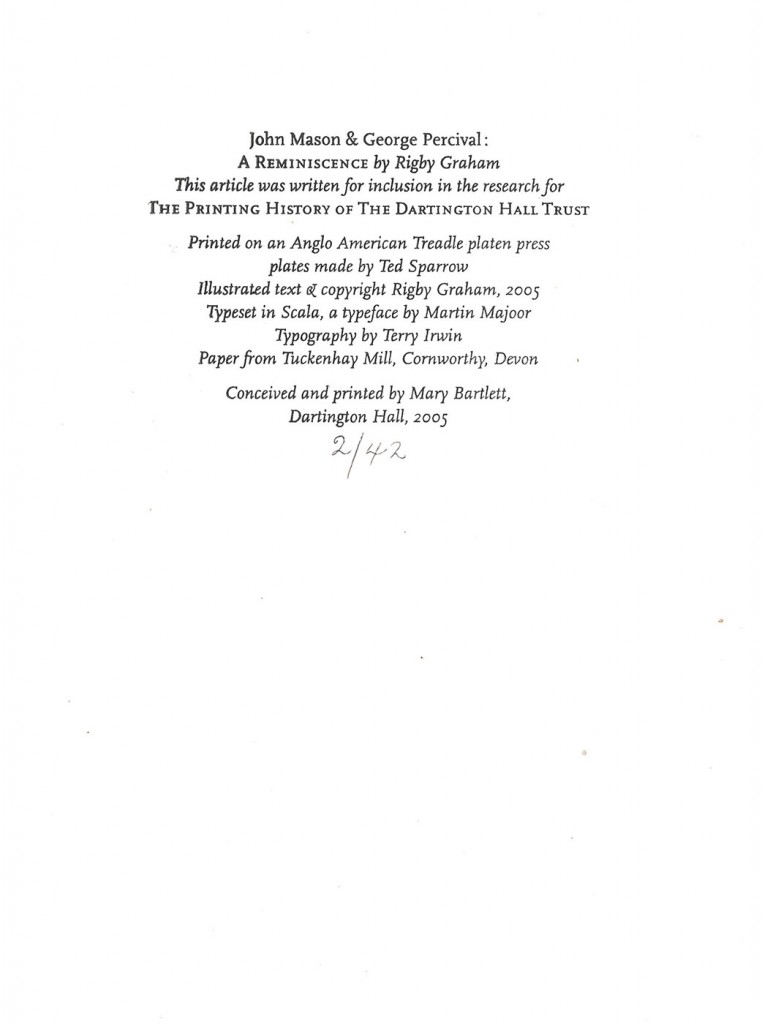 I used to write articles called Bear Observations, based on the experience of taking a small toy polar bear called Percival to conferences. More recently, Percival has embarked on longer voyages in Travels with Percival, illustrated by my friend Mary Beresford-Williams, and helped along, like some of my other publications, by Kevin Mount. Copies are available from the retail parts of Dartington, and from a stall at the Ways With Words festival in July.
In the meantime I'm off on holiday with a copy of Religions of Star Trek by Ross Kraemer, William Cassidy and Susan Schwartz, and, for safety, Housekeeping Hints & Tips from Schumacher College, Captain W.
Mary
---
*Solander boxes. Originally wooden, dust free and almost watertight botanical specimen box designed by Dr. Solander of the British Museum (1773-1782). Today, a drop-back or drop front box to hold a book or documents. Loosely, any book storage, document or museum box.  A Student's Bookbinding Primer David Elliot at Dartington Bindery 2013. After extensive research there seems to be no agreed definition of the term.