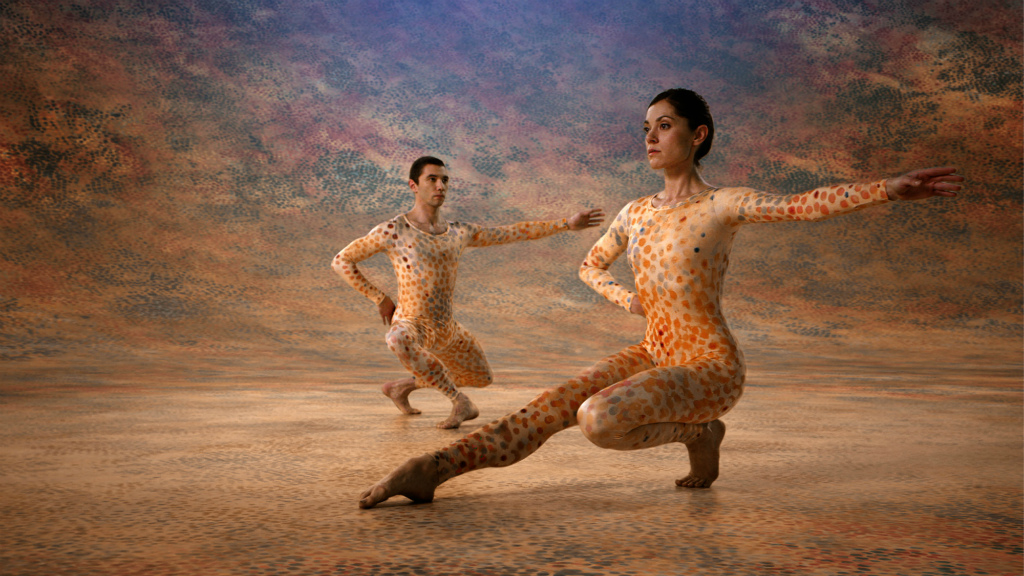 Our link with one of the most influential American choreographers of the 20th century
Following the UK release of Alla Kovgan's documentary on the life and work of the influential choreographer Merce Cunningham, here's a blog from the team at Dartington Arts. Read on to learn more about Dartington's own connection with this key figure in the history of contemporary dance.
Merce Cunningham
Prior to their Sadlers Wells tour dates in the summer of 1964, Merce Cunningham and his Dance Company performed at what was then the Barn Theatre on the Dartington estate. Their visit began with a session with students at Dartington College of Arts. They then gave two public performances on 23 and 24 July. The visit was part of an extensive world tour, which had included up to that point performances in Venice, Vienna, Paris and Provence. They performed pieces including Suite for Five, Crises, Untitled Solo, as well as Story, Septet and Winterbranch. Click here for a video about this last piece, including interviews with the original performers from the tour.
At South Devon Heritage Trust Archive today there are two letters from Cunningham to Peter Cox, head of the college.  "The students were pleasant, and I enjoyed seeing them. Please give my best wishes to everyone and let us hope for a next time." And in another from 17 November, 1964, Cunningham wrote from the Imperial Hotel, Russel Square London. "Please ask us back to Dartington some day, will you? It remains a beautiful green spot on our tour." We are delighted to share this photo taken here at Dartington, thanks to the Merce Cunningham Trust archive. The dancers pictured are Carolyn Brown, Merce Cunnningham, Steve Paxton, Viola Farber, and William Davis.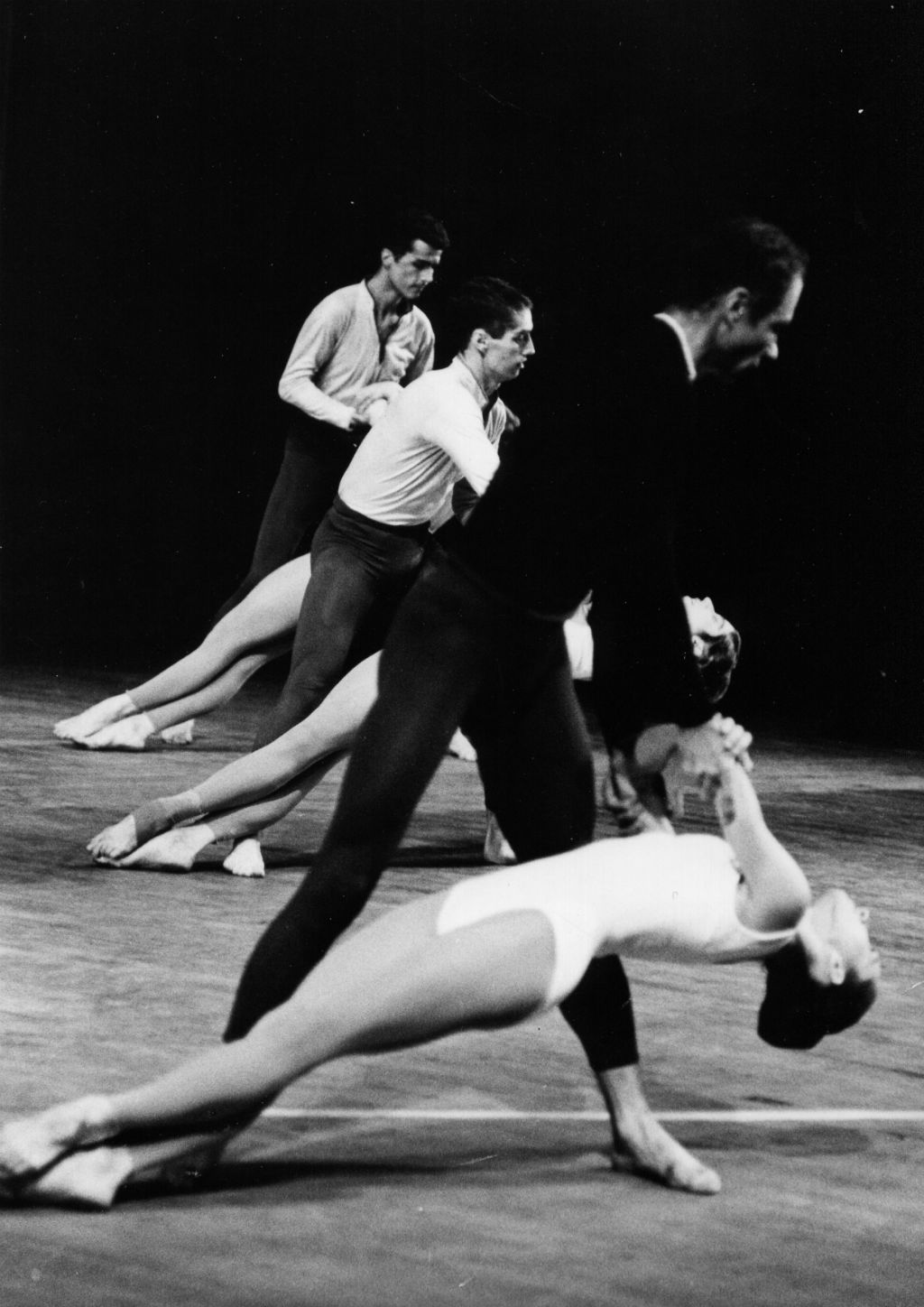 Photo credit: Merce Cunningham & Dance Company (1964). Courtesy of the Merce Cunningham Trust, all rights reserved.
Black Mountain beatniks in Devon
Cunningham was accompanied by his long-term collaborators, the composer John Cage and artist Robert Rauschenberg. Rauschenberg, who designed sets and lighting for much of Cunningham's work, mentions the trip to Dartington in an interview with Richard Kostelanitz, published in The Theatre of Mixed-Means. He starts talking about the performances of Cunningham's piece Story, a site-specific piece in the sense that each performance takes inspiration from the existing environment and uses costumes and props from that place. In some cases this meant Rauschenberg ending up on stage himself. "The first time it happened was in Dartington[…]. That place was inhabited by people with a very familiar look—that Black Mountain beatnik kind of look—but they occupied the most fantastic and beautiful old English building[…]."
"About an hour before the performance, I asked Alex [also in the company] whether he had any shirts that needed ironing […] we got two ironing boards and put them up over some blue lights that were back there. When the curtain opened, there were the dancers and these two people ironing shirts. It must have looked quite beautiful, but we can't be sure absolutely. But from what I could feel about the way it looked and the lights coming up through the shirts, it was like a live passive set, like live décor."
What was it like to perform in the Barn?
One of the other dancers in the photo above, Carolyn Brown, has also written about the experience. In her book Chance and Circumstance: Twenty Years with Cage and Cunningham, she wirtes: "But oh, what a destination! Dartington Hall […] provided us with a brief and much-needed interlude of bucolic tranquility. The joy of the place radiates from its total respect for art and agriculture, forestry and pig farms, vegetable and flower gardens, weaving and sculpture, pottery and painting, theatre and music. […] My perpetual love affair with English gardens and England's rolling farmland was born here."
She goes on to write about the specific experience of performing here. "The Barn was packed, and from the enthusiastic reception, it seemed the restricted stage space in no way diminished the audience's pleasure. Nor mine. It was a familiar feeling, dancing in that barn. My delight in Dartington was all-inclusive: eyes, heart, and mind devoured the serenity and beauty of the place and the wisdom of its philosophy as eagerly as I devoured Devonshire's scones and clotted cream."
Why Dartington?
Another perspective we have is that of David Vaughan, archivist of the Merce Cunningham Dance Company from 1976 to 2012. He explains a bit more about how Dartington was a location not to be missed on the world tour:
"The invitation to Dartington had come about partly through the good offices of Dorothy Whitney Elmhirst, the American widow of the school's founder, Leonard Elmhirst. She had been closely connected for many years with the Cornish School in Seattle, and knew Cunningham from his time there. (Dartington had been the English home of the Ballets Jooss during the 1930s.) Dartington Hall, with its ancient buildings and exquisite gardens, seemed idyllically peaceful after the company's arduous journeys, and the dancers had a couple of days' rest before they gave an open dress rehearsal for students on 22 July, followed by performances on the two succeeding days."
Cunningham, Cage, Rauschenberg and the company had an aesthetic that clearly mirrored that of Dartington Arts. Both take delight in the here and now, collaboration, and the experimental across the broad spectrum of art forms. The two shows sold out and went down very well. This was despite the promotional booklet politely explaining that "Our audience will appreciate that it is not possible to present such a Company at normal Barn Theatre prices."
Today Dartington Arts supports a number of dance projects. We do this through our rolling live art programme, and through our partnership with Dance in Devon, a charity which exists to enrich and energise communities through bold, responsive and collaborative dance adventures in the local area.
Thanks to Minou Polleros for advice and archive research and the Merce Cunningham Trust for supplying further information.
Listen to the podcast