The lead singer of Metronomy is to return to the fields of his childhood to headline the Sea Change Festival this spring, so we caught up with him to find out how he feels about the green green grass of home, the fount of inspiration for album titles from 'Pip Payne…' to 'English Riviera'.
It's only rock and roll but the return of Joseph Mount's Metronomy to headline Rupert Morrison's Sea Change Festival in May is a neat example of how Devon roots spread in a warmer European climate.
Joe was three when his family moved to Dartington Hall. He was seven or eight when he first teamed up with Rupert on a football pitch playing for Dartington Swallows – two fields away from the Festival arena.
Different trajectories after that – but both went to the local secondary school, King Edward VI Community College (KEVICC), in a period when music and performance were encouraged, and instrumental teaching was free. Already deadset on a musical career, Joe had the additional perk in his early teens of joining the Dartington International Summer School of Music jazz and improvisation course directed by Keith Tippett.
He played drums in the Tippett scratch orchestra; his holidaying cousin Oscar Cash, part of the Metronomy project from the first, played saxophone; James Hoare, childhood friend two doors down, played guitar. Improvised concert solos might last ten seconds; they might falter and fumble, but for those few moments all three had a taste of searing, full-frontal exposure.
Meanwhile at KEVICC, driven on by Totnes gallerist Annie Bowie, in those days Head of Drama and architect of a regular school talent revue night, Joe, James, Gabriel Stebbing and Richard Wain formed The Upsides, writing their own songs, venturing as far as Battle of the Bands nights at The Cooperage in Plymouth. The singer-songwriter Ben Howard got started in the same sunny KEVICC environment. It set James Hoare on his own trajectory with three beautifully named indie bands – Veronica Falls, Proper Ornaments, Ultimate Painting.
The story of the Metronomy project, its evolving stage persona – originally Joe, Oscar and Gabriel – takes in student life in Brighton, early adventures as a remix artist, the introduction of Anna Prior on drums and the exchange of Gabriel Stebbing for Gbenga Adelekan on bass.
The Mercury-nominated English Riviera (2011) was cleverly described by Stuart Stubbs in Loud and Quiet magazine as 'the work of a man trying to reimagine where he grew up as somewhere far more interesting'. But by 2011 Mount was living and composing in Paris and his band was signed to a French label, Because Music. The English Riviera was actually a French record – built on an affectionate cultural joke. In France there was chic encouragement from Karl Lagerfeld. A shiny tight cast-off Lagerfeld suit still hangs in a dusty Dartington wardrobe.
After an early band performance on Canal Plus TV, Joe was once asked by the presenter, 'Aren't you too English to be taken seriously?' He shrugged a French Riviera shrug.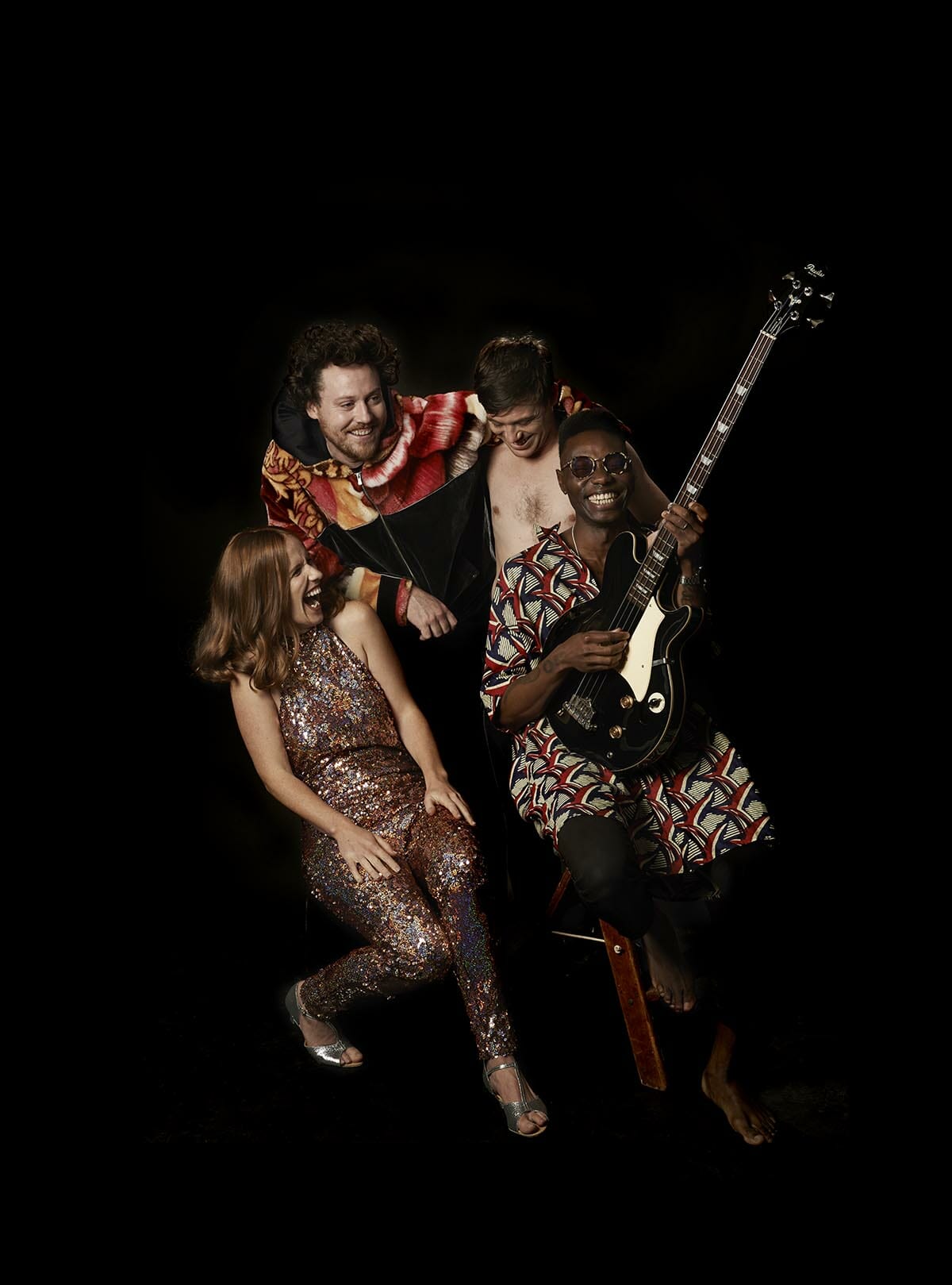 Who inspired you to get into music?
Like a lot of children, I started playing an instrument in school as an activity. At a young age it's a bit like playing football or doing an after school club; in a sense you don't necessarily do it because you're inspired to, but more because you want to try everything. Before playing the drums I had a go at the cello.
Aged ten I probably liked The Beatles and The Kinks, as I got older and into my own thing I was drawn to Nirvana and Weezer. When I started making my own music I was listening to DJ Shadow and A Tribe Called Quest. All of those artists would have helped me realise that being a musician could be a career.
How do you feel about collaborating with your childhood friend on Sea Change?
When I visit the area it's hard to move for people I used to go to school with! It doesn't really feel strange or unusual to be dealing with Rupert. I'm very happy that Rupert is doing something positive and creative in the area.
What was your favourite bit of the Dartington estate growing up?
It would depend on the time of year. But the college swimming pool was is hard to beat. Otherwise I loved the weird no man's land in between the Cider Press and Totnes, 'pebbly beach' (opposite Staverton on the river) and the Hall Gardens.
What was your favourite part of growing up here?
It would have to be when I was between the ages of five and 10. The freedom we neighbourhood children had was ridiculous; we could walk for miles without coming across a main road. I was able to be very independent from a very young age.
Were there any dark days?
I remember when they took the Art out of Dartington, I was quite young, but up until that point I hadn't seen any real protests of any kind involving the estate. I remember the sign at Huxhams Cross said D—ington for some time, it was the first example of wordplay-as-protest I'd ever seen.
How does Dartington look to you with adult hindsight?
The Dartington of my youth is like a beautiful distant dream. It's still an incredible place of course; it's just horribly full of dogs these days.
Now you've seen the world, what's dartington all about?
I'm not sure what it's about in 2019. For me, conceptually at least, it is about the arts, education, architecture, horticulture and more. It's undeniably different from what it used to be, but it still feels like my spiritual home.