Jon Perkin brings centuries of family experience to establish goat milking parlour, agroforestry and education at Old Parsonage Farm
---
A new farming family have moved into Old Parsonage Farm on the Dartington estate, who will draw on their Launceston farming roots of 600 years to focus on sustainable farming methods at Dartington over the next 20.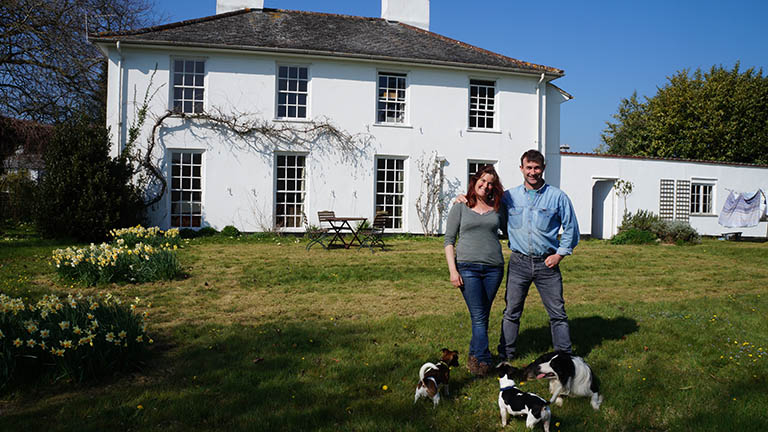 Jon Perkin and his wife Lynne signed their contract for the 489 acre farm on Lady Day in March, the traditional farming tenancy start date, and are brimming with ideas to trial low carbon farming methods that are commercially viable.
Their first step will be to build a milking parlour and gradually build up a herd of 600 milking goats. They will grow as much food as possible for livestock, that will also include sheep and cows, by planting high protein arable crops such as red clover and lucerne.
In line with Dartington's 2012 Land Use Review they will introduce agroforestry to the site – mixing trees with crops or pasture; improve the capacity of the soil and forest to store carbon; and work with Schumacher College and our Community Resilience Manager to share hands-on and experimental land-based learning with students.
A former Bicton student, Jon Perkin has farmed organically for 15 years in Wiltshire and Cumbria after farming sheep and goats in Greece. He will avoid the use of pesticides and artificial fertilisers at Old Parsonage.
Jon Perkin says: "Conservation and biodiversity have always been important to me. Using sprays and chemicals never sat easily with me, so evolving into organics just made sense. Thistles, nettles – Dad never let me spray them – you never knew what it would do to old pastures full of herbs. Better to put up with nettles than risk damaging 40 year old pasture."
Vaughan Lindsay, Dartington CEO, said: "We are absolutely thrilled that our search for a partner to take Old Parsonage Farm forward has been successful. It's not been a straightforward process as we were looking for unique combination of skills, and are excited to have found them in Jon and Lynne.
"They will be a great partner for us and other tenants to work with as they bring a really good balance of organic and commercial experience, together with exciting plans to increase the farm's sustainability and experimental collaboration with Schumacher College."
You'll be able to read updates in future on Jon's progress at www.dartington.org/news
---