Ivor Weeks 8.12.1929 – 12.2.2019
We would like to thank Chris Crickmay and John Hall for contributing this obituary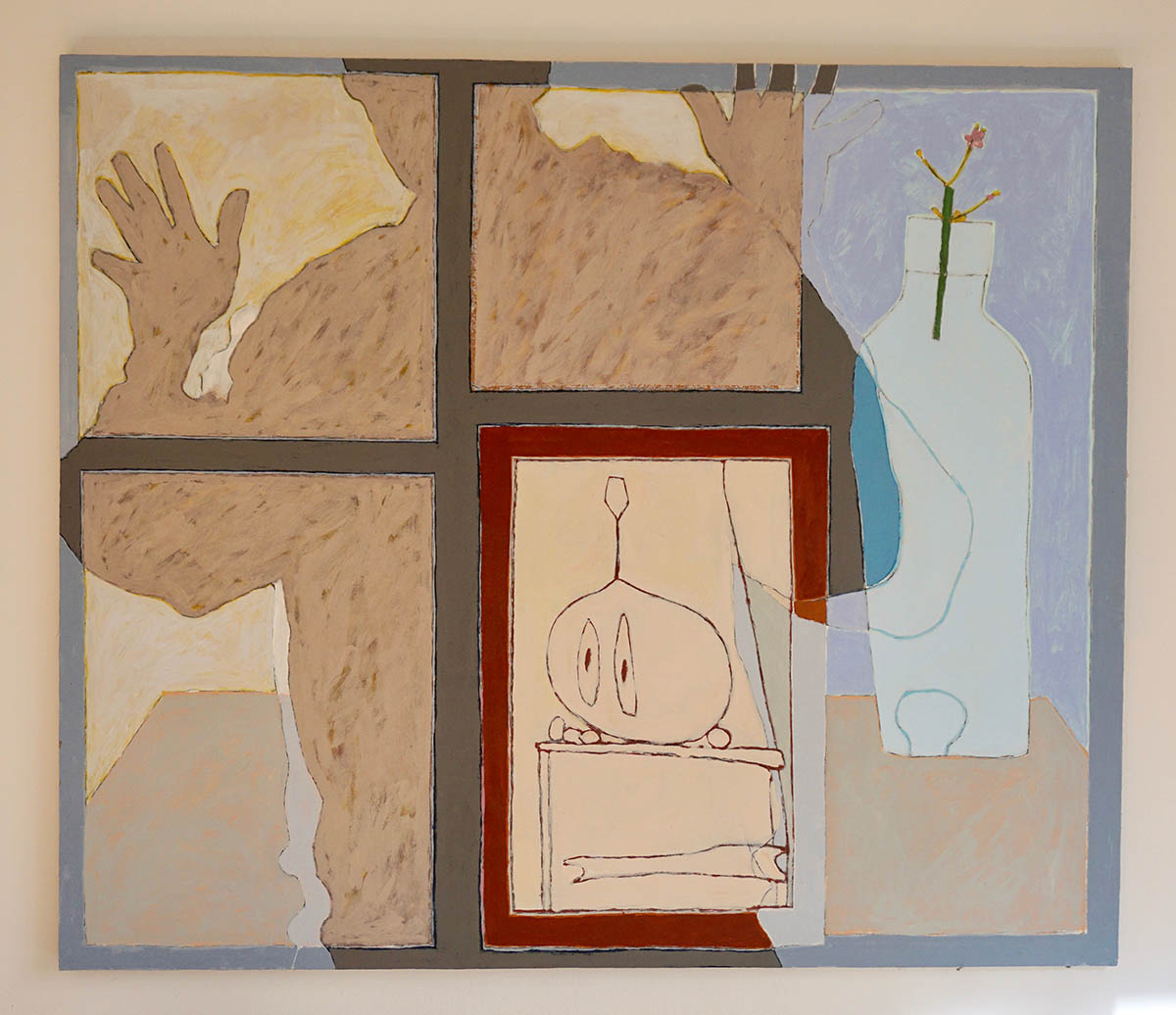 This painting by Ivor hung prominently in his own home

Ivor Weeks, who died in Torbay Hospital on February 12th, was admired and much liked by hundreds of students, colleagues and friends, especially at Dartington, where he lived for over sixty years and worked, first in the Adult Education Centre in the Lescaze building at Shinners Bridge, then at the College of Arts, and throughout as a painter. He was a dedicated teacher with strong social principles, who played a significant part in developing, leading and steadying the development of visual art courses at Dartington. Qualities of his that have been remarked on by those who worked with him include integrity, grace and sensitivity. As a teacher, his preference was to listen and inspire rather than instruct.
Ivor was born in Bradford-on-Avon in 1929 to Walter and Dorothy (née Paine) and lived in the town until Grammar School was over and it was time for National Service. It is typical of him that he turned down an offer of officer training and was always proud to have been referred to as 'bloody Weeks'. From there he went on to what had been long planned, his much loved time at Corsham (Bath Academy of Art), where he was by all accounts a very successful student. Much of what he appreciated at Corsham, he brought with him to Dartington, including a teaching ethos that was open, informal and relaxed and an emphasis on training art teachers as artists in their own right.
A key event for Ivor at Corsham was meeting his future wife, Maureen Williams. Soon after finishing the course in 1951, Ivor and Mo got married, thus affirming their close and lasting partnership, which was "a marriage and more", according to the family.
Arriving at 26, fresh from teaching at Portway secondary school in Bristol, Ivor had described Dartington to Maureen as "some sort of  paradise". Almost immediately, under Ivor's direction, the Adult Education Centre took off, with courses for adults, for children and for teachers. Ivor gathered around him an enthusiastic following of adult students taking day and evening courses, including George Passmore of Gilbert and George, who has spoken with gratitude about Ivor's advice to him. By 1962 numbers attending courses in painting, pottery, textiles and drawing had grown to 230. Cars lined the road outside the Centre for the widely acclaimed annual open evening. Gradually, other courses emerged, often on a tiny scale to start with. In 1959 a Summer School of Art was launched, which ran on successfully into the early 1980s.
Following the earlier establishment of Diplomas in Music and Theatre, and a Pre-Diploma course in art, launched in 1964/5, a 2 year Art Teachers Diploma was set up in 1967, starting with just 15 students. By then Ivor had brought in a number of other staff also trained at Corsham, and the general approach was strongly Corsham influenced.
By the mid 1980s, the Department of Art and Design was running a 3 year degree course entitled 'Art and Social Context' – one of the first of its kind in higher education. By then the long-standing focus on training teachers in the Corsham manner had been supplanted by other influences. It was much to Ivor's credit that he gave himself to supporting these later changes, bringing to them his own unique range of skills and experience.
It is striking how warmly and with how much respect, Ivor is thought of by ex-colleagues and ex-students alike. For example, Sally Tallant, an ex-student of Ivor's, who has recently been appointed Director of the Queens Museum in New York, responded to news of Ivor's death with these words:
"When I went to Dartington in 1986 I was lost and confused. Ivor Weeks was a great teacher and guide and he helped me to find focus, direction and confidence. I remember his patience and kindness with great affection and know that all of us who were taught by him are a legacy to his gentle pedagogy."
As a painter Ivor did not seek out a reputation, though, given the quality and originality of his work, the choice was his to make. Like the man, his work was calm, reflective, and orderly, but at the same time colourful and inventive. Ivor always insisted that his work had no particular meaning beyond an interest in looking. Be that as it may, what splendid and original looking it was! Like many painters, especially in the Modernist period, he drew upon his immediate surroundings for inspiration, working from observation, often also from photographs. The imagery in his paintings and drawings was almost entirely domestic, based in his own home.  His subject matter included family members, domestic artifacts and ornaments, doors, windows, mirrors, toys, and children's drawings. Through his painting he took this given world apart and re-configured it. His early interest in collage was reflected in his preference for a discontinuous pictorial space, often with overlapping planes of imagery or colour.
If all this sounds insular, it was not, since Ivor's vision was broad and his interest in the art of many periods was intense. He drew inspiration both from modern masters such as Matisse and Braque, his contemporaries, such as William Scott, Robert Rauschenberg, R.B. Kitaj, and from artists of the past, such as Velasquez and Rembrandt. He has left behind a substantial collection of work. Maureen's influence on Ivor's work was considerable, since they worked in parallel as painters, often taught together in the early years and together created a family home at Bewhay in Dartington village that doubled as a studio and, to visitors, looked like an art gallery.
Ivor and Mo had four children. The first, Jo, was born in 1954 and sadly died in 2001, Mo died in 2010. Becki, Dom and Ben survive them.
His last years were spent in 2 Tower Cottages, overlooking both the church tower and the back of what were once Art Department buildings.
Chris Crickmay and John Hall
March 2019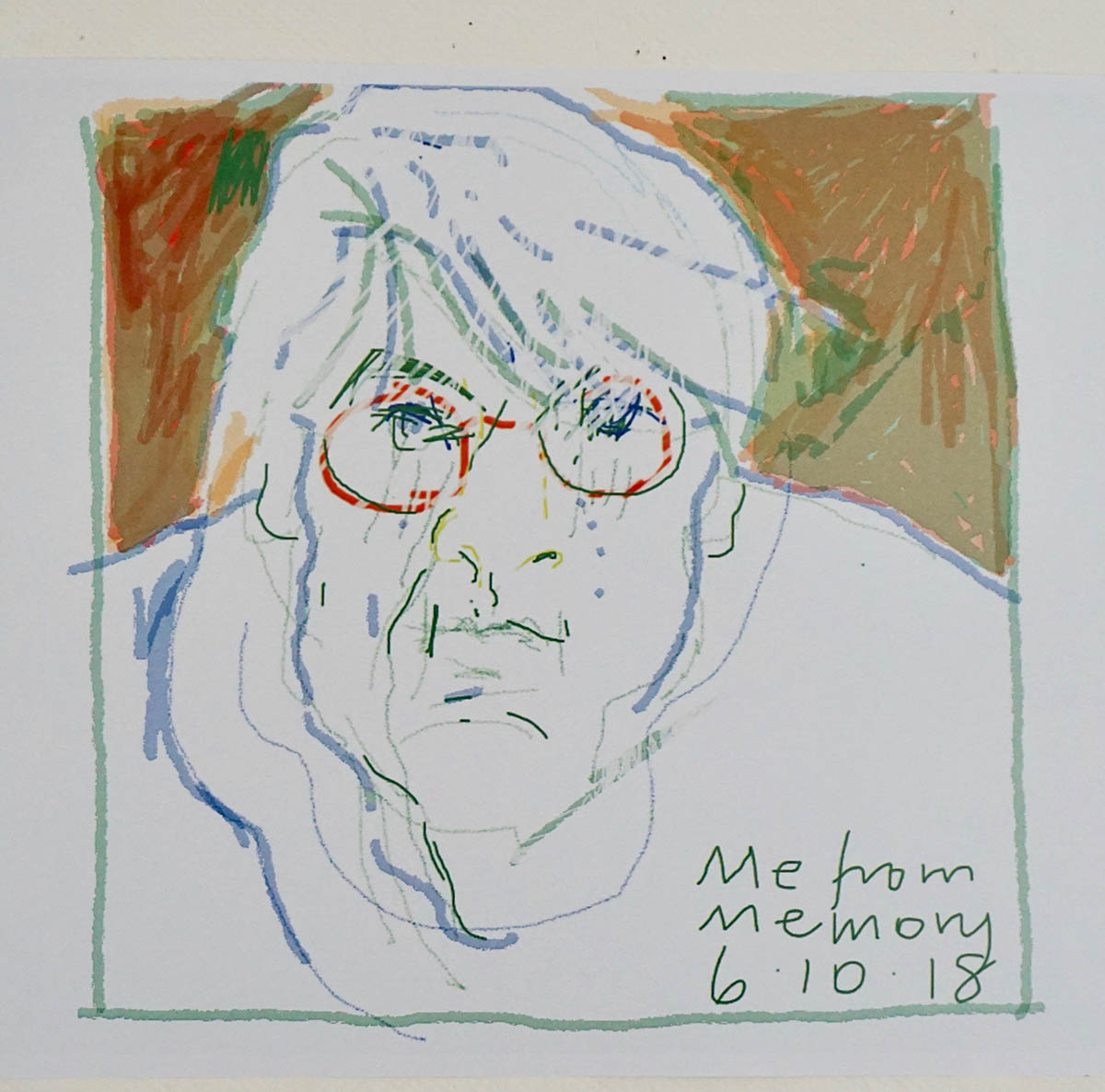 'Me from Memory'. The 'Me' is Ivor, drawn on his iPad