The gardener, plantsman and broadcaster Terry Underhill, who has died at the age of 83, was a central figure in the Dartington landscape for the better part of 20 years. The following obituary was written for Dartington by Kevin Mount. 
Recruited in 1964 from Liverpool University Botanic Gardens at Ness, where he was botanical foreman, his career as grounds and gardens superintendent straddled the critical period in the modern history of the Estate when the trustees faced the challenge of deciding and moderating strategy in the absence of Dorothy and Leonard Elmhirst.
Terry Underhill became the unlikely confidant of both founders towards the end of their lives, narrowly escaping being sacked by Dorothy Elmhirst for insubordination (but evidently earning her friendship in the process) and rescuing Leonard from his own recklessness with an axe. Both stories shed light on his personality. He was proud and stubborn – often uncomfortable with a country house role more strongly associated with obedient service than professional status.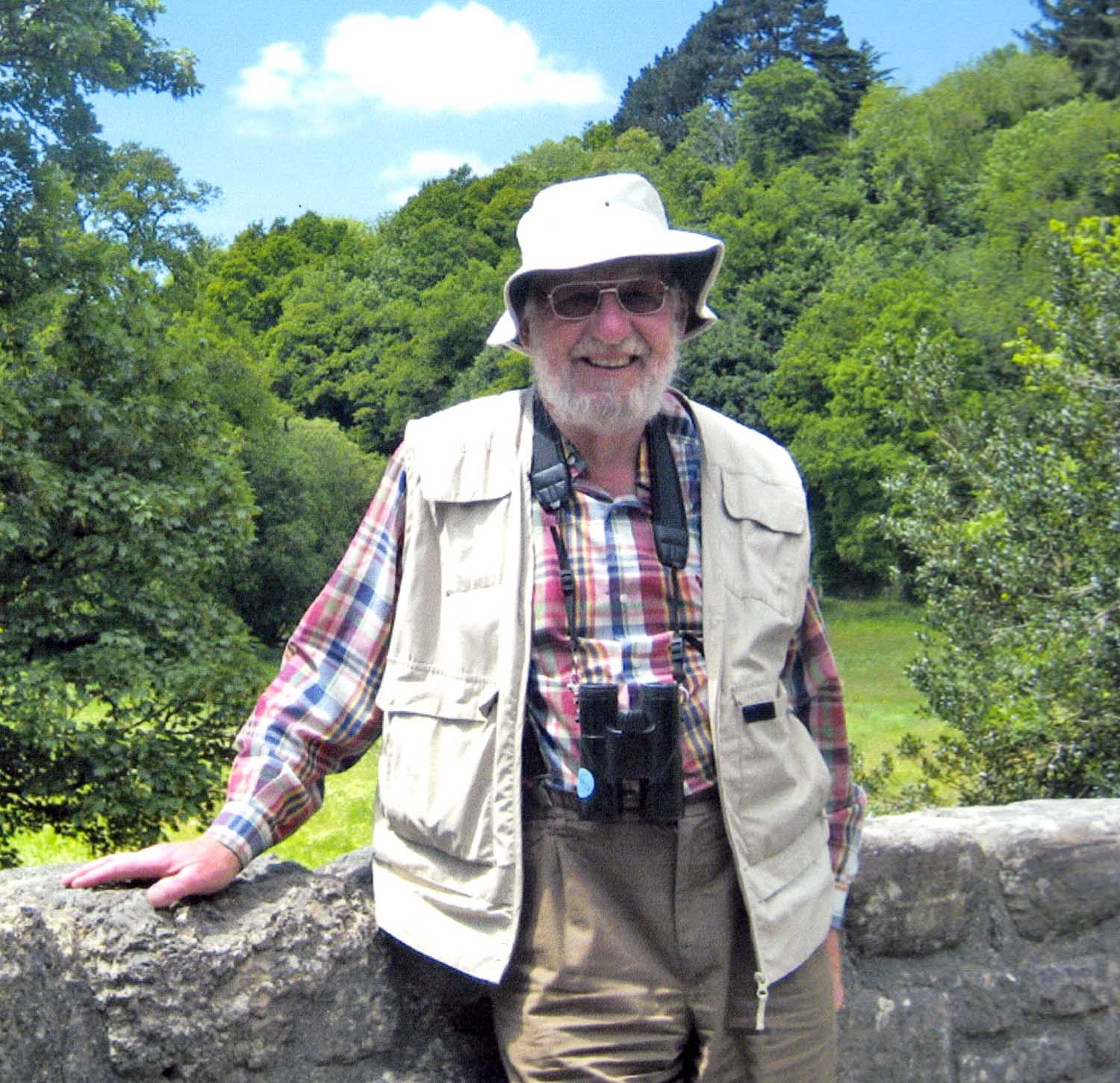 A privately published memoir, completed not long before his last illness, gives vivid insight into his life and times at Dartington, mixing the history of the horticultural training programme he developed here, and expert knowledge of the structure, shape and species characteristics of the Hall gardens, with withering commentary on the caprice of consultants, heads of department and the wider Dartington family.
The anecdote about his near dismissal concerned the landscaping of the Higher Close dormitory blocks, then newly built for the College of Arts. The Trust's landscape consultant Percy Cane (whose calibre and motives he considered rather suspect) came to a trustee site meeting armed with a bundle of bamboo sticks, one of which he placed in front of every window, saying they were to mark the position for planting Leylandii conifers. 'I began to protest,' Terry remembered. 'But every time I tried to speak I was told to be quiet'. Dorothy duly summoned him to the Hall for a Blandings Castle-style execution, but he had just enough time on the way to find a Gardeners Chronicle article showing a monstrous Leylandii specimen from the national arboretum at Bledgeley – warning of countless suburban garden fist-fights to come. He spread the pages before her. 'Oh I see,' she said, sliding the summary dismissal notice she'd prepared for him out of sight. His support for Dorothy Elmhirst's vision for the Hall gardens was to remain unshakeable.
The story he told about Leonard Elmhirst the axeman, was even more Wodehousian. One morning Leonard appeared on the Underhill family doorstep at Gardens Cottage, blood all over his shirt and trousers and still streaming from a deep gash on his forehead. He had been lopping a branch – a harmless pleasure of his – but the axe had sprung at him. On no account was anyone to call a doctor or an ambulance, Leonard said, because, if Dorothy was to find out, she would not let him go out tree-trimming ever again. The gardener dutifully dressed his master's wound, loaned him a clean shirt and drove him home to the back door of the Hall from where he crept upstairs to bed.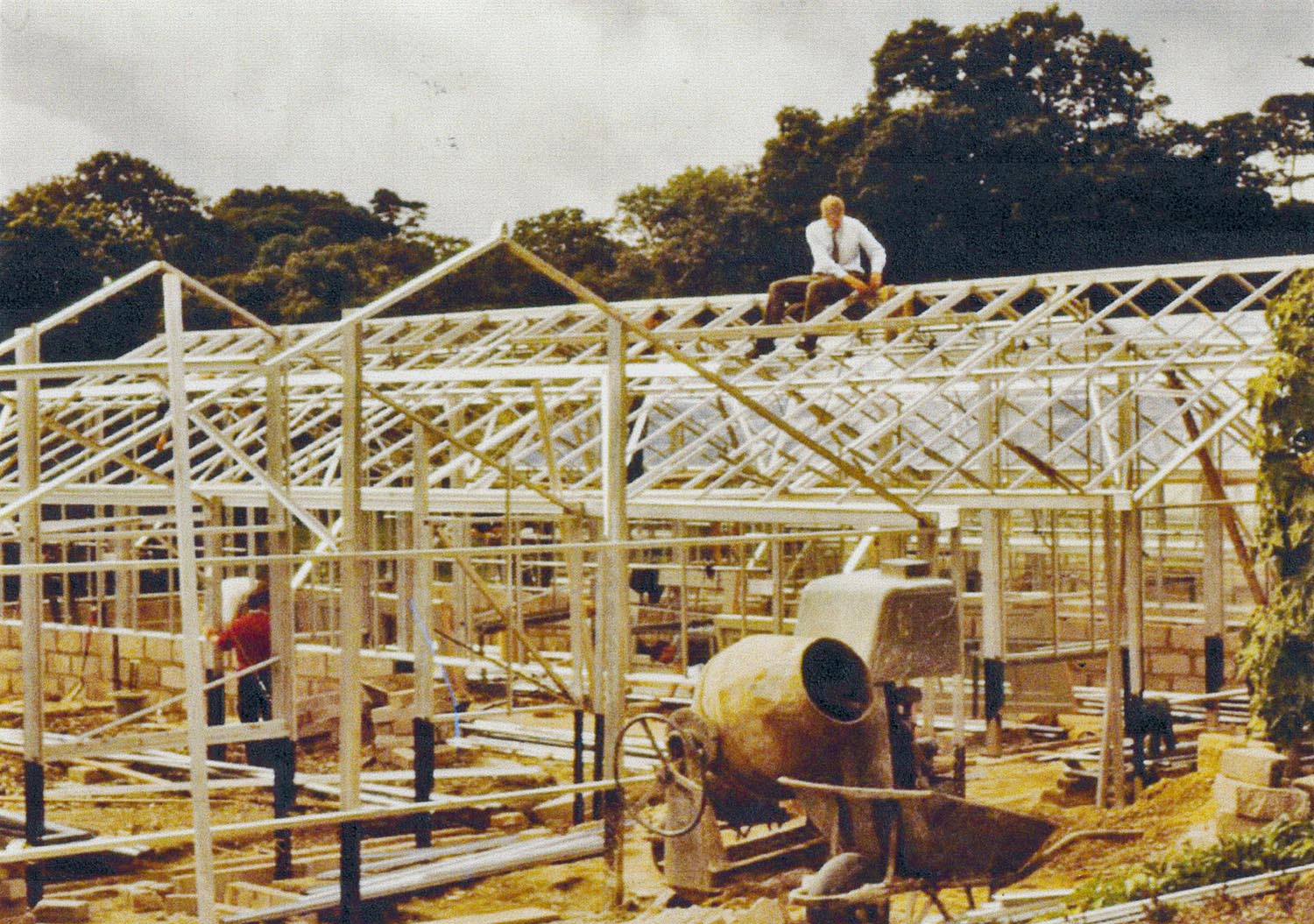 Terry Underhill (top), constructing glasshouses in the Walled Garden, 1965
Terry Underhill's parents were post-war Socialist activists living in Leyton, East London. His father was Reg Underhill, whose services to the Labour party earned him a CBE and a life peerage in Harold Wilson's resignation honours. The young Terry went to political meetings with his father, where he met Clement Attlee, Aneurin Bevan – and Bevan's wife, Jenny Lee, who as Labour Minister for the Arts laid the Foundation Stone for Michael Young's Open University, also for the new Dartington College buildings. To his dismay, Terry was not invited to that celebration, but his father was – and so he strung along. When Jenny Lee saw him, she abandoned the trustee huddle and embraced him. One can imagine him punching the air in defiant delight.
Speaking his version of the truth to Dartington's fickle power was probably Terry Underhill's undoing. His redundancy was sudden and its impact on him was painful and enduring – but it propelled him into a new, enormously fruitful career as a writer, broadcaster, lecturer and magistrate. His own website summarises all of that exhaustively, in his own words.
He also became a popular gardening personality, presenting a weekly half-hour programme for Television South West, often from his own garden and studio, Monty Don-style.
His other Dartington involvements included lengthy chairmanship of the Dartington Natural History Society and leadership of the Dartington Morris Men, a side born and raised with Elmhirst patronage in the 13th century Courtyard 'Pillar Studio', now the courtyard Welcome Centre.
Written by Kevin Mount