Dynamic Adventures
Dynamic know that organising a day out for work colleagues can be a tough and stressful experience, so here's a thought: let them sort it out for you! Dynamic Adventures have worked with many corporate groups over the years and offer an appealing mix of activities, from 'soft skilled' low impact challenges such as orienteering and archery to more physically demanding, adrenaline-fueled ones such as a 150m zip line, abseiling and high ropes.
A half day spent with them will amuse, challenge and engage all members of your team, allowing them to push themselves according to their own limits. With an understanding that any team consists of an array of ages and abilities, their experienced instructors are excellent at meeting everyone's needs.
Themed days such as '007', 'Star Wars', 'The Fugitive', 'Pirates' and 'Shipwrecked' are available.
'A big thank you to all your team for putting together a great adventure day – it was amazing how much we packed in, and was in no small part due to the team who provided such a positive, encouraging attitude.' – NHS
'A huge thank for today's team-building Away Day. We thoroughly enjoyed it – a real team morale and spirit booster!' – Foot Anstey
Find out more: dynamicadventurescic.co.uk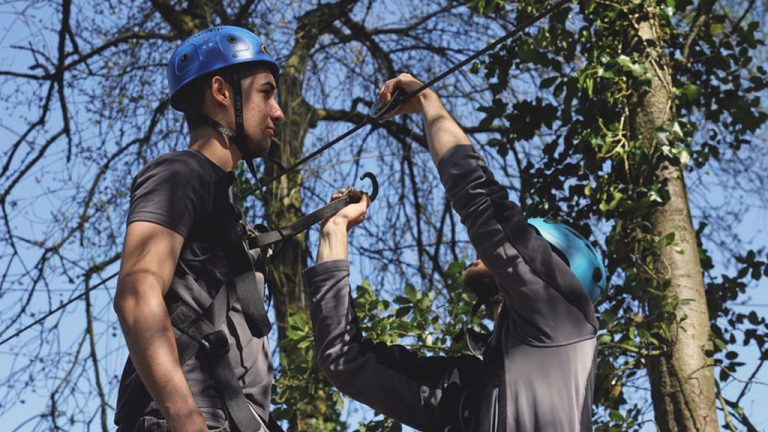 Wildwise
Established back in 1999, WildWise deliver an exciting, diverse programme of courses, camps and events to inspire and inform about the natural world. WildWise are outdoor specialists, creating opportunities in nature connection for a wide range of client-groups to have extraordinary experiences.
WildWise have teamed up with Dartington Hall to offer outdoor activity on the beautiful natural surroundings on the estate.  Their wide-ranging syllabus is drawn from a menu of bushcraft and fieldcraft, as well as a host of creative options to enrich and enliven the experience.
A wide range of hunter-gatherer skills will feature, including bow-drill firemaking, shelter-building, and the preparations and practices of the 'sacred hunt'. The team will will introduce the safe use of cutting tools and support the participants to make various useful items to take away with them.
Their instructors are trained to follow the impulses and interests of those they are with, and to that end the itinerary will be adapted accordingly.
Thank you for a fabulous day.  It was a great balance of activity and chilled-ness and lots of learning and lots of fun – we all loved it!  – Sam Kendall, Eden Project Education Officer
WildWise's nationally acclaimed events and courses have been seen on BBC's Blue Peter, Heaven & Earth, Truth About Food and ITV's Country Lives.
Find out more: wildwise.co.uk
ACF Events
ACF Teambuilding and Events Ltd is one of the South West's top event management companies, specialising in team building and outdoor activities.
They have an innovative team that can work with clients to determine team building requirements from indoor business games to adrenaline fueled outdoor pursuits.  ACF owns and maintains a large amount of equipment, including over 28 vehicles, various shooting activities and the very popular 'It's A Knockout' inflatables.
Events can take place at ACF's own site, or at Dartington Hall. ACF is fully mobile, enabling them to operate from any suitable location. Possible activities include:
Challenges – 'Pit stop challenge', 'shipwrecked', 'virus', 'sheep and shephard', 'tower challenge', 'lost', etc. £40 per head (based on a minimum of 10 persons)
Team Development – Psychometrics profiles can be incorporated within a team building day and include individual assessments as well as a team report. £35 per delegate (based on a minimum of 10 persons).
Activities – Segways course and games, air rifles and sniper training, archery, blind 4×4 driving, etc. £90 per head (based on a minimum of 10 persons).
Corporate/Family Fun Days – Bungee run, human table football, it's a knockout, penalty shootout, fun fair stalls, soft play centre, etc. Prices from £25 per head (based on minimum of 30 persons).
Evening Entertainment – Giant games, simulators, themed quiz nights, themed parties, casino nights. POA.
Find out more: www.acfteambuilding.co.uk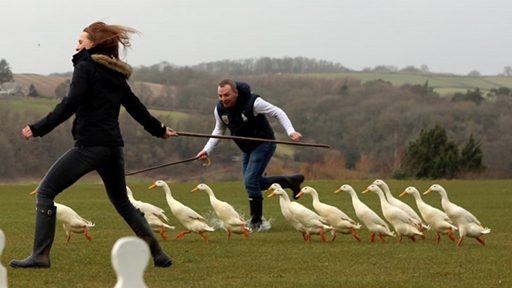 Land Rover Experience
Whether you're looking for a company team building, motivation, or leadership event, or simply want to reward your staff or entertain key clients, our colleagues at Land Rover Experience in Honiton can offer you a unique solution.
Land Rover Experience can provide a wide range of activities – whatever your requirement, they'll provide the kind of day that will end with a beaming smile on everyone's face. After all, if it was serious fun you wanted, it's serious fun you'll get. You'll have a day to be remembered, with loyalties strengthened, experiences shared and teams built. But then again, what else would you expect from a Land Rover Experience?
Find out more: landroverexperience.co.uk
Brewery Tours in Totnes
Take your team on the Totnes Triple Tipple and learn about, celebrate and drink from the breweries of the town.
Here's the story: 
1921 Lion Brewery rolls out its last barrel
2006 Totnes has no local breweries
2007 Bridgetown Brewery opens at the Albert Inn
2013 New Lion Brewery brews its first batch
2014 The Totnes Brewing Company pulls its first pint
2015 Totnes boasts three local breweries
Here's the question:
Is this a hip, hop revival and passing fad, or a long-term shift in our local economic destiny? That's the question asked on the Totnes Tripple Tipple tour, as you visit all three of Totnes' breweries and meet the entrepreneurs and brewers behind them.
Here's the plan:
Your guide will crack open the strong entrepreneurial spirit of Totnes on the way, and see how it is maturing nicely to keep the local food and drink economy partying for years to come.
This is a walking tour. Please contact the tour organisers if you would like to make special access arrangements.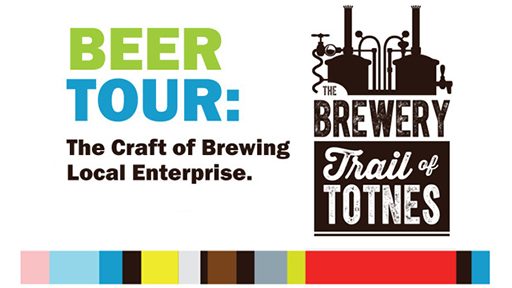 Canoe Adventures
Beautiful river, big canoes, creat fun! The River Dart in South Devon is one of England's most beautiful rivers, ending in a stunning 12-mile estuary.
Canoe Adventures offer guided river adventures between the historic towns of Totnes and Dartmouth with pubs, secret places, campfires, shipwrecks, wildlife and stories along the way.
Their canoes are unique – they're BIG. Each 12-seater Longbow canoe is designed and built in Totnes.  There is a fleet of six canoes which take 7-12 adults each.
Ideal for:
– Team building and corporate reward
– Private parties, gatherings and functions
– Pub-to-pub, wine tasting and evening paddles
– Hen and stag parties
– Study trips and getting close to wildlife
Find out more: Call 07706 343744
LARK Events
LARK Events are passionate about creating high quality yet affordable adventure trails for businesses who are looking for a unique way of team bonding.
In the modern world a lot of our time is spent in front of computer screens and led by technology. We encourage groups to get back to basics and put down their smart phones and tablets, picking up maps, compasses and even using a Polaroid camera to solve cryptic clues and complete challenges.
All of their events are put together professionally and you can rest assured that your day is in safe hands.
Find out more: www.acfteambuilding.co.uk