Dartington has a small but wide-ranging conservation programme overseen by Estate Warden Mike Newby and carried out with the help of a dedicated team of volunteers.
Our activities are centered around protecting and fostering creatures and wildlife native to the estate, including dormice, bats, many bird species, ancient trees, and wildflowers, and encouraging new visitors where appropriate.
If you're interested in being part of the amazing work being done by our conservation team, visit the Volunteer Hub for more details. And don't forget to check out Mike's excellent Conservation Diary.
Take a look at our gallery and read the accompanying captions to find out more about the species and areas impacted by our work.
New and ongoing projects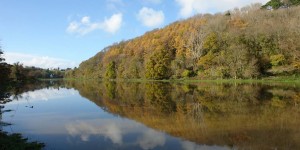 Queen's Marsh
A feasibility study is being conducted on the potential to restore Queen's Marsh to a wetland habitat.
Find Out More