Growers at Schumacher College have built two new polytunnels which will save money and food miles by increasing the amount of produce grown on campus.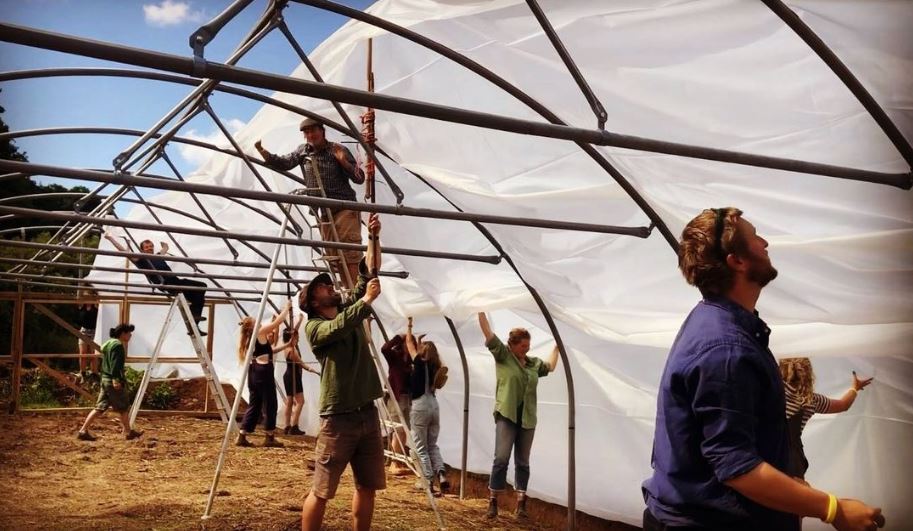 atthe Growers at Schumacher College are celebrating a leap forward in self-sufficiency, reducing food miles for produce eaten by staff and students.
 They recently finished the build of a second poly tunnel in Henri's Field and deputy head gardener Amy Cairns said it was already making a real impact on the college's carbon footprint.
 "Now that we have two it's doubled the amount of summer veg that we can produce but it's also meant that, for things like cucumbers, we are able to them eat a couple of months earlier than if we had grown them outside.
 "But crucially there were times of the year when we were having to buy in extra organic veg, we have been able to reduce that significantly.
 The Tunnels named 'Audre' and 'bell' are used for growing tomatoes, cucumbers, aubergines chillies and peppers. Growing students also learn the art of pickling and preserving which will be useful for providing food during the 'hungry gap' the period of time when winter veg are depleted and the ground has yet to yield the next crop of spring produce.
Amy said former intern Chess had been instrumental in researching, sourcing and building the first poly tunnel which involved digging a very deep trench around the structure to make it as secure as possible.
It was thanks to them that the poly tunnel remained intact when we had storm Eunice earlier this year," said Amy.  "We know of other growers nearby who weren't so lucky.
In thanks for their work, Chess was given the honour of choosing a name for the tunnel – called Audre after the poet and activist Audre Lorde Audre also described herself as a "womanist" a term first coined by poet Alice Walker to describe feminists of colour.  She said womanist is to feminist as purple is to lavender."
Amy explained: "I think they felt that Schumacher College has had long and distinguished history but it has mostly been white men so this was to acknowledge that there all types of people.
The other tunnel has been named bell hooks after the author and social activist Gloria Jean Watkins.
Applications for the six-month Practical Residency in Sustainable Horticulture at Schumacher College are open until the end of September.