What are raptors, and why are we trying to attract them to Dartington?
Simply put, a raptor is a bird of prey. There are plenty of reasons why we'd want them on the estate, but their ability to keep our rodent population until control is key. Rodents are a common problem for farmers, land managers and gardeners and the Dartington estate is no exception.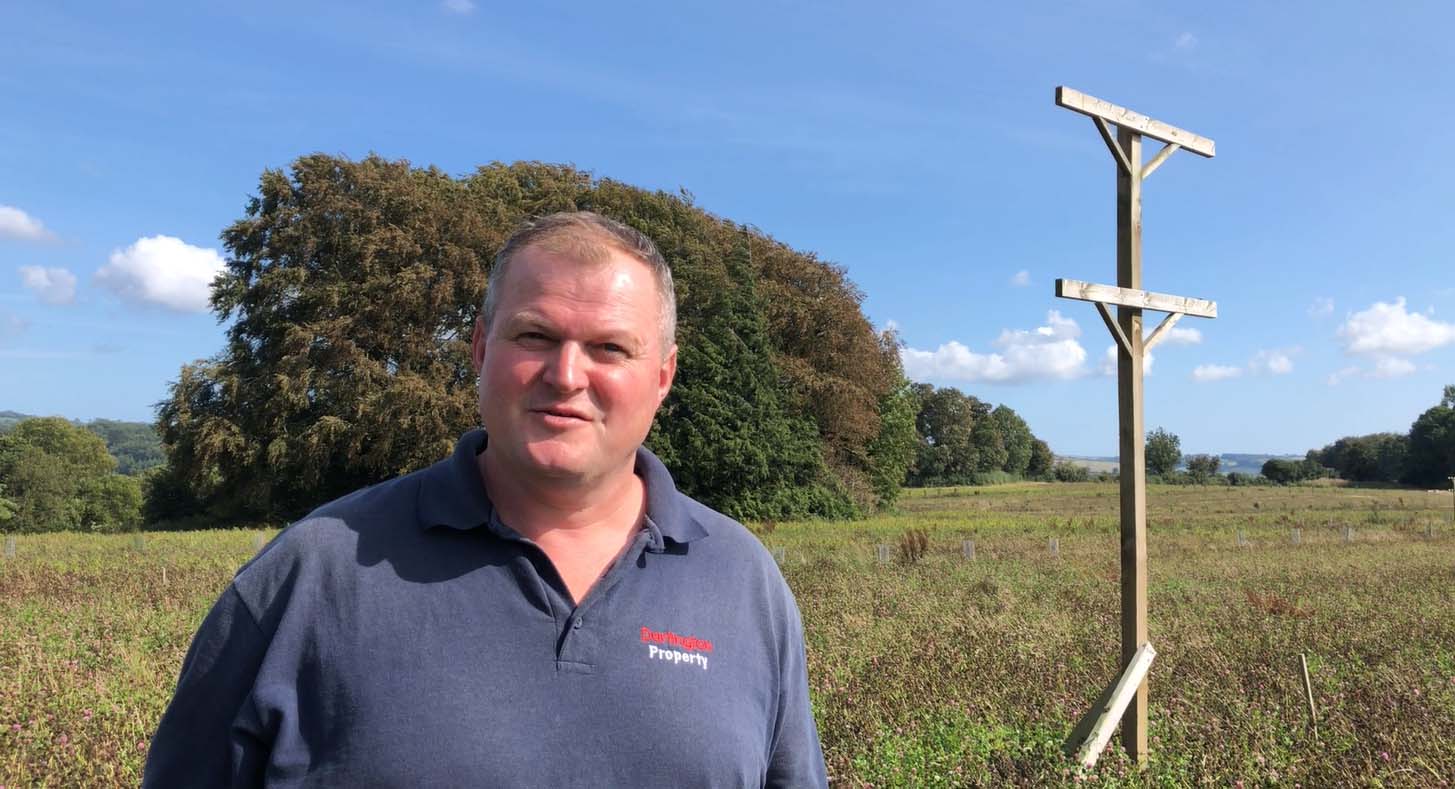 Above: Mike and one of the raptor perches installed at Dartington
The conventional methods of rodent control include trapping and poisoned bait, but these methods of control are labour intensive, costly and can harm non-target species. It's also bad practice to use rat poison in the vicinity of barn owl and other raptor habitats: if you put down poison bait, it harms and potentially kills the bird of prey eating the poisoned rodents.
So that's why we've been installing and erecting raptor perches in areas including Broadlears (our agroforestry field), Henri's Field (at Schumacher College) and at School Farm. These man-made structures help increase birds of prey to an area of land by giving them more vantage points to hunt from.
It's an environmentally friendly method of managing rodents – and especially voles, which have a tendency to eat plants and vegetables beneath the surface using feeding channels. (If you're interested in this topic, my colleague Harriet has written extensively about our vole problems.)
So how does this work?
During colder weather, field voles become less active at night and more active during the day, when it is slightly warmer. The field vole is the main diet of the barn owl, which will follow the field vole activity patterns and become more diurnal (day-waking) as well. This allows both the owls and other raptors – particularly buzzards and kestrels – to successfully hunt the voles during daytime hours.
One of our conservation volunteers, Nicky, recently saw a kestrel hover above our agroforestry field, before swooping down and catching a vole in its talons, and returning to the perch to eat its prey. So it's great to see the perches are proving effective – and if you are walking through the estate, you may be lucky enough to see nature in action for yourself!
Mike

Raptors found on the Dartington estate
The most common raptor in Britain and on the estate is the buzzard. It can be found in most habitats, especially woodland, scrub, pasture moorland and arable land. It is often seen gliding on the warm thermals in fine weather, perched on a fence or telegraph poles. The buzzard is a medium-sized raptor with quite large rounded wings, short neck and rounded tail barred brown and grey. Its body plumage varies from dark grey or brown to a very pale grey. Buzzards have yellow un-feathered legs and a brownish hooked beak. A buzzard has been sighted by Aiden down at school farm in the main community supported agriculture (CSA) growing area. This was only erected the week before his sighting. So the birds are adapting to this artificial perch quite quickly.
Occasionally on the estate we spot the hobby. It is a migratory bird of prey which arrives from the Sahara in April and leaves in mid- to late- September. Hobbies are a small bird of prey and are similar size to a kestrel and resembles a large swift. They have red colouring under the tail which looks like they are wearing a pair of red trousers. Their main food sources are dragonflies and other insects but they also hunt for small birds. They are often located on wooded river valleys and can be seen feeding in the summer over gravel pits where there is an abundance of insects. Mainly the hobby catches its prey on the wing but if the opportunity arises will take prey on the ground. (So it's highly unlikely that the hobbys will use our raptor perches.)
Sparrowhawks are small birds of prey. They have evolved for hunting for small birds in confined spaces, particularly in dense woodland and gardens. We often see them in the woods at Dartington. Sparrowhawks have broad, short wings with a long tail. The male sparrowhawk has blue-grey back and white wings and orange barring underneath. The females are considerably larger and twice the weight of the males, and can easily be mistaken for a goshawk. Their plumage is browner above and grey bars below.
A nocturnal raptor that are less likely seen than heard is the tawny owl – Britain's largest common owl. It is mottled red in colour with a paler underside, has a large round head, rounded wings with dark eyes and a dark ring around its face.  It is known for its unique twit-twoo call, although the female sound is more of a 'ke-wick' and the mall responds with a 'hoo-hoo'. Their preferred habitat is broad-leaved and mixed woodlands. They mainly occupy conifer plantations, urban parks and suburban gardens. Tawny owls mainly feed on small mammals such as mice and voles but may also take small birds, amphibians and large insects. They are reluctant to cross large bodies of water which may explain why they are not present in places such as Ireland. They tend to avoid open landscapes and open upland areas and tend to remain in wooded habitat (and as such, probably would not use the raptor perches).
Another small bird of prey we see on the estate is the kestrel. They have a very distinctive chestnut red plumage. They are easily recognised by the way they hover over hedgerows on roadside verges hunting for small mammals such as field voles. Kestrels favour open habitats like farmland, grassland, heathland and roadside verges. However, they do not like dense woodland in the way the sparrowhawk does. Both the male and the female kestrel have a black teardrop that runs vertically through the eye, which is more noticeable in the female kestrel. Another distinguishing feature is that the male kestrel has a grey head and tail. Both sexes have a creamy buff below.
A spectacular nocturnal raptor which has been seen hunting around the estate last year is the barn owl. Barn owls have heart shaped face with reddish buff back and wings and white distinctive feathers underneath. Their natural habitats are located in open country like grassland and farmland with surrounding trees. They prefer to hunt along the edges of woodland or in rough grassland. Barn owls have a quite low survival rate in the wild and only one in three manage to reach their first breeding attempt. Before Storm Erik Britain in February 2019 a barn owl was regularly seen hunting across the estate, and made its temporary home in the compost toilet at School Farm. Unfortunately since the storm, Erik has not been sighted – a shame for many reasons, not least seeing this stunning bird hunt majestically across the estate, and the hard work and craftsmanship that went into the construction and positioning of a barn owl box at School Farm (special thanks to Aiden at School Farm for his outstanding work on this!). Hopefully in the near future Erik or another owl will return to the estate and find its new home.