Cross-cultural connections to be supported with Big Lottery Fund grant
---
Plans for a year of activity to build cross-cultural connections and help South Devon-based refugees and asylum seekers settle in the UK have been given the go ahead.
The project is to be supported through a recently secured Big Lottery Fund grant of £9,855 and aims to provide a cross-cultural training and retreat programme that will help refugees, asylum seekers and other UK residents to build social and cultural bridges.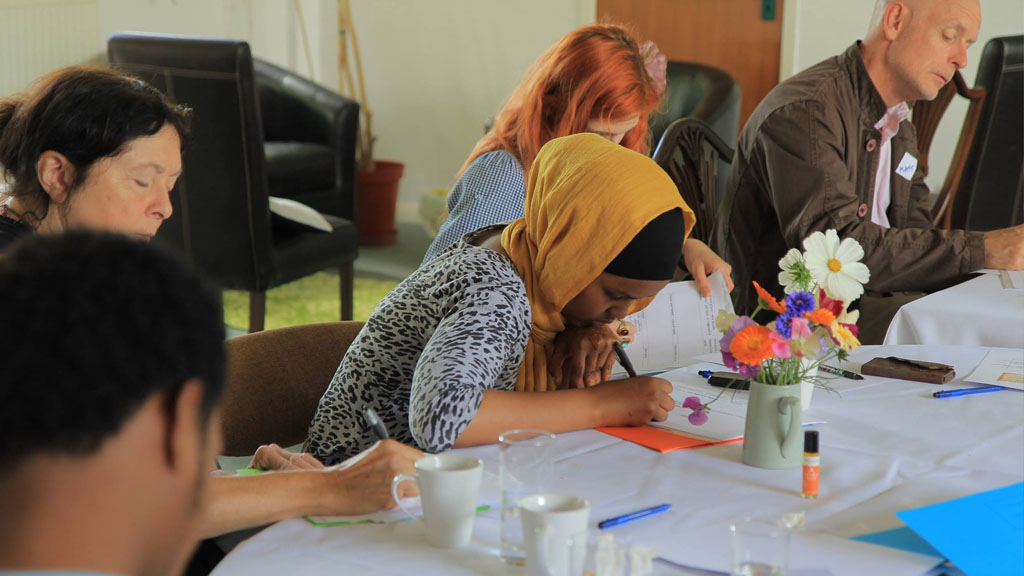 The programme has been developed by the inspirational community organisation Integr8 UK (formerly Embracing Refugees) and will be delivered by Integr8 UK in partnership with The Dartington Hall Trust, supported by other members of the South Devon Refugee Support Network (SDRSN).
The participants, who are primarily from Plymouth and are seeking or have received asylum to escape conflict and human rights abuse in their country, are to take part in a programme that enables them to meet other local UK residents in a retreat environment on the Dartington estate. Its aim is to build cross-cultural understanding, intercultural communication skills and social connections to support their integration in the UK.
Saif Ali, of Integr8 UK, will lead three residential weekends and a series of monthly reunion events at Dartington for all participants, helping to maintain and strengthen their social and cultural connections. The programme, which was first developed by Integr8 UK following generous public donations to a 2015 crowd funding campaign, will take place at Dartington's White House building, Foxhole, which was initially refurbished for this use.
Saif Ali, Integr8, says: 'It is hard enough for someone to leave their home, beloved ones and everything behind to embrace the unknown. And it can be harder at times rooting into a new culture where nothing is familiar, especially if there was no integration process in place. As a result of that, the majority of displaced people in Britain end up ghettoising, experiencing social isolation and cultural polarisation. In collaboration with The Dartington Hall Trust, our main partner, and many other refugee support agencies in South Devon, we try to address this big issue to help make displaced people feel welcomed, included and encouraged to share their personal and cultural gifts as part of their wider community. We are grateful to everyone who contributed to our mission so far, we couldn't have gone this far without your help considering our limited access to funds.'
Denaz, a participant at the previous crowd funder supported Integr8 UK cross-cultural training retreat, says:  'Thank you so much for giving me this unique opportunity. I met fabulous people and engaged in training and activities where I realised that actually we are all the same but life plays out in different ways.'
Sylva, another participant, says: 'I was homesick for the past 10 years until I came to this weekend and found the sense of belonging that I always missed.'
Steve Bradford, refugee project lead, The Dartington Hall Trust, says: 'We are proud to be working with Saif Ali and Integr8 UK on this initiative and are very grateful to the Big Lottery Fund and everyone else who has supported it to date. The project is about trying new ways to build understanding across cultures and to help people to integrate and feel welcome so that they can lead positive and fulfilling lives. This work is needed now more than ever.'
In addition to the programme at Dartington, Integr8 UK runs a personal and professional development training programme in Plymouth for the participants. This four-week training aims to help refugees and asylum seekers enhance their work skills and start building meaningful work experience through volunteering in local organisations. Integr8 UK collaborates with other refugee support agencies to provide follow up support and mentoring to help participants secure volunteer placement, receive further training and education and stay connected to their wider community and networks of support.
However, this wider coordination work is currently delivered on a voluntary basis and Integr8 UK is urgently seeking additional funding to sustain and grow their work. Find out more at integr8uk.org and make donations to SDRSN to support this work here.
---