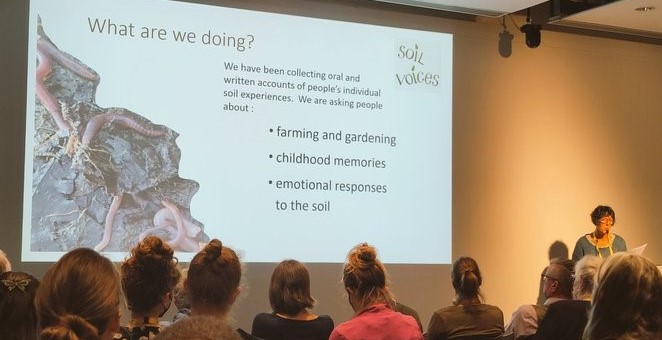 Jude Allen, a student on our MSc Regenerative Food, Farming & Enterprise, also runs a project called Soil Voices that gathers stories and memories that connect us with soil.  The aim is to use these narratives to rekindle the relationships between people and soil, reminding us how integral this earthy substance beneath our feet is to our survival as a species.  Jude has recently visited Glasgow to present on her work at the World Congress of Soil Science and below you can read her report on the experience.
In the UK, we live within a political culture that is increasingly devaluing the contribution of the arts and humanities to society.  It was heartening thus – as someone whose background is in English Literature – to be received so warmly when I gave a presentation on the project at the World Congress of Soil Science in Glasgow at the start of August.  My paper detailed the project that, as well as collecting audio recordings about the soil, includes workshops and talks for young people and children and has piloted a trailer for Digging Deeper, an audio-drama for a longer play about soil by Scottish playwright, Isla Robertson.  We then listened to some snippets of the recordings, including part of my interview with Satish Kumar and his recollections of how his mother taught him to respect and bow to the soil.
Many were moved by a recording of a child's voice speaking on behalf of the soil, telling us how disappointed the soil was with the human race.  And we also listened to a recording of a soil scientist who was comforted by the warmth of the soil in which his father was buried.
For a scientific conference, there was a significant cultural presence, and a recognition by many that a new story is needed to communicate the importance of soil to those of us who are not scientists.  As Karen Vancampenhout (Professor of Soil Science at KU Leuven Campus Geel, Belgium) said – in order to care for soil, we can no longer think of soil as a 'big brown blob' but have to find new ways to help people understand that soil is a wonderful and dynamic living entity, crucial to the survival of not just humans, but all creatures on this planet.  
What was also encouraging at the conference was a dialogue with what was called the 'emerging philosophy of regenerative agriculture' – that I was very annoyed to miss because this session ran parallel to mine.  Overall, I had some amazing conversations and the opportunity to talk to and interview soil scientists, artists, growers, potters, students, and authors – gathering their perspectives and memories of soil – and these will be on the website soon.  
Once I complete the MSc, I plan to develop the Soil Voices project further – so look out for events and workshops in the near future.  If you would like to make your soil voice contribution with a memory, story of, or response to the soil, please do get in touch. 
You can upload directly to the website here or email me at soilvoices@gmail.org