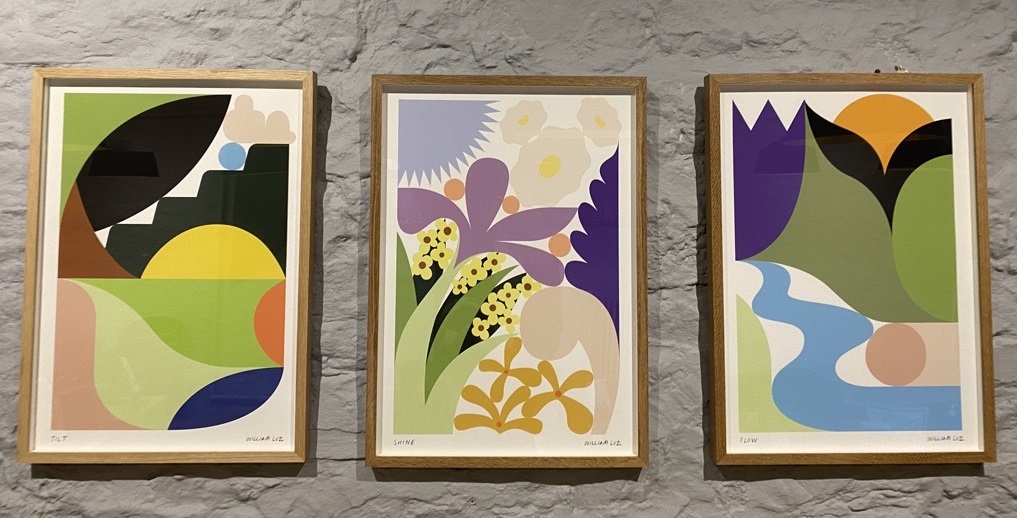 William Luz is known for creating colourful, abstract compositions using flowing, gestural lines. We commissioned him to create three exclusive prints for us in response to the gardens and landscape of Dartington. We talk to William about his practice and his series of Dartington prints:
Tell us a bit about yourself William.
I have worked as an illustrator for nearly 20 years on my own and as part of a collective, but I've always had my art practice running alongside. I moved to Plymouth a few years ago and this has allowed me to make more space for this. I really enjoy both my commercial work and my personal practice. I take a lot from my surroundings so living in Devon informs a lot of my current work.
What are the prints you have done for Dartington?
The brief was to try and capture elements of the garden and land at Dartington and the commission was very open, which fits into the way that I like to make work. Dartington is a place that I spend a lot of time because of cultural heritage and history and ideology of the place, I find it very inspiring. The first thing I did in my creative process was to spend time on the estate, time walking, talking, drawing, watching and absorbing. The inspiration for the work very much came from the landscape and conversations. I picked a few viewpoints/places that summed up what the estate is about. For me they reflect the cultural side of Dartington, the beauty, the decorative qualities and also the more wilder and romantic aspects down by the river. I worked them into semi-abstracted prints that became TILT, FLOW and SHINE.  TILT shows a view across the tiltyard and includes a representation of the Henry Moore sculpture, FLOW is a view of the river, and SHINE is inspired by Dorothy Elmhirst's Sunny Border.
Apart from the landscape, what other elements of Dartington inspired the prints?
Certainly the legacy and the history of the place. I do some teaching, both post graduate and undergraduate, so I'm very interested in education and I like the way the education is approached at Dartington, both now and in the past. The people who have passed through the place are incredible, from both the worlds of art and dance. I am very interested in dance and contemporary performance and I don't know anywhere else in the area that has such a richness of progressive dance and movement. I often try to capture gestural marks in my work and draw a lot of dancers. I see my drawings as performative in themselves. For me it is less about representing a thing literally but some sort of idea or sense of it using movement, mark and gesture. Elements of Dartington are particularly striking for this. The tilt yard for example is like a stage, and always seems to be about to be activated by movement.
TILT, FLOW and SHINE created exclusively for Dartington Trust by William Luz are all available in the shop at Dartington. They are open edition giclee prints on matt 250gsm conservation digital paper.
 A2 (420 x 594mm) £35 Unframed
A3 (297 x 420mm) £20 Unframed
It is also available as a Create your Own Postcard book with the TILT image on the front.
The prints and postcard book are available at both the Welcome Centre shop on the estate or at our newly opened shop on Totnes high street. If you can't make it in person please email us at hello@shops.dartington.org and we can arrange to post it to you.