Mary Bartlett came to Dartington in 1963 as a horticultural student. After her training she became responsible for the glasshouses, nursery and walled garden.
She is the author of several books, including the monograph Gentians, and Inky Rags, a review of which can be read here. She is now the tutor for bookbinding in the Crafted @ Dartington department. More blogs from Mary
---
Is the current postal system a mirror of society? Is there any hope for it?
In many ways the postal system is miraculous. Post from all over the globe will find its way to the right letterbox even when it's wildly mis-addressed, thanks often to the local knowledge and enterprise of the postman.
Sadly, though, at least from the philatelist's point of view, practice at sorting offices is going downhill. The occurrence of ruined stamps – scribbled over in biro or red felt-tipped pen is increasing, undermining postal values and relationships. Even 'postage due' stamps once had neat cancellations. All this behaviour is the cause of regular, bitter complaint in the philatelic press, as is the subject matter of new issues.
---
[grid][one-half]
[/one-half][one-half]
---
[/one-half][/grid]
What might these issues, to mention a stamp term, have to do with Dartington and our interaction with each other and our local heritage?
Baghdad in British Occupation, The Story of the 1917 Provisional Stamps by Freddy Khalastchy, has lately taken me to a very dark corner in British colonial history. I collect British Military overprints, partly because, being a letterpress printer, I'm interested in the typefaces overprinters used. But the symbolism is fascinating, too, because overprinted stamps are lasting evidence of how one expansionist power pressed itself on another at a particular moment. Impression, oppression, suppression – all plain as day, on a 'canvas' less than one inch square.
Most people associate the First World War years with the battlefields in France; few have heard of the Mesopotamian Campaign. The Battle of Ctesiphon in November 1915; the terrible Siege of Kut between the December of that year and May 1916; or the forced march of prisoners north under Turkish guard. Overprinted stamps from the region and period are a potent reminder.
I think it was a very significant but largely overlooked influence on Dartington's own history that Leonard Elmhirst was in Mesopotamia during those bloody years**. For what little insight we have into his experience, we must thank Paul Elmhirst, one of his nephews, whose privately published book The Family Budget preserves the correspondence between his family members during WWI. His brother Ernest, age 20, had been killed at Sulva Bay on the 11th of August 1915. William, age 24, was killed in France 13th November 1916.
Leonard, we learn, arrived in Basra in November 1916 as a YMCA volunteer from India, when in his early twenties. There are just a few photos from those years in the Dartington Archive. I've also managed to track down a copy of a pamphlet called The Land of Two Rivers that was published by the YMCA in 1917. Contaning notes on Mesopotamia and the Persian Gulf, it includes some dozen pages written by Leonard himself.
The detail is amazing and I wonder how he had managed to compile it. It also lists the battles up until May 1917 and some useful Arabic phrases. The book is a survivor, just as Leonard was himself. He was frequently ill and in hospital. But, as Michael Young observed in his book, The Elmhirsts of Dartington, he was even more tormented by religion than by the heat.
He wrote to his mother January 1917: "…the old creeds, formulas and doctrines no longer sum up my experience or satisfy my reason. They have not gone for good, and I think the fact dissatisfaction is not necessarily bad. It only means that when one has to work out a whole new philosophy of life, one tends often to be destructive at first rather than constructive".
He stayed until August 1917 when he was invalided out, back to India.
---
[grid][one-half]
[/one-half][one-half]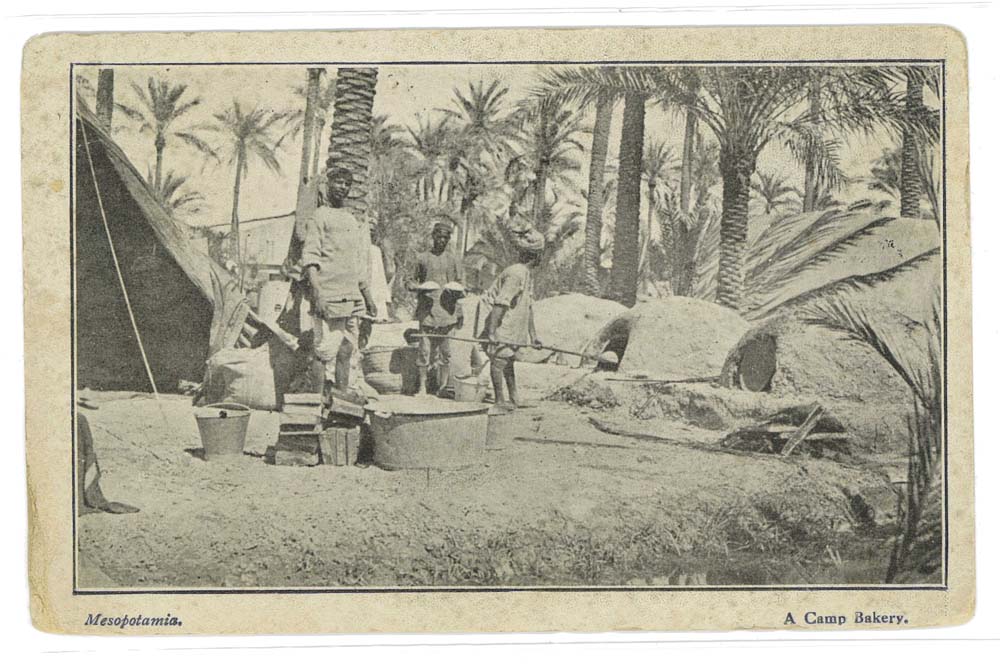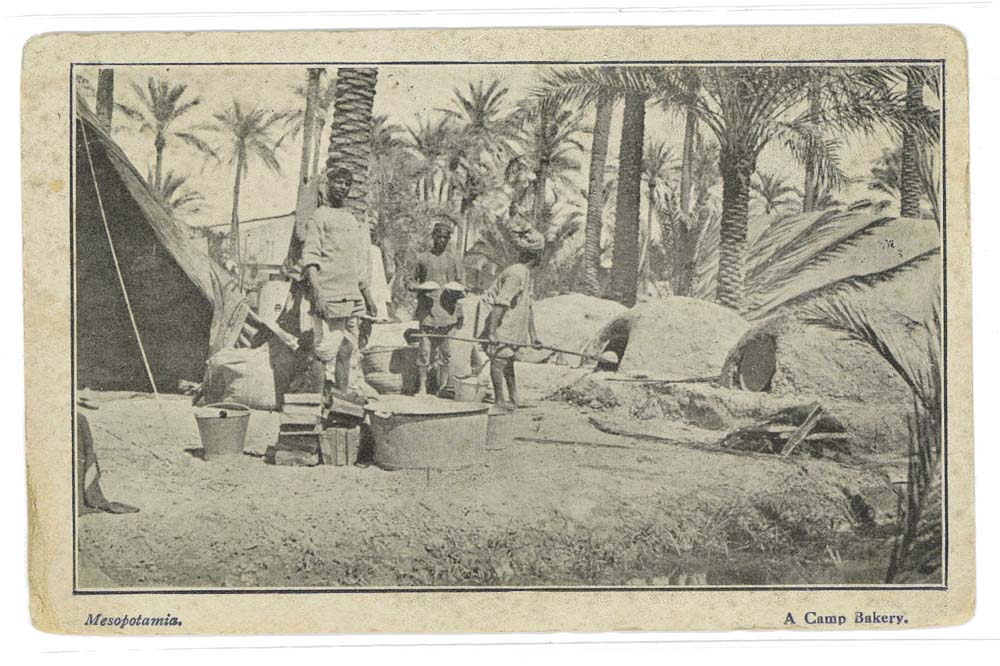 [/one-half][/grid]
YMCA booklet (left) and photograph of a bakery in an Indian camp (right)
---
The importance of the postal system in terrible times of trench warfare is well documented in The Great War and Modern Memory by Paul Fussell. The Postal History of Iraq, Pearson and Proud tells a very different story. Piled up mailbags, no post for months, and severe censorship eventually led to General Sir Frederick Maude, conqueror of Baghdad in 1917, to complain forcefully.
I have a postcard from the Siege of Kut, a reminder that, for a time, postcards were all that a soldier was allowed to send home. In the 1980s you could visit safely and send home 'wish you were here' cards.
I once examined a collection of Iraq overprints and discovered that they had been sent home by their owner from a post office in Iraq at the time of issue – a century ago – as an investment. Such philatelic foresight!
Stamp collecting is a quest – sometimes quite thrilling, at other times – well, yes – rather nerdy. Recently at a local auction I lurked in a side corridor behind my friend Paddy Pollack (a specialist in second-hand medical books), to be able to bid unobserved for an album that had obviously been assembled with great love and care over a lifetime. I had to resort to cloak and dagger tactics to prevent it from falling into the hands of the dealers. They would have torn it apart to make the best profit from the contents. A massacre of a different type.
Say what you like about stamps, collectors and the stamp albums that still turn up in auction houses after their owners have caught the last post! – they have increasing rarity value. When I was a child, swapping stamps was part of school classroom life; the likelihood now is that we'll soon be printing our own destination barcode labels and that will be that: no more stamps; no more stamp art. On a recent train journey through one of the country's most spectacular geological landscapes, not one of the younger generation I saw in the carriages was looking out of the window. Everyone was plugged in and tuned out. Perhaps the course offered by Schumacher College – 'Unplug, re-wild and reconnect'- could offer a solution. The Guardian that morning had the headline "Poorest to fare worst in age of automation".
The connection with Mesopotamia? Tenuous – but I remember a great scholar of Middle Eastern history, Hugh Glencairn Balfour Paul CMG. He was British Ambassador to Iraq, Jordan and Tunisia, and his wife, Jenny, an indigo specialist, was part of the Dartington printmaking and bookbinding team who made A Printmakers Flora. Glencairn's last line in his book Cicero: 'Not to know what happened before you were born is to remain forever a child.'
2018 is a hundred years since the end of The War to end all Wars. At Christmas it will be 50 years since the death of Dorothy Elmhirst. We walk through her memory each day in the gardens. How do we contribute to the world we live? The stamps may not survive the sticky label or the army of alternative delivery systems but they will always tell a story if you are willing to take the time to look.
Mary
---
Footnotes
*Agatha Christie spent many years with her husband Max Mallowan, the archaeologist in Iraq. The Museum in Baghdad held many of the treasures until its destruction in 2003.
**The timing of this blog is apposite as two versions of Journey's End, the hugely influential anti-war play by R.C. Sheriff, are coming to Dartington this spring – a play which owed its success to the financial backing and patronage of Leonard and Dorothy Elmhirst. The film adaption is screening at the Barn Cinema until 15 February, and a staging of the play by Dartington Playgoers  runs from 20-24 March.
The experience Leonard had in Mesopotamia would have been very different to the scenes shown in Journey's End but the trench warfare was just as horrific – with flooded trenches, searing heat, and plagues of various insects from lice to sand flies. Many soldiers queried the term 'Garden of Eden' and pondered what hell would be like. The belief in funding Journey's End was a possible response to help atone for the suffering, loss, sadness and to find another way.
The first-hand accounts are grim; recently I read an annotated copy of A Study of the Strategy and Tactics of the Mesopotamia Campaign by A Kearsey 1917, very informative and sets out the failings.