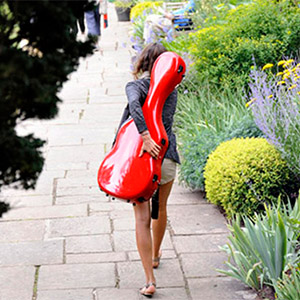 Dartington International Summer School and Festival is a four-week programme packed with courses, workshops and masterclasses aimed at undergraduate and postgraduate students, young professionals and amateur musicians. It also stages over eighty concerts performed by some of the most established musicians for members of the public to enjoy, right in the heart of Dartington's breathtaking estate.
---
Ever wondered what it takes work behind the scenes at the Summer School? One of our House Parents gives us an insight into what it's like to volunteer here in the month of August…
"It's a beautiful summer morning – full of promise. I put my sunglasses on, throw my rucksack into the car and hit the road. My destination is Dartington International Summer School & Festival, Devon, where I'm volunteering as a 'House Parent'.
The Summer School is a gathering of musicians and music lovers of all ages and abilities with the sole purpose of making and listening to music. Most have booked accommodation and food and basically the job of a House Parent (HP) is to make sure that everyone is well looked after. So what's it like being an HP? Join me, as I take you through 'A Day in the Life of a House Parent'.
I park the car and make my way to the Summer School office where my boss Claire, the Registrar, will give me my instructions. It's 10am; HP's are due to meet with her at 11am so I walk through the lovely medieval courtyard and sit with a cup of coffee outside the 'White Hart' bar. I muse on the sheer beauty of the place when I spot Pete, another HP. It's good to see him: we greet each other, laugh, share small talk, before going to see Claire. She's doing ten things at once; staring at a computer screen, holding a phone, scribbling, talking, and…smiling. Claire is one of those rare people who can turn every negative into a positive.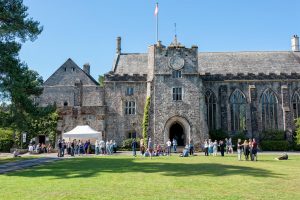 She gives us our instructions and I drive the short distance to 'Foxhole', a former school complex on the Dartington Hall Estate, which will be home to three HP's and about two hundred participants for the coming week. My role will be to act as guide, driver, trouble-shooter, and, if needs be, a pourer of oil on troubled waters…
Throughout the afternoon I warmly greet the participants before handing them their room keys and information packs. Some are 'old hands' who return year after year: for others it is a new experience and it's a joy to see the expectation, the excitement, on their faces. Today – a Saturday – is always a 'settling in' day; the programme gets into full swing tomorrow. By midnight everyone is where they should be and I tumble into bed, tired but happy.
The next morning I drive the minibus full of people to breakfast up at the main campus. I usually make more than one trip. The dining hall is full of chatter and smiling faces. I join a colleague, Pauline. We have already worked out tasks and rotas, including various trips with the minibus throughout the day. I mingle with folk, join some for coffee, and ask if they have any problems or questions.
Classes and courses start around 9am each day. After breakfast I make a few notes and report to Claire at 10am. There are a few minor things; a broken light bulb, a misplaced key, but generally all is well.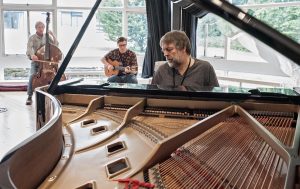 As an HP our main responsibility is, of course, to the participants. But if time permits, HP's can take part in musical activities and classes. This week I've signed up for the jazz band class; so for the remainder of the morning I have great fun plucking my bass with a large group of people whose ages range from 13 to 83. To witness an 80 year old woman stand up and blast out a trumpet solo could only happen at Dartington!
After lunch I get a call from Claire: someone has requested a change of accommodation to Foxhole – could I meet him down there in half an hour? So half an hour later we have one more 'happy camper' at Foxhole…
At teatime I join Claire and other HP's for a cuppa. It's both a chance to address any outstanding problems or issues relating to our respective 'charges', and also a chance for us to get to know each other a little better. Some of us have been before; others are new, so it's important to feel that none of us need feel isolated. Personally, I've made some good friends working as an HP.
After dinner I finish a few administrative tasks before driving some folk to the evening concert in the Great Hall. I could go if I want to but instead I head to the White Hart bar for a soft drink (I'm driving later). Claire is there, as are others I recognise. We swap stories, enjoying the communal banter. There have been the usual instances of lost keys, lost music, even of lost people! But the first full day has gone very well. I sip my juice, musing on the qualities required of HP's. Diplomacy? Sure… A calm head? Most certainly… A sense of humour? Undoubtedly… Above all, you need to genuinely like people.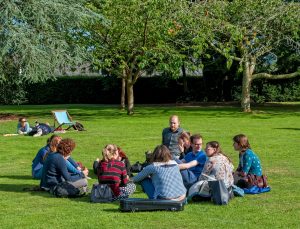 It is nearly 10pm. The concert is over and people stream out of the Great Hall. I drive us back to Foxhole where we exchange 'goodnights'. As I make my way to my room, I pass an elderly woman and ask if she's OK. 'Yes thank you young man', she replies, eyes twinkling, 'but the toilet paper is a little more abrasive than I'm used to…'
Lying in bed, my mind drifts over the events of the day. Eventually my eyes close and I dream of being chased by a giant toilet roll…"
Think you've got what it takes to volunteer at Dartington? Look out for details coming very soon of our volunteering opportunities for Summer 2017!