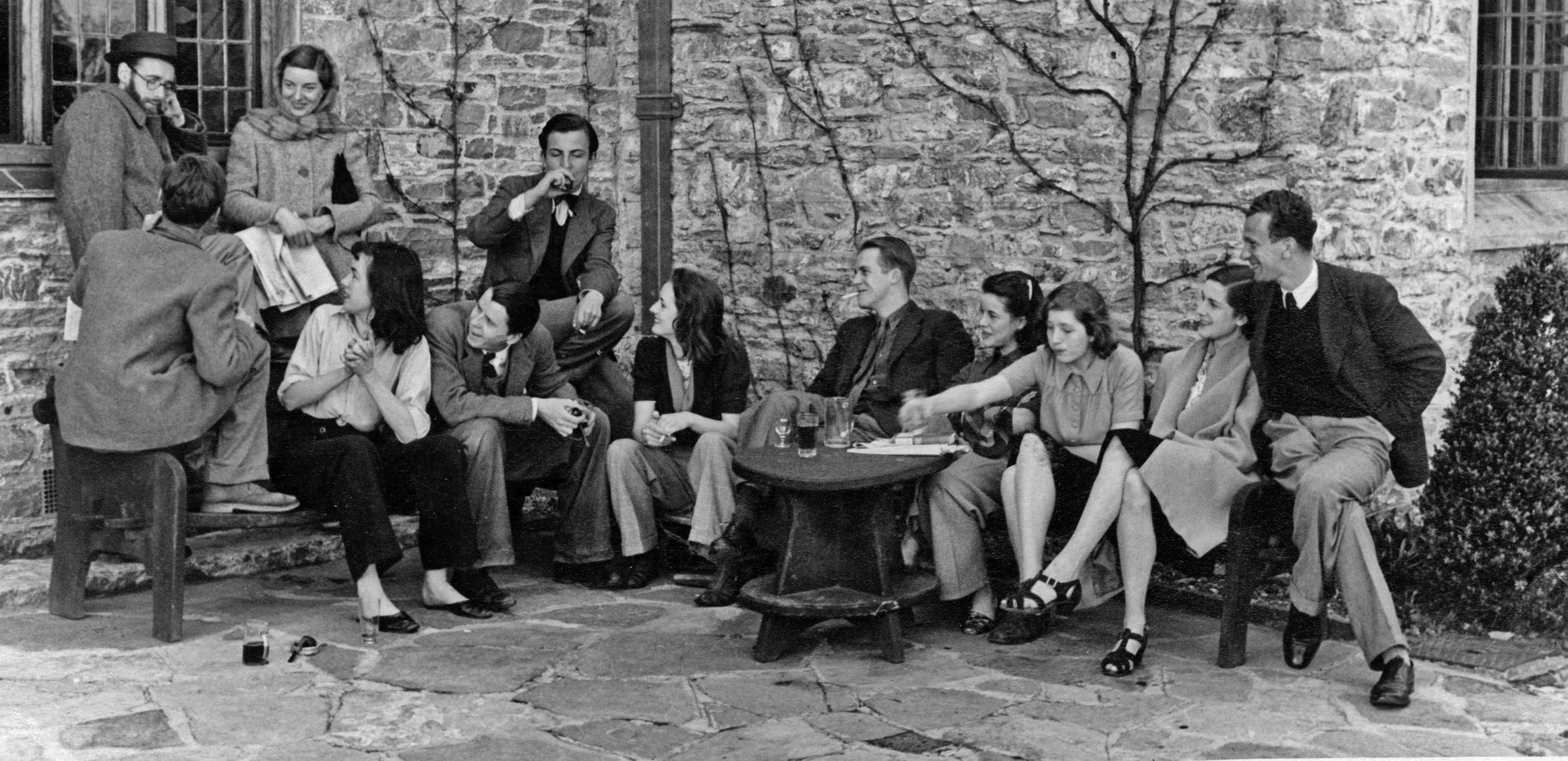 Anna Neima is a historian with a PhD from the University of Cambridge. She grew up locally and is fascinated by Dartington and its history.
Her new book, The Utopians, draws on this history. Dartington is one of the six experimental communities featured in the book. It also includes Santiniketan-Sriniketan in India – established by Rabindranath Tagore, and a key influence in Dartington's creation. Plus Atarashiki-mura in Japan, the Institute for the Harmonious Development of Man in France, the Bruderhof in Germany and Trabuco College in America – all of which sprang up in the aftermath of the First World War.
Each was led by charismatic figures who dreamed of a new way of living. Rabindranath Tagore, Dorothy and Leonard Elmhirst, Mushanokōji Saneatsu, G.I. Gurdjieff, Eberhard and Emmy Arnold and Gerald Heard all struggled to turn ambitious ideas into reality. They – and their fellow communards – left their jobs, their homes and their social circles. They faced mockery and persecution, penury, hunger and discomfort, and their own doubts about whether their efforts to change society would ever make a difference.
Anna's absorbing and vivid account of these collectives from creation to collapse, reveals them to be full of eccentric characters, outlandish lifestyles and unchecked idealism.  They were dramatic, fractious places where high ideals collided with the need to feed the chickens, clean the toilets, bring up squabbling children and grow the grain for the daily bread.
A century later, their influence still resonates in realms as disparate as progressive education, environmentalism, medical research and mindfulness training. They provided, and continue to provide a rich store of inspiration for those who inspire to improve the world. Without them, the post-war world would have been a poorer place.
We asked Anna a few questions about the book:
When did you start working on it? Where did the inspiration come from?
My family has a farm next to Dartington and I was on the estate and had the idea of writing about it as a PhD, which is what I did originally and I really enjoyed doing that. The other inspiration was my grandfather, who fought in the Second World War, and came back and set up an organic farm in Devon. When he retired, he passed the farm down to his children and set up a community near Modbury which was how he lived for the last 30 years of his life. The aim was to show how possible it was to live with a very low carbon footprint. So the book stemmed from my academic work on the experimental communities that emerged in the post-war world, and from my fascination with people like my grandfather, who dedicate themselves to turning their ideals into practice.
What are the most interesting things that you picked out about Dartington about your research?
It was quite challenging trying to piece everything together about what the Elmhirsts were thinking at the time as they were so ambitious. But essentially their dream was about creating a balanced society and a balanced life. A bit of economics, a bit of creativity, a bit of spirituality. It was also interesting how they aimed to unite science and spirituality. I found it quite frustrating trying to find out about Dorothy's role – most of the sources available come from Leonard, and that shows a lot about the gender dynamics at the time. It was quite disappointing that feminism didn't really feature at Dartington. The community was however, very much a refuge for gay people in the 1920s and 30s and I don't think that is really talked about because then it was illegal so it wasn't a thing that could be said. Another interesting thing is that Aldous Huxley spent time at Dartington and it was the inspiration for his 1962 novel 'The Island' – which was the utopian counterpart to his dystopian 'Brave New World'. The book reflects the ideas of decentralising industry and the Dartington approach to education.
And do you think Dartington and the other communities were successes?
I actually don't think it's necessary or helpful to think about them as either a success or a failure. Obviously they are never going to be perfect worlds built on earth because that's not a possibility. It's good to aim high but we wouldn't have created the idea of heaven if it was possible to create heaven on earth. Dorothy and Leonard and the other communities made their mistakes, which they admitted to, and they also changed their minds about some things, as people do. It's also important to remember that people's ideas of a perfect world differ. But I do think that these communities, and Dartington especially, has had great influence in terms of inspiring people and ideas and ultimately achieved a great deal. The world would be a much poorer place if people didn't aspire to do radical, experimental things. The legacy of places like this is huge.
Buy Anna's book, The Utopians, published by Picador, via our Bookshop.org page.