Neil Lamont joined Dartington in June 2015 as a Woodlands and Conservation volunteer and has been working alongside Mike (Estate Warden) and the volunteer team every Monday and Thursday. Here he writes about his experience as a volunteer and the conservation project the team have most recently been working on.
---
Since starting at Dartington in the summer I have worked on many projects and sites.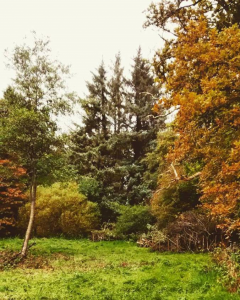 These include the flushing meadows where we created a grass snake habitat and are preparing the ground for wild-flowers, the deer park wall, the wild-flowers on upper drive, bashing much Himalayan balsam in our on-going war against the invasive species, and creating many parkland guards to ensure the successful development of Oak trees across the estate. All these projects had been started previously or are simply on-going work that is necessary as up-keep and I have chipped in where I can.
All have been rewarding and have taught me much in the skills needed for wildlife conservation. Working with Mike Newby, Dartington's Woodland and Conservation warden, and Vicky, a long-term volunteer and general font of knowledge, is always great fun and an opportunity to learn a plethora of information on the whys and wherefores of estate management and conservation.
But at Berryman's Marsh, I have had the privilege to get in on a project from its conception and will hopefully be here to see it through to its completion and fruition.
---
"I hope when reading this people realise that the wildlife and habitats we all enjoy are not unmanaged and rely on peoples good efforts. I am very proud to help in those efforts at Dartington"
---
Berryman's is a CWS (County Wildlife Site) just off the Lower Drive and opposite the proposed Queens Marsh wildlife habitat site that many entering and leaving The Dartington Hall Trust estate will be familiar with.
It is a marshland with mature oaks lining the beautiful river Dart, with a compartment of coniferous woodland, two large ponds and willow and alder growing freely.
So what are aims with Berryman's Marsh and how will we achieve them? The aim in our work is, as always, to create biodiversity -to allow by habitat creation the maximum amount of species to occupy the area. In this case, it is to create flourishing marsh pond habitats.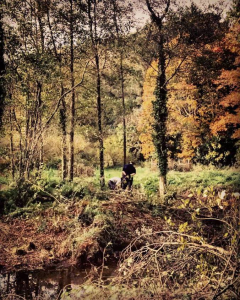 How will we achieve this? Well first, of all the willow and alder smothering the ponds had to be coppiced!  This labour-intensive work seems extreme (as though we are lopping down trees without a care), but it allows light into the area and removes the leaf coverage that is silting up the ponds and turning the water into stagnant pools.
The secondary benefit from this coppicing comes from the piles of wood and brash itself. We create brash pile habitats, which we then stake into cradles using some of the straighter lengths of wood to stop them floating away when the marsh floods.
These piles of brash and wood become great habitats for field voles, field mice, shrews, robins, wrens, toads and frogs all attracted by the slew of invertebrates that will make the piles their homes. These include (amongst countless others) beetles, woodlice and spiders. We have already seen kingfishers and greater spotted woodpeckers flitting amongst the trees and hope for more.
Now, when we have completed the coppicing (which we have), we can move to stage two -getting a large digger in to scrape away the silt down to the good old Devon clay.  This will be done as soon as we have a frost, when the ground is hard enough.
Then will come the final stage of the marsh pond creation – the planting, to be done in spring. Mike –  thinking ahead as always – has been pricing up the oxygenating, native and wildlife friendly plants. A mix of aquatic marginals and floating plants, such as bog bean, watercress and purple loose-strife which provide oxygen for the water and nectar for butterflies, moths, damsels and dragonflies – great examples of which I have seen already in other locations on the estate, such as beautiful red darters and hawkers demoiselles.
With better water quality we will hope for frog, toads and newts and thus larger bird-life; if the marsh floods and we have some fish in the ponds maybe even an egret or two would be my personal hope.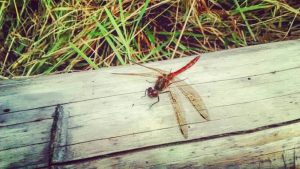 It has been hard work but great fun and with great colleagues, I have learnt so much already about why we are doing what we are doing and the plants and wildlife that will benefit from our work.
I have learnt to coppice and to fell trees with bow saws, the health and safety of felling, the skills of cradling and staking, how to improve bio-diversity in marsh areas and the use and identification of different plants, woods and wildlife.
Rich, Jordan, Sonja and especially Mike and Vicky (who are so giving of their knowledge and expertise) are all part of the great experience volunteering and I hope that in the spring we can all finish this wonderful project together – a project which will enrich the estates wildlife and thus that of the areas of Dartington and Totnes in general.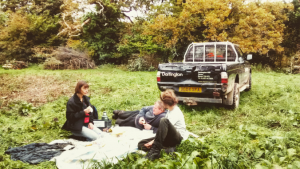 I hope when reading this people realise that the wildlife and habitats we all enjoy are not unmanaged and rely on peoples good efforts. I am very proud to help in those efforts at Dartington.
Interested in volunteering at Dartington? Contact Sonja (Volunteer Manager) on 01803 847207 or email volunteering@dartington.org.