Fundraising dinner for ground-breaking prisoner project that 'digs for treasure'
---
The first fundraiser for ground-breaking prisoner resettlement scheme Dartington LandWorks surpassed itself on 26 March by raising over £14,000 with the help of BBC comedian and bestselling author Tony Hawks.
Tony Hawks and HM Chief Inspector of Prisons Nick Hardwick spoke at the event, attended by 124 guests, who were both existing and new LandWorks supporters from our community. Sat at tables named after well-known British prisons including Strangeways and Dartmoor, guests enjoyed a locally sourced three-course meal, bumper quiz, raffle and auction.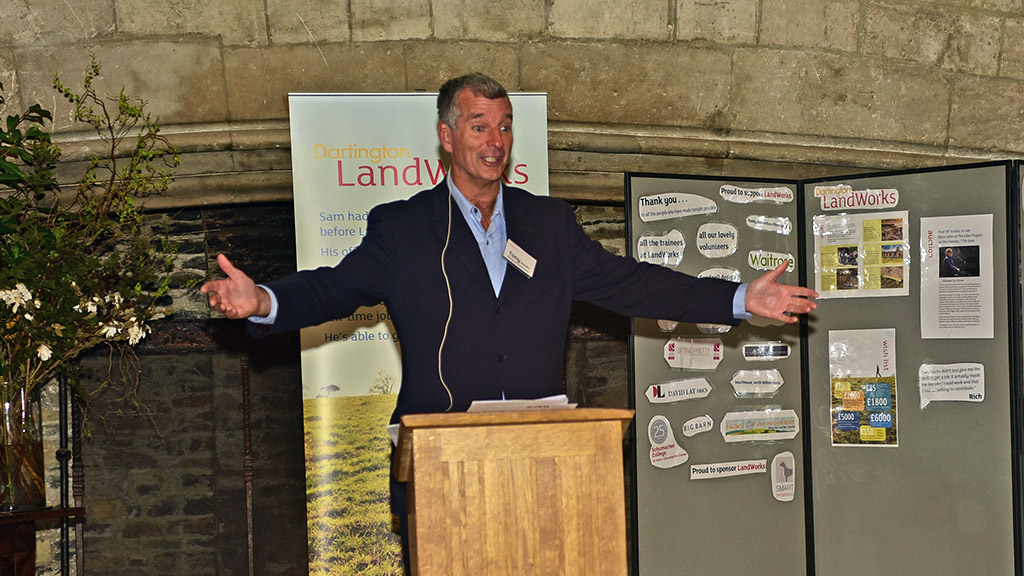 Tony Hawks said: 'I was thrilled to host this event for such an important cause. It was a lovely evening with a great atmosphere: you could really 'feel' the support for LandWorks in the Great Hall. A highlight for me was the impromptu auctioning of a giant wooden spoon made by a LandWorks trainee, the consolatory prize for the losing quiz team, going for an incredible £700!'
The funds that were raised through ticket sales, the raffle and auction will build on a 2014 Big Lottery Fund award, to expand the scheme that helps current and former prisoners to secure jobs and avoid returning to crime.
HM Chief Inspector of Prisons, Nick Hardwick, said: 'Prison teaches you how to be a good prisoner. Projects like LandWorks teach people how to be human again, how to be citizens. Churchill had this phrase that "there's a treasure, if only you can find it, in the heart of every man"… I think that's what projects like LandWorks are doing; they are digging for the sometimes harder-to-find treasure that lies in these men'.
LandWorks Manager Chris Parsons said: 'For me it is not just this extraordinary total that makes the event a success: it is that people clearly wanted to engage with LandWorks and become more informed about our trainees and the difficulties of resettlement. People coming together to reduce reoffending and change lives: a truly great community event.'
Celia Atherton, Director of Social Justice said: 'We've had some amazing sponsors tonight who've donated things, given enormous amounts of time or pointed us to things we never knew about. They certainly went much further than we dared hope to imagine and the event couldn't have happened without them'.
The LandWorks project, based on Dartington estate land, provides training, support and useful connections in the community through a network of over 450 supporters for former prisoners to develop the skills, self-worth and confidence to help them find and secure jobs. Former prisoners have already found employment in a range of roles since completing the scheme, which started in July 2013. Around £37,000 a year of taxpayers' money is saved for every LandWorks trainee who does not re-offend and return to prison.