A bright and airy space – the atmosphere is relaxed and inspiring, allowing you to take your time in choosing your favourite piece from both established and new artists.
Contact us on 01803 847523.
Artist of the Month
Amanda Cardrick – Plymouth, Devon
Amanda's paintings are contemporary in style from naïve through to abstract pieces. She works primarily in acrylic on canvas using a palette knife and also mixed media. Inspiration is taken from the wild rocky coast, the turquoise sea, crashing waves and ever changing elements.
Prices start from £49
We also sell Amanda's beautiful greeting cards in the Stationery/Gift department priced at £2.49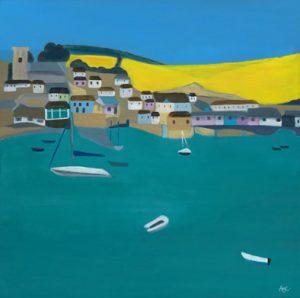 ---
New In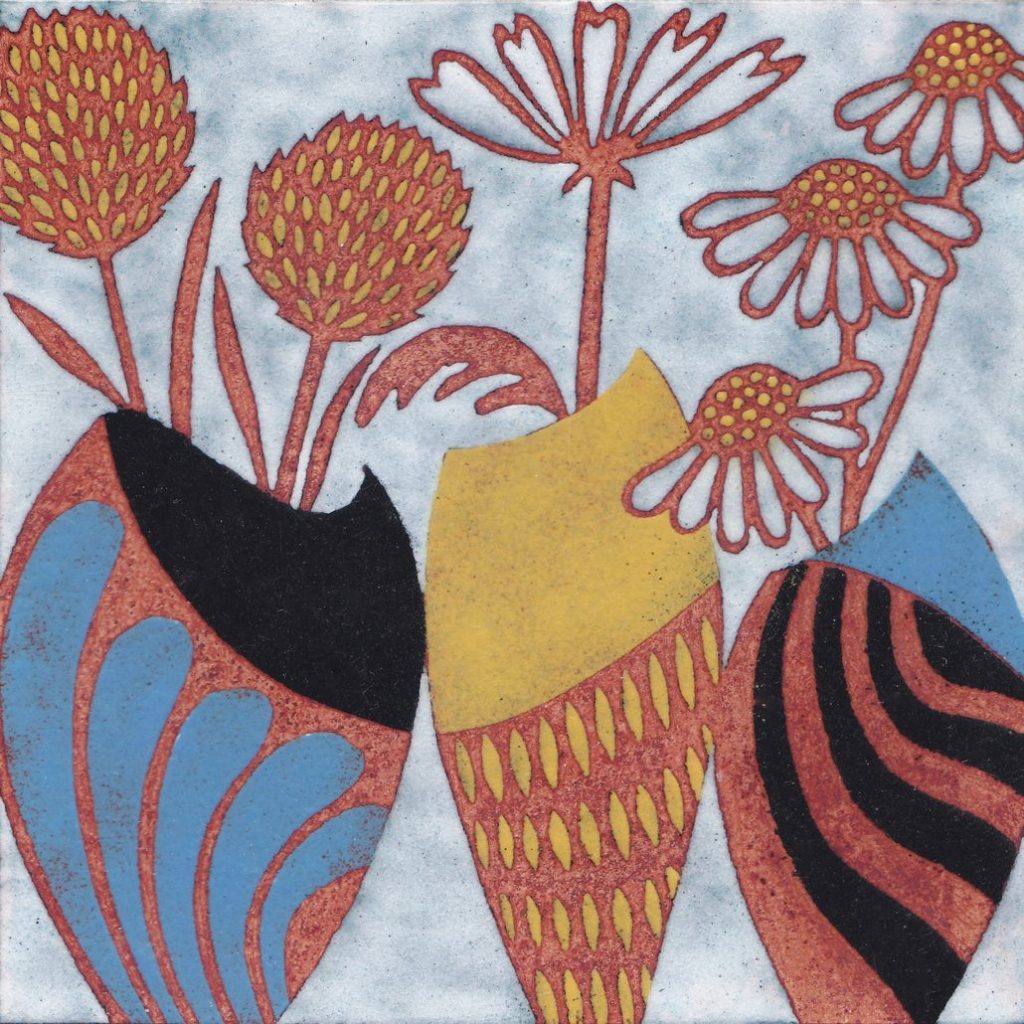 Janine Partington – Still Life Series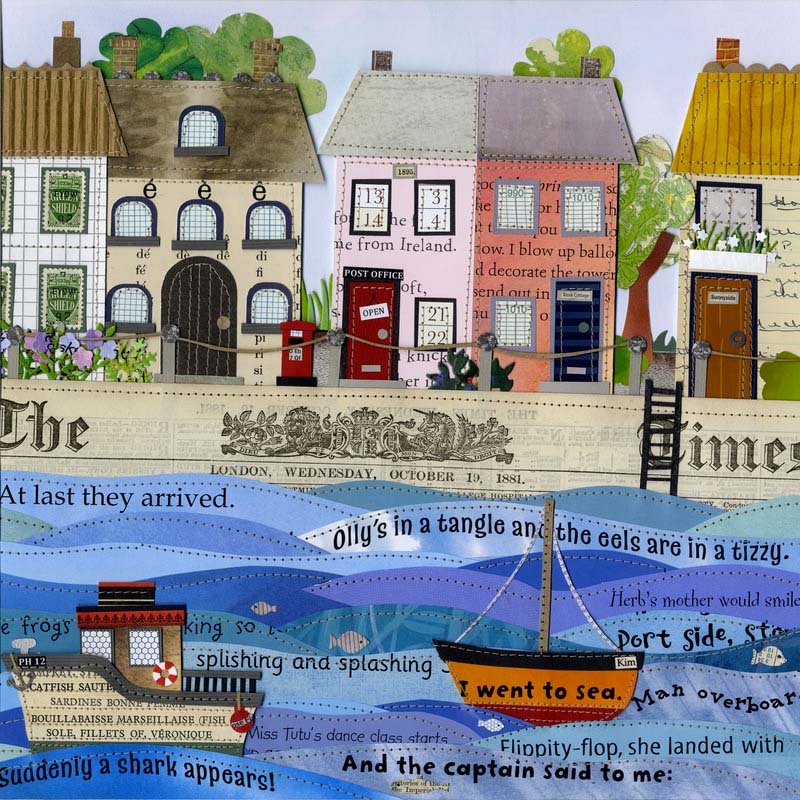 Kim Watkins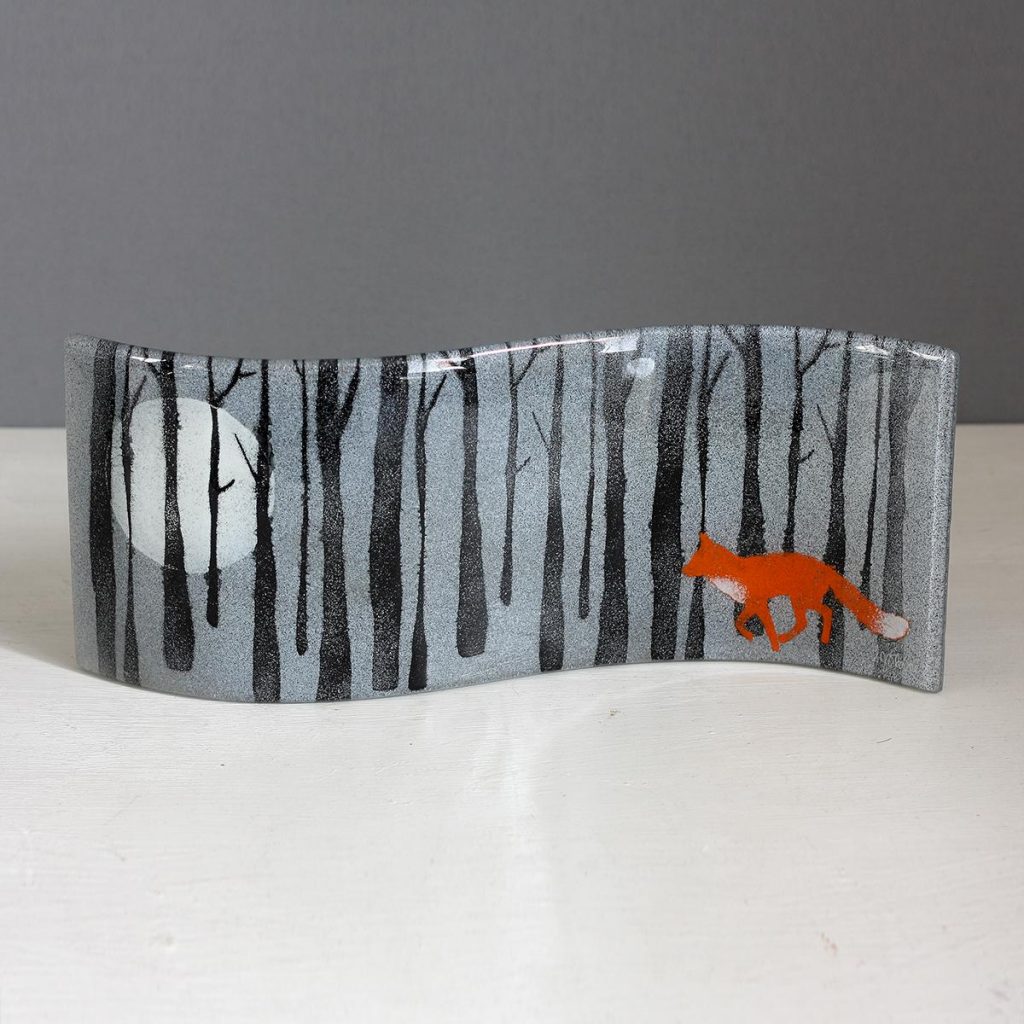 Morpheus Glass – Hare & Fox range
.
---
Steve Robinson – Totnes, Devon
Winner of the Gold Prize for Glass in the 'craft & design' magazine awards, Steve Robinson is an established fused glass artist and designer whose work is instantly recognisable and collected world-wide.
The natural environment is a constant influence for Steve. Oceanic themes of movement and fluidity and the interplay of light with water are a key inspiration, with the mesmerising colours of marine life and the textures of flora and fauna in and around the coastline stimulating many of his ideas. "For me the visual attraction is the combination of colour, transparency, light, air and texture"
Prices start from £30
Jo Myerscough – Brixham, Devon
"On returning from Asia, I trained as a teacher. I took up pottery in evening classes and caught the bug. I love throwing and have spent years happily making functional wear. However, over the past few years, I have given up glazes and concentrated on smoked pottery. I still throw, but alter the thrown shape, cover it with a layer of slip and burnish it. After biscuit firing, the pots are put in a bonfire with a variety of combustible materials and the flames and smoke create patterns. Nothing is the same. Each piece is unique. I can control what happens to a certain extent, but I like the unpredictability of this process The effects can range from charcoal black to soft greys and smoky browns."
Jo's pots are priced at £48
Stella Wain-Heapy – Bath, Somerset
Stella studied 3D design winning a travel Bursary from the Royal Society of Arts and the best student prize for the international Dunlopillo Design Award.  After a career in commercial design, she went back to college to study landscape design.  Equipped with a kiln she turned her hand first to producing ceramics painted with sea and landscape themes and then set herself the challenge to transpose these themes onto glass without using paint.  Hence most of her glassware has nature at its heart from sea scenes and Bath landscapes.
Each piece of glassware has at least two firings, every feature is cut by hand using crushed coloured glasses. It is then fused together to make a complete picture.  After detailing in gold the outline of people, the piece is then fired again where it is also slumped into the final shape.
Prices start from £32
---
Special Offers
Up to 50% off selected items
For special offers in Craft & Glassware please visit Special Offers.
For more images of the Craft Gallery please click here.
---
Explore our Shops