Crazy About Clay offer clay activities for all ages and abilities, with classes, parties, raku, 'have-a-go' on the potter's wheel and more!
---
Workshops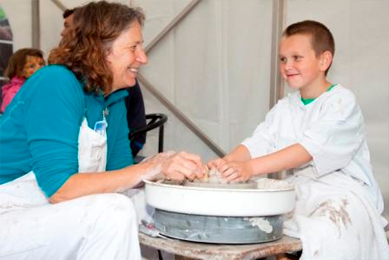 Sessions last an hour and start at the following times:
Wednesdays: 10:00am, 11:30am, 2:30pm, 4:00pm
Thursdays: 10:00am, 11:30am, 2:30pm, 4:00pm
Fridays: 10:00am, 11:30am, 2:30pm, 4:00pm
Saturdays: 10:00am, 11:30am, 2:30pm, 4:00pm
Sundays: 10:00am, 11:30am, 2:30pm, 4:00pm
Plus, Saturday & Sunday afternoons: on fine days come along to the Courtyard at The Shops At Dartington to watch pottery demonstrations and have-a-go on the electric pottery wheel. All ages and abilities welcome. If the weather is bad, you'll find Mary in the Crazy About Clay workshop next to the Craft Centre.
Sessions are filled on a first-come-first served basis and can get very busy, especially at the weekends and school holidays. To avoid disappointment, please book in advance. Sometimes the workshop is closed for private parties and school visits.
Book by:
Emailing Mary at mary@crazyaboutclay.com or by calling 01803 849415 and leaving a message – please be aware that emails and phone messages are not picked up until the evening each day.
Please see www.crazyaboutclay.com for details of upcoming closures.
How much?
Each hour-long session costs £12 per person. If you make work that you want to have fired and glazed the work is weighed and a charge of £10 per kilo (damp weight) is applied to cover firing costs. Things that you don't want to keep go back into the bucket (no charge). This means that people are free to experiment and play and only pay for items they want to keep. If young children want to take some of their work away as-is to paint at home they can do so for a very small charge to cover cost of clay.
Loyalty cards
We have introduced a Loyalty card: Buy 5 sessions and get the next one half price!
Raku
On some Sunday afternoons Mary will be firing the Raku kiln in the lower car park – come along to simply watch or you can glaze a pot and watch it being fired.
Raku is an ancient Japanese method where the pots are heated to 800C very quickly in a gas kiln, and then removed when red hot and placed in tubs of sawdust to burn. The smoke creates beautiful patterns on the glaze. Raku pots are purely decorative as they may not be waterproof.
You can buy a pot (from £5) to glaze and watch it being fired before taking it home right away. Raku takes place on the last Sunday of each month, plus some other selected dates – contact Mary for details of the next Raku firing.
What can you make?
You can make whatever you want at the Crazy About Clay studio – within the realms of practicality. If you're not sure what to make there are lots of simple and exciting projects such as a leaf plate, animal money-box, plates, bowls and cups to get you started.
An introduction to basic ceramic techniques such as slip-and-score, coil, pinch, and slab will give plenty of scope for imagination. Each student will also have the opportunity to try working on the potters wheel.
The sessions are fun and relaxed, allowing each person to work at their own pace. During the session we will also talk about where clay comes from, how it was formed and the processes of firing and glazing. People of all ages are welcome to come along to each session.
Firing and glazing
Glazed and fired work will be waterproof. If you want to come back to the workshop for another session after 3 weeks, your work will be bisque fired and you can then paint it with colourful under-glaze colours before it is glazed with transparent glaze and fired again.
If you're not able to return to the workshop or prefer a coloured glaze your work can be glazed blue. Your work can be picked up from the workshop a few weeks later, or can be mailed within the UK for £5 P&P.
Where?
The studio is situated right next to the Craft Centre, close to the children's play area. From the front of the Craft Centre, walk up the pathway on the left that leads to the fenced off play area. On the right you will see some steps and a ramp leading down to the clay studio. Parking is just a short walk from the studio. There are many interesting shops and cafes nearby if parents would like to relax while the children are at a clay session.
Something about Mary
Since graduating from St Martin's School of Art in London I have been a practicing artist as a painter and potter and taught people of all ages. My work as a teacher has been fuelled by my passion for creativity, imagination and expression. For more than 30 years I have facilitated art and clay sessions in schools, colleges, museums, hospitals, shopping centres, parks and anywhere else it's possible to have fun making things.
Previously I was Director of Art at Trillium Montessori Elementary School and Trillium Art Centre in Ontario, Canada. Now based in Devon I'm delighted to be offering Crazy About Clay classes at The Shops at Dartington.
In my classes I aim to:
Enable each student to develop at their own pace
Support each student in discovering creative problem-solving
Allow each student to find their own creative voice
Create a learning environment of safety and respect
---
Explore our Shops