Situated within its own premises at The Shops at Dartington, The Mason-Laurence Gallery is home to the work of an eclectic group of established and emerging talented artists based in the South West.
The Gallery is owned and run by Johanna Mason-Laurence.
Opening Hours: Tuesday to Saturday 10am – 4.30pm, Sunday 12pm – 4.30pm
themasonlaurencegallery.uk
enquiries@themasonlaurencegallery.uk
01803 865606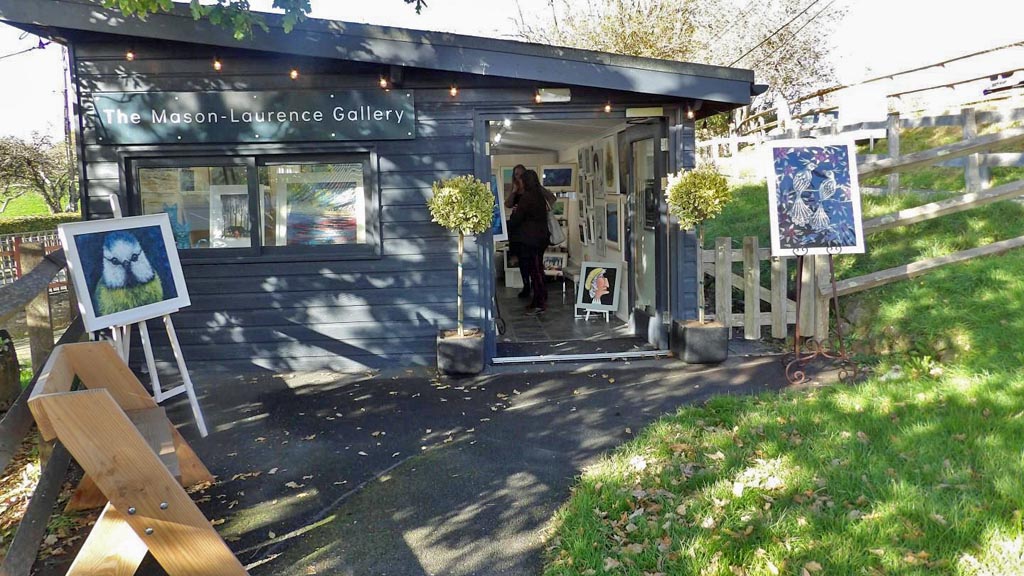 ---
---
About the artists
Diane Bailey – Wildlife Artist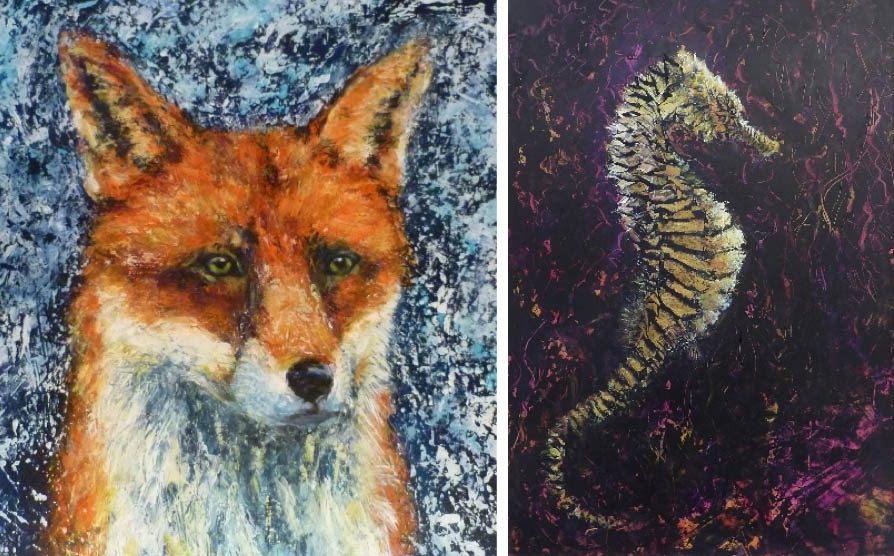 Close observation of wildlife while studying zoology, scuba diving around the world and working for conservations groups, has led to my love of depicting creatures both wild and known to me. I enjoy bringing an authenticity as well as personality and life to my work.
Each painting, mainly in Acrylic on board, is intended to be striking from a distance but viewed at close quarters, textures and attention to detail become apparent; a legacy from my years as a designer and illustrator.
A BBC Wildlife Artist of The Year Winner, my work has also been selected for exhibition by, amongst others, The National Exhibition of Wildlife Art, The Society of Wildlife Artists, London.
---
Mark Bell – Fine Artist

Originally from Newcastle, it was an interest in Fashion and Design that lead Mark Bell to study at Central St. Martins School of Art, London, where he gained his degree. It was initially life drawing that attracted Mark whilst starting to make a name for himself as a Fine Artist. This developed into a love for paint and capturing personality in his raw, energetic expression of performers.
Mark, with his wife Sarah, part own and run a hugely popular South Devon 'Speak Easy'-style club, The Lucky 7 Club. International performers from the Burlesque to Blues & American Roots Music world form a stream of inspirational muses for this artist. This latest work finds Mark celebrating his passion for music, interpreting mood through colour and light.
---
Emma Carter – Fine Artist

Inspired by her family home on Burgh Island, Emma loves big stormy seas, wild winds and the raw coastline of the South West. Her work is an expression of swimming when the beaches are empty on hot sunny English days, and big wide skies that offer up a myriad of colours.
Emma is an award winning artist with a successful career. In recent years Emma was chosen to represent the Southwest in a commission for the then Prime Minister Gordon Brown and has since shown in prestigious galleries locally and regionally.
---
David Cowell – Digital Artist

David has been breaking ground in digital art technology for over 30 years. A technique that arouses constant curiosity, David describes his style as "painting with light" – blending his artistic freehand with the modern technology of our computer age.
Each of David's atmospheric paintings is a one off original, transferred from the computer to watercolour paper in a process he has developed using light fast, archival quality inks; he has coined this process, 'Chorratinta', a Portuguese expression meaning 'Tears of Colour'.
---
Martyn Dempsey – Artist and Sculptor

Originally from Manchester, Martyn's love affair with Cornwall began with a visit to Newquay at sixteen. Having returned often to fuel his love of surfing, Martyn decided that Cornwall was where he needed to make his home. It was largely with the encouragement and support of Mary Redgrave at The New Craftsman Gallery in St. Ives that Martyn developed as an artist, capturing the essence of Cornwall with his colourful abstract paintings.
With his deep knowledge and familiarity with the sea and its' inhabitants, Martyn has brought to fruition a new sculptural departure – a collection of Cornish crabs and lobsters, cast in brass.
---
Sara Gilbert – Fine Artist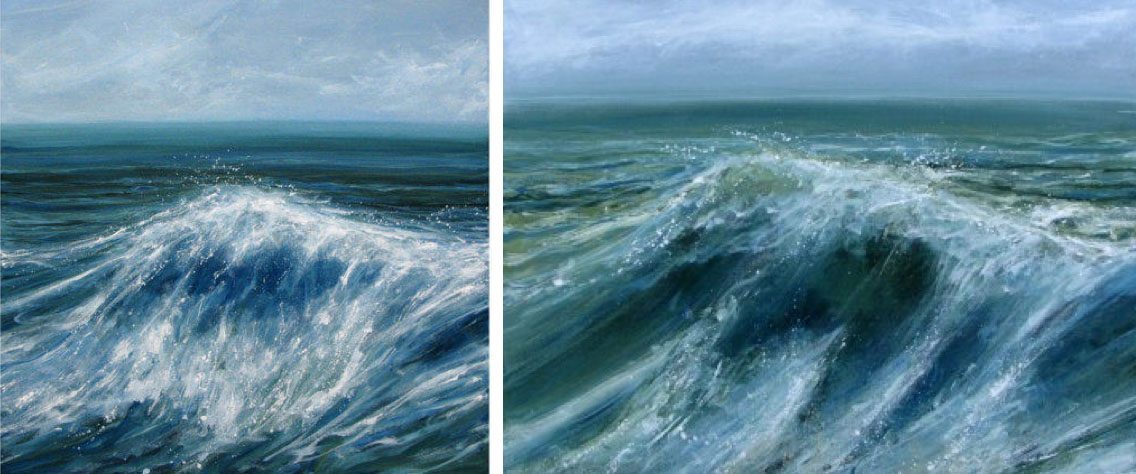 Graduating from Plymouth College of Art & Design with an honours degree in Fine Art practices, I paint canvases mostly in acrylic and enjoy the freedom that painting on a large scale gives me.
Often described as 'energetic and dynamic', my work is influenced by natural land formations and elements. My sea paintings and abstracts catch the feeling of movement and are usually executed quickly and spontaneously.
---
Marc Heaton – Fine Artist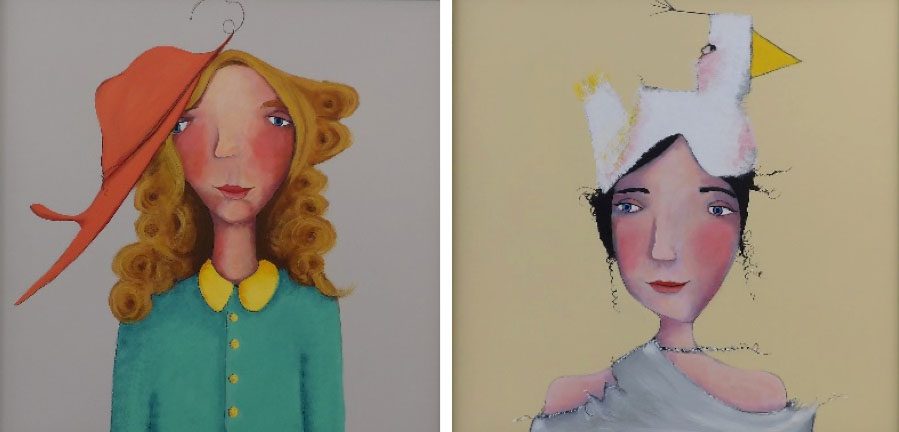 A versatile Welsh artist originally from Pontypridd, Marc Heaton graduated in Fine Art Painting from Central St. Martins School of Art and Design, London.
Marc has explored many genre in his artistic career, with paintings and sculptures ranging from realism, through to abstract, geometric and surreal styles. His whimsical, poetic and humorous pieces are where he excels and represent the result of this journey.
---
Paula Kendall – Fine Artist
Born in Wales, Paula studied Art and Design at Shrewsbury College of Art and Design followed by Fine Art Printmaking at Brighton University. She has developed a style all her own and a method of working that involves the use of some unusual tools, more often purchased from a DIY store!
Paula works mainly in Acrylic and Oil and finds painting on board best suited to her vigorous, quite physical way of creating. Paula says, "I am interested in using the combination of chance and skill in painting, which I believe keeps the work alive and vital".
Mike Luckie – Illustrator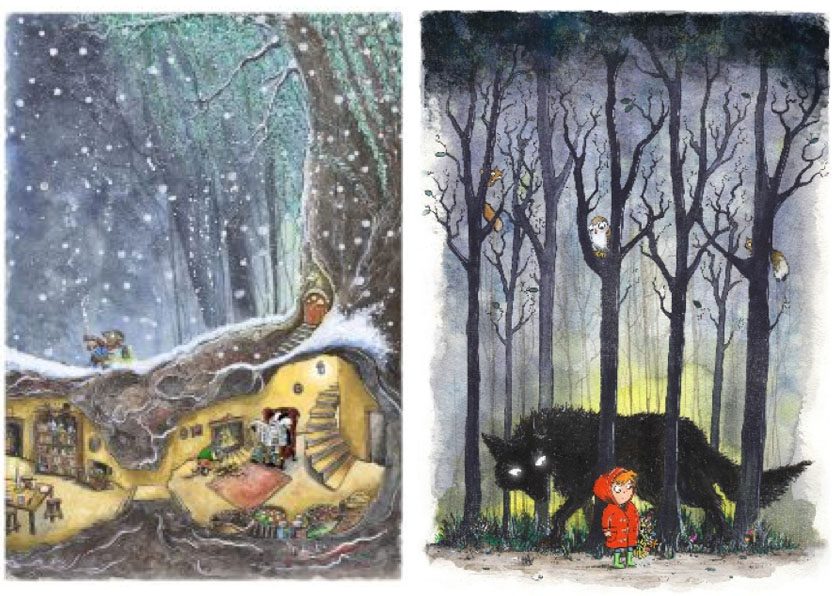 A freelance illustrator, Mkie has spent the last 6 years working as an in-house illustrator, designer and general creative person with design agencies in the South West.
He likes to illustrate using a variety of media; pen & ink, watercolour, gouache, as well digital media. Sometimes all of them at once!
Mike's work is detailed and humorous and, he hopes, appeals to both children and adults.
---
James Marnan – Cartoonist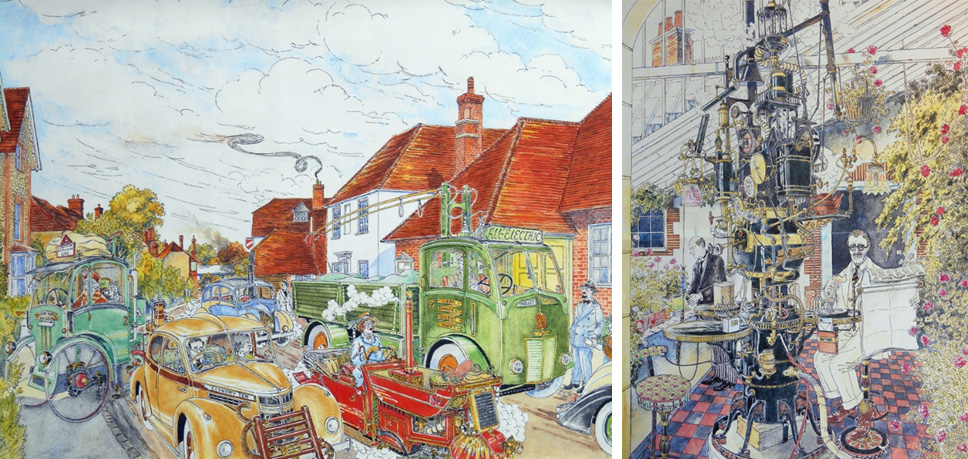 Inspired by his love of the English countryside, the trees, hedgerows, mediaeval churches, untidy farms, thriving villages with eccentric inhabitants, old-fashioned shops, tweedy old women driving cheerful Morris Minors, pipe-smoking farmers perched on chugging Marshall tractors, James Marnan's ink drawings and watercolours speak of his love for the traditional ways of rural life.
James developed a detailed style of drawing to suit his gentle protest against modern technology while still a schoolboy in the 1970s and essentially has never felt the need to change it!
---
Philip Savvas –Fine Artist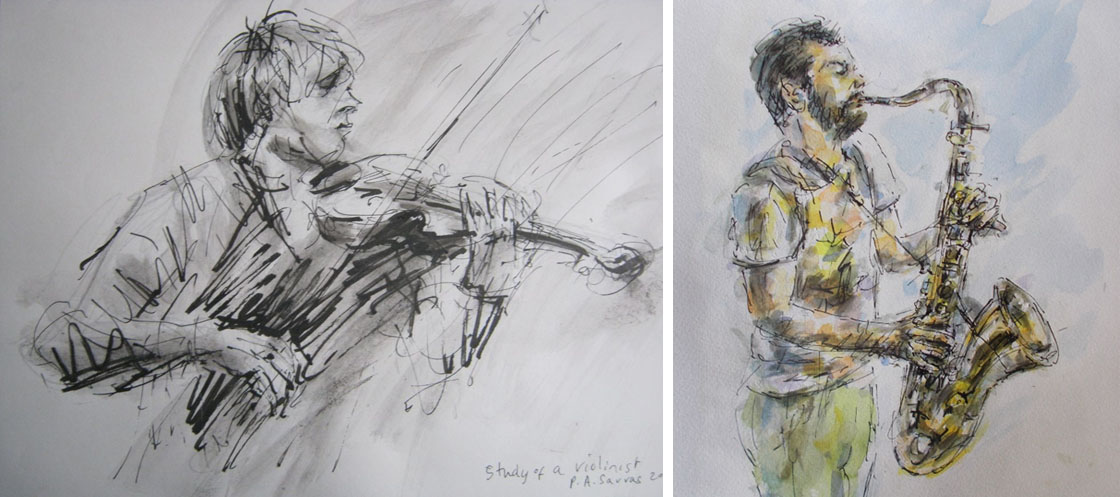 Having graduated in Fine Art from the University of Wolverhampton, Philip continued his art education in Nicosia, Cyprus. Philip has a style that is free and harmonious, reflecting time spent painting and drawing 'Au plein air' whilst travelling as well at home in Devon.
Working with watercolours, ink and wash allows Philip to create in an instinctive rhythm, capturing musicians live, in a fleeting moment.
---
Ian St. John – Fine Artist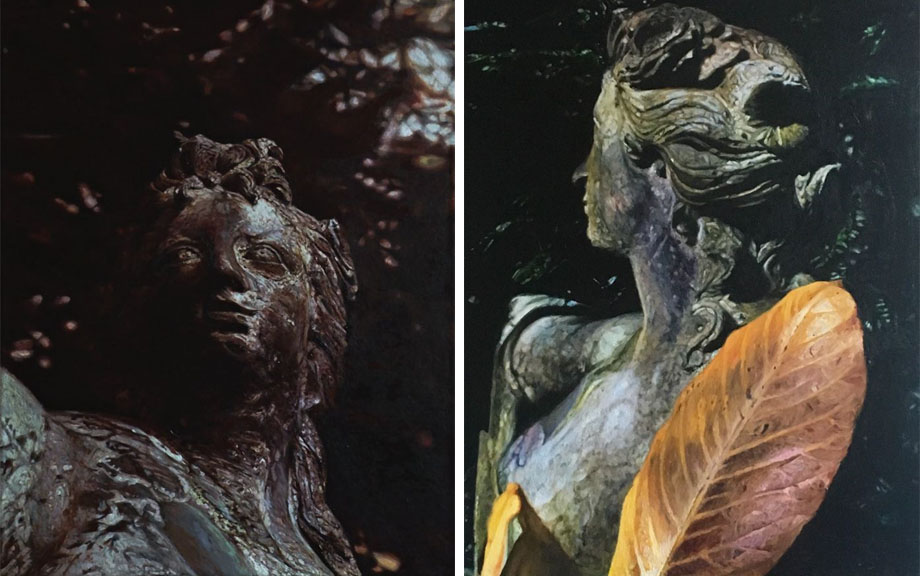 Having studied Fine Art at Falmouth College of Arts and Newcastle-Upon-Tyne University, Ian has moved recently to make his home in South Devon.
Avidly collecting images his exploration of this beautiful county, Ian uses these to bring together evocative scenes, employing a use of light and shade that is both inviting and intriguing.
---
Nicky Stevenson – Fine Artist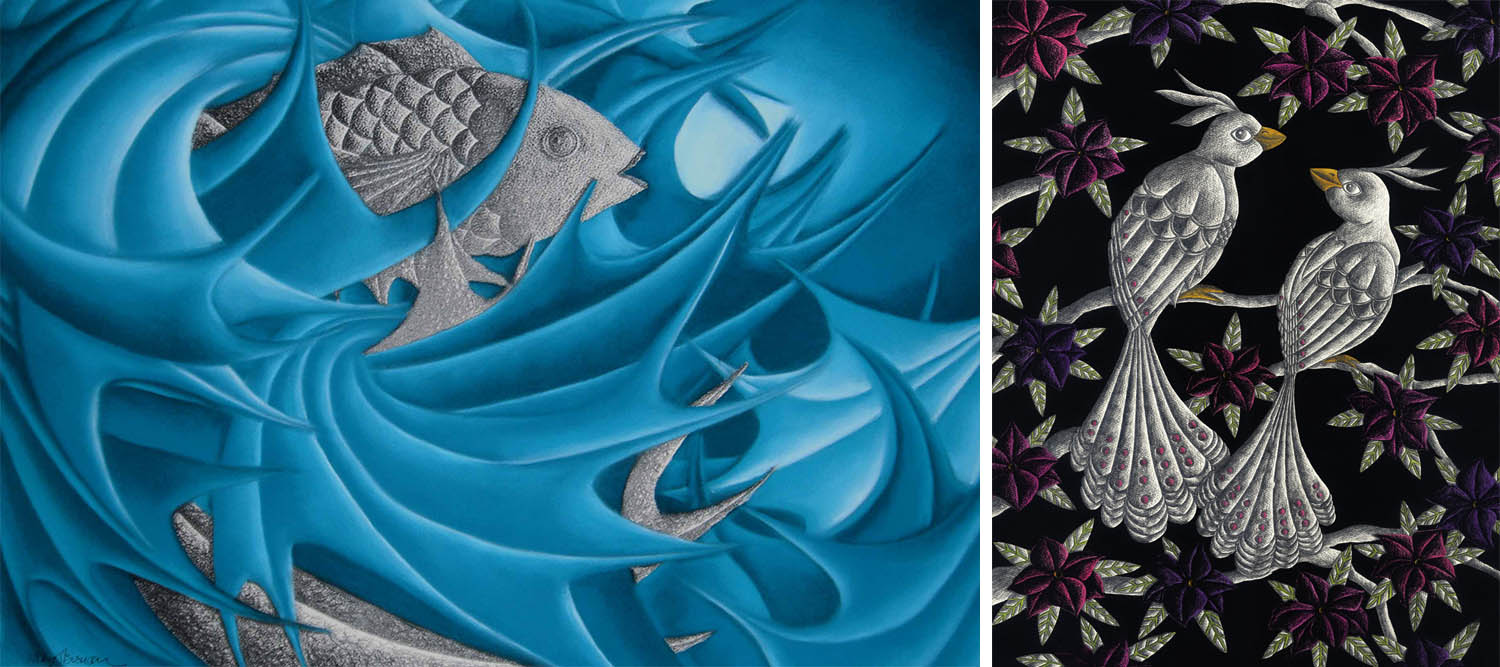 Having studied Art and Design at South Devon College, Nicky graduated from Middlesex University with a degree in Ceramics.
Drawing and painting have been a constant for Nicky all through her studies and her career, initially as a designer and prop maker in theatre, film and television. Now a full time artist, Nicky brings to her work a lushness of colour, detail and depth.
---
Elaine Yersin – Fine Artist
Born and educated in Torbay, Elaine's initial studies at Torquay College of Art were pursued further with a move to London where she was lucky enough to be guided by a succession of inspirational private tutors.
Through her world travels, Elaine has discovered a love of the European baroque style of painting with its dramatic use of Chiaroscuro and translucency. She has translated this to a use of acrylic on canvas with her rich, evocative still life studies of moments in a life time.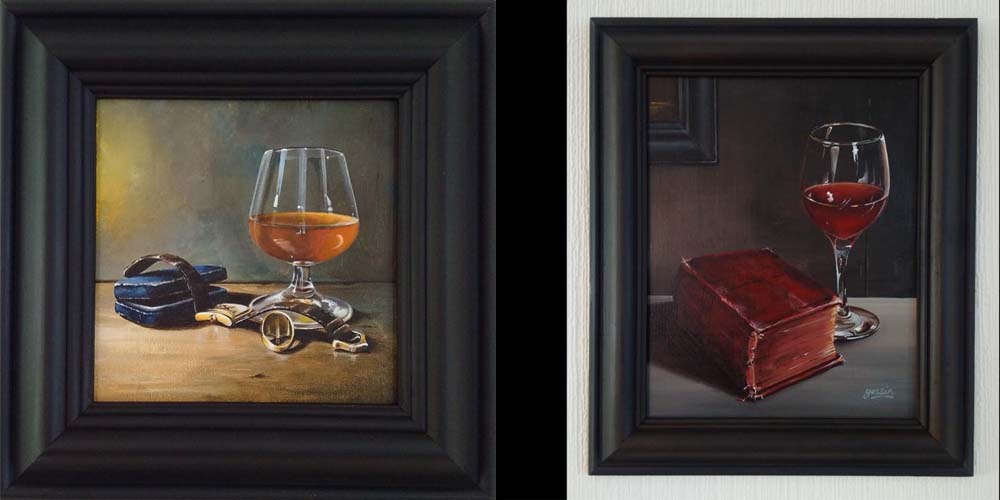 ---
Ann Yeoman – Fine Artist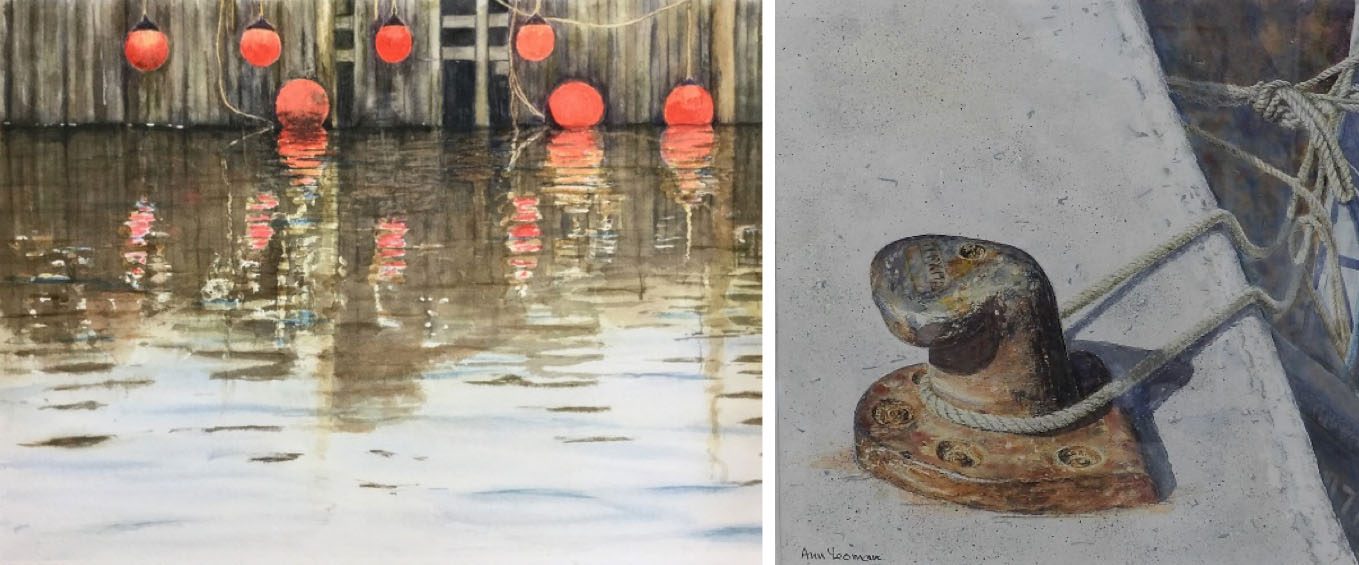 Working mainly with watercolour, I like to explore the exquisite detail we find in nature. Fascinated by texture and light; from the delicate tracery of an autumn leaf to the grain of weathered wood to the patina on a much-used mooring ring; I am most often drawn to the unexpected beauty discovered in ordinary things that we may overlook.