Situated within its own premises at The Shops at Dartington, The Mason-Laurence Gallery is home to the work of an eclectic group of established and emerging talented artists based in the South West.
The Gallery is owned and run by Johanna Mason-Laurence.
Opening Hours: Tuesday to Saturday 10am – 5pm, Sunday 12pm – 5pm
themasonlaurencegallery.uk
enquiries@themasonlaurencegallery.uk
01803 865606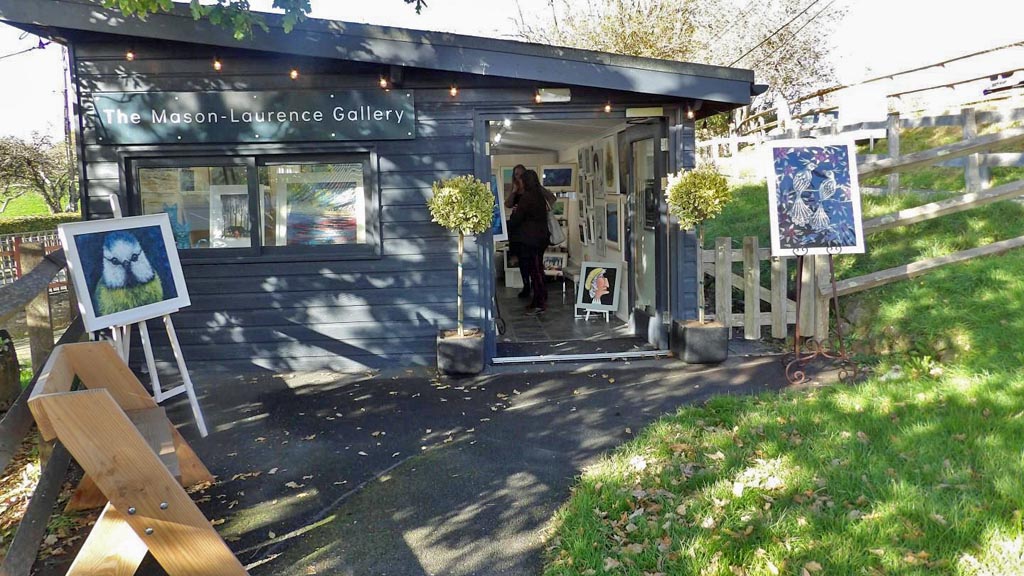 ---
---
About the artists
Diane Bailey – Wildlife Artist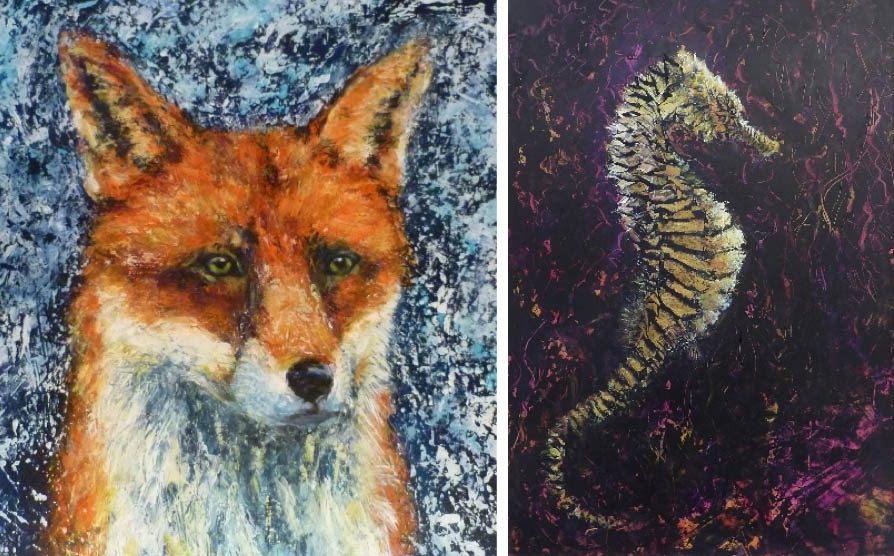 Close observation of wildlife while studying zoology, scuba diving around the world and working for conservations groups, has led to my love of depicting creatures both wild and known to me. I enjoy bringing an authenticity as well as personality and life to my work.
Each painting, mainly in Acrylic on board, is intended to be striking from a distance but viewed at close quarters, textures and attention to detail become apparent; a legacy from my years as a designer and illustrator.
A BBC Wildlife Artist of The Year Winner, my work has also been selected for exhibition by, amongst others, The National Exhibition of Wildlife Art, The Society of Wildlife Artists, London.
---
Sara Gilbert – Fine Artist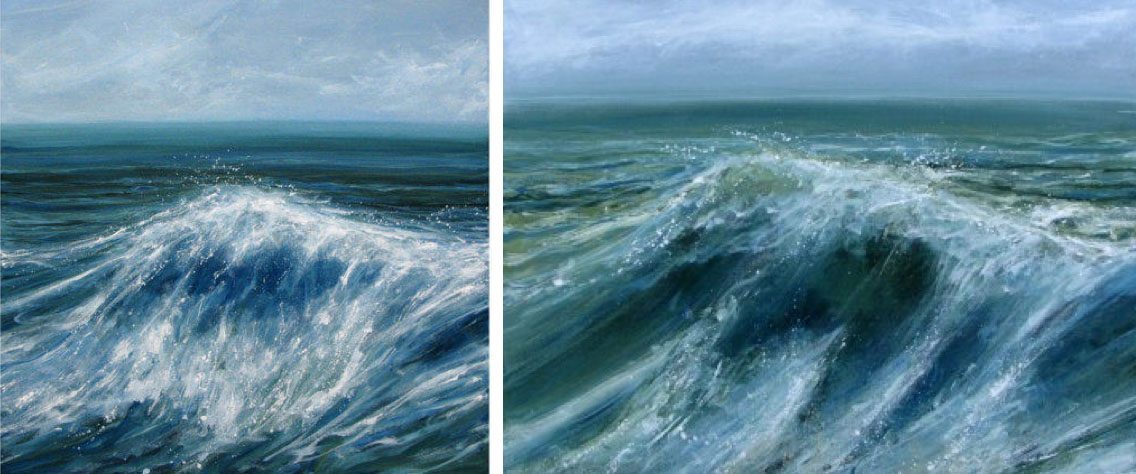 Graduating from Plymouth College of Art & Design with an honours degree in Fine Art practices, I paint canvases mostly in acrylic and enjoy the freedom that painting on a large scale gives me.
Often described as 'energetic and dynamic', my work is influenced by natural land formations and elements. My sea paintings and abstracts catch the feeling of movement and are usually executed quickly and spontaneously.
---
Alan Gregory – Fine Artist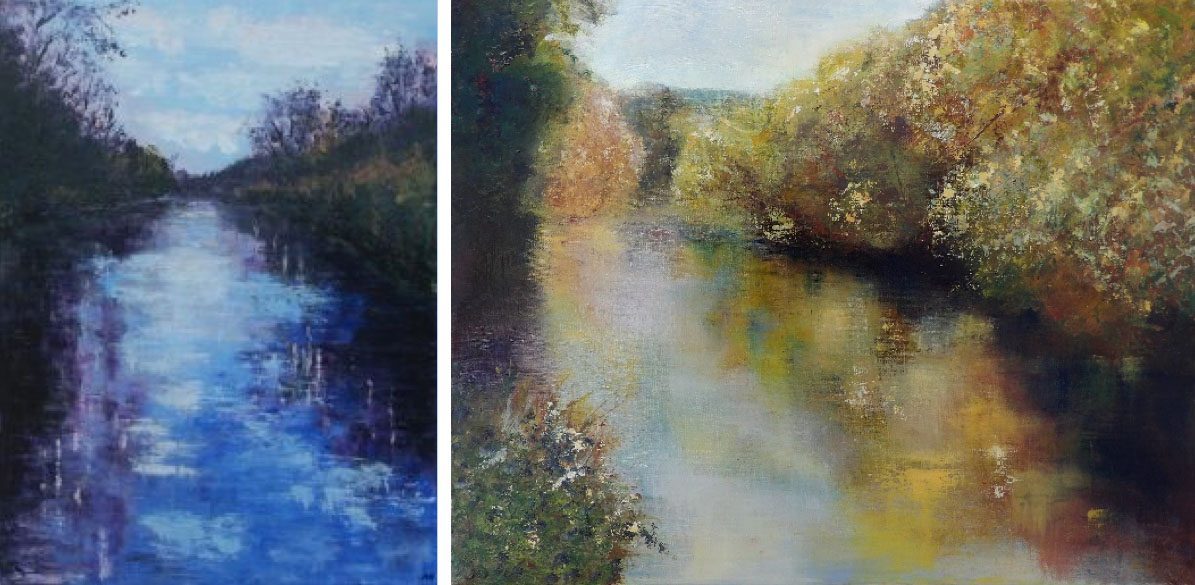 Living and working in Shaldon, Devon, my work is inspired by the natural landscape, particularly the South Devon coastline with its ever-changing light conditions.
Exploring hidden elements, I am keen to help the observer appreciate the beauty of the natural world, and to celebrate the environment that surrounds them.
---
Marc Heaton – Fine Artist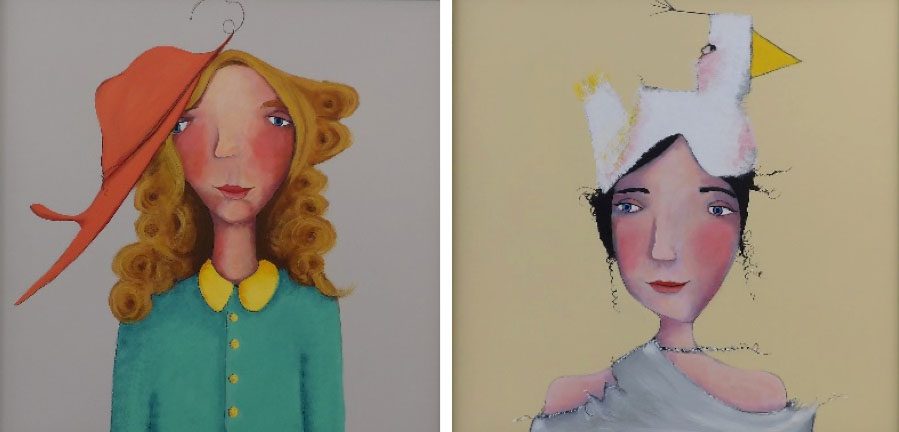 A versatile Welsh artist originally from Pontypridd, Marc Heaton graduated in Fine Art Painting from Central St. Martins School of Art and Design, London.
Marc has explored many genre in his artistic career, with paintings and sculptures ranging from realism, through to abstract, geometric and surreal styles. His whimsical, poetic and humorous pieces are where he excels and represent the result of this journey.
Mike Luckie – Illustrator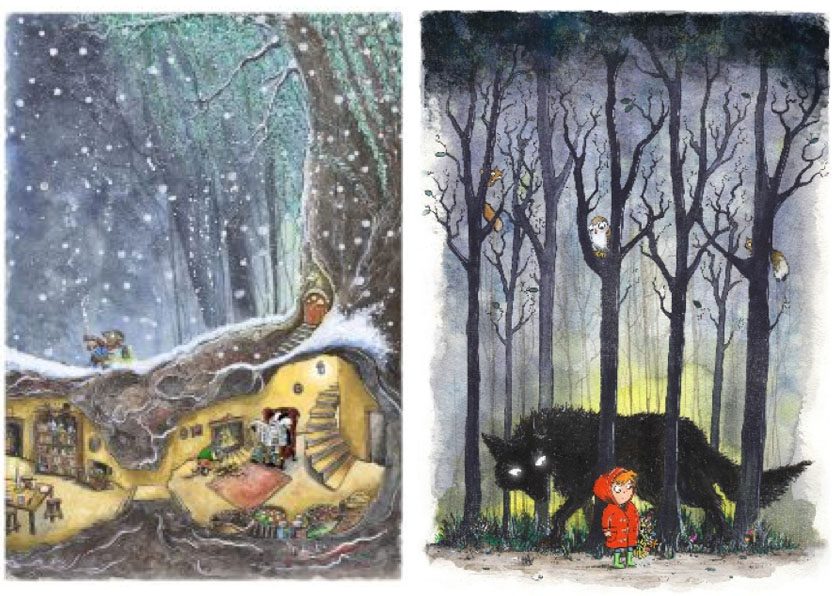 A freelance illustrator, I have spent the last 6 years working as an in-house illustrator, designer and general creative person with design agencies in the South West.
I like to illustrate using a variety of media; pen & ink, watercolour, gouache, as well digital media. Sometimes all of them at once!
My work is detailed and humorous and I hope, appeals to both children and adults!
---
Jo Mason-Laurence – Illusions Art Jewellery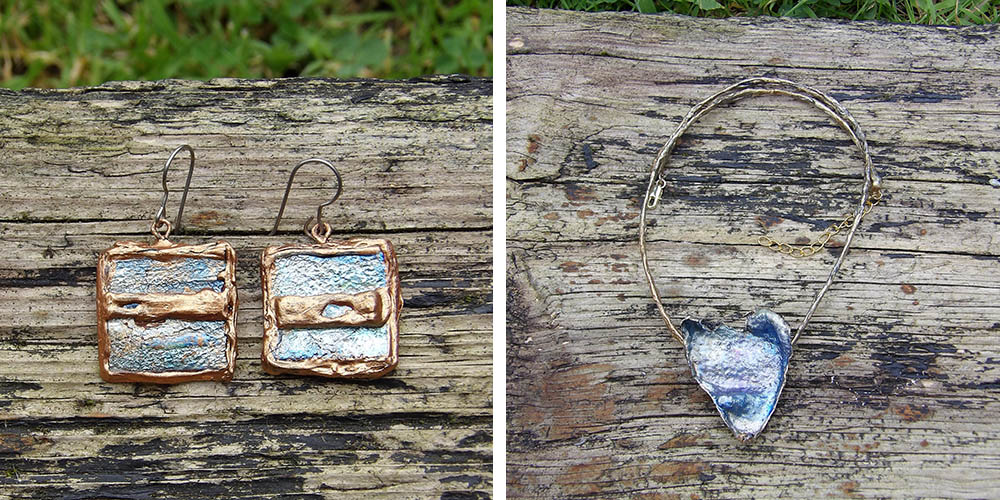 A small abstract painting that you can wear! Enfolding, sculptural forms, layered in iridescent hues, inspired by the grace of nature.
Jo's work has developed over recent years through her love for colour, reflection and texture. Each piece is formed from fabric with artist-quality acrylic paint and lacquer.
The essential fixings for earrings are made from hypoallergenic titanium or stainless steel with either gold or silver plated necklace clasps. This creation of wearable art is the distillation of a rich life of multi-faceted creativity for Jo.
---
Ian St. John – Fine Artist

Having studied Fine Art at Falmouth College of Arts and Newcastle-Upon-Tyne University, I have moved recently to make my home in South Devon.
Avidly collecting images in my exploration of this beautiful county, I use these to bring together evocative scenes, employing a use of light and shade that I hope to be both inviting and intriguing.
---
Nicky Stevenson – Fine Artist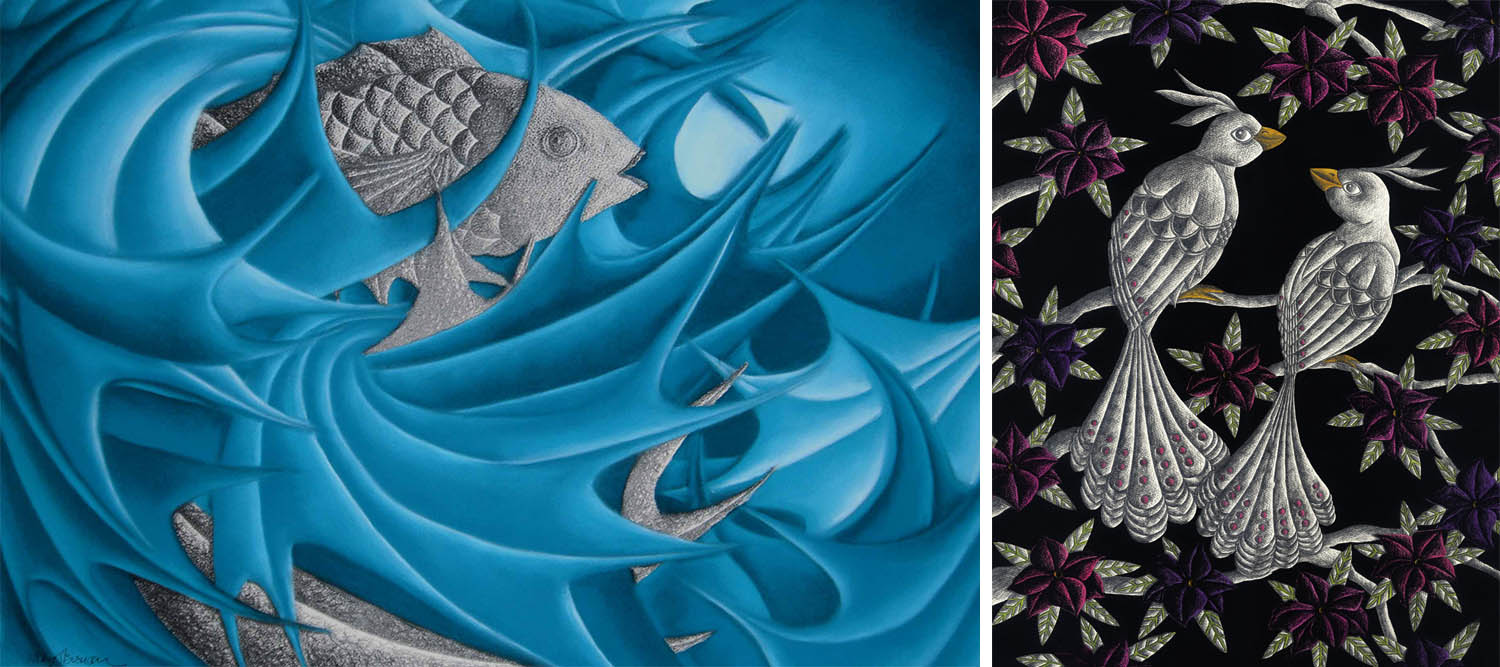 Having studied Art and Design at South Devon College, Nicky graduated from Middlesex University with a degree in Ceramics.
Drawing and painting have been a constant for Nicky all through her studies and her career, initially as a designer and prop maker in theatre, film and television. Now a full time artist, Nicky brings to her work a lushness of colour, detail and depth.
---
Ann Yeoman – Fine Artist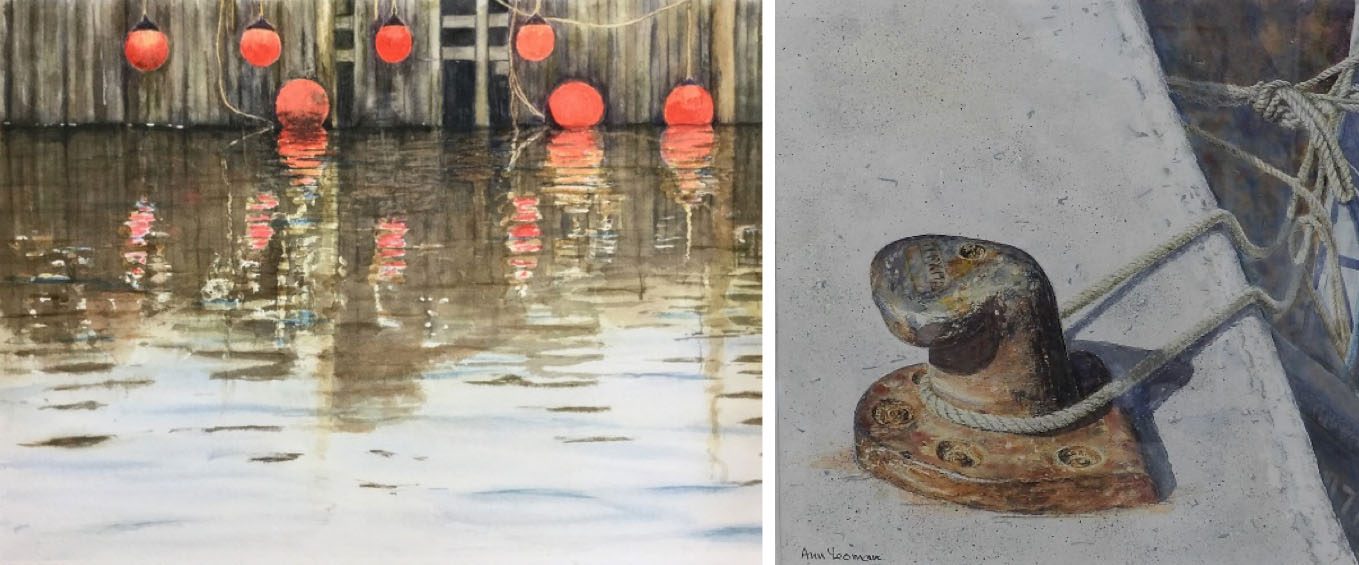 Working mainly with watercolour, I like to explore the exquisite detail we find in nature. Fascinated by texture and light; from the delicate tracery of an autumn leaf to the grain of weathered wood to the patina on a much-used mooring ring; I am most often drawn to the unexpected beauty discovered in ordinary things that we may overlook.