The Re-Store breathes new life into old furniture, furnishings and home accessories.
The shop displays the work of 20 volunteer artists and makers who rejuvenate, restore and upcycle out of fashion furniture and accessories into fabulous and funky items for your home. You'll discover upcycled wonders from Adrian Sandford's golf club coat hooks, saw clocks and fire extinguisher lamps, to beautifully restored antiques, baskets of woven wastepaper and bunting from vintage children's books. Each piece is unique and there are new beautiful curious items to buy each time you visit; many created at the workshops on site.
What's more, part of the local charity Refurnish Devon, the Re-Store is a social enterprise, refashioning items that might otherwise go to waste, teaching skills and fostering local craftspeople. Located at the former Dartington Pottery, on the cycle path leading from the Shops towards Totnes, The Re-Store's facilities includes a shop, workshop and craft studio.
Contact us if you have interesting furniture to donate, including items needing repair and improvement, if you would like to volunteer, or share and learn skills.
Opening hours: Tuesday to Sunday 10.00am-4.30pm
Tel.01803 868637
E-mail: dartington@refurnish.org.uk
refurnish.org.uk 
facebook.com/ReStoreDartington
---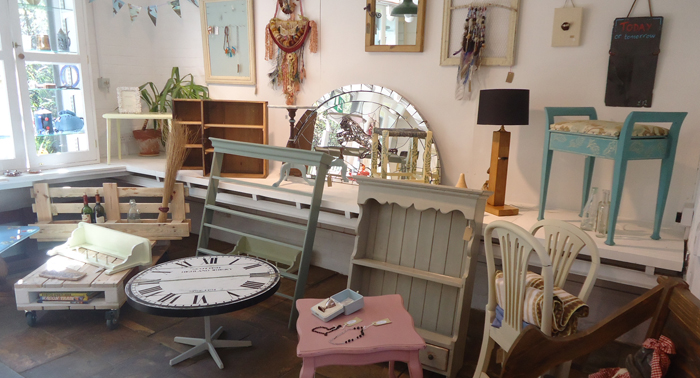 ---
Explore our Shops