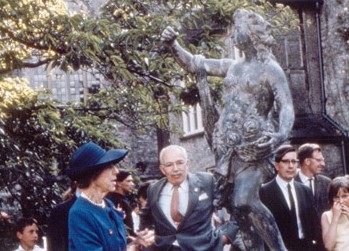 This statue, called Flora (also the name of Dorothy's mother), was presented to Leonard and Dorothy Elmhirst on Foundation Day, June 1967, by the people of Dartington.
The statue dates back to the late 17th or early 18th Century but nobody knows who the maker was. Flora now marks the site of the Elmhirsts' ashes.
The statue is one of the garden's focal points and is often to be found adorned with flowers, although how they get there has always been a bit of a mystery. Almost every day for years she is found holding flowers. Someone puts them in her arms but no-one knows who or why.
The current resting place of Flora also marks the transition from Beatrix Farrand's landscaping to Percy Cane's high meadows.
The statue is of historical and artistic importance to the estate. It is an emotional bond linking to the founders Dorothy and Leonard Elmhirst and part of the Dartington legacy.
In 2009 the statue was vandalised and the plaque stolen from the base. The plaque read "For Leonard and Dorothy Elmhirst from the community of Dartington on Foundation Day 1967."
---
More Gardens history