A bright and airy space – the atmosphere is relaxed and inspiring, allowing you to take your time in choosing your favourite piece from both established and new artists.
Contact us on 01803 847523
---
---
If you are a West Country artist and are interested in exhibiting your work on an Sale or Return basis within our Craft Centre, please send some information about yourself and some examples of your work to: 
laura.smithson@dartington.org
Artist of the month…
Tony Gant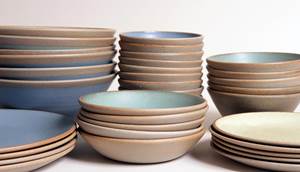 After taking a couple of years off for personal reasons, Tony is once again back in his studio making his beautiful stoneware pottery.
Tony Gant was a student of the late Gwilym Thomas at Hammersmith School of Art and is a Fellow of the Craft Potters Association
Tony has been making stoneware pottery since 1961, and since 1968 in his present studio. Each pot is individually made, mainly on the wheel. He formulates his own clay bodies using Devon ball clays, and glazes from basic raw materials. Firing in a gas kiln of his own design and build takes 17 hours to reach a temperature in excess of 1240°c. Cooling takes two days.
New In
Kim Watkins
Kim Watkins has a passion for creating beautiful things out of old and unused paper and card. All her works are unique and are hand crafted using a wide range of interesting and engaging material including historical almanacs, tide-timetables, maps and even some of the junk mail that gets posted through the door! No paper is excluded and is acquired from a vast range of sources. Therefore each crafted artwork is not just a visual narrative, but also one that within their designs, has a story to tell by the materials used during its creation.
Prices start from £45

Tregear Pottery
Neil Tregear, Potter & Founder of Tregear Pottery, trained in Kyoto, Japan, in porcelain throwing, Neil's passion for pottery has seen his work travel across the globe. Neil continually pushes and challenges the work at Tregear Pottery, refining glazes, developing new designs and expanding the studio.
Situated on the rugged south coast of the Isle of Wight, Tregear Pottery produces a beautiful range of handmade stoneware pottery. Each piece is made from a fine white stoneware clay. The work is hand decorated in a variety of designs – all drawing their inspiration and influences from the exceptional beauty of the surrounding landscapes.
Prices start from £17
Cally Gooding Ceramics
Cally Gooding was originally trained in London at Central Saint Martin's College of Art & Design and now works mainly with clay from her garden studio in the beautiful village of Dittisham, South Devon.
 
Cally's ceramic work ranges from functional domestic objects through to jewellery and sculpture. Each piece is hand finished, often incised, and hand painted with glaze or oxides.
 
She likes to work intuitively, usually with a very loose idea to start with, and then allows herself to 'freewheel' as the physical process itself begins to inform the direction and therefore the finished form.
 
Prices start from  £12

Special Offers
Up to 50% off selected items
For special offers in Craft & Glassware please visit Special Offers.
For more images of the Craft Gallery please click here.