A bright and airy space – the atmosphere is relaxed and inspiring, allowing you to take your time in choosing your favourite piece from both established and new artists.
Contact us on 01803 847523
---
---
If you are a West Country artist and are interested in exhibiting your work on an Sale or Return basis within our Craft Centre, please send some information about yourself and some examples of your work to: 
laura.smithson@dartington.org
Artists of the Month
David Brown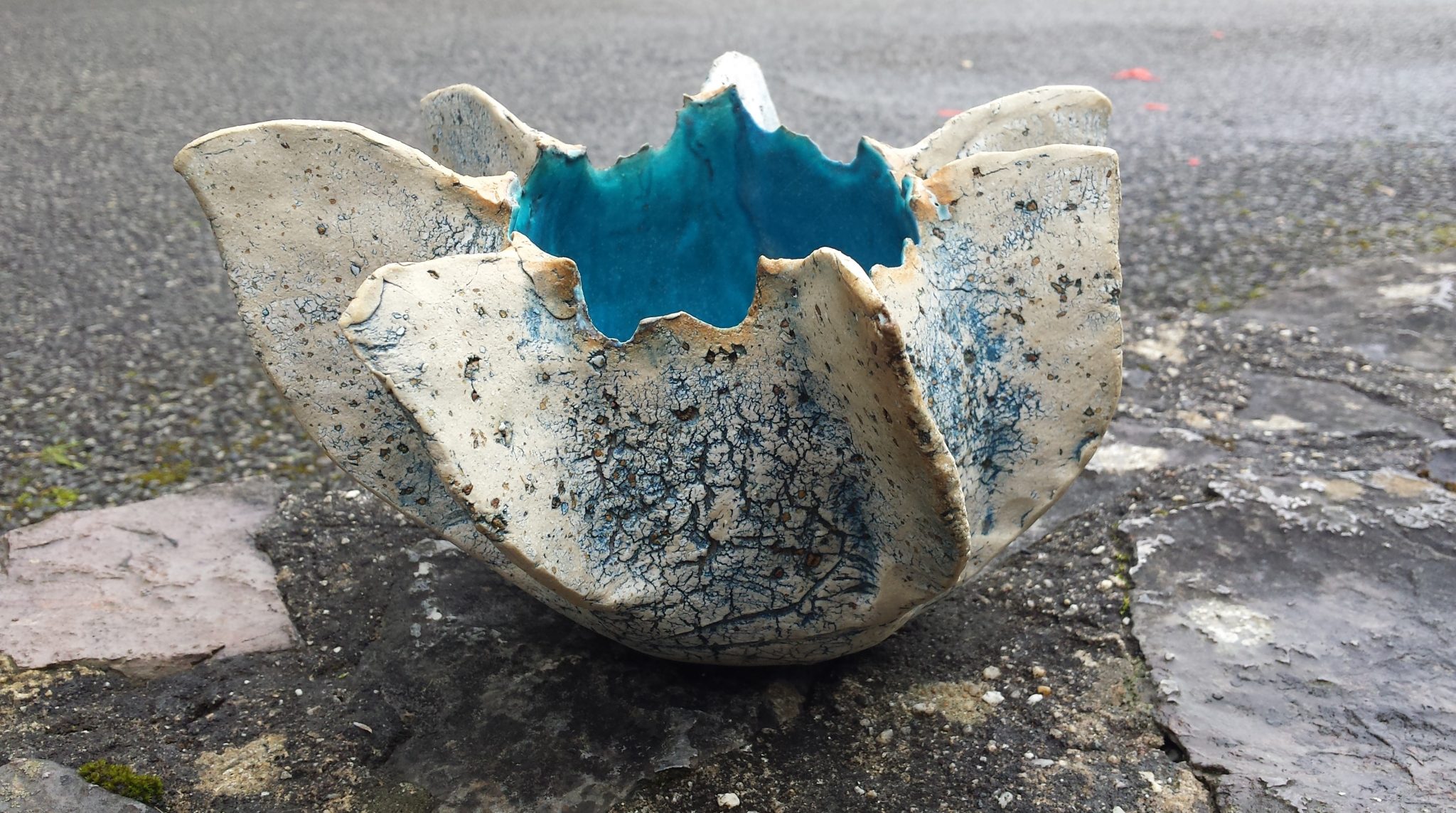 David Brown has always been fascinated by the effect of the sea on the land, and this is evident in his pottery interpretations of the natural world. Highly tactile organic forms are complemented by deep glazes and exquisite pools of glass, creating unique pieces redolent of summer rockpools.
Prices start at £16

Tony Gant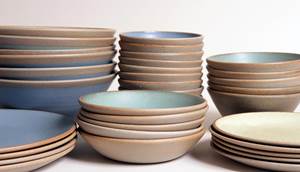 After taking a couple of years off for personal reasons, Tony is once again back in his studio making his beautiful stoneware pottery.
Tony Gant was a student of the late Gwilym Thomas at Hammersmith School of Art and is a Fellow of the Craft Potters Association
Tony has been making stoneware pottery since 1961, and since 1968 in his present studio. Each pot is individually made, mainly on the wheel. He formulates his own clay bodies using Devon ball clays, and glazes from basic raw materials. Firing in a gas kiln of his own design and build takes 17 hours to reach a temperature in excess of 1240°c. Cooling takes two days.
New In
Kim Watkins – Kingsbridge, Devon
Kim Watkins has a passion for creating beautiful things out of old and unused paper and card. All her works are unique and are hand crafted using a wide range of interesting and engaging material including historical almanacs, tide-timetables, maps and even some of the junk mail that gets posted through the door! No paper is excluded and is acquired from a vast range of sources. Therefore each crafted artwork is not just a visual narrative, but also one that within their designs, has a story to tell by the materials used during its creation.
Prices start from £45

Jo Mortimer – Tiverton, Devon
Jo Mortimer studied at Plymouth College of Art & Design and lives in Tiverton, Devon.
Jo's original paintings are drawn and painted in inks. Her prints are taken from her original ink drawings and colour is added using computer technology, providing unique artworks in themselves.
She finds inspiration particularly in the countryside, her garden overlooking the river Exe, current international, political and environmental events and the wonderful world around us!

Jenny Seear – Slapton, Devon
"I started painting a couple of years ago, and my first painting was one of my goats. I then tried hares, and I loved being able to capture their comical, quizzical faces. By adding a unique, patterned background to each one, gives them a distinctive and quirky feel. I now paint all sorts of animals, from zebras to geckos, as well as contemporary pet portraits.
I've had no formal art training, but am loving every moment of my artistic journey; embracing the fun and lighter side of the natural world, and learning as I go along. I work from a little workshop at the bottom of my garden, in a hidden valley near the sea. I can hear sheep and buzzards, and am frequently joined by one of my cats."

Special Offers
Up to 50% off selected items
For special offers in Craft & Glassware please visit Special Offers.
For more images of the Craft Gallery please click here.