Sonja is Volunteer Manager at The Dartington Hall Trust. She recently returned from managing community and healthcare volunteer projects in South Africa and Mozambique. More about volunteering at Dartington
---
Meet Alexandra…a French student who is currently volunteering for two months in the Food Shop at Dartington.
She is a student from The Language in Totnes Work Experience Programme which aims to develop the skills of young adults, often graduates and experienced individuals, through vocational training.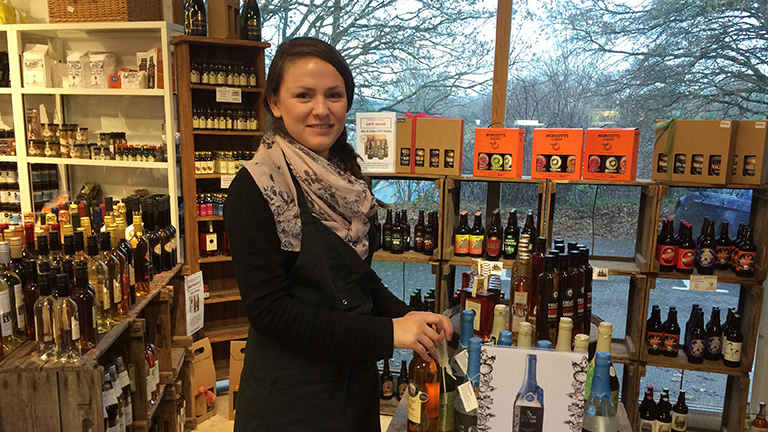 The two month work experience placement with The Shops at Dartington is helping Alexandra to put her English language skills into practice with customers and staff: "It is my dream to speak English fluently. I don't always understand the accents but everyone is very friendly and very cool…at the Food Shop there is a great ambience!"
She goes on to say: "This adventure will change my way of mind. It is very different to France. It is a different culture and very interesting. For example, in shops in France, the employee must 'be on' the customer…here it is more free."
"My English has improved a lot- I think I will really realise my progress when I return to France".
Jen Howard (Operations Manager at The Shops) says "Alexandra is a joy to have around. She is polite, always has a smile on her face, and nothing is too much trouble for her.
"At this time of year the Food Shop is extremely busy and Alexandra has a good eye for designing the display. She has really helped with the day to day running of the shop."
Kayley Harding (Language in Totnes, Student Experience Supervisor) said: "Students are so grateful for this important experience, and it is clear to see why; confidence grows in leaps and bounds and they leave Totnes having had a wonderful and valuable experience.
"Language in Totnes is so thankful to be able to work with Dartington Hall Trust to provide quality work experience opportunities for our visiting language students. We have had only positive feedback from all of our students who have been placed there, particularly about the atmosphere and the improvement in their English.
"We hope to continue to work with Dartington Hall Trust in to the New Year to provide volunteers who wish to improve their English and enjoy the beautiful surroundings!"
---