Sonja is Volunteer Manager at The Dartington Hall Trust. She recently returned from managing community and healthcare volunteer projects in South Africa and Mozambique. More about volunteering at Dartington
---
Earlier this month I was asked by Schumacher College if I could recruit additional volunteers to help them prepare dinner for over 50 students attending the popular short course 'The Living Touch of Wild Earth'.
The opportunity to cook alongside Schumacher resident chefs Julia Ponsonby and Tara Vaughan-Hughes was an exciting one. Dartington volunteers and staff quickly came forward to fill the available slots.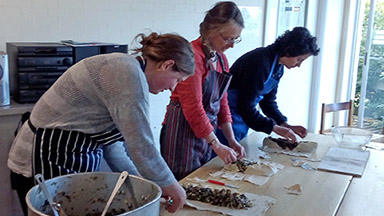 Happily Julia made it clear we didn't need to be experts in the kitchen: "Good common sense and a willingness to scrub potatoes, chop onions and test carrots will be fine! This isn't going to be the Great British Bake off!!"
Every day there was a different menu of delicious organic, locally sourced and vegetarian food. All the ingredients were as fresh as can be and many of the vegetables we prepped were still muddy from the ground they'd been pulled out of.
On day 1, we were given our aprons and Tara ran through the menu for the evening meal and divided up the tasks. I'd been given the job of producing pureed garlic. Jen, who is a trained chef and works for Dartington's Research in Practice project, showed me how to crush the garlic with a knife repeatedly until I got the right consistency.
It was amazing how proud I felt when I had my little pile of the finished result. As we chopped, cleaned, grated and stirred it was lovely to chat and get to know other volunteers and team members.
With Julia and Tara's guidance, we helped cook some incredible culinary dinners such as Julia's famous nut roast, creative salads such as marinated cabbage with lime, and a mouth-watering spinach and mushroom plait. Both chefs really took time to make sure we as volunteers understood what tasks needed doing and taught us how to create their amazing dishes.
At one point I looked over and Jill (Barn Cinema volunteer) and Michael (Events & Festival volunteer) were busy pouring over Julia's cookbook, carefully measuring out the ingredients for the sherry sauce.
Before the students would tuck in, all of us helpers would carry the food out of the kitchen and make a circle round the table, hold hands and say a few words of thanks – simply a reminder that it is not just about cooking people's dinner, but working together and creating something special.
The greatest feeling was hearing from the students how yummy the food was and seeing them going back for seconds, and it was great to work together with people from right across The Dartington Hall Trust.
As Christopher Noble (Senior Volunteer at Schumacher College) said to me: "It was great to have the wider Dartington community involved in creating the magic. This week has left us all very excited about taking residency at the Elmhirst Centre next year and having more opportunities to share the love on the estate.
"Here's to many more opportunities to link up and integrate (and eat great food!)"
---