Sonja is Volunteer Manager at The Dartington Hall Trust. She recently returned from managing community and healthcare volunteer projects in South Africa and Mozambique. More about volunteering at Dartington
---
Stella is a student from Lifeworks College which helps support people with learning disabilities.
The college believes that all students have the ability to become active and valuable members of their adult communities and encourage them to develop their skills and independence.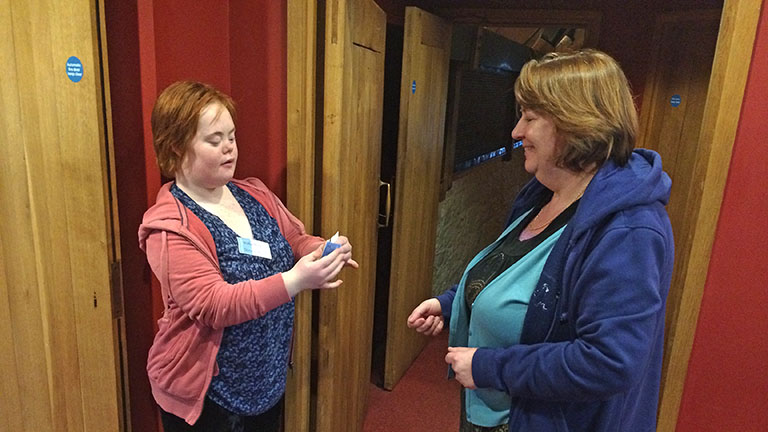 We are really happy that Stella has now started a work experience placement at the Barn Cinema. She helps once a week to steward a matinee screening. "I have to check dates on the tickets and see what are the seat numbers", says Stella.
"I like to see the films and it is good to help at the cinema. On my first day I had to learn where the fire exits are and how to use the torch to show people to their seats."
---
"Staff and volunteers look forward to seeing Stella on a Monday afternoon"
---
Dartington is really excited to partner with Lifeworks College and to assist them in placing their students in fulfilling work placements. Lifeworks' Teacher in Charge said "We try to find long-term, meaningful work placements where students feel part of the team. The Barn Theatre volunteer team have welcomed Stella and spent time teaching her her role so that she feels confident".
Jim Whittle, Barn Cinema Manager added: "Staff and volunteers look forward to seeing Stella on a Monday afternoon. The cinema team endeavour to give work placement opportunities to young people and find that we get as much from the experience as the student.
"It is always nice see the energy and excitement from students working in the cinema environment for the first time and see their engagement with the cinema programme develop over time.
"Stella has been no exception and welcomes the cinema audience with a warm and friendly smile while making sure that everyone finds their correct seat – a vital role that give the arriving audience the welcome that they deserve."
Sonja
---