This blog was written by someone who has since left Dartington Hall. It's still available to read because we love their work and the content of the blog is still relevant today, but you won't be able to comment underneath. For general information about our charitable work,
head over here
.
Vicky is one of our many volunteers at Dartington whose regular help we simply could not do without.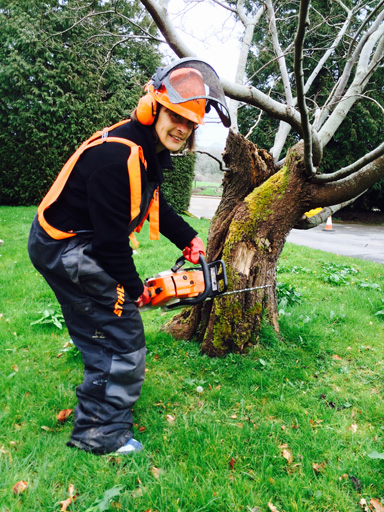 She has been volunteering with the Woodlands and Conservation team for over 5 years and has an encyclopaedic knowledge of birds and plants across the estate.
We recently applied for a training grant through Lantra's Women and Work Programme so she could take part in a 2-day Chainsaw Maintenance and Cross Cutting course with Lynher Training. This will mean Vicky will be qualified to use a chainsaw once a tree is down.
It goes without saying that chainsaws are powerful and dangerous tools, so this qualification is a big deal for Vicky and for Dartington. I sat down with Vicky in the Volunteer Hub to ask how the training had gone:
What did the Chainsaw Maintenance and Cross Cutting Course entail?
"On the first day we learnt about chainsaw maintenance- taking the saw apart, how to clean, what the different features and functions are for and how to service the saw (sharpening and replacing parts).
"On the second day, we went straight out to the woods to work. First thing we did with our chainsaws was to cut tree rings. Once confident with the saws we moved onto 'sneeding' – removing the branches from a fallen tree so you are left with a nice straight trunk. Then we did some cross-cutting so that the wood was in neat sections ready for stacking.
"It's a real art depending on how the tree is lying. Otherwise it is easy to get the saw stuck (which did happen a couple of times!). It was really hard work but I enjoyed it."
Were you nervous?
"I thought I was going to be because I've never picked up a chainsaw before. But after Day 1, I felt I knew it bit more- like a friend I knew its inner workings! I even gave it a name- 'Stella Steel'."
Why did you want to do this course?
"I'm a Woodland and Conservation volunteer at Dartington and this qualification will allow me to do more to help Mike the Estate Warden. Now when Mike fells trees, I can follow behind and sned the branches which will save time and means we can get more done across the estate."
Why do some trees need felling?
"Trees could have a disease or might have become compromised hanging over a footpath. In the woodland areas, it is also good conservation practice to thin out the trees and allow light to hit the ground which will improve biodiversity…everything needs light. We also do some invasive species removal e.g. sycamores."
Do you feel this qualification will benefit you?
"I've always wanted to do this course. As well as when I'm volunteering, I can use this chainsaw qualification for helping with my weekly gardening job. It's also going to be a big advantage for me when I'm looking for more work."
We'd like to congratulate Vicky on completing this qualification and say a big thanks to Lantra for the grant that enabled the training with Lynher to take place.
Mike (Estate Warden) said: "I am very pleased Vicky has passed her chainsaw course. Over the past 4 to 5 years she has shown true dedication and commitment whilst volunteering at Dartington and is a pleasure to work with."
Sonja Hughes (previously volunteer manager at Dartington Hall