Sonja is Volunteer Manager at The Dartington Hall Trust. She recently returned from managing community and healthcare volunteer projects in South Africa and Mozambique. More about volunteering at Dartington
---
I've recently joined Dartington as Volunteer Manager and for my first few weeks I've been spending time with the different teams and departments, working alongside the volunteers and learning more about day-to-day life within the organisation.
On Monday I joined Mike (Dartington Estate Warden) and his team of Woodlands and Conservation volunteers, Hilary, Richard and Vicky.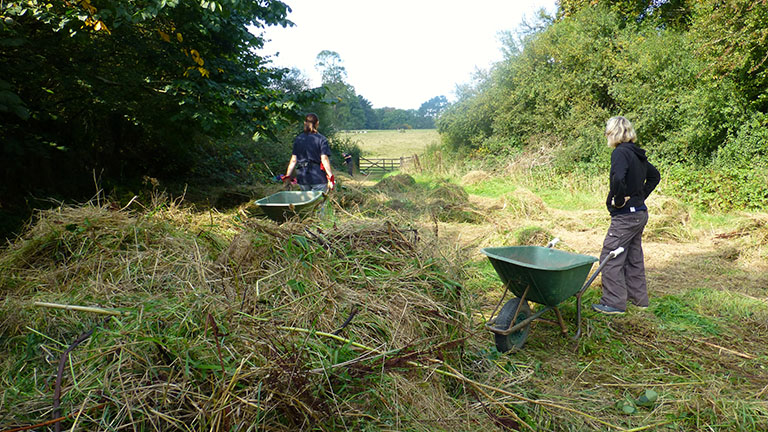 Such a perfect autumn day – blue skies and a crisp cool morning. I felt very lucky to be in such beautiful surroundings and as we drove down to our site the cow calves came running to check us out and have a nice lick of the Dartington truck.
Mike told us we were heading to do grassland management at the Old Sewage Works field, which happily we discovered is much prettier than it sounds! Mike explained that when soil is too nutrient rich, such as in this field, dense masses of grass, nettles, docks and invasive species like balsam run amok.
Nothing else has a chance to grow, resulting in poor biodiversity of plants and having a detrimental knock-on effect on the local wildlife.
Mike got the mower and strimmer out and we followed behind, raking the mown grass into piles. It is important to get the mown grass off the land. Otherwise all the nutrients we're trying to reduce will just leach back into the soil.
---
"Somehow juggling her time as a single mum and working three part time jobs, (Vicki) loves being outdoors and getting more experience in environmental management"
---
As the day heats up, we start to put our piles of grass into wheelbarrows so we can create one big composting pile in the corner. Easier said than done, as pesky balsam, usually found in the Himalayas, does not easily bend and mould itself into our barrows.
Time for a well-earned lunch break. We came prepared with our snacks and sandwiches and sit in the shade, listening to the birds singing and cows mooing. Vicky reads us some rather racy poetry from a book she found in the recycling bin which has us all laughing. I won't repeat it here.
It is so great to spend this time with volunteers and learn a little about them and what motivates them to give their time and efforts so generously.
Vicky, who has been volunteering here for 3 and a half years, is a fountain of knowledge of the estate, plants and wildlife. Somehow juggling her time as a single mum and working three part time jobs, she loves being outdoors and getting more experience in environmental management. Hilary and Richard are newer volunteers but no less enthusiastic.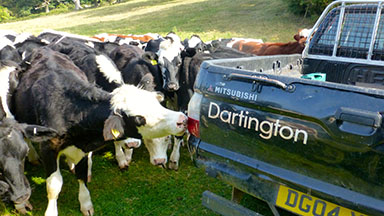 Together, they made the brave decision to leave their London jobs and spend a year living the good life in Devon and ticking of their dream 'to do' list. Part of this is coming to Dartington once a week to help in the gardens or assist Mike and Vicky with conservation work. Something I really love about working with volunteers is you get to meet so many interesting and inspiring people.
A couple more hours of hard labour and we manage to clear the field and create a giant compost heap. Mike has future plans to build proper composting containers so that grass snakes will find a nice warm home to lay their eggs.
Now the grass is off the field, the soil will become more nutrient neutral and native plants, insects, reptiles and mammals will have more of a chance to become abundant.
Hopefully in the future, we will no longer call this field 'Old Sewage Works' but we'll able to call it something more ecologically fitting like the Wild Flower Meadow, Butterfly Reserve or Grass Snake Sanctuary!
Sonja