The Gallery is a light and welcoming space that, through year-round exhibitions, showcases two fundamental strands of the Trust's mission – arts and ecology.
Our 1,200-acre estate has long been a unique location for experimentation, and home to a wealth of international collaborations and progressive initiatives. The Gallery's programming — which ranges from items in Dartington's archive collection to work by artists-in-residence on the estate, and international artists working in the burgeoning field of arts and ecology — reflects this heritage.
opening times
11am-4pm, Tuesday-Sunday
get involved
The Gallery is partly staffed by volunteers. If you are interested in volunteering at Dartington please contact volunteering@dartington.org.
Louise Rainbow
'EVOKE'
25 November 2022 – 7 January 2023
Louise Rainbow is a painter, writer and ceramicist. She studied Fine Art, Printmaking and Creative Writing at Bretton Hall College, Leeds University.
After graduating she spent two years writing, performing and touring comedy and performance poetry called 'Not Very Lady Like' with The Live Poets Society in Manchester.
In her early career as a painter she had her work selected for the Royal College of Art Hunting Prize and has exhibited Field Notes and Vivid exhibitions, and has been painting and making ceramics since then.
Louise says: "All of my work is about surfaces and layers, about hiding and finding. Poems, stories, glazes, slips, varnish, wax, paint, ink. I want my work to show my energy but I don't really want you to see. Each piece is made up of a million unconscious decisions".
Her work is concerned with a personal need to recall a sensual often lost moment in time, an emotionally charged memory fragment, a mark, a touch, a taste something to be reordered, transformed and recorded, pocketed as it simply moves away from us in time.
Louise is the Arts and Literature Short Course Producer at Dartington Trust.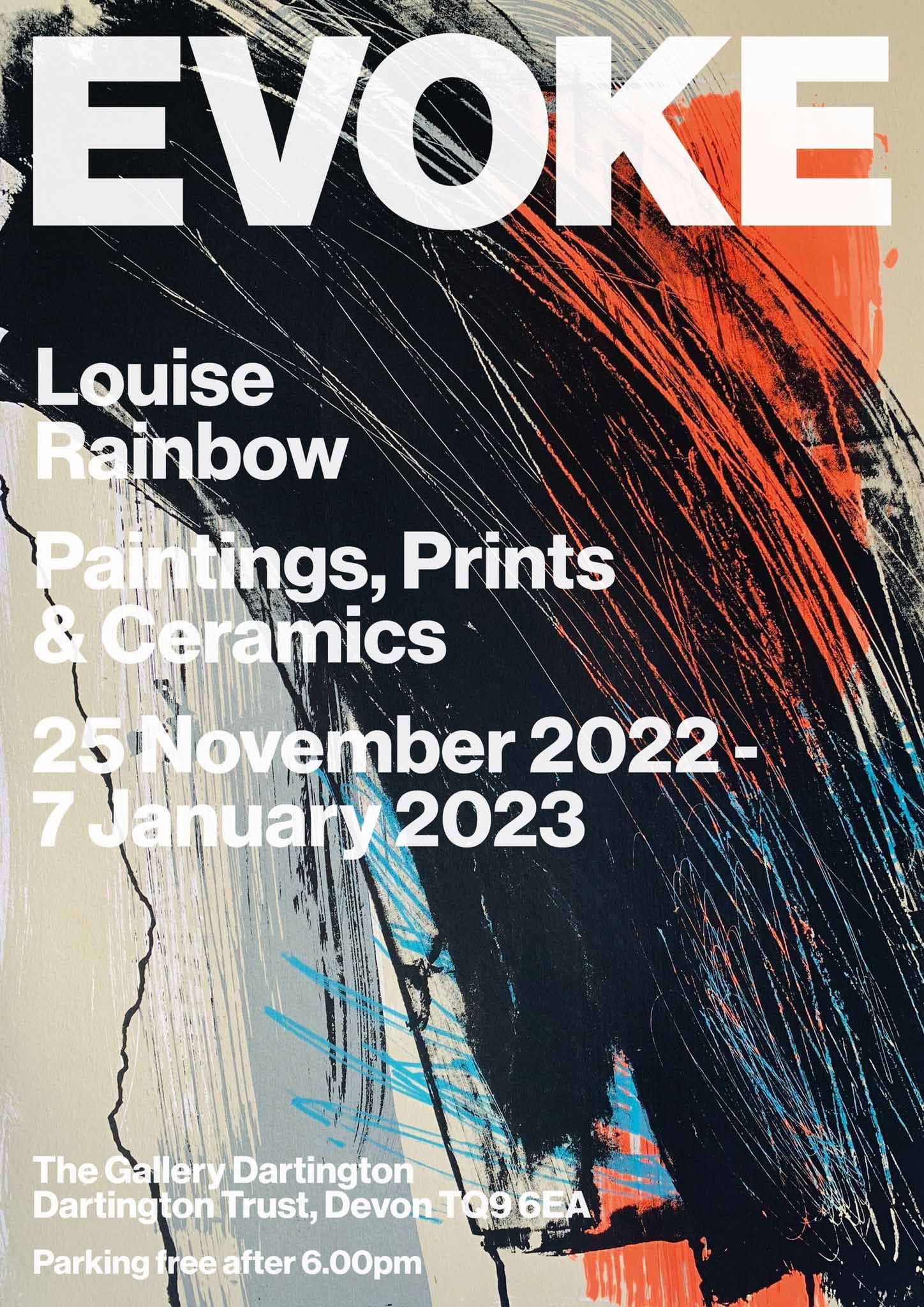 Emily Powell
'Utopia, everyone's invited'
18 February – 26 March 2023
For her debut show at Dartington, you are invited into Emily Powell's vision of Utopia. Working in the grounds en plein air and in the studios to produce the works for this show, Powell's evocative use of colour aims to open up the spirit and essence of Dartington for all to experience. Powell invites you into her world of whimsy and play, offering a view of the Dartington gardens seen through her eyes as an escape to Utopia. Focusing in on the emotional hold that 'place' can evoke in people's souls, the works will hold the lusciousness of the landscape along with the other-worldliness of Dartington as a site.
Play is a central focus of Powell's work, and key to her interpretation of Utopia. Though play is often associated with children, Powell presents the alternative; that play is a necessity for adults too. In doing so she asks how play and Utopia can be accessed in our own everyday lives. How can we shake off the worries that bind our lives, and concentrate on that which is most important? Her vision of Dartington begins to answer these questions, that joy can be found in our everyday place. This is Dartington in technicolour, and everyone is invited.
Powell's work is bold and expressive, with an intensity of colour and sense of release. Based in Devon and exhibiting across the UK, her work spans across a range of subjects and media. With imagination and freedom playing a key role in her practice, Powell's work knows no limits.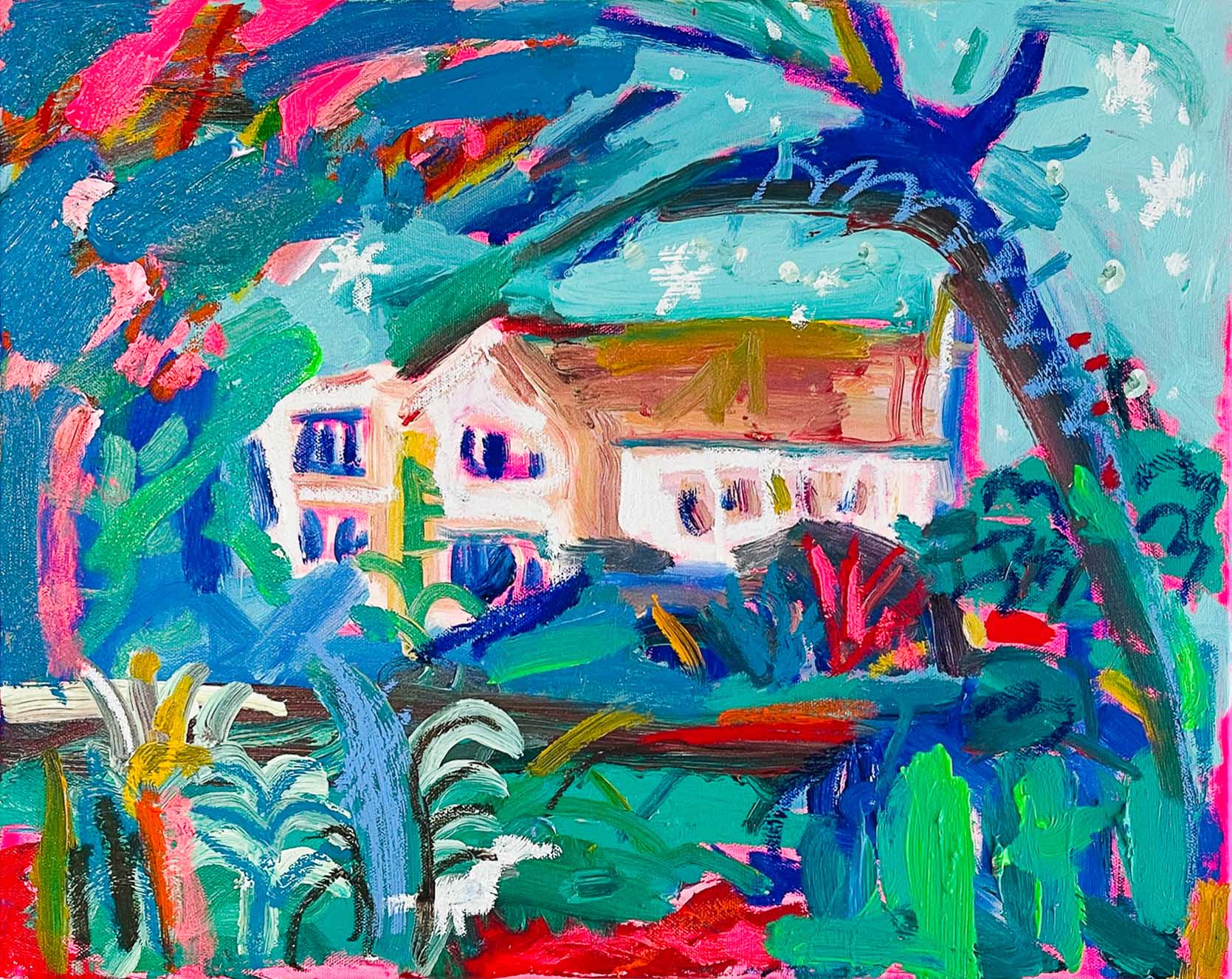 Oliver Jeffers
1 April – 15 May 2023
Oliver Jeffers is a visual artist and author working in painting, bookmaking, illustration, collage, performance, and sculpture.
Curiosity and humour are underlying themes throughout Oliver's practice as an artist and storyteller. While investigating the ways the human mind understands its world, his work also functions as comic relief in the face of futility.
Jeffers' engagements and practice are truly international in scope. His critically acclaimed picture books have been translated into over fifty languages and sold over 14 million copies world-wide. His original artwork has been exhibited at such institutions as the Brooklyn Museum in New York, the Irish Museum of Modern Art in Dublin, the National Portrait Gallery in London, and the Palais Auersperg in Vienna. His nineteenth book as author and illustrator was released in October 2022.
 For this exhibition at Dartington, Oliver will be creating new pieces.
Oliver grew up in Belfast, Northern Ireland, where he currently divides his time with Brooklyn, NY.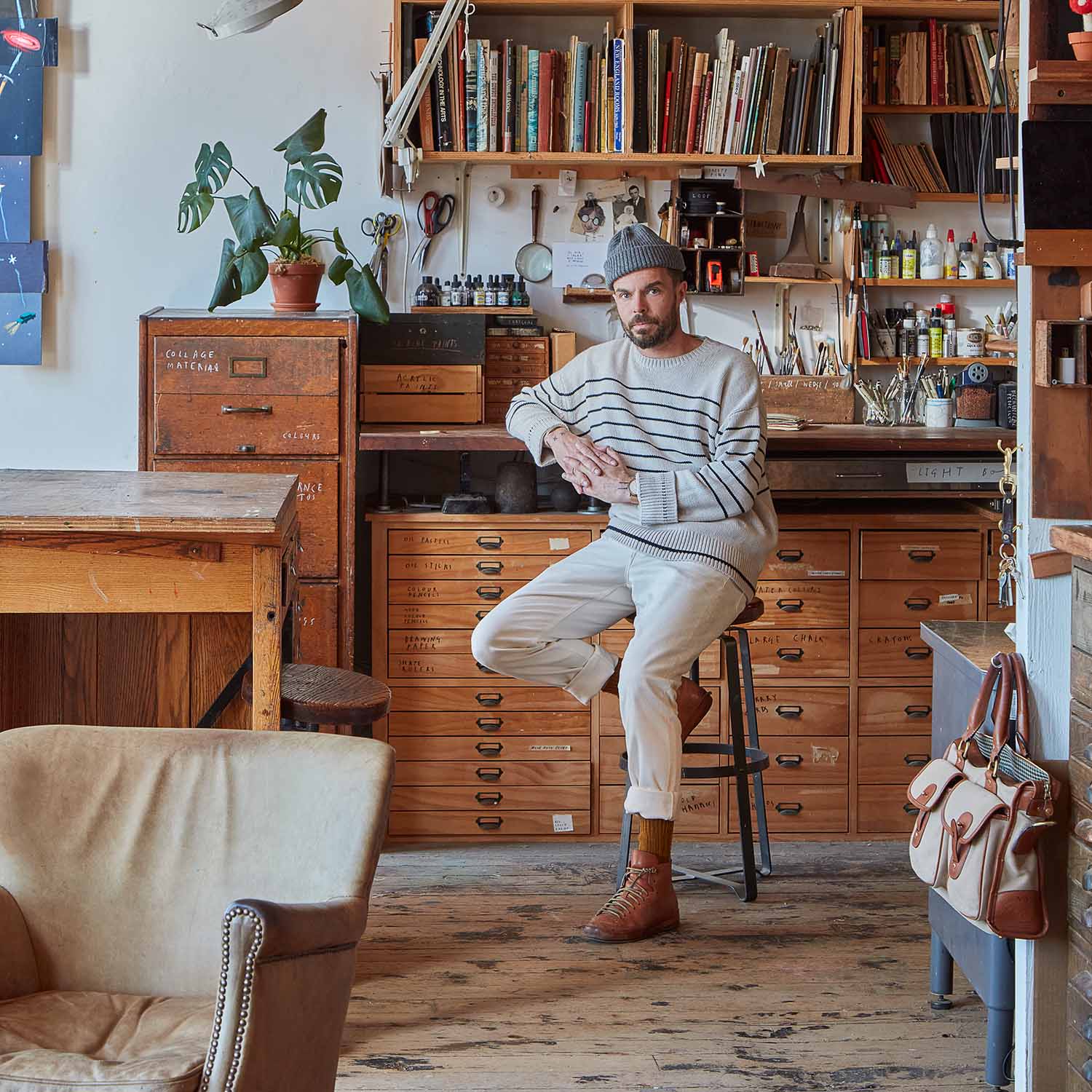 Sarah Burns
The Art & Craft of Block Printing with Natural Dyes
19 May – 24 June 2023
Sarah Burns has been at the forefront of the revival of local, sustainable textile production. This exhibition celebrates the simple beauty of fabrics hand made with natural dyes and colours.
The show will include lengths of hand made fabrics – block printed in Burns' workshop on the South Downs, printing table and blocks, natural dyes and pastes, plants, fruits and leaves, indigo, resists and a short film (TBC) showcasing the process Burns has pioneered in Sussex along with her partner Alice Garner.
Sarah teaches at West Dean College of Art & Conservation, has written about pioneering block printers and natural dyers Phyllis Barron & Dorothy Larcher, and has been commissioned to design patterns for The Green Table café. At the heart of her practice is a mission to create regenerative textiles that restore the natural world and our relationship with it.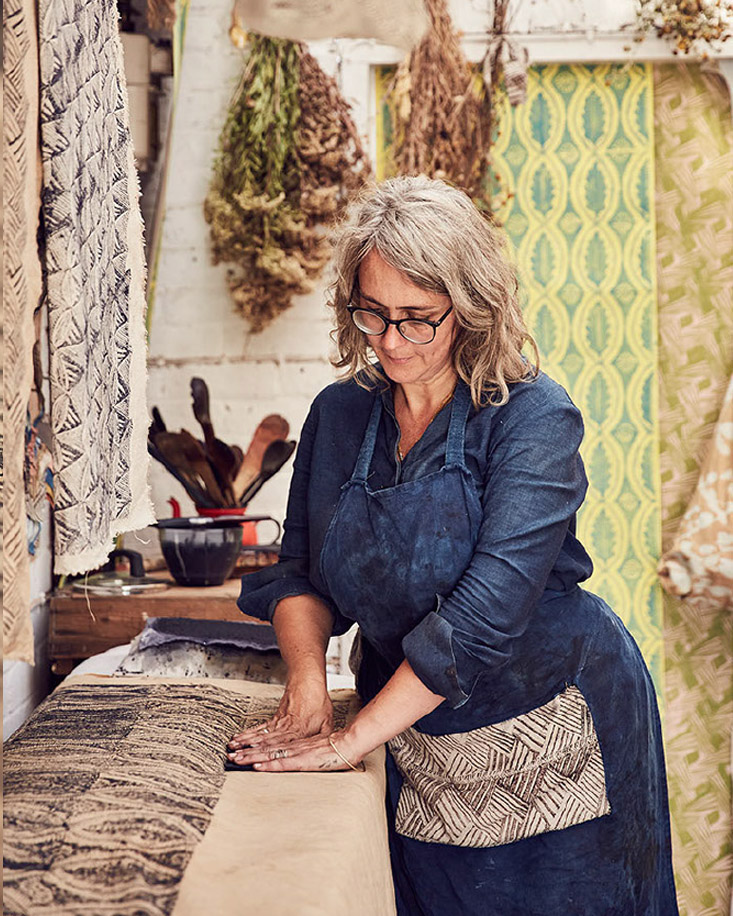 Siân Davey
The Garden
22 July – 10 September 2023
Siân Davey is a visual artist using photography as her medium. Her work is an investigation of the psychological landscapes of both herself and those around her, and is exhibited internationally and housed in major collections including the V & A, The French National Collection, and the Martin Parr collection. Davey is represented by The Michael Hoppen Gallery, London.
The Garden is a collaboration with Siân's older son, Luke Davey, and is currently being created at her home on the Dartington estate.
Siân says: "The work is a pilgrimage, an intentional act to cultivate a space that is grounded in love: a reverential offering to humanity. We cleared our long-neglected garden, researched native flowers, soil, biodiversity; sourced organic local seeds, and sowed under the moon cycles. We offered prayers along the way. We invited the pollinators and nature spirits. Luke and I obsessively shared our dreams, our insights and visions. We invited our ancestors in to support and strengthen our vision. We collected stories from the people we met over the garden wall, which over time came to feel like an intimate, confessional space.
"The portraits here are the people we met over our garden wall and the friends in our community."