The Schumacher Short Course experience
What is it like to join the Schumacher Learning Community while on a short course?
From September to the end of April the college is home to a group of post-graduate students who are studying Holistic Science, Economics for Transition,or Ecological Design Thinking. Many come from overseas and Schumacher is their only home whilst in the UK. You will be sharing this home with them during your stay at the college.
Form April until October we also have Horticulture Apprentices working in the garden and providing many of the organic vegetables used to cook our vegetarian meals.
Activities at the college are co-ordinated by about 25 staff members and a team of resident volunteer helpers, often a mixture of post-graduate and short course alumni, who are a very important part of the college family.
A typical day
Morning Meetings
Every morning at 8.30am we come together and set the scene for the coming day. We usually start with a reading and end with a stretching exercise or song to which anyone is welcome to contribute.
Community Groups
Working together to look after the college is an important aspect of life here and our learning community groups are made up of post-graduate students, short course participants, helpers and staff. Often it's the everyday business of taking care of the college, and each other that helps process the course content. During this time we join together in community groups to help prepare food, clean the Old Postern, accommodation blocks and Craft Education building, as well as clearing up after meals and working in the garden.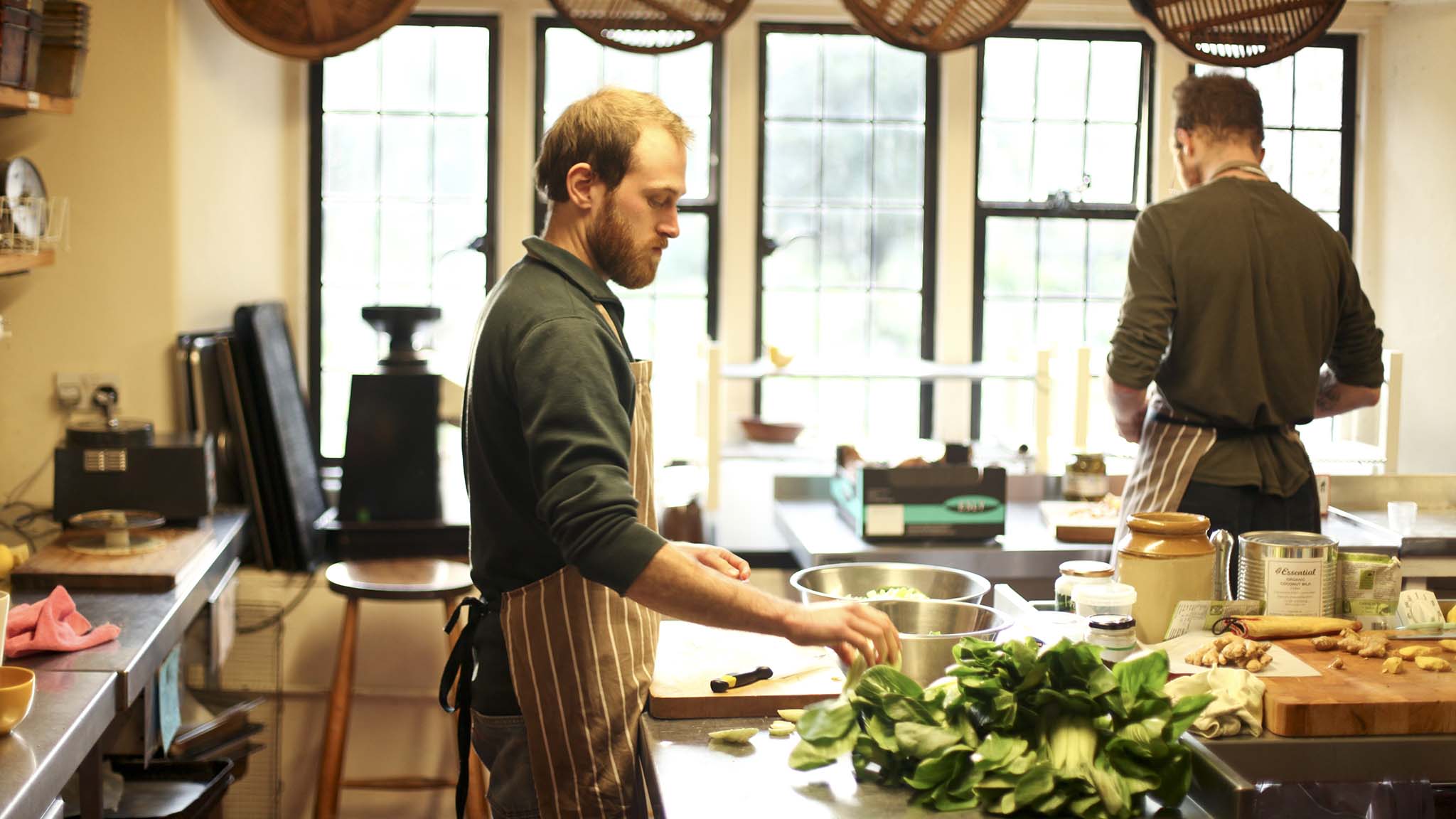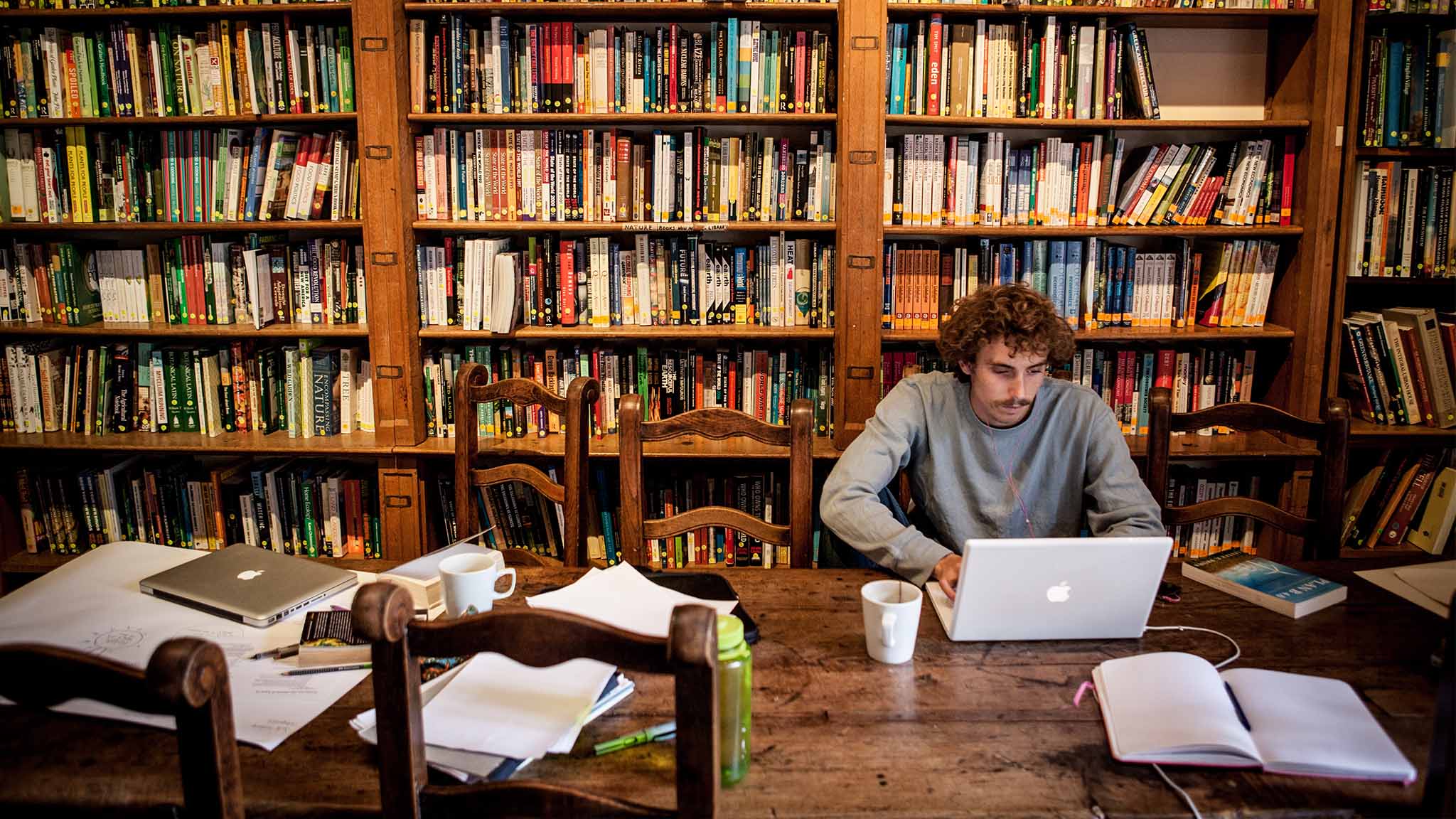 Facilities
Library – over 5000 books are available on a wide range of subjects.
On-line – you will have access to recorded talks by past Schumacher College teachers.
Art and Craft Room – you are welcome to enjoy this creative space.
Laundry – we have washing, drying and ironing facilities for your personal laundry.
College Bar – The Edge of Chaos is usually open once the evening sessions have finished.
Book Shop – in the college reception area, it sells books written by resident tutors and some visiting lecturers.
Food
The college is exceptionally fortunate to have a team of dedicated vegetarian chefs creating its famously delicious, nutritionally balanced, vegetarian food which usually includes freshly harvested vegetables from our own garden. Our food is always organic and locally sourced where possible. Most diets are happily catered for and snacks are available in between meals.
Communications
Mobiles – we ask everyone to respect the mobile-free area inside the main college buildings and other communal areas, where you might disturb your fellow residents.
Internet -there are 3 on-line computers in the lecture room for participant's use and a wifi network. You will find wifi information in your room.
Post – there is a post office and general store in Dartington village, 5 minutes walk from the college. You will find cash machines in the post office, local garage and the Cider Press shops.
Accommodation
At the Old Postern site we have three accommodation blocks with simple single rooms on two floors, each with a wash basins, cupboard and a desk. There are shared bathrooms on each floor with shower and bath facilities. All bed linen and towels are provided by the college. Wifi is available in all student rooms.
Each block has a small kitchenette with a fridge, sink and tea/coffee making facilities.
On occasion, some students may be accommodated in similar facilities at Higher Close, 15 minutes walk away in the beautiful grounds and gardens of Dartington Hall.
Insurance
We are unable to take responsibility for the safety of your personal possessions whilst you are at the college. Incidents of theft are rare but you may wish to take out insurance cover yourself.
If you are coming from overseas we suggest you consider taking out health insurance. Some countries have reciprocal health agreements with the UK National Health Service (NHS), but many do not. We advise you to check whether the arrangements are adequate for you.
You may wish to consider insurance against loss of air fares and the course fees in case you have to cancel for any reason.
We ask you to respect our no smoking rule in all of the college buildings.
So what do you need to bring?
– Your own stationery
– Toiletries
– Walking shoes and waterproof clothing
– Day sack
– Water bottle
The Local Area
Schumacher is very close to:
Dartmoor National Park – open moorland with many lovely walks! www.dartmoor.co.uk(link is external)
Buckfast Abbey www.buckfast.org.uk
Miles of very accessible and beautiful coastline for walking and swimming
The Eden Project www.edenproject.com(link is external) is just over an hour's drive away, but also very accessible by train.