In 2015, The Craft Revolution opened up the doors of a tired and lonely un-purposed building at Dartington – our Chicken Shed studio. Since then it has become home to makers and artists and  a thriving hub of creative studios ranging from jewellery and weaving to pottery.
Now, we're flourishing – and we're delighted to reveal we've opened a 'makers space' at Shippon studios, which sit alongside our printmaking and bookbinding workshops.
We also invited Richenda Macgregor to re-home her successful pottery business at Studio 45 here, bringing 'hearth and heart' back to the estate. We are planning a fundraising campaign to develop the studios as part of The Craft Revolution's enterprising creative industry initiative, and we're also developing new and exciting creative partnerships with young people and local communities.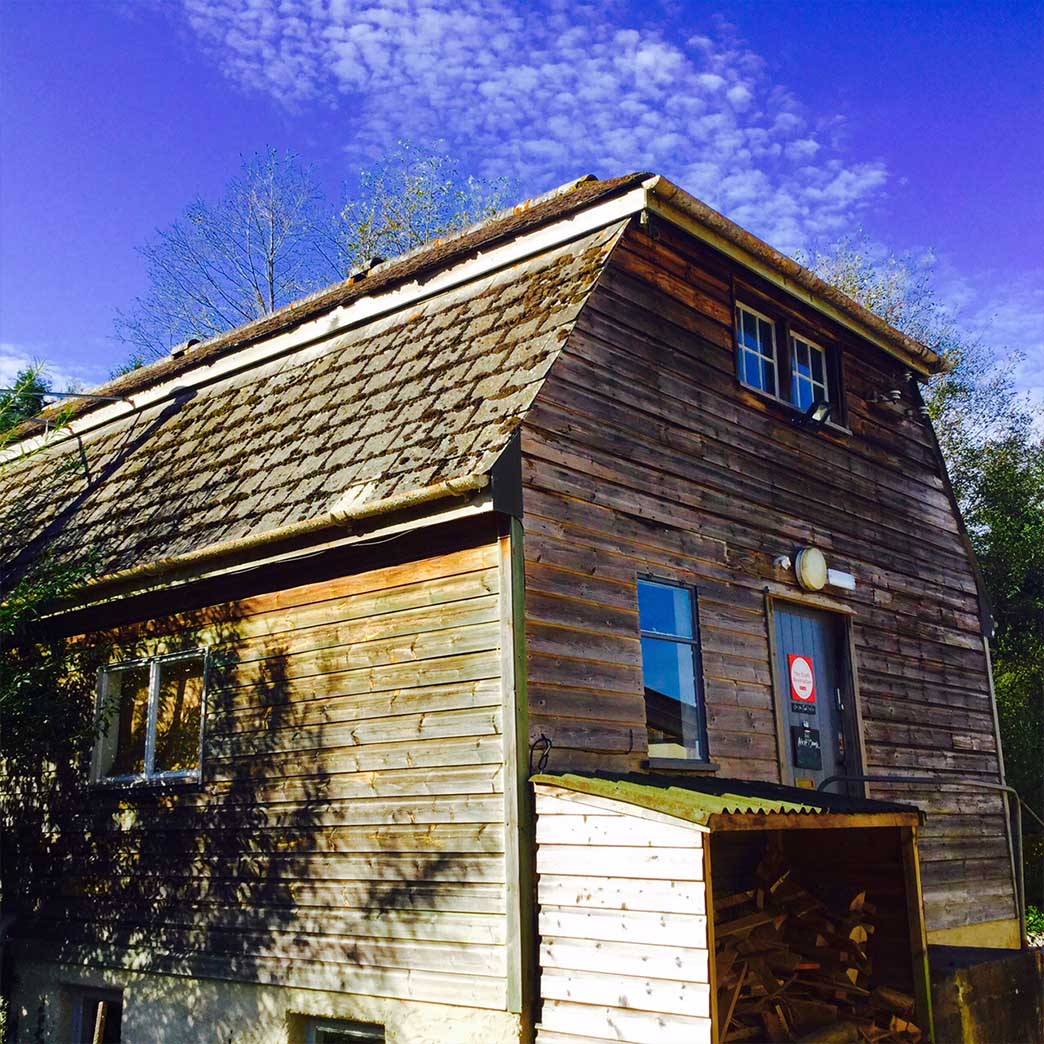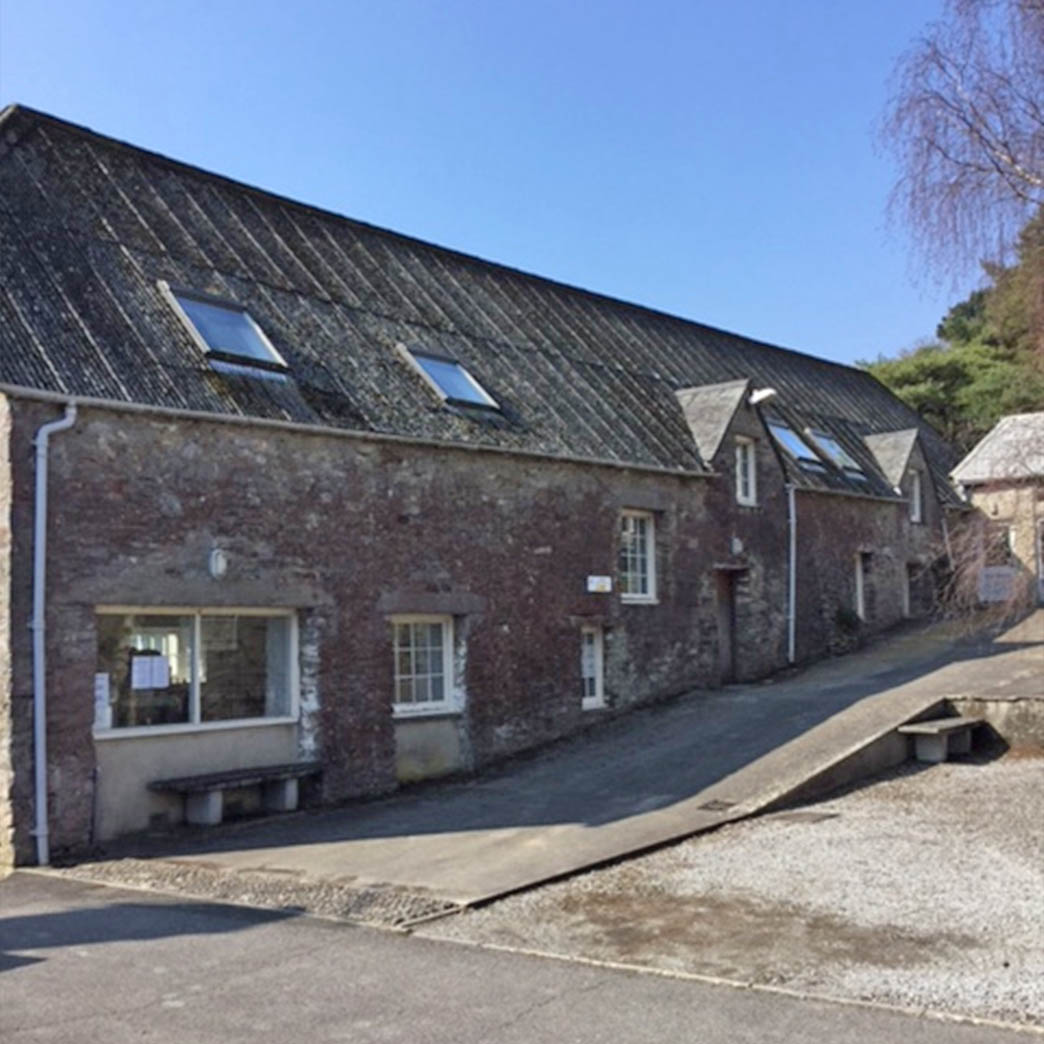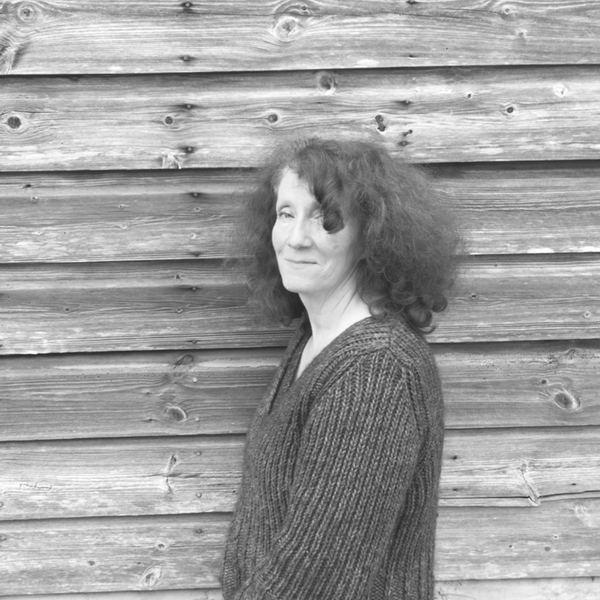 JANET HOLT
Janet Holt, weaver, is a botanist by profession, but her passion for textiles led her to take a Post Graduate Diploma in woven textile design from Farnham College of Art and Design. She then became a member of The Makers Guild in Wales. Her interest in historical textiles led her to weave replica fabric for Shakespeare's Birth Place Museum and Yorvik Viking Museum. When Janet moved to Shetland, she explored native Shetland wool, creating sharp, modern pieces,
but with a real sense of tradition. Since moving from Shetland to Devon she has opened her own studio where she creates and teaches classes.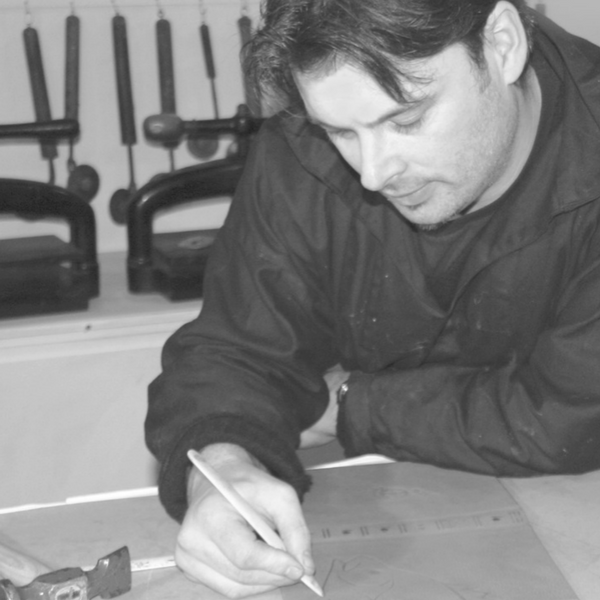 TOM O'REILLY
Tom has been a traditional book binder for over 20 years, working on all forms of book arts.From repair and conservation of antique books, to new bindings for publishers, one-off commissions and teaching and lecturing around the country.
In 2011 Tom graduated from University College Falmouth with a Master's degree in Illustration. His graduation exhibition featured illustrative bookbinding, and explored the concept of bookbinding as a form of art as well as craft. Over the past few years, Tom's bindings have been exhibited in the Royal Academy Summer Show 2012, and in the V&A collection, and he has been commissioned to restore and reproduce books for the National Trust.
His work is collected and commissioned by bibliophiles from all over the world. He works from his studio on the Port Eliot Estate in south east Cornwall.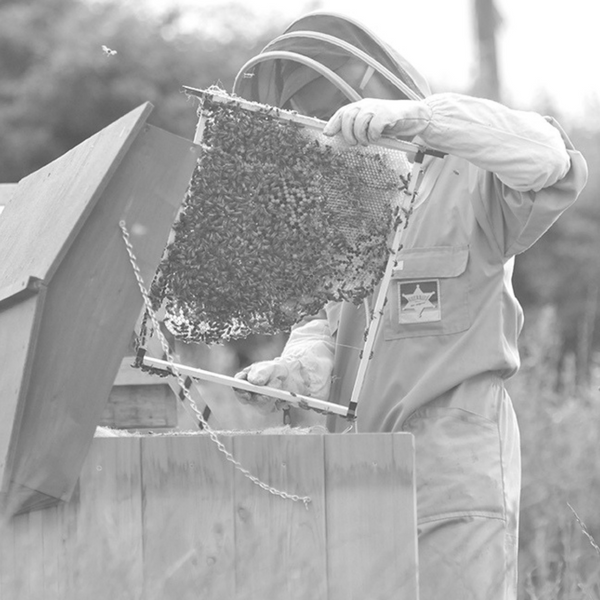 EMILY REED
Emily Reed, beekeeper, is extremely active in the world of beekeeping and local food. She is presently working with The London Honey Company and Grown in Totnes, as well as working to re-establish a locally adapted strain of the nationally threatened native honeybee through her project Black Bee Combe where she seeks to demonstrate ethical beekeeping by using hives which support honeybees' natural preferences and by practicing minimal intervention beekeeping.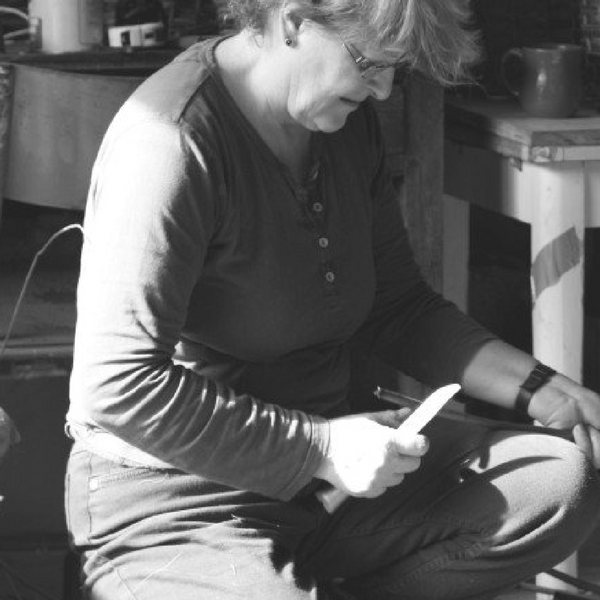 HILARY BURNS
Hilary Burns is a basket maker and founder of the 'Basketry & Beyond' Festival, and is a member of the Devon Guild of Craftsmen and the New Craftsmen. Having originally trained in textiles, she initially began making baskets in London using recycled material.
Moving to Devon thirty years ago, Hilary became interested in using natural and sustainable materials – namely willow – and currently grows a collection of many different varieties on the Dartington estate. Between November and March, Hilary harvests the crops, drying the rods and re-soaking for weaving as required throughout the year.
Hilary was named Maker of the Year in the 2018 Heritage Crafts Awards – an huge accolade given the high-calibre field. Read more about her incredible achievement here.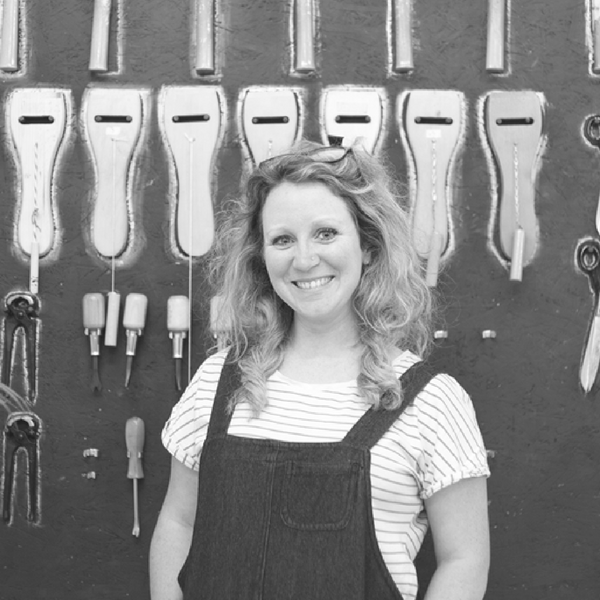 LEIGH-ANNE TREADWELL
Leigh-Anne Treadwell, founder of Bristol Upholstery Collective, Social Entrepreneur & TV Upholsterer, comes from a Fine Art background. Her appreciation of mixed media creations inspires a collaborative approach to the upholstery industry and TV projects for BBC One's 'Money For Nothing'.
Leigh-Anne uses her skills and experience in traditional upholstery as a vehicle to deliver positive impact within communities, empowering livelihoods, sustaining skills, creating opportunities and allowing imaginative playfulness with 'making' processes as a recognised therapeutic practice.
Her passion for sharing skills is evident, and love of upholstery is contagious, during her
workshops delivered across the South West.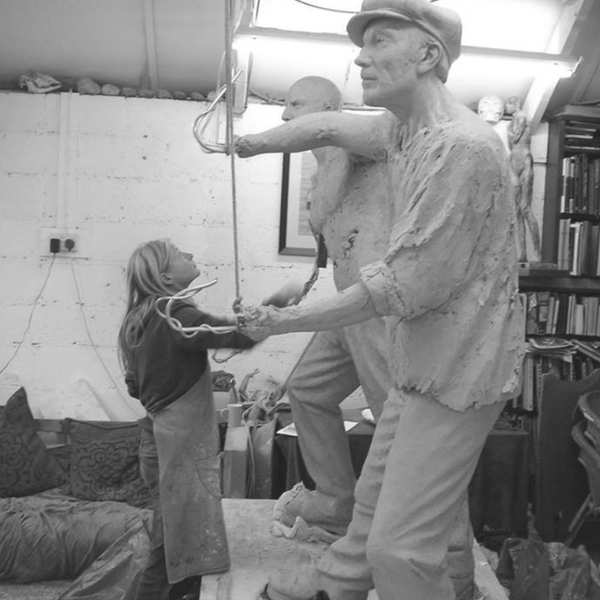 ELISABETH HADLEY
Elisabeth Hadley, sculptor, studied ceramics at Bristol Polytechnic and then figurative sculpture at The Sir Henry Doulton School of Sculpture. Elisabeth has a great knowledge of traditional sculpting techniques – anatomy, life drawing, life sculpting and mould making. She spent a year with Aardman Animations as a freelance model maker. She has also won several national competitions and her work is many national and international private collections.
Since moving to Devon, she has focused on producing her own beautiful figurative sculptures as well as completing several public commissions, the Dartmouth Mermaid and the "Man and Boy" fisherman sculpture for Brixham.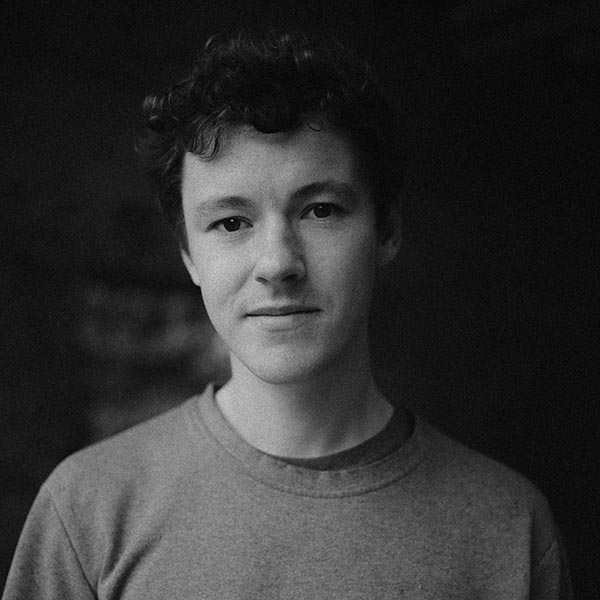 AMBROSE VEVERS
Ambrose Veveres, woodsman, green woodworker, and furniture maker, has workshop nestled in the ancient stannary town of Ashburton, within Dartmoor National Park. He aims to source all materials locally using coppicing and careful woodland management.
His appreciation of traditional techniques, such as steam bending and shave horse workings are evident in his work. The hand-tooled finishes add a human warmth to the furniture, which a machine finish lacks. During his studies at Falmouth University (BA Hons 3D design) Ambrose experimented with modern manufacturing and design, which has given him a creative and contemporary base to his work.
He has broadened his woodworking skills by undergoing tasks such as timber frame carpentry, saw milling, bespoke installations and whittling. He also tutors woodworking courses from his workshop as well as the Schumacher College, Dartington Estate.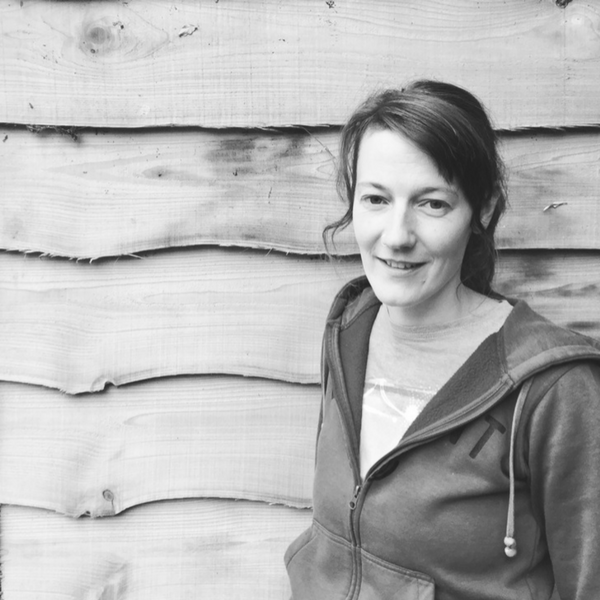 ASTRID ARNOLD
Astrid has been a carpenter for the last 18 years and has been teaching formally for over two years for her own company TouchWood South West in her workshop near Moretonhampstead on Dartmoor. She trained in London at 'Women's Education in Building' and went on to work on building sites in London before learning Green Woodwork, going on to work as a timber framer and restoring a farmstead in Catalonia, Spain. She teaches joinery in on-going six week blocks once a week, green woodwork to women who are survivors of domestic violence and also works with schools to bring back practical skills at primary school level.
It is her mission to empower women through teaching practical skills and to enable more women to work in the manual trades. It is her vision to set up a women-only NVQ Course in Carpentry and Joinery in the future.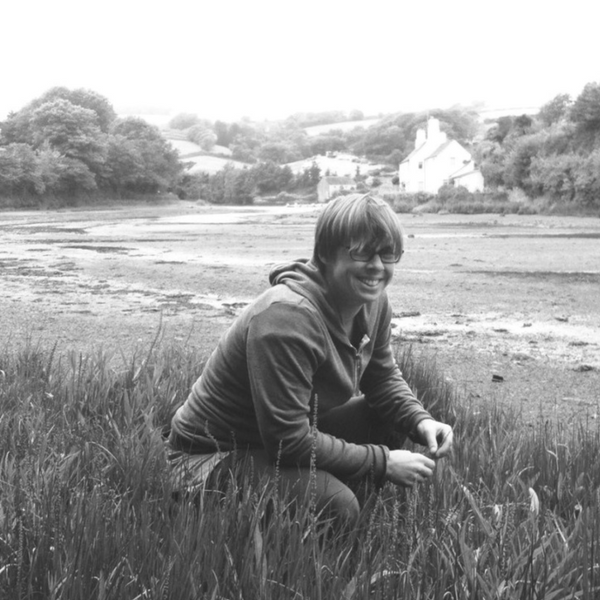 MYRTLE COOPER
Myrtle Cooper, professional forager, runs wild food walks, courses and hands on WildCrafting sessions, and specialising in facilitating a sensory and immersive approach to meeting plants. She is passionate about connecting people with the powerful and playful art of foraging.
Myrtle has a background in working with sustainable food systems and ecological behaviour change, and, following a call to the wild edges, began teaching foraging. She holds an MSc in Ecological Food Systems from Schumacher College and a BA in Psychology, drawing teaching from this learning along with a healthy dose of playfulness and wonder when things get little too serious.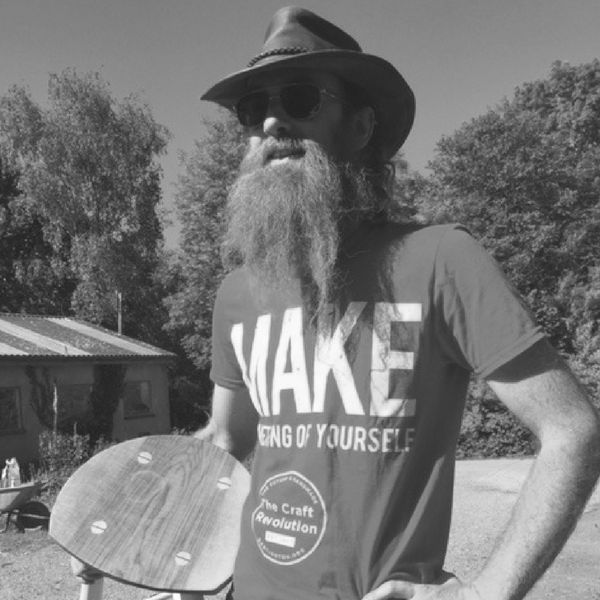 AIDEN VEY
Aidan Vey is a vegetable grower and woodworker who moved to Dartington almost three years ago. He has a background in ecology research and has been involved in several projects on pollination in tropical forests.
After a career change in 2014, he started to work as a furniture maker at a local workshop near his hometown in Hertfordshire. Moving to Devon the following year, Aidan trained in sustainable horticulture and has been growing vegetables professionally ever since.
Aidan has collaborated with other local woodworkers on projects including timber-framed barns, chicken hotels and bespoke furniture. He is particularly interested in using locally sourced timber – salvaged when possible – and hand tools to make rustic creations.
Shippon Studios
OONA WAGSTAFF
Oona Wagstaff is a painter, drawer and print-maker, with a particular interest in art education. Oona works mainly in oils, graphite, ink and pencil, adopting an experimental approach to abstraction, drawing on a diverse range of processes to achieve her work. Since completing her art degree in 2016, Oona has settled into her studio at the Shippon and participated in several local, group exhibitions and art events.
Oona is currently employed as a painting and drawing tutor at Plymouth College of Art and holds an academic support role at Schumacher College where she works as a Specialist Mentor and Study Skills Tutor.
MARIA MOORHOUSE
Maria Moorhouse runs studio 40 as her stone carving workshop and stone carving course programme known as Sculptworks.
Maria studied fine Art at the Kent institute of art and design and graduated in 1992 with an honours degree.Since then she has trained as a stone carver and letter cutter at Weymouth college and is a qualified teacher for further and adult Education.
BARTON HARGREAVES
Barton Hargreaves is an Artist Printmaker who has recently relocated to Dartington. His practice has developed simultaneously with technological developments within digital print and photography and he explores the opportunities this opens up in more traditional printmaking techniques such as etching.
Over the last ten years he has explored the figure, or indeed the absence of the figure through means such as the silhouette and cut out, and uses this to explore themes of Time and Space, Being and Non-being. He sees the content and process as being very much entwined and much of the work has an autobiographical reference.
He studied at the Royal College of Art and currently works as a Digital Print Tutor at the Royal Academy Schools. He regularly exhibits at the RA Summershow, and has been commissioned to create large-scale works for the Jerwood Space and Northern Print Biennale. He has won a number of prizes including the London Original Print Prize, Tim Mara Print Prize, Tom Bendhem drawing prize and 20/21 Century Art Prize and have my work in collections such as the British
Museum, V&A, Conrad Foundation and Clifford Chance.