We see thousands of visitors from across the world join us here every year at Dartington. They take part in our events, courses, and festivals and enjoy our cinema, shops, food and drink and listed Gardens.
Dartington is many things to many people but one aim underpins everything. And that's how we use our estate to stimulate new thinking and action to help develop a more sustainable, more just and more enriching world. In this, very little has changed since Dorothy and Leonard Elmhirst bought this estate in 1925 and embarked on what they called the Dartington Experiment to regenerate a rural community.
The Elmhirsts welcomed artists, economists, horticulturists and social reformers to Dartington and encouraged them to grapple with the pressing issues of their day. The common theme then, as now, concentrated on making the world a better place for others. Today we are a social enterprise that ploughs surplus from our commercial enterprises back into the many projects we fund and support.
The Dartington Hall Trust is currently going through a time of significant transformation. We are working towards a new long-term vision to be a pioneer of deep personal and societal change, inspired by our founders Dorothy and Leonard Elmhirst and their concept of a 'many-sided' life'.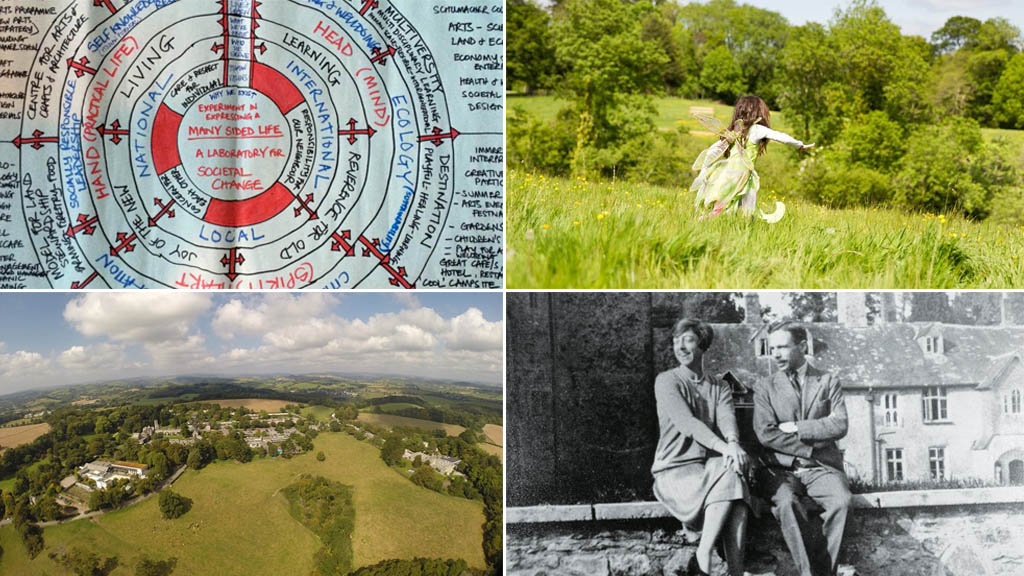 Visit our 'Dartington is changing' microsite to find out more about how we are working towards a new strategy and approach at Dartington
---
Find out more about what we do
---
In any one year we:

Empower over 660 people to be more ambitious about the change they can achieve in the world through our courses at Schumacher College and The Social Entreprise Hub.
Enable over 950 exceptional individuals to make things happen by hosting and encouraging their own creative and enterprising activities.
Support the economic life of the region by supporting many different enterprises, being a major employer with over 240 employees and adding value to the economy through our enterprise activities at our shops, in hospitality, in our charitable programmes and through our diverse property portfolio.
Enrich the cultural and creative life of the community in the South West with over 1,100 artistic events reaching over 100,000 people ranging from the internationally renowned musical Summer School, our festivals, our craft education and our independent cinema.
Help the most vulnerable to live secure and settled lives that contribute to and are supported by their local communities through projects such as Landworks.
Share our skills, resources and learning with over 100 like-minded partners to widen our impact, improve our learning and increase the difference we can make.
Maintain our publicly accessible estate, as a place of inspiration and beauty for the benefit of our community and visitors.
Economic Impact
The Dartington Hall Trust makes a valuable contribution to the local and national economy.
A 2014 independent report estimated that Dartington supports an impact on the national economy of circa £24.9m in gross value added annually, and helps directly and indirectly to support 716 FTE jobs. Most of this impact is concentrated in the South West, with £19.4mn in GVA and in 597 FTE jobs. Click the graphic to view a larger version.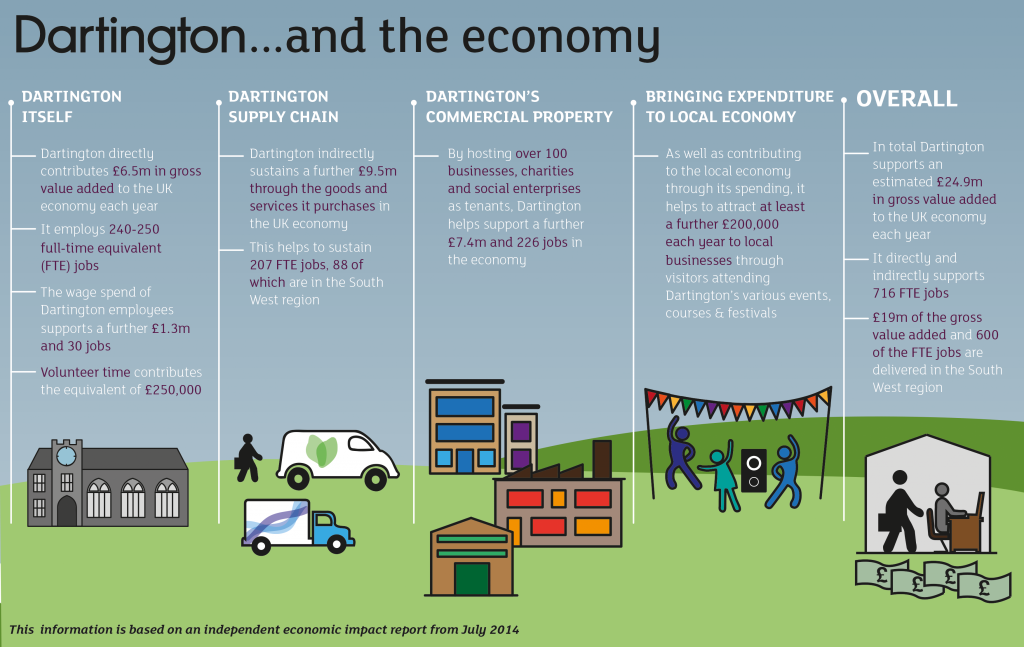 ---
Watch a short film about Dartington