Dartington has a vibrant, exciting arts programme running through 2015.
Our existing arts activities
The flagship arts programme remains the Dartington International Summer School of Music. This is four week-long programmes of teaching, master classes, music making and concerts. It has over 1000 participants made up of over 200 bursary students; 165 artists; over 550 paying residential; 140 non-residential; and 2250 separate concert goers. There is something for everyone interested in music, and its connection with other art forms.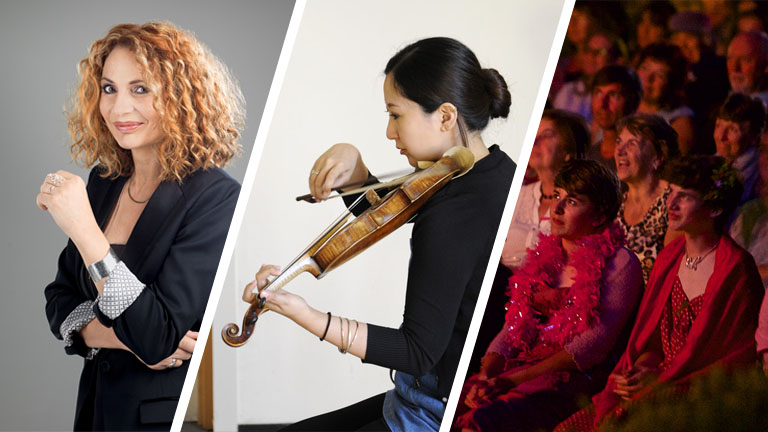 The Barn Cinema shows 1,055 screenings per year comprising 274 films and live events (a mix of mainstream, classic, specialised and young person's film as well as live broadcasts) with a customer base of over 40,000 people.
It also operates an out-door film programme at Dartington and in local venues (Newton Abbot; Plymouth) It has a pool of 55 regular volunteers and has full 4K digital projection, 7.1 digital sound, 3D capability, is equipped for satellite broadcasts and can also screen analogue films in 35mm and 16mm.
Dartington Craft education is now managed within the Schumacher College programme. It runs two workshops offering courses in printmaking (led by Michael Honnor); and bookbinding (led by Mary Bartlett). They each run three terms per year (2 × 10 weeks in winter & spring and a shorter 5 week summer term ).
Class sizes approximately 10 people per session with between 50-65 people attending sessions each term. Over the year approx. 320 people attend the workshops. The costs of the course start at £100/ term.
Dartington Space is now managed by our Property department.  It is made up of over 10 high grade performing arts spaces at Lower Close, the Hex and Gym as well as the Shippon. This includes a black box; 2 dance studios; performing space with 120 seat capacity; recording equipment; wet space and full technical and lighting support. These spaces are used on a pay per hire basis and on a discounted or free basis by local artists and arts organisations when not in use. They are also used to support the Associate Artist programme that is funded by ACE.
Current activities that take place in Space include:
Other Arts activities
The Shops at Dartington run a regular programme of music and children's entertainers at the weekend during busy periods. On average there over 40 performances a year seen by 300,000 passing shoppers.
Associated arts activities
In addition there are other significant activities that take place on the estate and are closely associated with Dartington. These include:
Ways with Words literary festival over 10 days in July, supported by Dartington Hall through accommodation, catering and event support and attracting over 5,000 people.
Dartington Playgoers – a local amateur dramatics society set up by Dorothy Elmhirst. The society puts on 2 plays a year with 15 performances.
Dartington Community Choir, with 170 members, meets weekly and performs a number of concerts a year.
Devon Baroque: the principal orchestra in the South West specialising in baroque and early classical music played on period instruments and in appropriate style.
Totnes Early Music Society: runs an annual series of six recitals to provide top quality, professional performances of historically informed early music to people in South Devon.
Artistic tenants: we also have over 100 business and residential tenants many of whom would classify themselves as artists or part of the creative industries.
---
The above is intended to provide a flavour of Dartington's artistic scope, and is not intended to represent every artistic activity at Dartington