In 1925, Dorothy and Leonard Elmhirst purchased the neglected 14th century Dartington estate.
The Elmhirsts were pioneers, inspired by many innovative thinkers of the time – and through Dorothy's inherited wealth, exceptionally well-off.
They poured their resources into the "Dartington Experiment" – restoring the estate buildings and setting up a host of farming, forestry and educational projects. This experiment was formalised in 1932 with the creation of The Dartington Hall Trust, which oversaw Dorothy and Leonard's charitable work.
Early initiatives included Dartington Hall School, Dartington Tweed Mill and later Dartington Glass. Dartington also  rapidly became a magnet for artists, architects, writers, philosophers and musicians from around the world, creating an exceptional centre of creative activity.
The roll-call of outstanding people involved in the Dartington experiment includes Rabindranath Tagore, Jacqueline du Pré, Daniel Barenboim, Arthur Rubinstein, Igor Stravinsky, Imogen Holst, Benjamin Britten, Peter Maxwell Davies, Ravi Shankar, T E Lawrence ('Lawrence of Arabia'), Bernard Leach, Paul Robeson, William Lescaze, Walter Gropius, Moholy Nagy, George Bernard Shaw, Bertrand Russell, HG Wells, Yehudi Menuhin, Simon Rattle, Ben Nicholson, Aldous Huxley, James Lovelock, Rupert Sheldrake, Hazel Henderson, Amory Lovins, Jonathan Porritt, Helena Norberg-Hodge, Paul Hawken and Vandana Shiva.
The list of landmark events associated with Dartington is equally remarkable. It was at Dartington that the post-war Labour manifesto was penned by Herbert Morrison; it was here that the Arts Council was conceived and the first arts school with practising and performing artists was established. The International Summer School moved to Dartington in 1953 and has become renowned for offering amateurs a unique opportunity to play with the world's leading musicians – and for professionals to experiment and explore new collaborations.
Continues below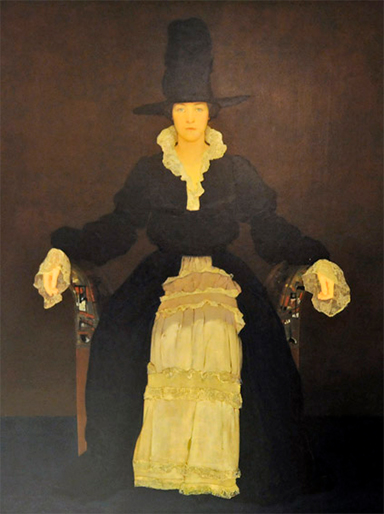 Dorothy Elmhirst in costume, painted by Walter Dean Goldbeck
---
From the archive: listen to Dorothy and Leonard Elmhirst
---
In 1968, the Social Research Unit moved to Dartington from Cambridge to work on issues of social justice. Research in Practice (RiP) was launched in 1996 and in 2005 Research in Practice for Adults (RiPfA) was established. RiP and RiPfA are now recognised as distinctive centres, owned and directed by their network of agencies working with children, young people, families and adults who need support.
More recently, Dartington has continued to push boundaries. In 1991, long before climate change was a major concern, we set up Schumacher College, which has become a leading international centre for sustainable education.
Social enterprise was central to the Elmhirsts' original vision and continues to play a key part in supporting Dartington's charitable activities. In 1977, the Cider Press Centre (subsequently The Shops at Dartington) opened as a high quality retail centre selling local crafts and other products. In 1991, the White Hart and the Dartington Conference Centre opened – all play a part in generating revenue and providing hospitality for the many people who come to Dartington.
While much has changed since the Elmhirsts' time, the ethos established by those two remarkable people is as alive today as when they first created the Dartington Hall Trust.
---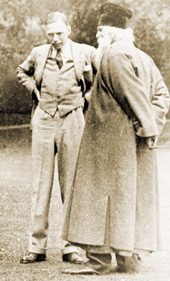 Leonard Elmhirst with friend Rabindranath Tagore
---