With a range of options to suit all tastes and appetites, and an emphasis on fresh, locally sourced ingredients, there's plenty on the menu for those wanting to make more of their visit to the estate.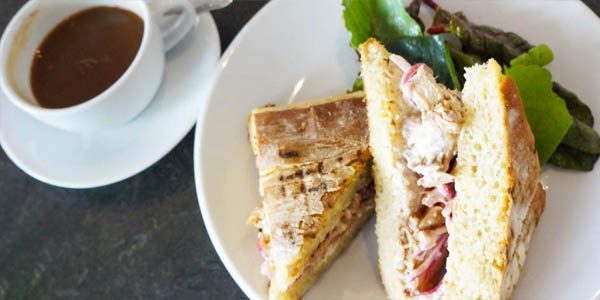 ---
New: The Green Table
A vibrant, welcoming, light-filled space evoking Dartington's craft legacy for everyone to enjoy.
There's lots of seating, a big kitchen, and a large deli style counter offering a full range of hot and cold meals.
Find out more
The White Hart
A restaurant offering locally sourced food, an atmospheric dining experience and value for money.
It is the holder of a Sustainable Restaurant Association star and was a winner at the Diners Choice 2017 awards.
Find out more
The Roundhouse Café
Located next to The Barn Cinema in the medieval courtyard, the Café is open every day, 11am – 8pm, and provides a cheerful and relaxing space.
The Roundhouse serves a selection of hot drinks, warm soups through the winter, sandwiches & salads made on site, bottled beers, cakes and crisps.
At The Shops at Dartington
Located at the southern end of the estate, The Venus Café and Bayards Kitchen both offer plenty of choice for the hungry shopper.
The former offers organic fairtrade tea and coffee as well as a fabulous selection of vegetarian, gluten-free and meat meal options, with Bayards Kitchen offering a contemporary environment with a focus on local produce.
Find out more