The site on which Dartington Hall stands has been continuously occupied for well over a thousand years.
Written records do not begin until the thirteenth century, but there is evidence of considerable activity in the area during the Roman occupation and the manor of Dartington is mentioned in a Royal Charter of 833 AD.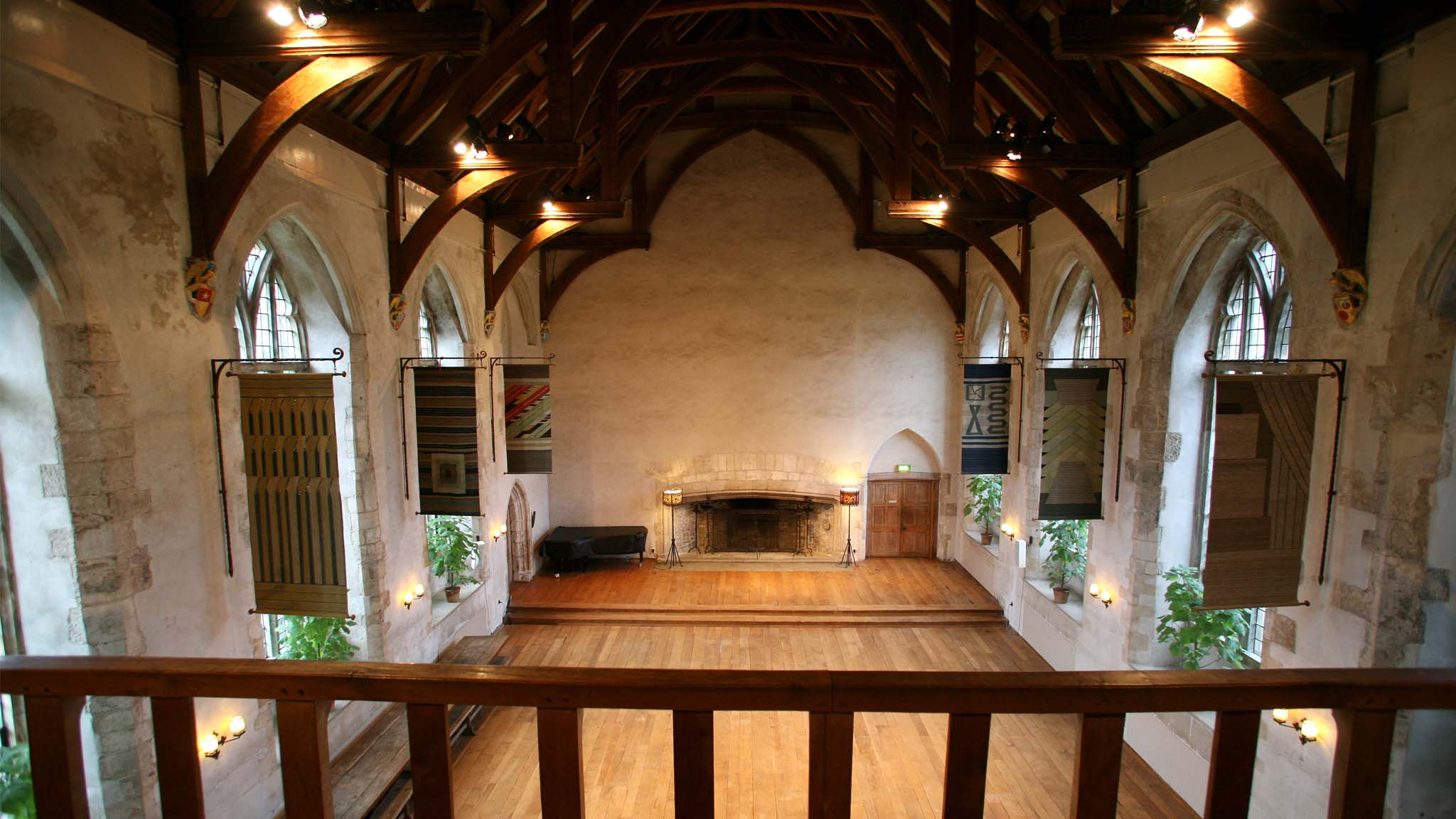 Great Hall – with tapestries representing the original departments hanging
In 1348 the manor reverted to the Crown, and in 1384 Richard II granted it to his half-brother John Holand. Soon afterwards Holand became an Earl and during the following two decades he made Dartington Hall into a great country house, laying out new buildings in the form of a huge double quadrangle, covering almost an acre. The modern Courtyard is a fragment of the buildings originally planned.
After John Holand was beheaded it stayed in the Holand family — going to John Holand II, Earl of Huntingdon and Third Duke of Exeter (whose active service included the Battle of Agincourt), 1400-1447; Henry Holand, Fourth Duke of Exeter, (who, returning from an invasion of France, drowned between Calais and Dover. A leading supporter of the Lancastrian cause, it was possibly at the order of Edward IV), 1447-1475.
The Hall then passed through Holand's widow to her second husband, Sir Thomas St Leger, (executed at Exeter for his part in a rising against Richard III), 1476-1483. It then passed to the Crown to be held by a succession of owners and tenants. For short periods it became the property of two of Henry VIII's wives, the Catherines Howard and Parr.
In 1559 the Champernownes, a Devon family well connected during Elizabethan times, purchased the estate. Dartington was to remain theirs for the next three hundred years. Their wealth and influence dwindled until the agricultural depression in the nineteenth century all but robbed them of a livelihood. At the beginning of the 20th century they were forced to sell much of their land, and in 1925 the remaining 800-acre estate was bought by Dorothy and Leonard Elmhirst, to become the basis of their joint venture in rural regeneration.
When the Elmhirsts bought the estate it was badly run down and much of the Hall was in ruins. During the first few years of their ownership of the Hall, the Elmhirsts spent much time and money restoring the estate and building new properties on it.
This text is taken from A Short Guide to the Buildings and Architecture of Dartington Hall which is no longer in print but can be downloaded in pdf format here.