History of the studio pottery tradition at Dartington
The craft tradition at Dartington Hall goes back to the Dartington Hall Trust founders' idea that 'the arts and craft [are] the foundations of human flourishing'.
Dorothy and Leonard Elmhirst invited the potter Bernard Leach (1887-1979) to visit Dartington in 1927, which led to an invitation to establish a pottery at Dartington. Leach, who became a pioneer of the revival of English studio pottery and helped to merge the craft traditions of east with west, initially resisted any personal involvement in the setting up of a studio at Dartington, recalling in 1967: 'Leonard and Dorothy wanted me to uproot from St Ives and settle at Dartington, but I already knew how long it took for a potter's workshop to put down roots and establish itself – also, candidly, I did not want to be advised through Central Office what pots to make for the public.'
Instead he recommended a former assistant, Sylvia (Jane) Fox-Strangways who, from February 1927, taught drawing and painting and installed a kiln in a studio behind buildings which became the Barn Theatre. She made a number of fireplace tiles which may still be seen around the estate. She felt it was her duty to bring art to all 300 members of the estate 'from children to bricklayers'.
Staying for three years during the so-called 'Amateur Period ' of Dartington's development, between 1926 and 1929, as well as teaching classes, she organised 'peoples' exhibitions of the work of many members of the estate. She expanded the definition of art to include everyday activities, including baking, shoe polishing, and typescript layout for secretaries. She was an adviser to Dorothy on her purchase of paintings and always maintained her connection with Dartington, writing often to Dorothy, and sending frequent gifts of manuscript poems and watercolour designs.
Meanwhile, relenting, in 1932 Leach began an official connection with Dartington. He joined the Dartington Hall School staff, and set up a commercial enterprise under Dartington Hall Limited at Shinner's Bridge where a pottery was built for him near to the site of the present Shops at Dartington. There he made mainly slipware and stoneware pieces until eventually returning to St Ives in 1940.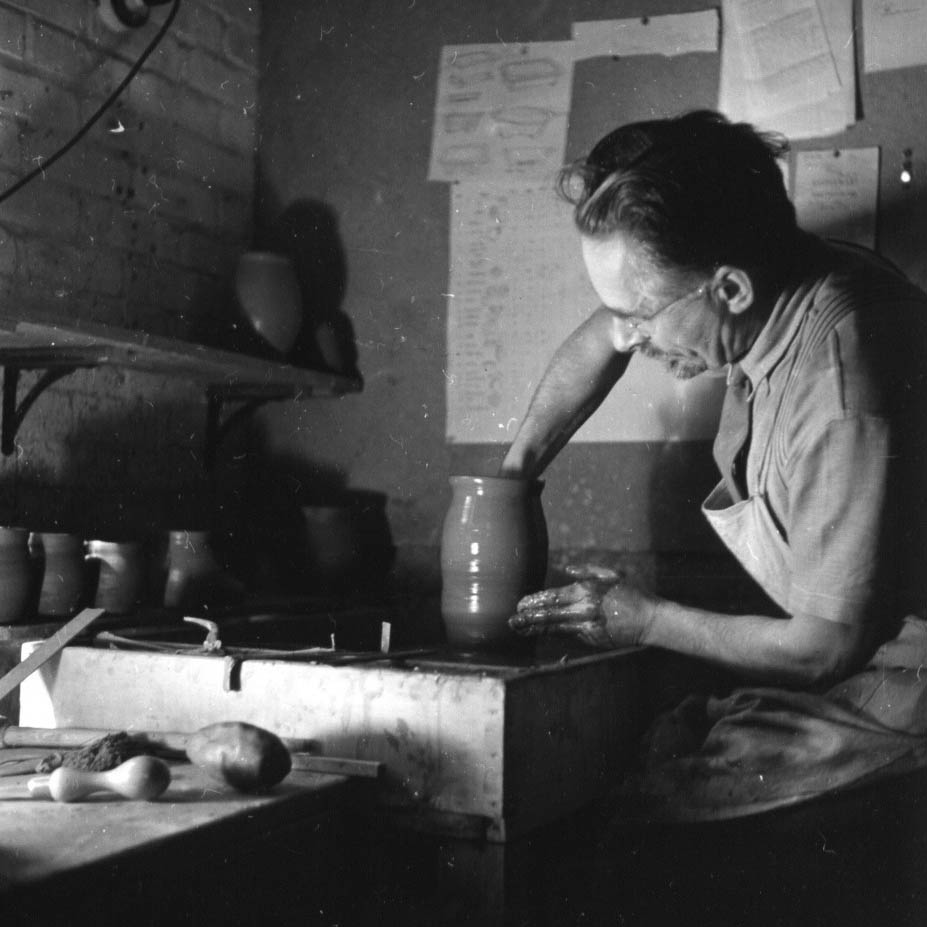 In those early years he advised Leonard on the purchase of ancient pots, both Chinese and Korean; many of these remain in The Dartington Hall Trust Collection today. He was one of the directors, and main instigators, of the International Conference of Craftsmen in Pottery & Textiles held at Dartington Hall in July 1952. In 1940 he had published 'A Potter's Book', which greatly expanded his reputation, and in 1978 published his memoirs 'Between East and West'.
In 1967 Leach had said, 'With hindsight, the years at Dartington were of thought and exchange of thought and friendships, a time of enrichment and expansion for which I am deeply grateful. […] For me personally, the years there provided a pause in my life, between East and West, during which I had the opportunity to assess its basic values, Dartington was a brave effort, worth all the cost.'
The potter Marianne De Trey (1913-2016) arrived at Dartington Hall in 1947 on the invitation of Dorothy and Leonard Elmhirst after her husband, the potter and surrealist painter Sam (TS) Haile, had met Leach. They took over Leach's pottery, as well as the nearby wooden cabin as their home, which Leach had built in 1938 with the help of an estate carpenter. Even after a tragic turn of events, first in 1948 when Sam was killed in a car accident and later in 1956 when a fire destroyed the pottery, Marianne ensured the business survived and thrived.
The Telegraph newspaper wrote that Marianne 'went on to develop many new glaze recipes and experimented with different clays and chemical compositions, using both oil-fired and wood-fired kilns. Her designs were often reminiscent of textile patterns because she had originally trained as a textile designer.'
Over 60 years, Marianne's designs included earthenware tableware 'reflecting a Festival of Britain optimism'; simply glazed brown and white stoneware stocked by the Design Council, Heal's and the Bristol Guild; and later affordable pieces with Scandinavian and anglo-oriental influence. From 1975 she was an adviser to, and Board Member of, the Dartington Pottery Training Workshop which ran for ten years at the Shinner's Bridge site. 
In 1982 she established a new small workshop at Shinner's Bridge and Leach's pottery was then taken over by Dartington Pottery which traded until it merged with Grayshott Pottery in 2006. Leach's pottery is now used by ReStore. Bernard's eldest grandson John Leach, based in Somerset, still sells his pottery at The Shops at Dartington.
Marianne's daughter Tattwa Gyani says:
'Her life-long passion for pattern and design took her through many different styles; she was strict with herself and her employees about quality, often sending to the tip pots which others would have sold. Her many trainees and students gained enormously from her teaching. She was among the small group who started the Devon Guild of Craftsmen in 1955, where she was involved until well into her 80s. She also travelled with the Craftsmen Potters Association to look at pottery production in China, Thailand and elsewhere.'
Marianne De Trey said: 'The satisfaction comes through the use of every part of oneself, hand and eye, brain and intuition, and through being always in contact with natural materials and the power of earth, air, fire and water. … It is, in fact, a voyage of discovery into the very heart of things. How lucky we are.'