Board of Trustees
The Dartington Hall Trust is governed by a Board of Trustees. Members of the Board have two roles: first as directors of the company in company law and secondly as trustees of the charity. It is a non-executive Board and members are unpaid.
Management
Responsibility for day to day management matters and the implementation of policy is delegated to the Chief Executive, supported by the Dartington Management Team. The Dartington Management Team consists of senior executive staff from across the Trust's activities and subsidiary trading companies.
Read more about the role of our trustees ('our governance') and how they are recruited
---
Board of Trustees
Dr Greg Parston (Chair)

Greg is currently the senior adviser at the Institute of Global Health Innovation at Imperial College London. He is a Chair of the Collaborate Foundation and in 1988, he co-founded the Office for Public Management (OPM), which he led until 2006, when he was asked to establish and lead Accenture's global Institute for Public Service Value, which he did until 2012. As an independent consultant, Greg has advised leaders on governance, strategy and change, including at the NHS, the British Museum, the BBC, the Wellcome Trust, the Metropolitan Police, and the Gates Foundation.
'Dartington Hall has a rich history of progressive thinking, culture, learning and enterprise. I am honoured to have asked by the Board of Trustees to chair the stewardship and oversight of the The Dartington Hall Trust's redevelopment. The Trustees and Rhodri Samuel and his management team are absolutely committed to revitalising the Trust, creating – once again – a place where people from Devon, from Britain and indeed from around the world can gather to learn about the excitement and values of a many-sided life. We want to provide a sustainable environment and a range of activities in learning and living that can foster personal and social changes that make a real difference.'
---
Tim Jones

Appointed as a Trustee in December 2014, Tim Jones is a successful local businessman who has supported Dartington for many years, particularly as chair of the Trust's property advisory committee.
He volunteers his time to many other organisations in the South West, including the Heart of the South West Local Enterprise Partnership (as a board member, following 3 years as Chairman) and Devon & Cornwall Business Council (as Chairman), and has a particular interest in criminal justice and creating routes into jobs for people who are long-term unemployed.He plays a leading role in many business development organisations and brings a wide network of government, enterprise and charitable contacts to Dartington.
---
Sylvie Pierce

Appointed as a Trustee in December 2014, Sylvie Pierce had a successful career in local government, leading two large local authorities. She has a great interest in education and the arts.
Post-government, Sylvie moved into the private sector, leading a property development company working with communities in economically deprived areas in a collaborative way to achieve high quality regeneration schemes.Sylvie will strengthen the board's expertise in developing creative partnerships with like-minded organisations and with its communities to make the best use of its land and property for the future.
Sylvie is currently chair of the Mossbourne Federation of Schools, four schools in Hackney; and chair of governors at Mossbourne Community Academy, a school started by Sir Clive Bourne, to demonstrate his passionate belief in the ability of Hackney children. She has also been on a number of boards previously, including the Financial Services Ombudsman Scheme and Shoreditch Trust.
---
Rob Sexton
Appointed a Trustee in January 2011, Rob has been Finance Director at Yeo Valley since November 2014. Yeo Valley is one of the South-West's leading employers and is the UK's largest organic brand.
Prior to this Rob was CEO of the Soil Association Certification Ltd, the trading arm of the Soil Association, the UK's leading charity campaigning for sustainable food and farming. He has significant experience across a wide range of sectors including the third sector, entrepreneurial enterprises and corporations.
---
Geetie Singh-Watson MBE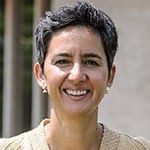 'I grew up on a commune in the Midlands, where I was taught from an early age to be aware of the impact we each make on the world around us.
Fast forward to 1998 and I opened The Duke of Cambridge – the UK's first organic gastropub, never dreaming of the awards it would shower along the way. I'm an active campaigner and firmly believe that businesses and individuals should act responsibly and be led by their values. It won't come as a surprise to hear I've been a Trustee of the Soil Association, People Tree Foundation, London Remade and Women's Enterprise Council to name but a few.
As for Dartington, I've known of the Trust for years due to a family history on the arts side of things, but it wasn't until I'd actually visited that the place truly grabbed my interest. I'm attracted to the alternative vibe and just adore the beauty of the estate.
Even so, I see so much potential still to be realised and I want to be a part of it. New people have come in. Change is happening. You can see it. You can feel it. Now's the right time to switch up the volume. I want it to be the fabulous, flourishing destination it aspires to be with a many-sided approach to life that can benefit everyone.'
---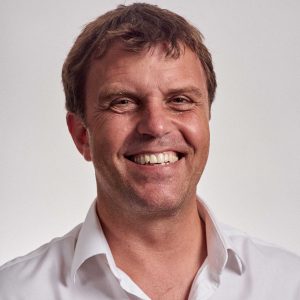 Nigel Topping
'So close and yet so far. Having studied at Schumacher College, and lived in Totnes for 10 years, I am deeply convinced of the power of The Dartington Hall Trust to act as an agent for real change in the world, and of the gulf that sometimes separates the Trust from the town – the promise from the delivery. As an industrialist turned climate diplomat, my whole life has been about improving systems, about embedding new ways of doing things into complex realities to effect positive change – whether making better brake pads (as a co-owner of TMD Friction) or tackling global climate change (currently as the CEO of We Mean Business, a global coalition working with thousands of the world's largest companies in this field). I am also co-founder of the Totnes Pound and The Atmos Project (to redevelop Totnes's Dairy Crest site).
'As an outdoorsman, I need the wind on my face in wild places to reinvigorate my soul. And as a local resident, I love the eclectic mix of thinkers and doers drawn to our special part of the world, in no small part because of the historical influence of the Trust. There has never been a more important time for us to learn how to live and love in harmony with planet and neighbour. So I am thrilled to have the opportunity to contribute to a newly humble and confident Trust playing an important role in understanding, sharing and applying the solutions we seek.'
Watch: A Trustee in Two Minutes with Nigel Topping
---
Julia Unwin CBE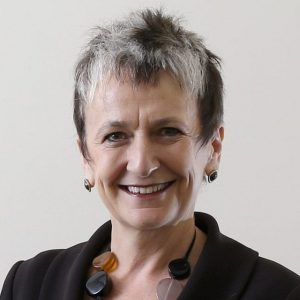 Julia Unwin was Chief Executive of the Joseph Rowntree Foundation and the Joseph Rowntree Housing Trust from 2007 until December 2016.
She was a member of the Housing Corporation Board for 10 years and a Charity Commissioner from 1998-2003. Julia was also Deputy Chair of the Food Standards Agency and worked as an independent consultant, for 15 years, operating within government and the voluntary and corporate sectors. She has researched and written extensively on issues relating to philanthropy, the voluntary sector, and its relationship with government and has written several books, the most recent of which is entitled "Why Fight Poverty?" which was published in November 2013.
She previously held a position as chair of the Refugee Council from 1995 until 1998, and is currently a member of the University of York's Council, where she is a Pro-Chancellor and a Governor of the National Institute of Economic and Social Research.  In 2010 Julia was awarded the Outstanding Leadership Award in the Charity Awards and was awarded a Fellowship of the City and Guilds of London Institute in June 2012.
Julia chairs the Institute for Social Renewal advisory board at the University of Newcastle as well as being a member of the Advisory Board for Policy Scotland, at the University of Glasgow. Julia is also on the advisory board of the Centre for Science and Policy at the University of Cambridge. In January 2016 Julia was appointed as an independent Non-Executive Director of Mears Group Plc.
She has Honorary Doctorates from the University of South Wales and from York St John University, and in 2016 was made a Provincial Canonry by the Archbishop of York.
Follow Julia on Twitter @juliaunwin
---
Andrew Ward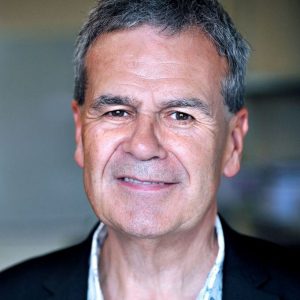 Andrew is Director of Corporate Relations at Brunel University London, where he builds and maintains links with key industrial, intermediary and third sector partners and is the University's Innovation Champion. He has served on the boards of a large number of private, public and third sector organisations. He is passionate about the arts, especially music.
'The Dartington Hall Trust's work has arguably never been more important than it is today. Current political and economic uncertainties far and wide make it essential for there to be places for cool, informed reflection and safe havens for innovation and experimentation. Dartington has a vital role in this respect. It provides jobs, facilities and support for start-ups and established businesses, unique learning opportunities, world class artistic activity, sustainable agriculture and research.
'To be appointed as a trustee at this time is a special honour as well as an exciting responsibility.'
---
Dame Jo Williams

'If you haven't visited the Dartington Hall estate, put it on your list and give it priority. It is a place of great beauty with a magical aura that encourages learning, reflection and tranquillity.
I first visited over 20 years ago as a participant in a programme run by Research in Practice (RiP). This provides a range of services for social workers, offering them information, support and advice. I went on to Chair the Board of RiP. And in 2009 I was asked to join the Board of the Dartington Hall Trust.
It continues to be a privilege to contribute to the future development of the Trust. The Elmhirsts' vision and generosity of spirit is still relevant today. The big challenge for us is to find a way forward that preserves the values and identity of the Trust but in a way that is economically sustainable.
My background has been in the public sector working as a Director of Social Services for 10 years and then in the voluntary sector as CEO of Royal Mencap Society. Latterly I was Chair of the Care Quality Commission.'
Watch: A Trustee in Two Minutes with Jo Williams
---
Senior executive staff
[powr-about-us id=c9aeb9a9_1481802439989]