Cornwall-based filmmaker Mark Jenkin is coming to the Barn Cinema for a post-screening Q&A about his latest film, Bait, later this month.
One of film critic Mark Kermode's 'defining films of the decade', Jenkin's debut feature film has been receiving rave reviews in the press, and is generating a significant amount of buzz well beyond the Cornish fishing-villages it takes as its subject. But one aspect that we are particularly interested in is 16mm wide!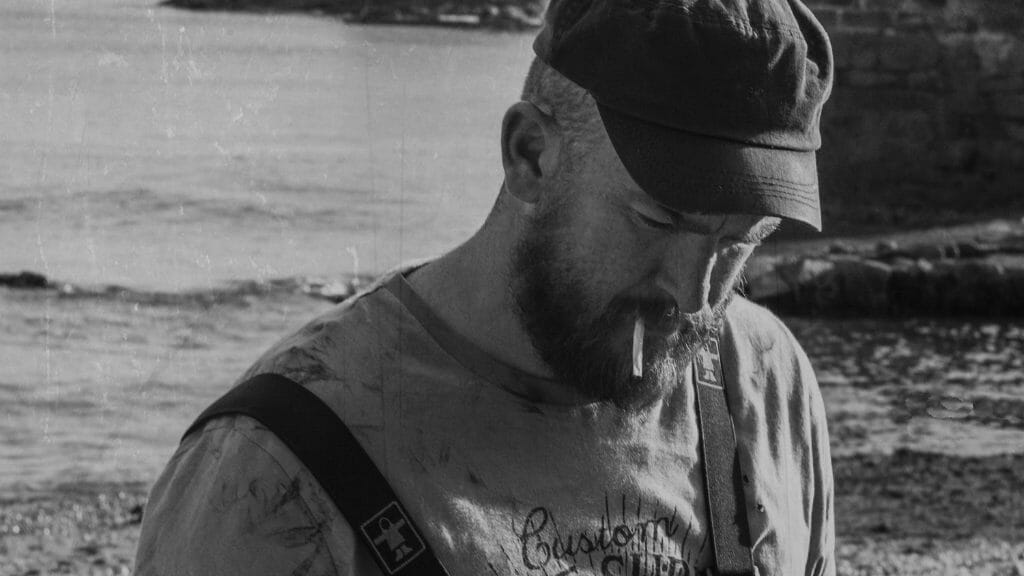 Jenkin – also 
associate lecturer at Falmouth
– has become known for his distinctive style and his interest in hand-processed film techniques, and use of 16mm film – the old type of shiny, brownish looking film on reels that you don't see much anymore (unless you are digging around in the Dartginton film archive!).
In fact, Dartington Hall has a long history with 16mm film, from the Dartington Film Unit, which existed in the 1940s, to later documentary and National Archive projects which were based here. Bait was captured on a 1976 16mm clockwork Bolex camera, using 100ft rolls of B&W Kodak stock, which the film buffs among you will be able to tell us gives a maximum 28 seconds per shot – not very long by today's digital standards.
Even so, according to the production team, the film's four-week shoot used 130 rolls, which equates to 13,000 feet of film! This then all had to be hand-processed (using an antique Bakelite rewind tank), which they did at a rate of about six rolls a day. The pure physical labour involved is pretty staggering.
Another distinctive element of the film is that all sound was added in post-production. It was essentially a silent film to which sound had to be added later – much like the way a wildlife documentary like Blue Planet or Natural World has to retrospectively add the appropriate sound effects to match the footage of animals captured out in the wild – though with quite different effects. According to Mark Kermode: "The effect is bizarrely brilliant, lending a dreamlike quality to the dialogue, which transforms the spoken English into something weirdly reminiscent of a dubbed foreign-language film…it's a disorienting effect that highlights a central theme of Bait: people speaking in the same tongue yet failing to understand one another".
At Dartington we have our own large collection of 16mm film – a rich archive of footage which we are in the process of digitising and restoring. The archive includes fascinating insights into the restoration of Dartington Hall; a survey of the unique woodland here on the estate; and other educational videos. Among these is an incredible footage dated 1940 from a trip by the Dartington Film Unit to the Galapagos Islands in the Pacific (which even then present warning signs about the preservation and conservation of the wildlife), a place which had so captivated the imagination of those from Charles Darwin to David Attenborough.
There is a funny link back to the Bait film here – as a second camera was used in the filming. It was another Bolex H16s camera, but not just any Bolex H16s: this was the actual camera that Peter Smithson used to shoot sequences for David Attenborough documentaries during the 80s and 90s.
Long before that, Dorothy and Leonard Elmhirst had been pioneers of using film as a way to document the various innovations and experiments they were carrying out as they began their project of rural regeneration here for much of the 20th century. The archive does include an instructional video on the subject of artificial insemination of livestock, if that's the sort of thing that floats your boat! The result is that we have this incredible archive, which is currently being reviewed and digitised.
Dartington Hall is today a model for a just and sustainable society, and film continues to play an important role in that society. The Barn Cinema has begun to situate itself as a centre for debate and discussion around film, regularly hosting talks and Q&As with leading directors, producers, editors and academics, and occasionally holding film premieres (like the upcoming Selfless).
As well as this, we have a great rolling programme of the latest releases, from big feature films to independents, as well as a curated selection of world cinema and documentary. To keep up to date, follow us on social media @BarnCinema on Facebook and Twitter, or browse our film listings here.