When Paul Robeson came to Dartington in 1930 to rehearse Shakespeare's Othello (below), he delighted the Devon crowds. 
He was a rising star in the UK, most recently for his performance in the West End hit musical Show Boat.  But Dorothy Elmhirst invited him for a much more significant reason.  She was aware that in America, the country in which she and he had been born, he was emerging as a significant activist at a time of enormous political and social upheaval.
On April 8, we celebrate his time spent at Dartington Hall as we host The Decolonial Salon presenting Here I stand, a special dance-theatre and multi-media event to commemorate this significant African-American figure of the 20th century.
Michael Sells, a senior producer at Dartington Arts met the actor and animateur behind the work, Patrice Niambana in the Solar Room, where Paul Robeson famously rehearsed his leading role opposite Dame Peggy Ashcroft, playing Desdemona.  Here he asks him about the evolution of the work: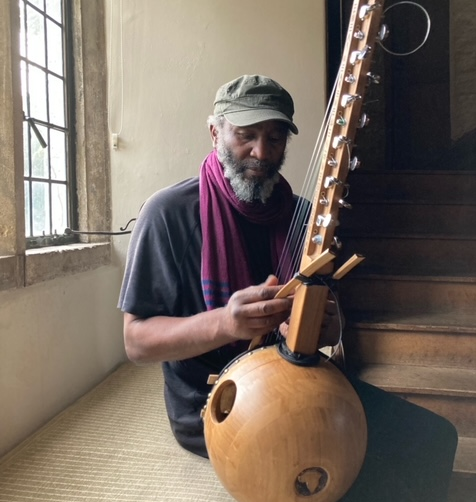 Michael: You are bringing The Decolonial salon to Dartington Trust – what can people expect?
Patrice: Well…people can expect an amicable, uplifting and inspiring evening. A presentation of multi-media creativity that's around southern narratives or diaspora consciousness. They will contain aesthetics and aesthesis that reside in what I call exile heritage backgrounds. We'll be experimenting with some of these forms, instruments such as the Ngoni (A West African harp which Patrice has brought with him) as well as with live contemporary sound to see what that does to movement, and negro spirituals that Paul Robeson song in the Great Hall at Dartington…then the conversations that we leave time for with our guests – we don't call them audiences, we will get into discussions – the simple idea is that by exploring how we create our piece, we give people a better idea of our histories, our journeys…even as artists – any of the themes within the piece – we can explore. We want people to come and sit next to somebody they don't know, we call it a little bit of gentle networking – it's not a mercenary operation  – really it's a way of us all imagining what community can be like for us today. That's The Decolonial Salon.
(Cont. below)
Above: Paul Robeson at Dartington. Image courtesy of the Elmgrant Trust
The decolonial part – I was born on the independence day of Sierra Leone so I am swimming in the whole-decolonising enterprise and what it means or might mean to be a self-determining nation.  I bumped into Walter Mignolo and Roland Vazquez in the Netherlands at the Decolonial Summer School Middleberg, they co-curate. They are wonderful Argentinian and Mexican scholars and deep thinkers…they will be contributing to the event through a live-link-up. The decolonial thinking came out of the Latin American intellectual movement you see. They really embraced my work – they were very open to artists being a valued part of learning about the decolonical frame work. Which is what it is…a framework to help us analyse the world we live in and be more critically engaged – I felt very at home there.
I met Simmi Dullay daughter of Pritz Dullay one of the many freedom fighters fighting against Apartheid (he was mentored by Steve Biko). When Biko was assassinated they had to flee and come to Denmark and he continued the fight there – she asked me to give a speech when they were launching her dad's book. I thought her dad's story is just like my dad's. Their stories about dealing with fairer routes to justice – it's rare to see the Asian narratives intersecting with African narratives. So we came up with the idea to have a salon. I always try to have food served in my events because that's the cultural way we do things, you have food, you have music and you have community. The first one we tried was in the Arcola Theatre 2019. We did a short piece about Pritz's family. I told him his story needed to be told in schools. The slogan for them was 'memory is a weapon' in the anti-apartheid resistance struggle.  We served home-made ginger beer. In a room like this. About forty people. Sadly Pritz passed away shortly after this and lockdown hit and then I knew I had to continue. I promised him I'm would tell his story and that promise has meant that a momentum must blow wind into the sails of The Decolonial Salon.
I trained in African theatre in Sierra Leone and then in Leeds, it was always about what space can you create without having to wait for the mainstream spaces to give you some legitimacy which is really a decolonial way of thinking – you don't have to depend on mainstream spaces to give you validation – you can be as valid, true and dignified without someone giving you an Oscar or an MBE.
M: You refer to the audience as 'citizens'.  How has the work been received by citizens who have been to see it so far?
P: We are all citizens as opposed to aliens or illegals –we are all citizens of the world. We've had four iterations of the Salon to date in Devon (Ashburton Arts Centre, Totnes cinema cafe and Village in Action Devon with Love Festival). I apprenticed and developed my craft in the non-exclusive space. There were not many formal drama training institutions when I started in 1987 or now for that matter that offer training in Diaspora Forms, styles or rhythms – I had to go looking – I sought out fringe groups – outer fringe groups. I learnt my skills in those environments. The Salons have been really well received. We don't have funding, so we don't have the luxury of long rehearsals. People thought 'wow this is interesting'. All different types of people turning up.   It has given it an experimental frisson, it's like coming into a rehearsal room where the artists are being vulnerable in going for something.  This one will be the most ambitious so far – it will be like a dance installation/multi-media event.  It's about looking at when people leave home and they engage in a new culture and the hosts in those cultures are also engaging, what are the forms that can come out? – it's through that melange, that creolisation allied with good faith and with the fact that we are trying to understand each other better, that the salon holds its own. As far as I know it's the only space in Britain right now that is doing that. In the way that I am facilitating it. Especially around exile heritage. That's why I'm working hard on this.
M: What drew you to play Paul Robeson as a character?
P: Paul Robeson was here – in this room – I remember my parents listening to him, he died when I was a teenager, he was a very important figure of the 20th century. He played Othello – I played Othello – the man spoke 20 languages. With the express reason to see what the commonalities were between people from different cultures…and to tell people about them. He made a linguistic breakthrough and discovered that the pentatonic scale and tonality in many languages were similar… in the Chinese and African languages for example He was a phenomenal intellectual. He saw the musicality in languages. For me, a guy like that…it's bizarre we don't remember him. In Wales he stood for working people. He saw Russia at that time, and that system or socialism, as being far more respectful and of value to him and African Americans compared to the way they were treated in America – they were still lynching people in America, people forget that – there is criticism of him – people called him misguided but he held on to his values – he really lived his values. And was prepared to pay the price. And the cancel culture of McCarthyism ensured that he did pay the price in taking away his passport for 8 years. A silencing which curtailed his global reach and influence. He was rehearsing in London and saw the Welsh miners coming down the street and he went and joined them – stood and walked with them – he's the template for other actors who began to use their voice, Robeson was probably one of the most famous men on the planet and he did not see that he should separate his art and talent from serving humanity. Not whether he was a communist or not, which they are trying to use to diminish him. He was the first black man to play Othello at the RSC, first in 100 years before that it was Ira Aldridge, another phenomenal African American actor. Then you think…why?  Why this swashbuckling erasure? There's no lasting commemoration of Paul Robeson at the RSC and that organisation campaigned for him to come back to the UK when he was blacklisted. Never mind, it is the story teller's responsibility to address what I call putting flesh on silences and engage community remembering. It falls to no other calling or 'job'. Or at least that's how I see my calling as storyteller.
M: What have you discovered about Robeson's time at Dartington?
P: He was here for several weeks. He sung Negro spirituals in the Great Hall. But it's more the characterisation of 'how do you stand?', that we are trying to look at in the piece. He took a stance. What type of person does that? What are the qualities?  How does that speak to us now? When you remember something, memory is important, the act of remembering can be an act of healing. We will be looking at Othello in that sense because he rehearsed Othello here, he used Othello as a platform, as a form of resistance in terms of the way African Americans were being treated in that U.S. context so he saw Othello as noble…not a savage that didn't have a history. Shakespeare tells us that he was of royal siege (royal seat). He (Robeson) played him over 400 times. For us it's about the impact of this great guy, the talents of this great guy and that Dartington and Dorothy had the breadth of wisdom to invite this kind of guy here as well as the others. We're going to use the trial of Othello to parallel it with Robeson's life and the price he paid.  The radicalism that Dartington stood for, the interweaving in Devon's soil and getting people together around that.
M: You have worked with some amazing collaborators.
P: Amazing guys – Harold (George) is very skilled very experienced – he's an interpreter for the United Nations and other organisations – we've been exchanging ideas for years – he does African ballet and contemporary. Paulo (Forcellati) made this instrument I am playing now – trained by African masters – I am also looking to brining in local singers. And we are ably supported by a skillful Devon musician Ric White, sax and flute and master of sound controllers – live sound design and improvisers.
Paul was here…when we are on the site of the memory how do we engage our guests in the act of memory…when I was in Zimbabwe I asked 'how do you guys remember' and my friend Bob a brilliant Theatre Director (who also we hope will join us online) gave me some insights which will inspire the form we use – clapping and calling of names and libations. I want to recreate some of this. How do we evoke the memory? – it's a gift to have that opportunity as an artist – it's a nice studio here the facilities are great
M: Are there any parallels with what is going on with artists today in relation to the McCarthyism that Robeson fell foul of?
P: It's not so much that there is a McCarthyism, there is an embracing of erasure.  I shouldn't't be telling people in the arts or government positions certain things – it's their history too – when politicians pretend to be ignorant I say, 'what do you already know?', Everybody needs to get more engaged.   For me there's been an unconscious, maybe not very intentional embracing of the path of least resistance. We will deal with this in the piece. Other artists should be and are answering this question. Other people are dealing with it their own way, in their own corners.  If we truly mean our stories, believe in them, then memory has to be integral.
M: What are the plans for the future of The Salon?
P: The plan is to digitise the work I have already done. We want some of this energy to go to underserved communities. I want to find a way to include groups who might not otherwise get to come here, I have many other embryonic propositions. I also need to get the work funded so emerging artists can bring their vibe to what my generation have witnessed, so they may find their own fruitful way.
For more information about previous shows that Patrice has organised visit THE DECOLONIAL SALON (patricenaiambana.com)
Here I stand: The Decolonial Salon – Dartington Trust will be held on April 8, 7 – 10pm.  The event begins with a Syrian buffet at 7pm.