From a heart-stopping documentary on free-climbing a sheer rock-face to a silent movie with live music, a Japanese anime or maybe an Italian opera – the Barn Cinema is always eclectic, often delightful but never dull.
"It's a really delicate balance, says programme manager Ali Donkin. "We try to do something for everyone, and that includes the big mainstream films, but we're fortunate that we have the opportunity to show films that just don't get seen on a bigger screen."
She's referring to Pier Kids, recently shown as part of Dartington's Black Atlantic festival, about a group of homeless gay and transgender young people of colour who have found their own community around the Chelsea Piers in downtown Manhattan.
The 170-seat Barn Cinema was listed by Time out as the third best cinema in the South west after the Savoy Cinema in Penzance and the Tivoli in Bath.
With its 14th Century auditorium, a former grain-threshing barn, designed by Bauhaus architect Walter Gropius in the 1930s, it offers a unique atmosphere. It still has echoes of performances from members of the Chekhov Theatre School who used it over 90 years ago.
"Coming to the cinema is such an immersive experience and we hope you will feel different when leave than from when you arrived," she says.
Yet there's no denying it has been challenged in the last couple years, as for all cinemas, with some audience members seeming still hesitant to return.
Ali wonders if people have simply got out of the habit of going of enjoying the big-screen, though she's confident people will eventually seek it out again.
"You don't get up and make up a cup of tea or change channels – when else is there a chance to fully concentrate on one thing for two hours?
"Plus we have the most amazing 7.1 surround sound which really helps that feeling of being in the experience."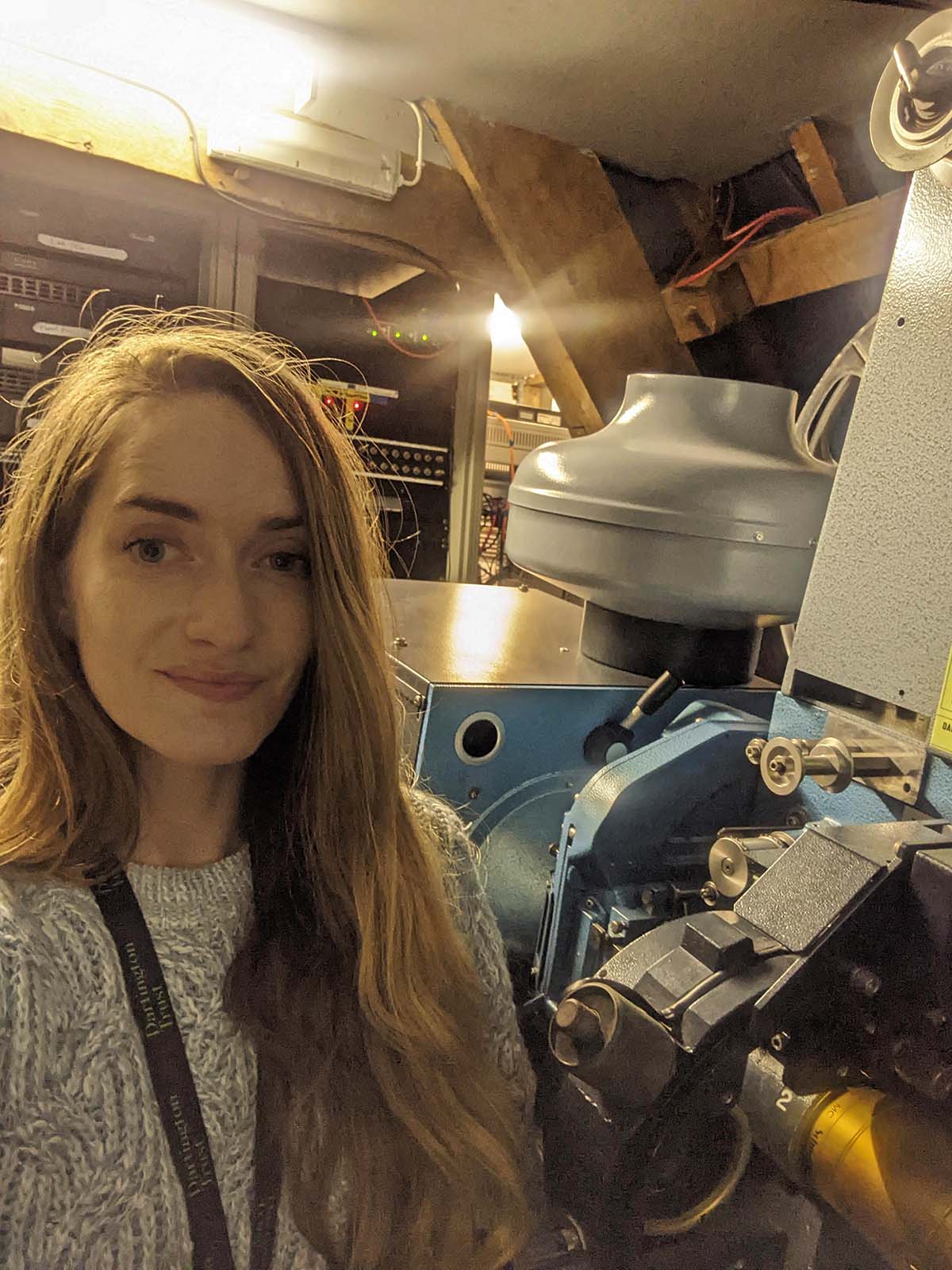 Ali Donkin in the Barn's projector room
When asked to choose her favourite film experience, she recalls one of the special events at the Barn, Under the Wire, a film about the life of Sunday Times correspondent Marie Colvin, who was killed while reporting from Syria.   Paul Conroy the photographer who was with her at the time, came to give a talk about their work afterwards.
"It was incredible watching him, watching the film of what they had both been through," she adds.
For the year ahead, there is a packed and diverse programme of films which includes Diary of a Lost Girl, a German film from 1929 starring Louise Brookes, which is screened with a live music accompaniment from Wurlitza.
The Cornish five-piece band have created a contemporary soundtrack which features music ranging from Portishead to Chopin.
In March there will be a screening of the documentary Piano to Zanskar, part of the Adventure Club series, curated by Jonny Tull.  It tells the story of Desmond, a piano tuner in his 60's who is determined to deliver a piano for children at a remote primary school in the Himalayas, despite being told it is not possible.
Ali is proud of the fact that the Barn is able to respond to events locally and globally.
As well as extraordinary films, the boutique cinema, together with the Roundhouse café, maintains a cosy, clubby atmosphere, helped by volunteer ushers who are also passionate about film and the aim is always to make the programming as diverse and inclusive as possible.
In addition the Barn is fitted with a hearing loop, some films are run with subtitles and there are ramps for wheelchairs or people can sit on the balcony.
"It's about building trust with our members so that they know that not all films will be for them but we are trying to offer as wide as selection as possible," she adds.  "We will always run feel good movies and films for children but we also try to programme more unusual and sometimes challenging films."
In a world where we still face many uncertainties, she hopes the Barn will offer both escape, adventure and joy from the comfort of a red velvet seat.
"Coming here is about taking a risk to try something unexpected.  There is a fear of the unknown sometimes when it comes to films, but we'd invite people to join us and try something different."
More information is available from the box office 01803 847070 or look online here.