Katherine Ross has worked as a gardener at The Dartington Hall Trust for four years. She is currently researching the history of the gardens as part of her work, and hopes to bring some of the stories and history to life in her blogs.
---
Recently, the Property team joined forces with us in the gardens for a day of team building.
A small group tackled a pond to the west of the Swan Fountain. Near the end of the morning, Lawrence, our Water and Infrastructure Technician, started tackling a group of Royal Fern with a shovel and uncovered a rustic limestone waterfall.
Since then, the gardens team spent a couple more days in the area, rediscovering one of our listed features, a Holy Well!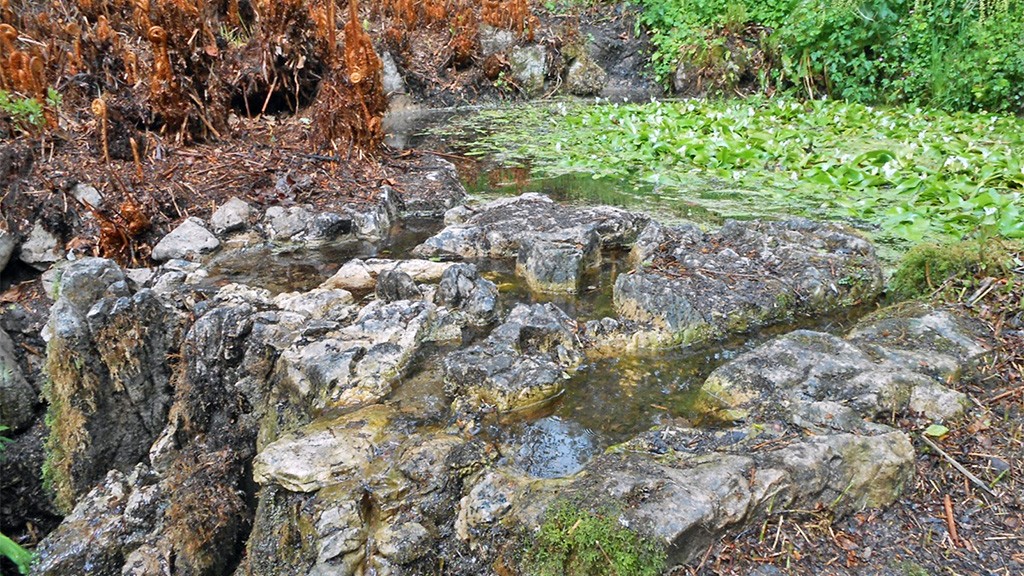 A Holy Well is a water course with Christian, and sometimes pre-Christian pagan, association. It is often linked with belief and healing properties. Christian legend suggests that the water is made to flow by the action of a saint.
Our Holy Well is dated from early medieval to post-medieval (1066AD to 1750AD) (Gateway, 2013). It consists of a rectangular depression, measuring 4.5 m wide, 6 m long and 1.2 m deep. In the 19th century, the enclosure was dammed to make the pond, with the cascade of limestone rubble, falling 1.5m into a channel below.
From here the water runs into an ancient stone culvert behind a Tiltyard terrace, through the Valley Field and over a further cascade. At the garden boundary, at the Ha-Ha, the water falls between two rocks and disappears. A previous head gardener, Terry Underhill, using a green dye, found that it resurfaces at the Textile Mill on the road leading to Totnes.
Katie
The Holy Well is located near the London Plane trees, at point 4 on the estate map.