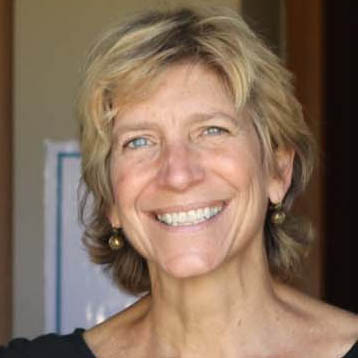 Tara Vaughan-Hughes
Tara, the Food Strategy Lead for Dartington, links our food areas across the estate (retail, pub, cafe, and higher learning) to create and maintain a sustainable food system that aligns with our current and future aspirations.
There's no getting around the fact that there has been a tight squeeze on everyone's finances over the past year. We feel it at Dartington too. We have been receiving notices of price increases from all our suppliers at an unprecedented rate. As much as we hate getting these, we can't blame the suppliers, who themselves are the victims of inflation. At the same time, we don't want to pass the higher costs to our customers, because we are ever-conscious of pricing ourselves out of peoples' reach. So we have taken matters, quite literally, into our own hands.
Making do, but making it better
I recently heard about Pete Conklin, a circus clown in the late 1800s who decided to make lemonade to sell out of the back of his covered wagon. Throughout the whole summer, he used just one lemon, which he kept whole in the jar, and he kept adding water, sugar, and tartaric acid to top it up. Then one day he made pink lemonade by adding the water that a circus performer had used to rinse her red tights.
That's one way to keep costs down.
The way we do it is by buying whole foods and using them to make our breads, cakes, soups, sandwich fillings and salads. And drinks.
Something we have always made and will continue to make is our fresh lemonade, with freshly squeezed lemons, organic cane sugar, and water. It's tart, not too sweet, and extremely refreshing, and it is a hit all year long, but it's especially popular from April through September. Every year, we sell at least 4000 glasses of it (and that doesn't include what the staff drink!).
Recently we started putting our lemonade in the slushy machine, and it is a revelation. When you feel the need to cool down, or chill out, or even fancy a brain freeze – and some people do – this is the drink for you. And with just the three whole ingredients (and not a pair of tights in sight) you can feel pretty virtuous – even healthy — after drinking it.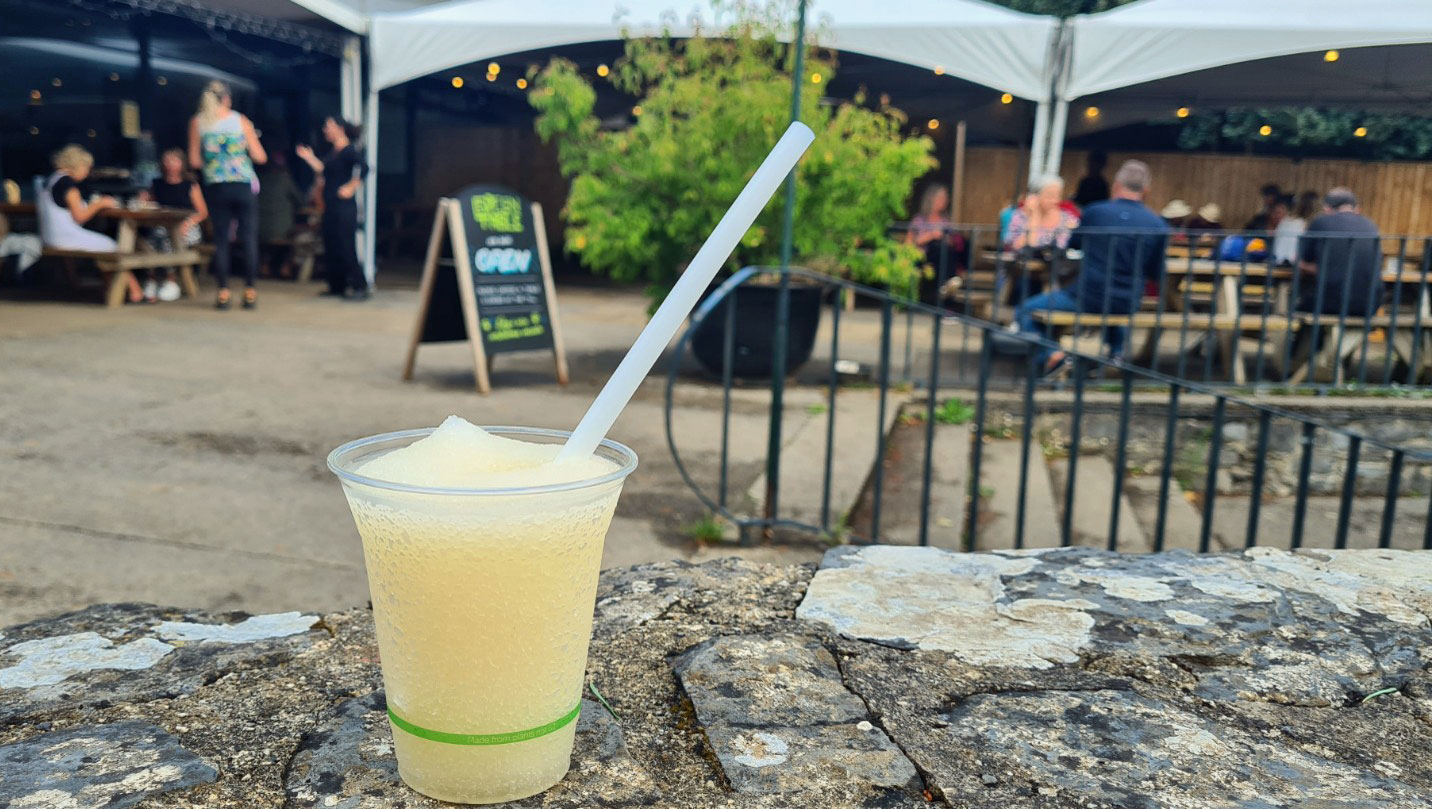 In an even more traditional vein, in June we made litres and litres of elderflower cordial using the elderflowers from trees on the estate. The cordial has a hint of lemon, and the elderflower notes are perfumey and floral. It's essentially summer in a glass. We think we may have enough to get us through August, but once it's gone, it's gone. In the autumn, we will replace it with fig leaf cordial. We'll let you know when that's ready.
We still carry locally made soft drinks, because they are delicious, and we want to support our local community as much as we can.  But all our homemade drinks will set you back less at the till — useful if you're watching your pennies.
Everything old is new again
We're not stopping there. I'm always looking for ways to reduce waste as well as reduce costs. This tends to involve thinking about new ways to use old things, or old ways to use new things. So perhaps you can see where I was headed when I started eyeing the lemon peels after Sam at the Green Table finished making a batch of lemonade.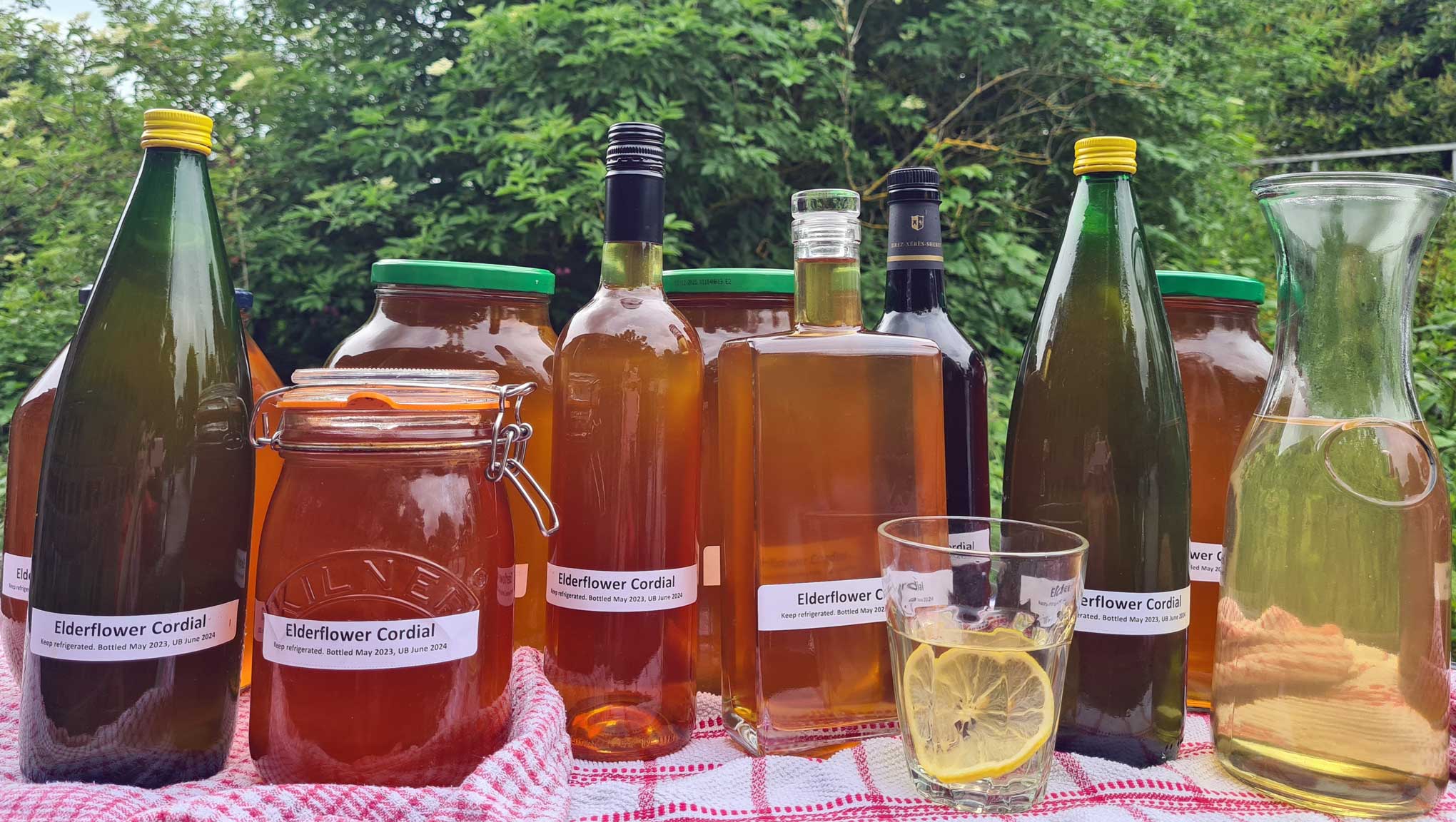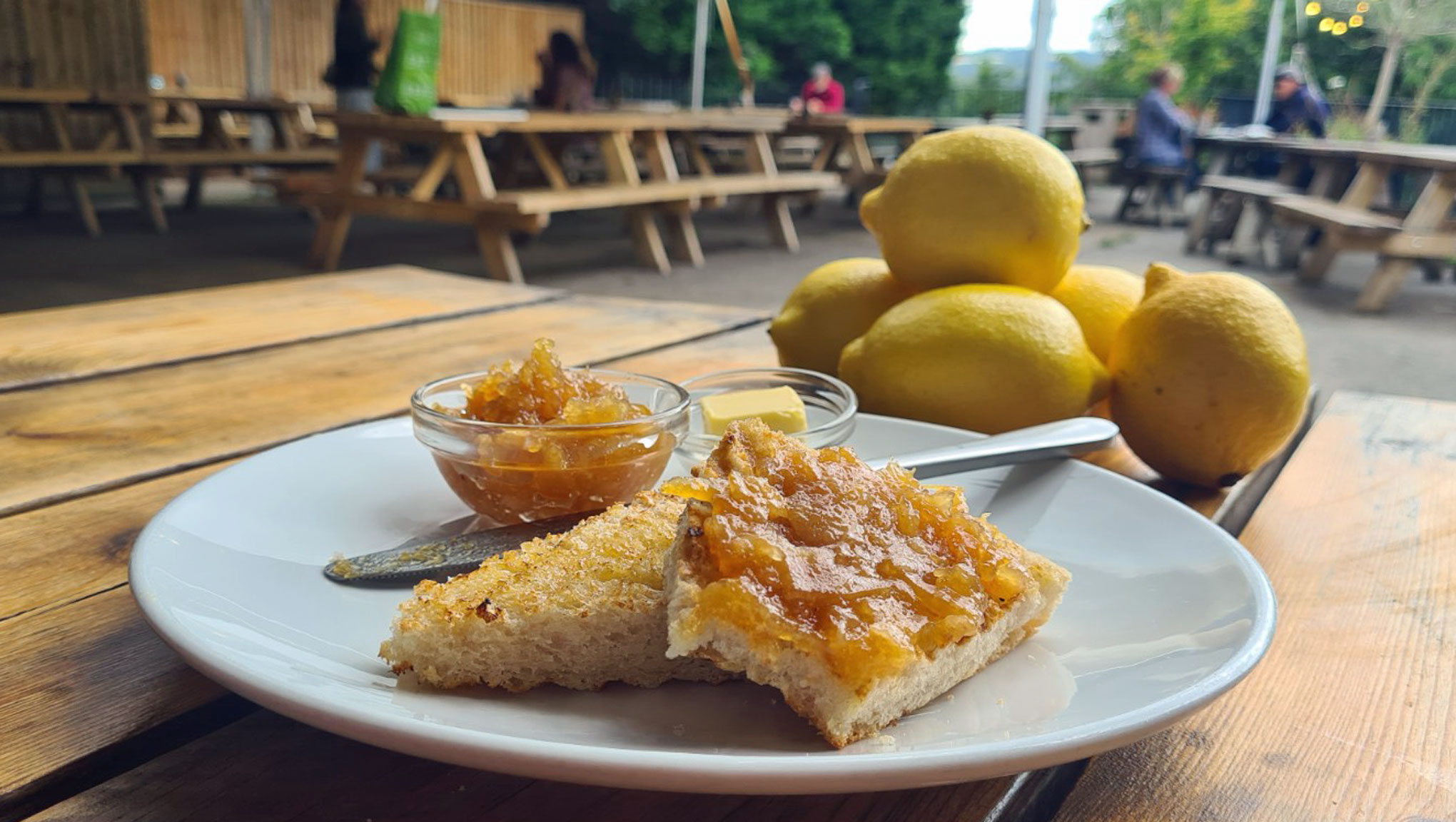 A quick once-over to get rid of the seeds, then a spin in the food processor, plus a little water, sugar and heat, and the peels have been transformed into delicious lemon marmalade for your choice of toast in the morning. Yes, there is a cost to this; the sugar, labour, electricity, and water are not free. But it is less expensive than buying our marmalade from someone else, which can help to keep the price of your GT breakfast steady. And the marmalade is zesty and summery, just the ticket to dispel any gloom – financial or otherwise.
If you'd like to make your own lemon marmalade, here's how. You'll need:
1 part lemon peels (pre-cooked weight)
2 parts sugar
2 parts water
Remove any seeds from the peels, but keep any flesh and membrane intact. Slice thinly (we used the food processor and slicing disc, which makes it super easy, even in large quantities, but you could also pulse it until the peel is the size you prefer).
Put the lemon peels and water in a pan, and simmer for about 2 hours, until the peel is soft and translucent.
Add the sugar to the pan and stir until it is dissolved.  Increase the heat to high, and let the jam reach a boil, skimming off any foam, then boil until the temperature reaches 105C (220F).
(Or you can do the "wrinkle" test: put a plate in the freezer, and when you think the marmalade might be done, put a drop on the plate and wait a minute. If it forms a slight skin and wrinkles when you push it with your finger, it's done. Otherwise, keep cooking it!)
Put the hot marmalade into sterilised jars. It should last for at least 2 years.
Sources: