Ahead of a memorial concert in Dartington Hall on 13 May, we consider the life and work of avant-garde composer Vladislav Shoot who lived at Dartington from 1992, when he was invited to come as composer-in-residence, until his death last year.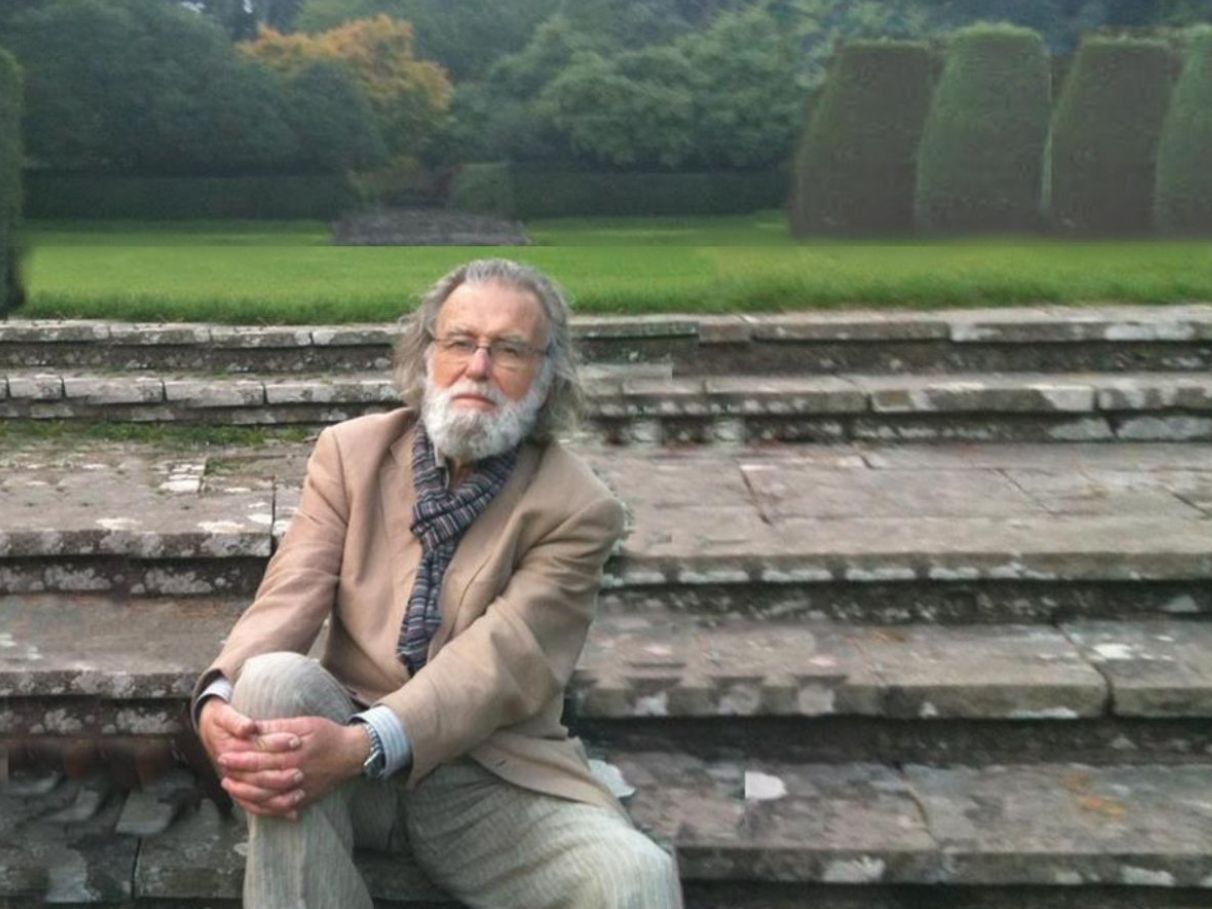 Composer Vladislav Shoot in the Tiltyard at Dartington. Photo by Irina Shoot
Vladislav Shoot was an avant-garde composer who emerged in the post-Shostakovich generation of Soviet-based musicians writing challenging, subversive and distinctive music, often in the face of artistic oppression and reactionary censorship. He found success scoring music for films, before accepting an invitation to become the artist-in-residence on the Dartington estate in 1992. He remained here for the rest of his life, devoting his time to his work as an artist, taking inspiration from the beautiful surroundings and developing his unique blend of timbral, textural and stylistic experimentation.   
Despite the popularity of his film scores, Shoot should perhaps primarily be remembered as a concert composer. He leaves behind him a substantial body of work, including seven Chamber Symphonies, Largo Sinfonia, Ex Animo, the High Cross Symphony and various instrumental, vocal and children's music. That he was close enough to Shostakovich to be one of the pallbearers at his funeral gives a sense of the sort of creative context within which he was practicing. Yet Shoot's work never fell into a specific school and he can't be reduced to a mere acolyte of later influential figures such as Denisov, Gubaidulina or Schnittke – his was a unique talent, writing with real inner conviction. His work has been characterised as having a private, personal form of modern absurdity, a Soviet-era mode of mystery combined with a generous humour, unexpectedness, and a deep hunger for a pure musical expression.
"I love music", Shoot once wrote, "in which, apart from all the beauties and perfections, there is offered, as in Count Bluebeard's castle, a certain irrational forbidden door, a 'black hole', a receptacle of chaos and grief. Sometimes, the less it allows us to know about it, the better, but it should still be there!"
Born close to the Black Sea coast in the province of Sevastopol (now in Ukraine), the son of a Colonel and a housewife with no musical background, Shoot came to music relatively late. His first instrument at the age of 13 was the accordion on which he learned folk tunes. He went on to study at Gnessin State College of Music in Moscow (now the Russian Academy of Music), where he was taught composition by Nikolai Peiko, a rare supporter of new trends in art in the establishment at the time. Considered an avant-garde or modernist composer in this context, Shoot fought to champion new music (both his own and that of others) which was often under threat of censorship by the Soviet regime. He was able to do this in part through his day job as an editor at the Soviet Composer, a music publishing house in Moscow which published many of his contemporaries. Only later was he able to shift to freelance work by taking up more mainstream and lucrative (though not high-paying by Hollywood standards) film work.
1992 brought about a significant change with the invitation from John Lane, trustee of Dartington at the time, to take up a year in residence. He soon moved in at 2 Martins, a house on the Dartington estate preserved for artists, situated just behind what is now the Green Table Café. By chance, one year soon became three and, as with many people, the allure of the tranquil rural surroundings had made its mark enough for Shoot and his family to make the estate their permanent home.
One of the most significant pieces Shoot composed is High Cross Symphony, commissioned by the BBC Symphony Orchestra soon after the initial residency period at Dartington. The piece premiered at the Royal Festival Hall in 2000 under the conductor Martin Brabbins. Having lived just a minute's walk from the modernist building called High Cross House, the title of the symphony reflects how Shoot had been "intrigued and stirred by its evocative name". As he wrote: "High Cross is the point where all roads meet. It is a spiritual summit, a place where churches were built in olden times. It is also the Biblical Cross." This combination of the tangible building, a "machine for living in" designed by William Lescaze, and the symbolic, spiritual imagery of the cross, the quotidian meeting the mysterious, perhaps explains how Shoot came to feel at home at Dartington, a place where ideas and practice are so uniquely intertwined. The cross also refers in a sense to Shoot's musical composition technique, a fusing of the tonal and the atonal – using all 12 tones, but finding ways within that for the music to sound gentle, almost intimate in the ear of the listener in contrast to the more typical harshness of, say, Schoenberg or Babbitt.
In response to the High Cross Symphony, the music critic Gerard McBurney wrote that Shoot possessed "a most unusual voice of a kind quite unlike that of the majority of other composers in the world to which he belonged". He will be remembered as a key figure in the history of the arts at Dartington and deserves to be celebrated as a composer who produced a body of work as simple as it is sophisticated, as boldly absurd as it was balanced and resonant, possessing the stunning power to evoke an exhilarating "inward trembling and yearning, like a fit of fever arising from the wind blowing on a bright day…" 
On 13 May 2023 a celebratory concert will take place in the Great Hall at Dartington in memory of Vladislav Shoot. This concert will include a wide range of Shoot's music – from film scores transcribed by the composer for piano quintet, to diverse chamber music for different instrumentations. This concert is organised by his daughter Veronika (Nika) Shoot, a concert pianist, who has contributed to Dartington creative scene over many years in recitals and chamber coaching. Find out more and book tickets > 
This blog was written by Will Kemp, with thanks to Irina Shoot